Learn, Grow, Repeat: 6 Ways to Pursue a New Career Path in 2017

This post is sponsored by Open Campus at The New School, which offers continuing education from the university where progressive minds come together.
Regardless of whether you're a diehard resolution-maker or the person who breaks a 30-day sugar detox within 24 hours, growing your career and expanding your professional interests isn't as difficult as it sounds.
And it's definitely less painful/emotionally draining than giving up sprinkle donuts until February (that's a scientific fact). Here are just a few ways you can get started with a new career path right now:
1. Sign Up for Newsletters that Focus on Your Ideal Field and Read Everything You Can
Fact: no one reads enough anymore. If you spent the better part of the holiday season watching sappy movies (hey, we're not judging, even if that includes
The Family Stone
...twice), now's the time to bring your intellectual side out of hibernation. The easiest way to do this is to have all the reading materials delivered directly to your inbox.
There are tons of industry-specific newsletters depending on whether you're in media and technology, interested in entrepreneurship (if so, check out courses in
Management, Leadership, and Entrepreneurship
at Open Campus), or even finance, but here are some more general options that every working woman should consider: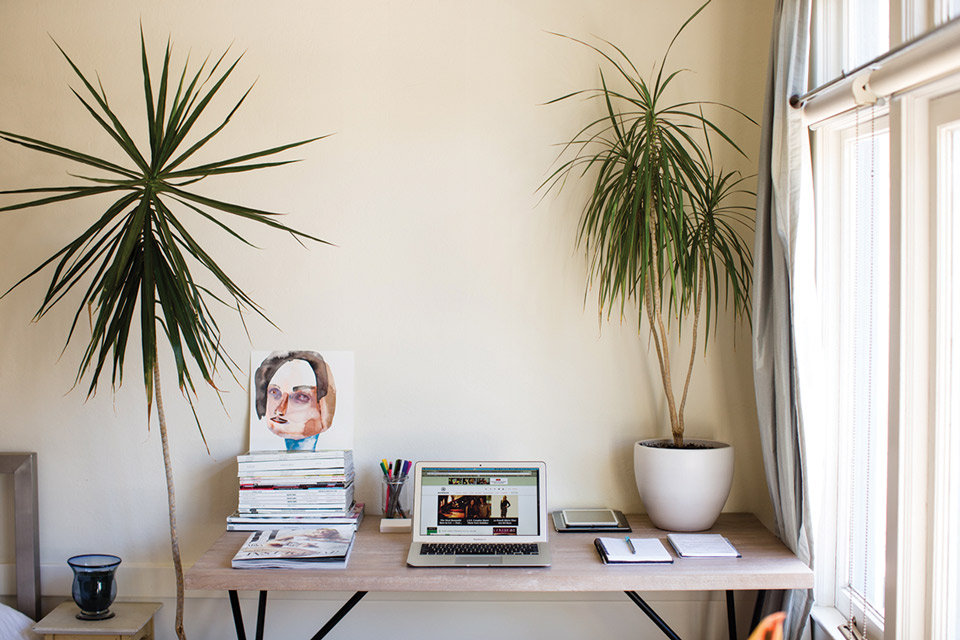 Newsletters help you keep all your reads in one place—your inbox. (photo: Molly DeCoudreaux)
We'd also highly recommend keeping an Amazon wishlist of books you'd like to read and maybe revisiting that whole library card thing, but we'll let you off the hook on that until February.
2. It's Never Too Late to Intern (or Volunteer)
While you're riding high off that New Year energy, consider setting aside some time to give back. If you're curious about an industry or role, you can also look into an after-hours internship. Do you want some marketing experience? Or maybe you want to get your foot in the door of a new industry? Interning or volunteering sets the bar lower—you're there to learn and help, and you're doing it for free—so you can try new things.
Volunteer Match
is a great place to find jobs near you without leaving your couch, but you might also want to reach out to a non-profit or company you admire and ask if you can help out. Free work is pretty hard to turn down.
3. Go Back to School Without, You Know, Going Back to School
There are some great programs out there that don't require a standard live-on-campus approach and are perfect for continuing your education from wherever you are, on your own creative terms. The term "lifelong learning" exists for a reason, and we're all about it.
Open Campus
at The New School is a hive of innovative, continuing education opportunities that offers an exciting and immersive network where you can meet a uniquely diverse and like-minded community of fellow innovators, creators, entrepreneurs, and activists. Their
online learning programs
will teach you useful skills regardless of what industry you're in or where you are.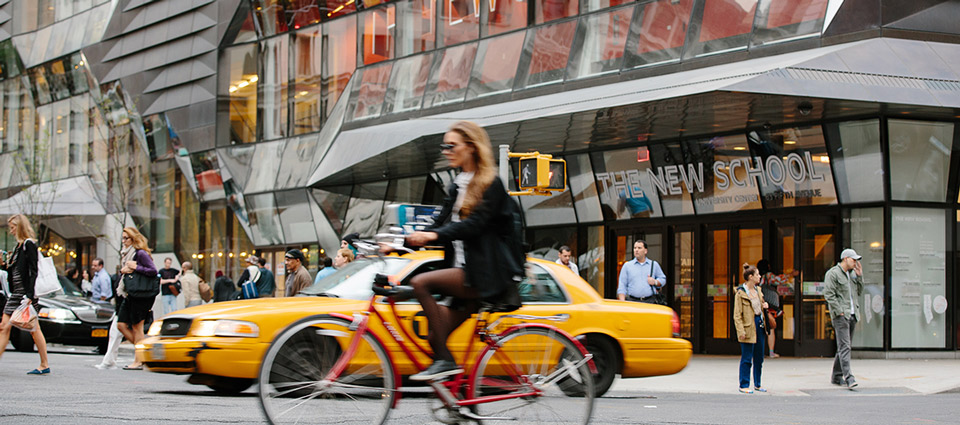 Open Campus at The New School offers anyone the chance to take advantage of high-quality classes in New York City or online.
Whether you commit to a formal
online certificate
in
Fashion Business
or
Graphic and Digital Design
(which are offered in partnership with
Parsons School of Design
, a top ranked art and design school) or just get your toes wet with a one-off
short course
, learning new skills will set you apart from your taciturn coworkers. You can also use these classes as an opportunity to network with new folks—an online classmate just might know about a new gig or opportunity that's perfect for you.
4. Practice Your Public Speaking and Negotiation Skills
Women find public speaking and negotiating their salaries more difficult than men do. You know this. I know this. We all know this. Still, you're the one with the power to change it, at least personally. It's time to stop putting off learning the essential speaking and communication skills you need to climb the ranks. Here are a few ways to get started:
Volunteer to present at a work meeting
Set up a wine-and-cheese night with your friends where you all practice pitching your bosses for raises
Book a session with a negotiation mentor (we love Alexandra Dickinson)
Read up on some good techniques for presenting your work and leading meetings
However you do it, do it often. "Practice makes perfect" is a cliche for a reason.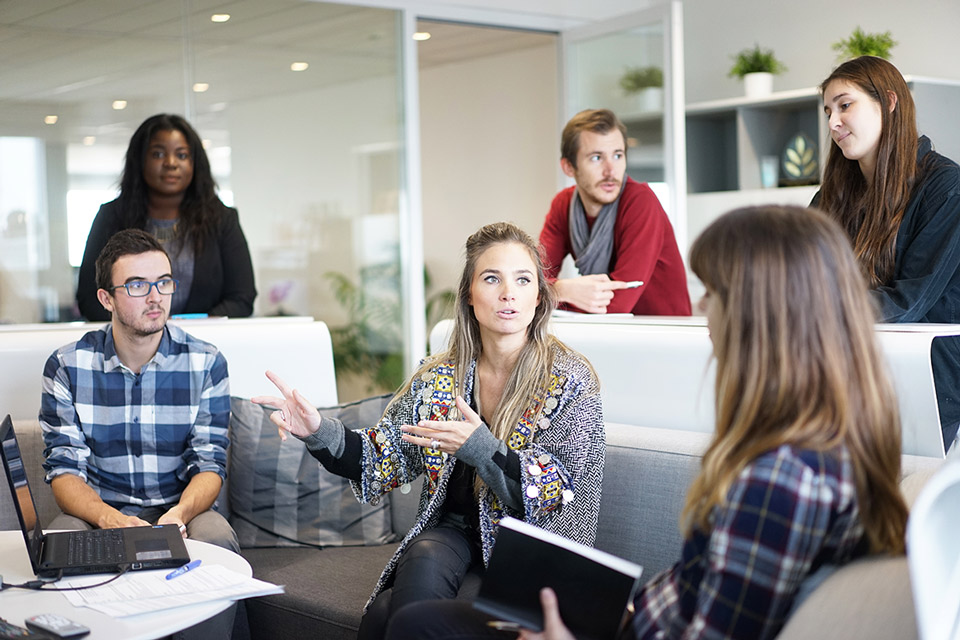 Public speaking skills? Key.
5. Schedule Some Informational Interviews at Your Ideal Companies
Yes, even if you like your current job. Here's the thing: maybe your job and company are great, but knowing your own professional interests and strengths? Essential for your own growth. We want you to be selfish when it comes to that.
Using
informational interviews
allows you to reach out to women (or, fine, men) who are doing work that intrigues you. Learn how they got there, then figure out the skills you lack that you'd need to get there, too. Maybe you'll even discover what you
don't
want. Regardless, doing some research into yourself and your professional desires never hurts. Even if it doesn't lead to a new job, it might teach you how to evolve your current position as you grow.
6. Become an Expert on Your Own Time, In Your Own Words
If you want to learn more about your field (or the field you'd like to move into), one of the best things you can do is start a blog. We know that sounds very 2008, but think of it this way: every person can benefit from improving their
writing skills
, and blogging regularly will help you do just that. It will also force you to read up on new developments in your industry, document all of the new things you're learning in those professional development courses you're taking, and carefully consider what interests you. Give it six months, and you'll know more than most of your colleagues on whatever topic you choose. And it really, really helps to be the resident expert on something.
What are some other ways you plan on using the new year to change your career path?

This post was sponsored by Open Campus at The New School. Thank you for supporting the brands that support Career Contessa.