How to Build a Career as a Freelance Graphic Designer in a Big City
It's one thing to talk hustling, it's another to actually do it. But then, Leila Singleton likes a challenge. An artist to the core, she's found a way to make a living doing what many have tried (and failed) to turn into a profession. From teenage years selling handmade greeting cards to working today as a self-described "visual communicator," Leila is building a creative career on her own terms.
After attending art school, Leila started down the graphic design track and quickly discovered that she was a natural art director. After several years working for others, she made the decision to do what many of us dream of doing: going freelance full-time. It's an exciting albeit challenging direction. But Leila's certainly aware of the nuances and difficulties of working for herself—it's a complicated world of coworking spaces and clients. Read on to find out how she does it, plus some of her best tips from a life lived on her own terms.
Her Starting Point
Many of us try to figure out what we're passionate about while we're in college. But you already knew you wanted to pursue art while you were in high school. How did you figure out your passion so early? What made you decide to focus on graphic design over art?
Before I get into the story, I must begin by saying that my mom, the beautiful Giuliana Singleton, is the main reason I am a creative person today. She encouraged my creativity and gave me honest feedback from the start. So thank you to her, the most important person in my life!
I started drawing at about a year old. In middle school, my hobby morphed into photorealistic drawing (shout out to my art teacher, Joe McHugh!). The summer after 9th grade, I decided to pursue art as a career. By then, I'd been drawing almost daily for 14 years!
Graphic design hit my radar when I started receiving catalogs from art schools. There were all these crazy majors — furniture design! Animation! Fashion! I'd planned to pursue painting, but working on the high school newspaper changed that — I had to design a page in every paper, and fell in love. As editor of my high school's literary magazine I was also essentially doing art direction — determining the magazine's theme, overseeing its layout, etcetera. Halfway through senior year, it hit me: "I think this is graphic design, and I think I love it!"
My fate was sealed when, the summer before college, a job as a marketing assistant came to double as a design internship. By the time I stepped foot on campus, I'd already had a taste of professional design. I tried to declare my major the first week in college, but my adviser made me wait!
You went to art school—tell us a little about your experiences there. Did you feel like the environment was different than attending a university or liberal arts school?
Yes, quite different! Growing up in a college town (Fort Collins, Colorado) with a sister who got her master's degree when I was a teen, I had a good feel for the university experience. It would've been way more affordable for me, a kid with no college fund from a modest family, but the cultural aspects didn't grab me, plus I wanted to sidestep distractions like required P.E. and biology classes. Basically, I wanted to cram all the art I could into four years, and meet other laser-focused artists whose talents would humble and inspire me. I did! I also gained access to facilities, people and companies out of reach at a less specialized school.
Tell us about some of your first jobs post-college. What were they like, and how did they contribute to where you are today?
In my final class in art school, my professor expressly told us not to expect to be hired as art directors as first jobs—we'd start at the bottom, maybe even be the coffee gofer.
When I accepted a position with a small, regional ad agency, I was simply grateful to have a job relevant to my degree. A week in, I'm filling out paperwork and need to provide my title. What am I? Junior designer? Graphic designer? Gofer? I ask my boss.
"Art director."
!!!
As art director, I was allowed to take the reins on integrated campaigns. I wrote and presented pitches for six-figure accounts—and our agency won them! I worked with clients in a wide range of sectors—nonprofit, higher ed, travel/tourism, etc.—resulting in a varied enough portfolio that I wasn't pigeonholed into any industry, but it also gave me enough experience in each [area] that I could specialize if I desired. That, by the way, ultimately led to a job managing and growing a travel/tourism brand in San Francisco!
In that first job at a tiny agency, I wore many hats and frequently had to learn new skills on the fly (I once learned basic video editing in an afternoon). I learned to be adaptable, and every experience built my confidence.
I never did any coffee runs.
Did you always know you wanted to work for yourself? What drew you to the freelance life?
As a teen, I made greeting cards and sold them at local stores, so I've always been entrepreneurial, yet I left college specifically not wanting to start a business. I was itching to build a portfolio of professional work, not hunt for clients and learn tax laws. That feeling intensified at my first job—working at a mom-and-pop ad agency, I got an intimate look at how complex (and sometimes unglamorous) running a business can be.
As you can imagine, my decision to freelance full-time was not made lightly. And it turns out the question wasn't, "Should I freelance?" but rather, "Where do I go to do the best work I can?" I determined that freelancing affords me that opportunity. Should that ever change, I won't hesitate to switch course. Above all, my compass is set to quality, creative work.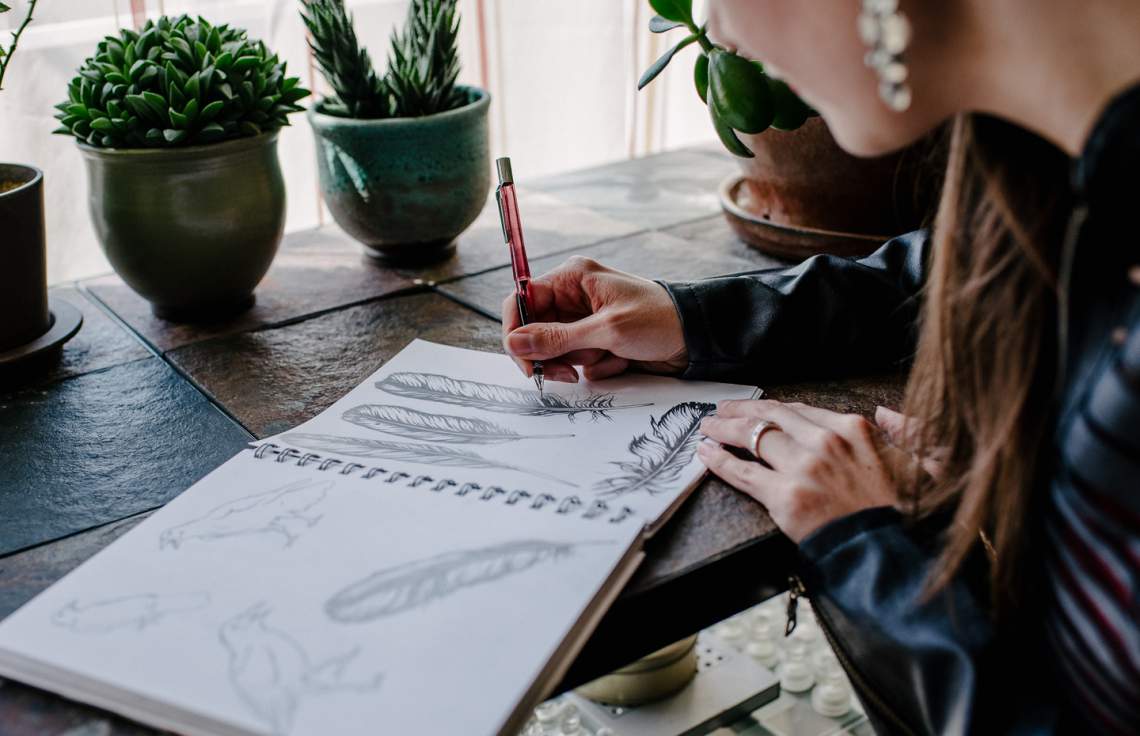 Her Big Break
Your resume is so diverse, the word "multi-hyphenate" springs to mind. For those of us unfamiliar with your work, how would you define what you do for a living/your career?
I'm a visual communicator. I capture meaning and transmit messages using graphical devices, or "graphic grammar" as I enjoy calling it. I'm conversant with digital media, but print design is my passion.
Title-wise, I'm a hands-on art director—I imagine creative concepts and visual systems from scratch and am also able to roll up my sleeves and execute them, versus handing implementation off to a team under my supervision.
Flying solo, it helps to have a diverse skill set as I'm able to tackle complex projects without hiring outside talent. I don't formally frame myself as an illustrator or copywriter, but since I'm an academically trained fine artist who writes, I can offer those services if needed.
When we think of artists, we usually think of the starving artist who's broke and living in a tiny loft. How do you defy this stereotype and how can others do so?
Ha! Yeah, the way art is popularly understood is antiquated: painting and sketching. And artists? They're unemployable, tortured eccentrics active only when the beret is on and inspiration strikes. Sometimes they cut off their own ears!
To me, "art" is no longer even a description of a viable profession—it's just an umbrella term unifying wildly diverse areas of creative specialty. Those specialties reflect career paths available to today's artists, and each demands unique skills that take time and discipline to master—none are dilettante-friendly. So, one of the keys to becoming a paid, professional artist? I'd have to say it's specialization. Specializing in graphic design turned my youthful artistic meanderings into a skill set with real-world applications.
Pretty much every artistic field somehow intersects with the business world, so successful artists also exhibit professionalism. In terms of output, that means refining your creative process so that it reliably yields quality—true even for artists in "non-commercial" fields like painting. It also means maintaining a stable temperament—no Van Gogh shenanigans! A working artist has to perform well in both the studio and the boardroom. This is very true for me, as I interface directly with my clients.
My advice to those drawn to the arts: talent and interest are a starting point, not a destination. If you want to make your passion a career, specialize. And be professional.
What's the hardest part about what you do? Anything you'd change?
As an artist in general, there are no right answers. When you do a math problem, you know when it's finished—you've arrived at a solution, and it's either right or wrong. As an artist, however, the possibilities and process can be endless.
As a graphic designer, [it's] doing beautiful work against all odds. It's easy to do great work when you have only yourself to satisfy. When you work for clients, though, you have so many artistic and non-artistic boxes to tick: satisfy stakeholders, stay within budget, communicate to viewers, respect brand guidelines … projects can quickly become muddied. That challenge drew me to graphic design; both sides of my brain are always engaged.
And as a freelancer, [it's] doing everything yourself. The focus isn't always on the creative, because you also have to tend to business matters. I pitch to potential clients, write my own contracts, self-promote, send out invoices, maintain records of expenses for tax purposes, keep my office stocked with supplies...the list goes on. While it can be a lot for one person, I'm always certain the person running things has my best interests in mind!
How have you used your artistic expertise to benefit your community?
In college I attended an awesome portfolio review organized by the American Institute of Graphic Arts (AIGA) Jacksonville, where design professionals spent a Saturday critiquing student work; it meant so much to me that I vowed I'd one day give back the same way. Post-graduation, I volunteered doing assignment and portfolio reviews for Professor Phil Risbeck's design students at Colorado State University. Once I moved to the Bay Area, I started volunteering at AIGA San Francisco's Portfolio Day — 2016 marked my ninth stint as a reviewer.
I also enjoy community work with younger students, many of whom have never had exposure to art beyond the Mona Lisa and the David. Since 2014, I've spoken annually to 6th and 7th graders about what graphic design is at Roosevelt Middle School's Career Day (San Francisco). Most recently, I volunteered as a presenter and panelist at the California Scholarship Federation's Central Coast Regional Conference (say that five times fast!) at San Jose's Archbishop Mitty High School, talking about how and why to attend a private art school vs. a traditional university, and sharing tips for making college happen financially. In these STEM-centric times, it's important that creatively inclined students from all financial backgrounds hear that they, too, can follow their passions and find success.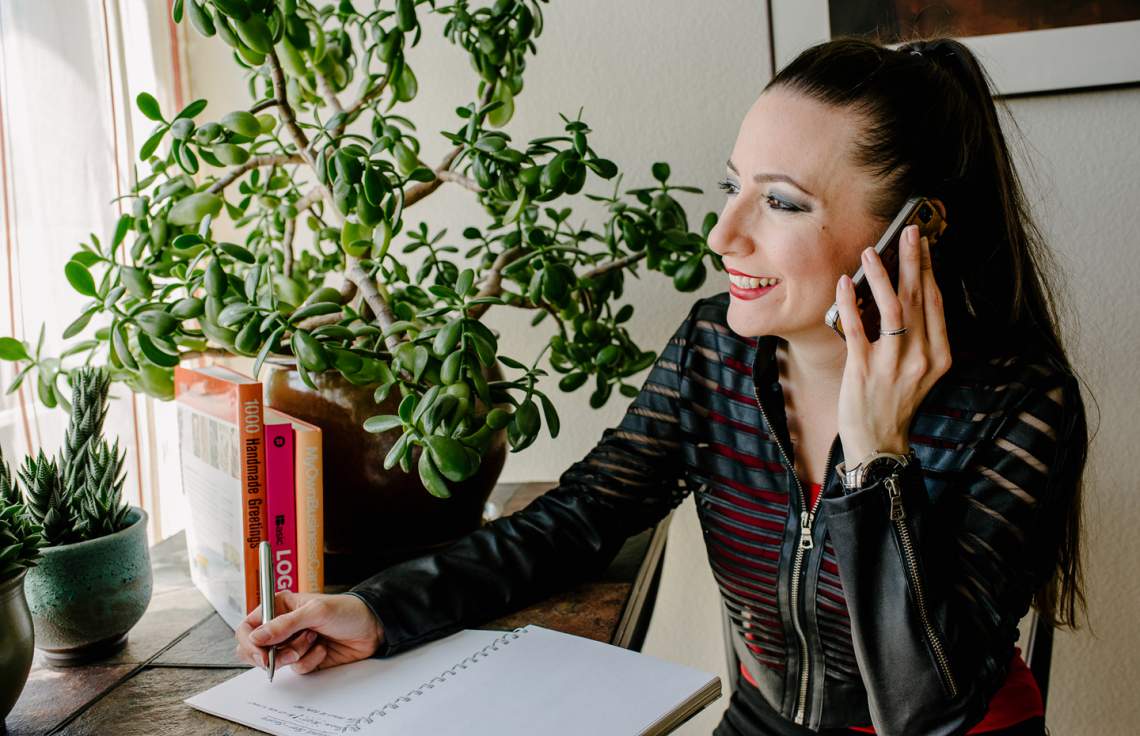 Her Perspective
What's your best advice for someone who ultimately wants to work for themselves? How should they prepare to go full-time freelance?
Be fearless. You'll have well-meaning people around you saying very logical, factual things about 401k plans and health benefits. Most likely they are talking about their own barriers, not yours.
Going freelance doesn't have to be synonymous with being irresponsible. Figure out what is making you hesitate, and resolve it before taking the plunge.
Also:
Nurture your network, regularly, and make relevant new connections
Procure all the tools you need to do your job effectively at home
Join the rosters (or at least email lists) of local staffing agencies that offer freelance gigs
Shed financial baggage
Have vital paperwork like contracts and invoices ready to go
Have dedicated financial accounts for work — a credit card, bank account, and PayPal account
In short: find a way to do what you love to the best of your ability, and if something's blocking you, borrow, rent, or build a bulldozer to move it.
Where do you look for inspiration? And how do you get yourself out of creative slumps?
I look to art forms outside of graphic design. Since my husband, Kyle, is a (super-talented!) CG creature animator, his work is an in-home source of inspiration. In our free time, we enjoy anything visually stimulating that strays from our disciplines—walking through the University of California Botanical Garden, painting at the Grand Canyon, or marveling at the architecture and interior design at City Center in Las Vegas.
I also have to say my clients keep things fresh; I find creativity is abundant along unfamiliar paths, so I gather a lot of inspiration from learning about their businesses, which are quite different from mine. At a conference I attended, Australian creative director Vince Frost said, "Find the clue in the brief," meaning that the key to your creative approach lies in the rundown provided for a project. I love that. I've found one doesn't have to try to be original if they deeply know their client and brief. A truly bespoke approach will yield originality by default.
Your best tip for finding your first clients?
Some of the most reliable, legitimate, and successful business leads come from your connections, so let them know you are actively accepting freelance work. I believe birds of a feather flock together, so if you gel with someone professionally, the people they refer will often be a good fit. On a similar note, be cautious about taking referrals from people with whom you don't jive—you may not dig their associates, either.
And finally, what do you wake up looking forward to? What's next for your career?
My goal is to create designs people can't bear to throw away. Hung on the fridge, scrapbooked, framed—that's my dream. It motivates me to do what I do each day. As to what's next…I always have multiple irons in the fire, but I have to keep projects quiet until they're complete due to contractual obligations or, in the case of personal endeavors, out of superstition. Someday, though, I think I'll end up somehow involved in arts education. I'm teaching a basic drawing class now and am greatly enjoying it. Education is an area of strong interest for me.
---