Hillary Kerr, Clique Media Group
Sometimes you just need a break from your workday, that covert time-out when you allow yourself to slack off a little. If you're anything like us, that's when you head to your favorite blog, and we'll bet that today's Contessa founded at least one of them.
Who What Wear? Check. Byrdie? Check. MyDomaine? Yep.
Hillary Kerr, co-founder and co-CEO of Clique Media Group knows a few things about climbing ranks in difficult industries (fashion magazines, anyone?), building her own version of a dream career, and of course, launching a genre-pushing empire. So it's not all that surprising that along with Clique Media co-founder, Katherine Power, she's written a new book specifically dedicated to teaching us all the art of the self-made career.
The Career Code, available in stores today, takes Hillary and Katherine's unique experiences and translates them into actionable steps any woman can follow to build a more fulfilling, inspired, and (of course) stylish life.
Sold? Us too. Read on for Hillary's best career advice, why she wishes she'd learned to code, the perks of living and working in L.A., and her favorite book of all time.
Oh, BTW: We're giving away five copies of the book. [Update: contest closed!]
Her Starting Point
You started out in fashion journalism, working for ELLE, NYLON, and Teen Vogue among other publications. Were you always interested in fashion? It's an industry that's notoriously difficult to get into—how did you break in?
I always loved journalism—I collected fashion magazines when I was in high school—and pop culture, and fashion was part of that. As for breaking into the industry, it really all started with internships. I graduated from USC a semester early and got an internship at Marie Claire in Sydney while my classmates were finishing up. Getting to work there full-time was amazing and really started me down this path.
What was the impetus for starting your own site, Who What Wear? What did you feel it could bring to the scene that women weren't getting elsewhere?
We started the site for so many reasons: we felt like there was a lack of magazine-quality content online, were frustrated by trying to shop a print magazine, and wanted to create something that spoke to women about fashion and style in a friendly, empowering way, which was not the norm at the time. I always say that we started something basically for ourselves, but fortunately, lots of other people seemed to want it, too!
How did you prepare to go it alone and launch your own business? Were you ever worried you were making the right choice?
I didn't really have a great backup plan, and in a weird way, I think that helped. We had to make it work, and there was so much to do, it never dawned on me to second-guess our decision to start the company. I was just too busy.
Now Who What Wear is just one element of Clique Media, which includes MyDomaine and Byrdie and the new social media only publication, Obsessee. You're covering a wide range of subjects and juggling countless projects. With all those moving parts, what does workday look like for you?
I've been traveling a fair amount for work this year, so half the time I feel like I'm starting my day in another city. When it's just a normal day, I have lots of internal meetings—editorial meetings for our three brands, sales meetings with our amazing sales and marketing teams, strategy meetings with our Director of Brand Marketing & Communications—and often times leave the office with one of our sales directors to meet with our advertising clients. My favorite days are the ones that allow me to have some time for ideation, like coming up with a new content series or marketing initiative.
Did you make any missteps when you were starting out? If you could go back, is there anything you'd do differently?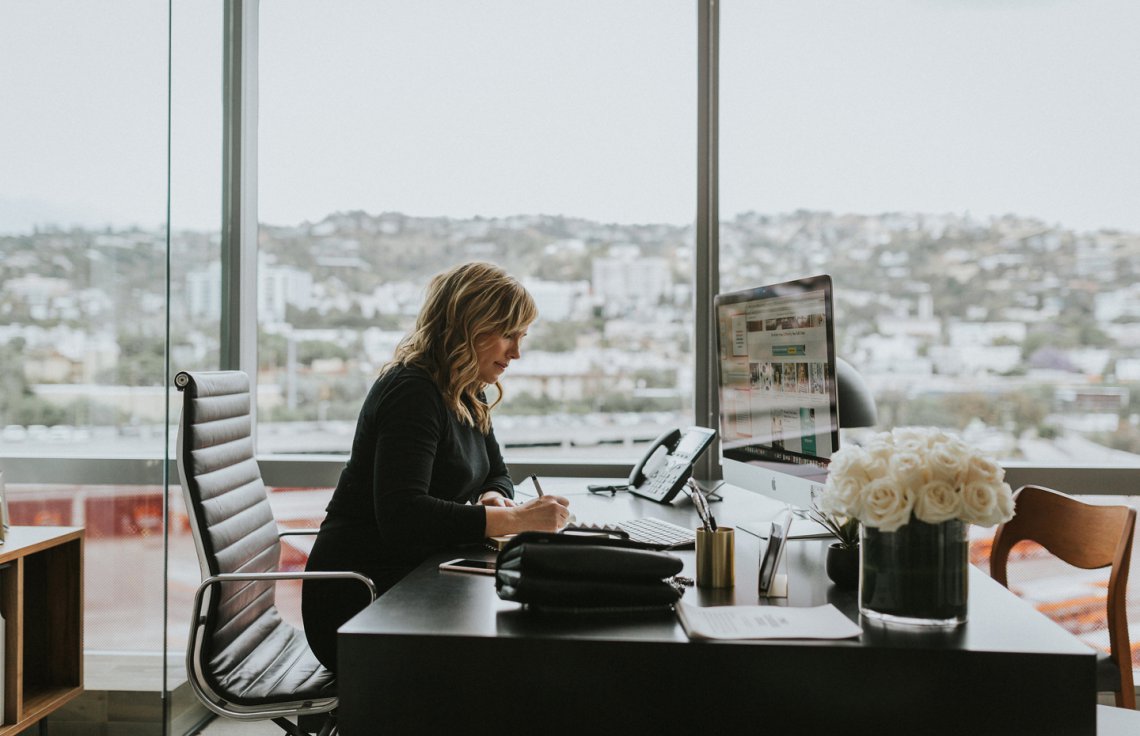 Her Big Break
You just published your third book (today!) called The Career Code. Sounds right up our alley. What's the one lesson you'd like readers to takeaway from the book?
That having your dream career is totally possible and completely in your own hands; you simply need a plan and to do the work.
So much of our careers are based on who we know. Did you have any mentors along the way? What was the best piece of advice you received?
I always think of my friends as my mentors because they're all do such interesting things and overcome challenges in inventive ways on a regular basis.
What keeps you in Los Angeles versus New York, where most of the fashion industry is located? How does West Coast culture affect your work?
On some level, we're outsiders because we're in LA, and I think that's a good thing. It allows us to be a bit more independent.
What do you think the future holds for digital media and online publications? Are you seeing any shifts in your readership and its interests?
It's all about social now, isn't it? It's a huge part of my life, and the same is true for our readers.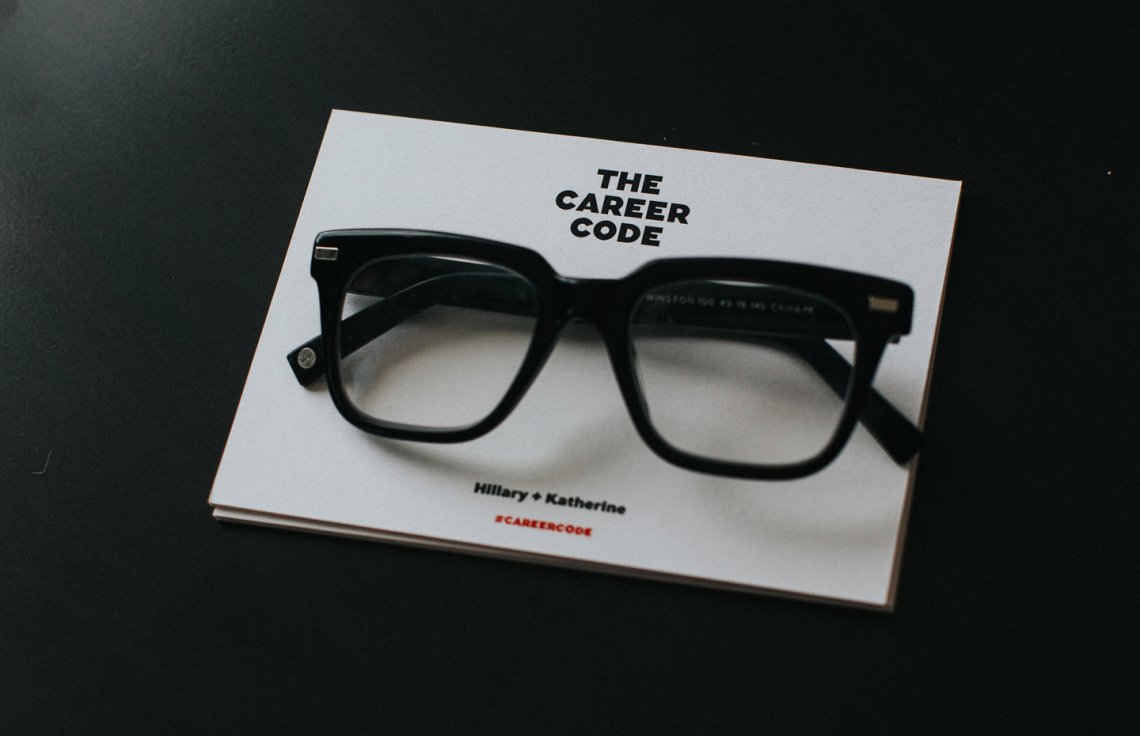 Her Perspective
What's the best career advice you'd give to women starting out who are interested in launching their own businesses?
Be sure that you really love your proposed business, because it's an incredible amount of work and so very, very difficult. If you're not obsessed, you're going to be miserable. Well, that's a little overstated, but my point is that we all spend a lot of time working, so it's important that you enjoy what you do.
You've accomplished so much in a relatively short span of time. If you had to pick one success that stands out to you, what is it?
The Who What Wear collection at Target is a huge thing for us. It started as a dream nearly a decade ago, and now it's actually in over 800 stores—that's still crazy to me!
Where do you look for inspiration and new ideas? Any tricks for getting out of a creative rut?
I am a voracious reader of magazines, newspapers, and books, and that's usually where I turn when I need some inspiration. Travel is hugely important to me, too, as are good conversations with my most interesting friends.
And finally, what do you wake up every day looking forward to? What's next for your career?
Right now I'm just really excited for The Career Code to be in stores. I'm so deeply proud of it and can't wait to share it with the world.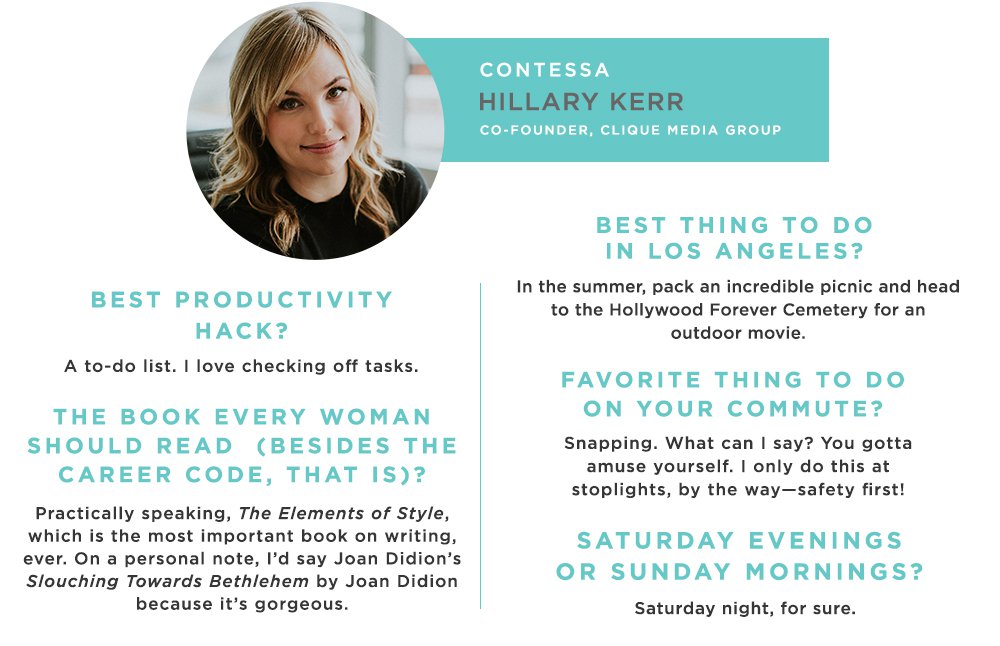 ---