Apartment Therapy Now Makes Eye Candy Videos Thanks to This Woman
What is it about peeping into people's houses that so fascinates us? We'll take it in any form we can get it. There are those beloved MTV Cribs re-runs, Dwell Magazine's minimalist spreads, the Home section of pretty much any newspaper...and then, of course, there's Apartment Therapy.
If there's one thing Apartment Therapy knows, it's interiors. From its house tours to DIY Ikea hack projects, if you have a question about your place (or even other people's places), the site has an answer for you. It's little surprise then, that Apartment Therapy has rapidly expanded over the past few years, growing its following exponentially and adding a sister site, Kitchn, where you'll find everything from instructions on making your own health-conscious kombucha at home to debaucherous cocktail recipes (and, of course, the in-between).
And right there, in the middle of all those articles and photo shoots and daily newsletters and DIYs and recipes and renovations? That's where you'll find Annie Carroll, who's spearheading Apartment Therapy's latest experiment: video. Because why stop at static images when you could see all those interiors in motion?
Annie's career has had its twists and turns (she was inspired to pick up a camera because she wanted to be the next Spielberg and her first internship was on the Real World: New York set), but it's her diverse background and experience that makes her a perfect fit for the Apartment Therapy family. She spends her days in their offices in New York City, organizing and coordinating shoots and planning strategies for using video on the site long-term. As Apartment Therapy expands its scope, Annie's along for the ride. It's a digital wilderness of sorts, but she's ready to chart her own route through it.
Her Starting Point
You studied Film and TV production at NYU. Growing up did you always know you wanted to work in video?
When I was 12 years old, I had to write a book report about someone I admired. I chose Steven Spielberg. He had just won the Oscar for Schindler's List, which I knew was a huge achievement for him. Reading about his love for telling stories, along with my love for movies, made me decide then that I wanted to go to NYU's Film School and become a director.
In college, there was no YouTube, Buzzfeed, or HuffPost. Through my production courses at NYU, I fell in love with television producing because it was very hands-on. You could tell a story—and film and edit it too. When I graduated, my first two jobs were in television at Lightworks Producing Group and NBC News' Peacock Productions.
In your early career, you produced and shot videos for places like AOL and Huffington Post. Were you always drawn to the intersection between web and video?
While I enjoyed working in television, there were a lot of stakeholders. I wanted more creative freedom, especially given my ability to shoot and edit. When I applied for the job at Aol-HuffPost, the ad just read: "Big Internet Company." In the description they said they wanted someone who was "innovative, creative, and passionate." I knew immediately that job was for me.
When I joined Aol-HuffPost, they were just starting to do video—and they were ahead of the industry. It was a great time to be in that space and watch it evolve. Working as a producer/shooter/editor, I created more than 300 videos there. I was encouraged to be creative, test out ideas, and try new formats for telling stories. After that, I knew I was staying in video for the long haul.
Tell us a little about those first jobs. What did you learn actually working in your field that you didn't learn in school?
All of the jobs I held through Aol-HuffPost were stepping stones to becoming an executive producer. I wanted the hands-on experience so that I could lead a production team effectively. I was able to learn and grow at all of those positions, thanks to my managers. Carolyn, Keith, Ken, Mike, and Laura cultivated my talent and tried to give me opportunities to really define and sharpen my skill set.
As a result, my work was polished and reached a professional level. I could only achieve that post-college, working at these companies.
You've been in New York since moving for college. What appeals particularly to you about the city?
New York City helps fuel creativity. It's cliché, but there is inspiration around every corner, from discovering new street art to stumbling on a new neighbor to meeting people from all walks of life. When you are constantly creating, having that outside your door helps.
Also, there's opportunity to work with some of the best in the business. I landed an internship my freshman year at MTV's The Real World: New York by waiting in line for the bathroom. The director was in front of me, and he overheard me discussing internships with my mom. The rest is history.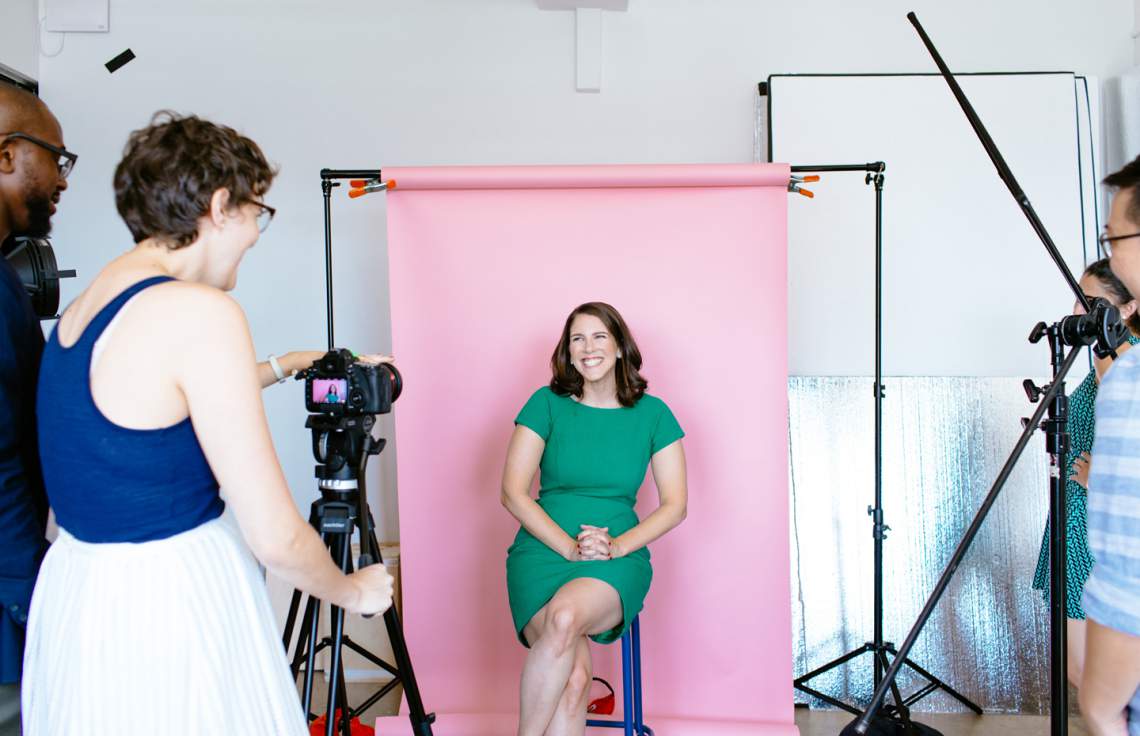 Her Big Break
You recently joined Apartment Therapy as its General Manager, Video. What drew you to the role?
All of my career stepping stones and experiences led me to the Apartment Therapy Media position. I wanted a role where I could shape and lead the video strategy for a digital-only company as they took their first steps into the space. That's what I had been working towards.
There are a lot of players in this industry already, so I had to be strategic about what company would be the best fit. I had been a fan of ApartmentTherapy.com and theKitchn.com for several years. Their content really aligns with my lifestyle and interests so when I saw the job posted, I went for it.
I love working at Apartment Therapy. It's a team-oriented environment where everyone is easy to work with and collaborative. Little perks like free snacks and monthly birthday celebrations go a long way too—and foster that team camaraderie that I love.
Video's becoming an increasingly popular media form for publications and sites with sites like Refinery29 trying their hand at it. How have you been implementing it at Apartment Therapy, and what's your ultimate goal for video at the company?
In the video space, the only thing you can count on is change. New platforms pop up all the time. Facebook videos really exploded within only the last year or so. Apps like Snapchat are taking off. Food content is big today, but it could be replaced by another interest tomorrow. With that in mind, I have developed a multi-platform strategy that can evolve and change, based on our video data and insights.
Since video is new to the Apartment Therapy and Kitchn audiences, we are testing a lot of ideas and formats to see what works and what doesn't. Ultimately, I want to develop video franchises that our audience loves and brands want to sponsor. Of course, that could change too!
How do your strengths and weaknesses contribute to your work?
Being creative helps me think outside the box. I like to take an idea and see how we can do it differently. That really helps in video, with so many publishers vying for attention. Multi-tasking and problem-solving are also a key part of my skill set. A lot goes into making videos, so those strengths are key in this industry. My weakness is being a perfectionist, but deadlines help with signing off and moving on to the next project.
What's your best advice for a woman curious about a career in video or multimedia? Any tricks for breaking into the industry?
My best piece of advice is to intern, intern, intern! It's a great way to see how a company operates as well as what different positions entail. It also helps with networking, which is key to breaking into the industry. I changed my focus from film to television halfway through college due to my internships. And my first job out of college was due to a contact at a former internship.
After that, try to do as much hands-on production as you can. Film videos on your phone. You can download an app to edit them. Or take to Instagram and post photos. My first class at NYU, which was required for all film students, was photography-based. You can train your eye a lot by just taking still photos.
And never, never, never give up.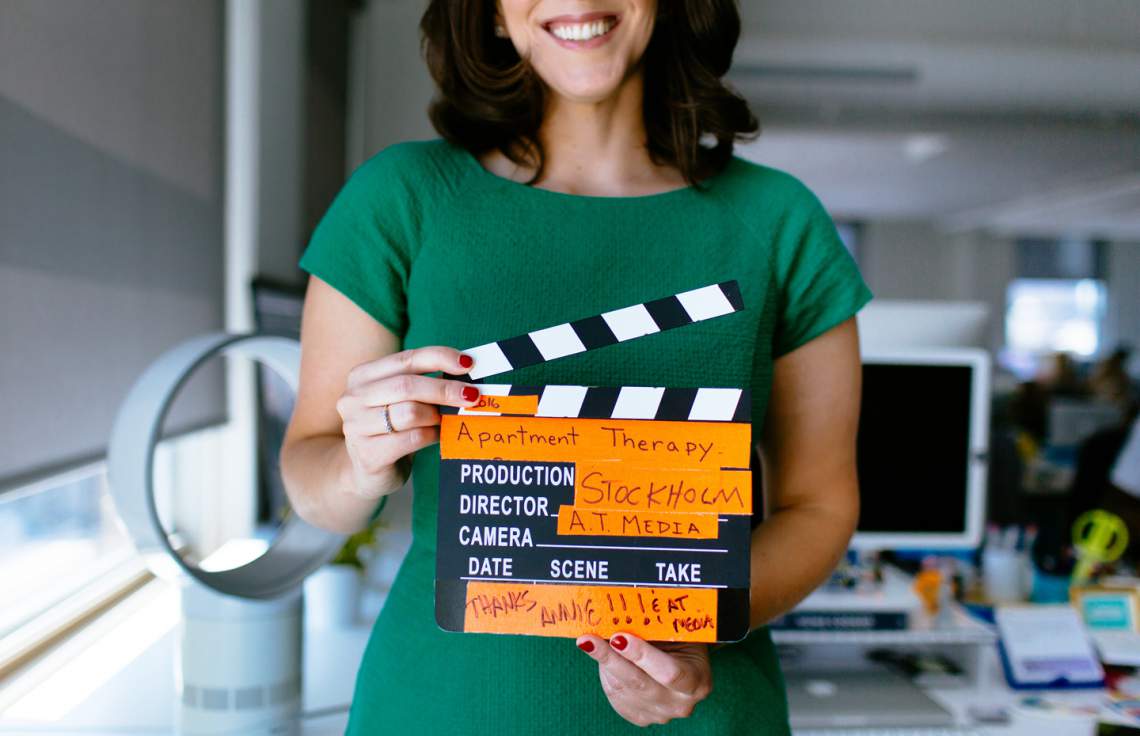 Her Perspective
Where do you look for inspiration?
New York City provides a lot of inspiration. I just step outside the door and get lost in a neighborhood. I also watch a lot of movies, videos, and television shows. It's a great way to see what other people are doing in the visual space that could apply to my work.
Music really helps drive my creativity. It was the first thing I would pick out when editing. Before I would lay a shot in my edit sequence, I would determine what track to use first. I find I come up with a lot of ideas when I'm listening to music. (Maybe that's because my middle name is Lennon.)
Have you had any mentors along the way? What's the best piece of advice they gave you?
At every job, I've had a mentor. I am very fortunate. Each one played a role in shaping my skill set. There's not a particular piece of advice that stands out. Instead, it's those moments where they taught me how to shape a story for television, how to manage a six-figure budget, how to lead a team of several producers and more, that have motivated me throughout my career.
What do you think the biggest challenge is for women in your industry?
It's important for women to take charge of their careers. That applies to all industries. When I look back, a lot of my internships, jobs, and opportunities I got because I worked hard to get them. I made my own connections, networked, and stayed in touch with colleagues.
Right now submitting a resume on LinkedIn is not enough. You have to do more. Reach out to the recruiter. See if you know someone who works there. Take charge because no one else will do it for you.
And finally, what do you wake up looking forward to? What's next for your career?
I look forward to the work my team creates. It's very rewarding to see their ideas come to life in video. Having been in their shoes before, I know what it means to them when their work really resonates with the audience.
As for my career, right now I am dedicated to leading the video efforts at Apartment Therapy Media. I'm laser-focused on creating innovative, sharable videos to grow our audience and video revenue. This is the job I always wanted—even if it didn't exist when I was 12 years old and writing a book report on Steven Spielberg.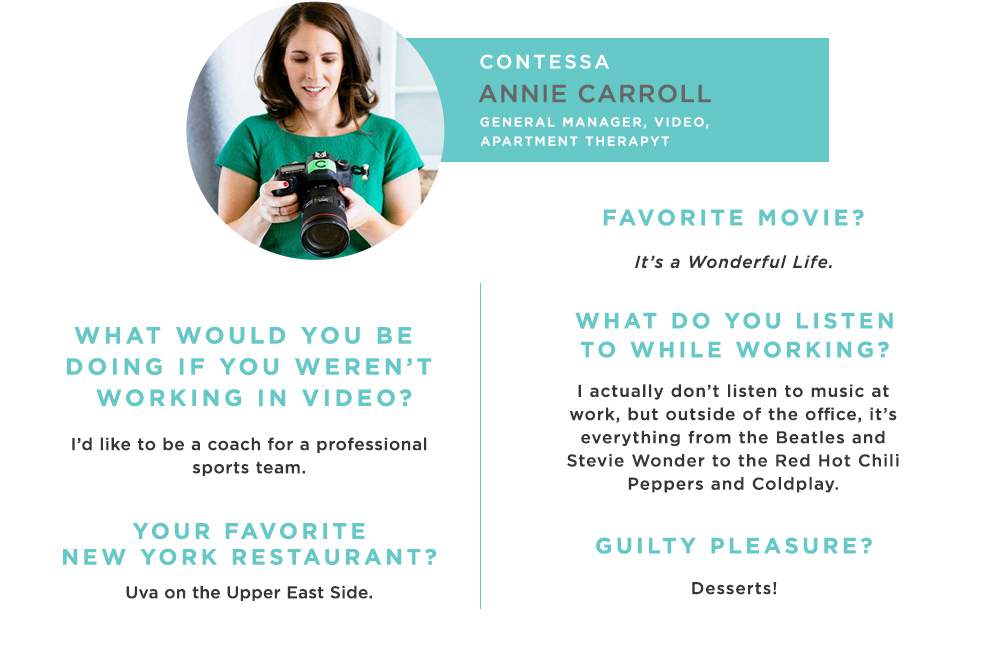 ---