Small City Spotlight: Raleigh, North Carolina
BIG CITIES OFFER A HUGE VARIETY OF CAREER OPTIONS FOR WOMEN, BUT THERE ARE MANY SMALL CITIES THAT DESERVE THE SPOTLIGHT, TOO. HERE ARE THE BENEFITS OF LIVING AND WORKING IN RALEIGH, NORTH CAROLINA.

If I asked you to guess which city has been rated number one for raising a family, for retiring, and for having a business and career, would you immediately think of Raleigh, North Carolina?
I certainly didn't. But Forbes, Bloomberg, and a litany of other sites are all about the capital of North Carolina—which is home to one of the most prominent high-tech research and development centers in the country. Nearby suburb, Cary, is the second most "internet-connected" city in the US and is exploding in regards to development, the economy, and population.
Location usually helps dictate a city's employment culture and mantra— like the tech startup culture in San Francisco or the fast-paced, 24/7 nature of NYC. So, what powers Raleigh?
Raleigh-Cary, Durham-Chapel Hill
First, when people talk about Raleigh, they might be talking about the total metro area also known as Raleigh-Durham. Technically, the two big cities have split and formed two large metro areas with the smaller towns of Cary and Chapel Hill, creating Raleigh-Cary and Durham-Chapel Hill. Adding up all of the metro areas and suburbs together, there's an impressive 2 million plus people spread across the area (which has grown 50% since 2000). Each region is a small city in itself with distinctive neighborhoods, top universities, cultural institutions, and big employment opportunities.
Living in Raleigh-Cary, Durham-Chapel Hill means you can choose between small historic neighborhoods that give you old southern charm, svelte modern condos within walking distance to downtown, family-friendly suburbs filled with young families, or rustic rural settings with acres of land. Large parks, green city spaces, rivers, lakes, and mountains are all within close reach, while the Outer Banks are a great escape only three hours away.
The Research Triangle
"The Triangle" originally referred to the research centers at North Carolina State University, Duke University, and UNC at Chapel Hill, but in 1959, local businessmen wanted to elevate North Carolina's economic future and created "Triangle Research Park," which now sits on 7,000 acres between the cities of Raleigh (and now, Cary), Durham, and Chapel Hill. The park houses over 190 companies that employ over 60,000. You may have heard of some of the companies located in and around the park—AXA, IBM, GlaxoSmithKline, Cisco, Microsoft, Fidelity, Qualcomm, and Bayer (just to name a few).
The amount of industry that "the Triangle" has spurred, combined with the area's rich history and natural beauty, has made moving here ideal. In fact, the population boom gave Cary the hilarious acronym, "Concentrated Area of Relocated Yankees." Yes, that means real estate prices are rising (though still affordable), politics are moderate, and finding someone with a real southern accent is becoming increasingly more difficult.
Still, Raleigh is a good place to move.
Best Company for Women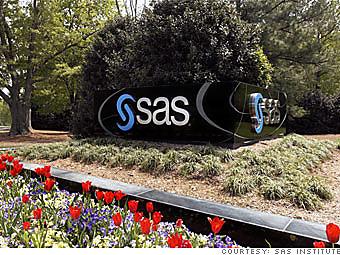 SAS Institute: What first brought my attention to this area was the SAS Institute, located in Cary, which is literally on every single "Best Employer" list. Employees simply will not stop going on (and on) about the amazing benefits they have.
Given that about 70 percent of Americans are not engaged at work, having a high approval rating is no small feat. In fact, this analytics software company—that sprouted from NC State University (the Triangle effect)—is the model for employee perks that have since been copied by Google and other tech companies.
SAS' work values and perks started early on—fresh fruit, reasonable hours, and free M&Ms every Wednesday began in year one. Then they put in on-site daycare for an employee who was going to quit and be a stay-at-home mom (say what now?). A fitness center, medical center, cafeterias, car wash, putting green, masseur, and countless employee benefits came later. There's even a department called "work-life" to help employees find solutions to real-life problems like finding a nursing home or choosing a college.
A privately-held company that has always been profitable and never had a round of layoffs (even during the dot-com bust and Great Recession), SAS' CEO, Dr. Jim Goodnight believes in investing in, trusting, and inspiring his people. The philosophy is simple: when employees are happy and not burdened by time-consuming activities like medical visits, staying healthy, and looking for childcare, they have the freedom to work efficiently.
Did you just see a lightbulb go on?
SAS Employee on Glassdoor: "Great work life balance, but very challenging at the same time. While the benefits are second to none, the real fun of working at SAS is the problems we try to solve. Very advanced statistical procedures shed light on real world problems."
Runner-Up Best Companies for Women
Blue Cross Blue Shield North Carolina: This health care company, headquartered in Durham, boasts a workforce that's over 76% female, with over 40% of employees working flex hours. Making Working Mother's 2014 100 Best Companies list, BCBSNC also offers on-site fitness classes, money coaches, healthy meals, and 15-25 days of subsidized backup childcare (also available nationwide). Contract and permanent employees alike gush on Glassdoor about work-life balance, good pay, and room for advancement.
Qualcomm: With 157 offices all around the world, why does the Raleigh office in Brier Creek score so highly—with a 4.6 out of 5 rating and 100% recommendation and CEO approval on Glassdoor? While Qualcomm is generally high-rated (3.9) and offers the usual tech perks, the engineers at this location are super happy with management, their workload, work culture, and their roughly 500 super smart colleagues. Happy employees equals success—this location is where the "blockbuster Snapdragon processor chip" that is found in over 340 mobile devices was perfected.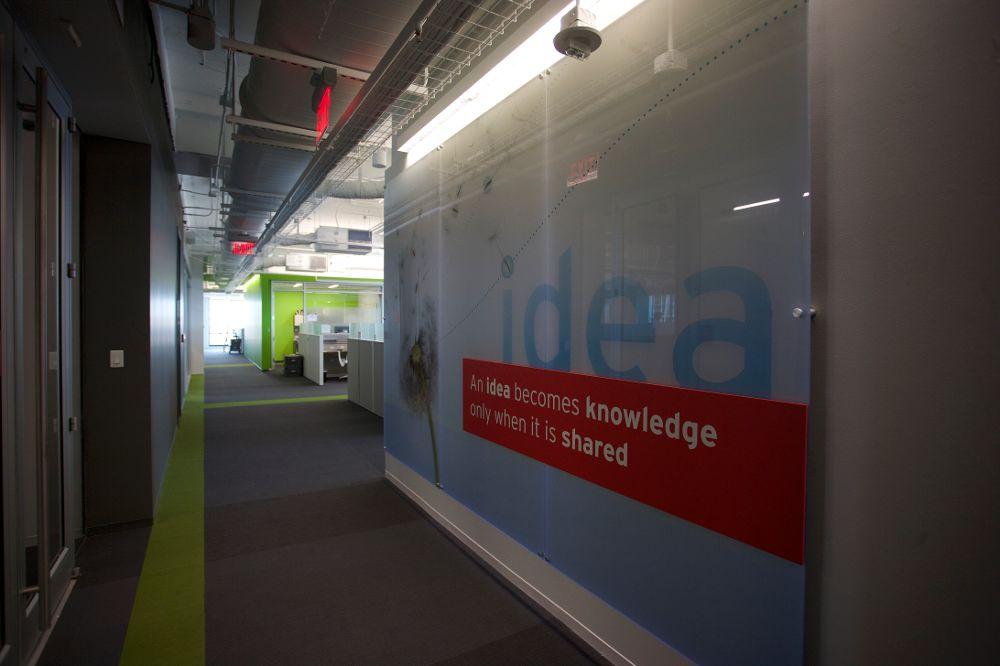 Red Hat: This local tech giant and major contributor to Linux is the first billion-dollar open-source software company and makes it onto this list for having flexible work-from-home policies, fab free drinks/snacks/food, and relatively new (and awesome) headquarters in downtown Raleigh. Payscale lists the tech company's workforce at almost 30% female, outshining the Silicon Valley and Silicon Hills' numbers. 95% of employees would recommend Red Hat to a friend and talk a lot about work culture, bright colleagues, and "never being bored" on Glassdoor.
Big City in Disguise
The Raleigh-Durham area has big city benefits wrapped in a small town package. Breaking up the population into four manageable city centers offers a little bit of everything without being overwhelming. And while there are numerous debates about whether the tech startup scene is legit here, there is no question that the area nurtures tech and development without compromising its core values. These deep-rooted ideals can only come from a community that understands that their biggest asset lies in the people who live and work here.
Did you like the first Small City Spotlight on Raleigh? There are so many companies with great perks. Do you know of any I missed? Leave a comment below or hit me up on Twitter!