Companies With the Best Perks for Women: Los Angeles, CA
The City of Angels: home to beach days, year-round warm weather, and the entertainment capital of the world. But Los Angeles isn't just pretty and warm: it's also home to a burgeoning startup scene and some of the best jobs for women in tech.
When conjuring up thoughts of Los Angeles, California, the first things to come to mind might be the Hollywood sign, movie stars, 90210, In n' Out and that
Bravo show
about million dollar homes up in the hills (oh, and remember
The Hills
?). As much as these are iconic representations of LA, there's a lot more below that sunny, palm tree-lined surface.
And I'm not talking about the traffic. Though there's a lot of that, too—and for good reason.
Los Angeles is the second-largest city in the US (but
first in congestion
) and is comprised of distinctive neighborhoods stitched together by an elaborate freeway and highway system. If you want to rile up someone from LA, ask them about driving from Torrance to West Hollywood during rush hour (or anytime, for that matter).
But driving to and fro is generally worth the headache. Neighborhoods like Koreatown, Downtown, and East Hollywood contain diverse and amazingly authentic ethnic cuisine that is second only to eating in the country of origin itself.
Others contain beautiful beaches that line the coast from Malibu to Long Beach, or have stunning views and hiking trails galore (in the Hollywood Hills, Griffith Park, and the Santa Monica Mountains). Music, sports, and a wide, wide variety of entertainment are always at your fingertips.
(Want some inspiration—and insight into the best coffee in LA? Career Contessa's own
Lauren McGoodwin
recommends heading over to
LA's Arts District
to feed your mind, body, and soul.)
CITY OF ANGELS
City of "Angel Investors" is more like it.
Like other tech regions that have sprouted up recently, LA is coming up strong in the tech world. Now known as "Silicon Beach" (not to be confused with
"Silicone Beach"
), Westside areas like Santa Monica, Culver City, El Segundo, and West Hollywood have been exploding with brilliant companies like
Hulu
,
Snapchat
, and
Dollar Shave Club
.
LA, already a powerhouse in international trade, entertainment, fashion, media, and telecommunications, continues to diversify and redefine its economy. Maybe one of the startups can figure out an answer to that the whole water shortage thing?
Los Angeles, already a powerhouse in international trade, entertainment, fashion, media, and telecommunications, continues to diversify and redefine its economy.
TOP FIVE LOS ANGELES COMPANIES
It's never easy narrowing down the list of companies with great perks for women, but these were the ones that stood out amongst the rest: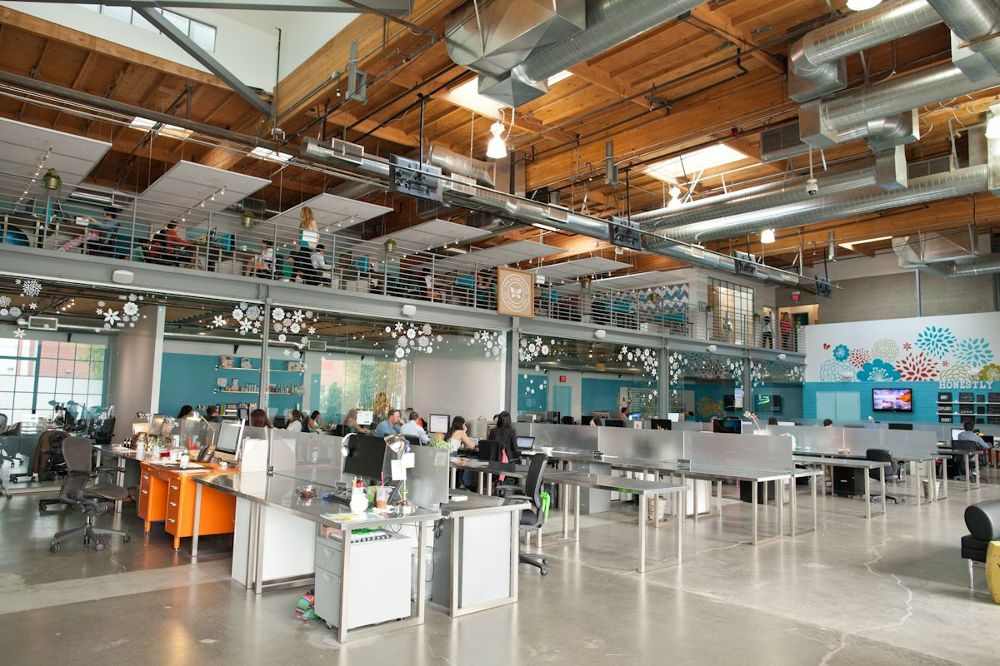 Photo: Glassdoor

This ethical consumer goods company, founded by actress Jessica Alba in 2011, launched its IPO in the summer of 2014 and has grown to become a successful $150 million company. More importantly, employees are happy there with a 4.5 out of 5 rating and 100% approval of their CEO, Brian Lee, on Glassdoor.
The
Santa Monica-based headquarters
has beautiful sun-filled rooms with nursery displays showing their wide-array of sustainable products. As you enter the office, a
tree of life
hanging photos of all employees greets you, as well as open concept rooms, furniture made from recycled materials, outdoor work/relax spaces, and homey-feeling living rooms acting as conference rooms.
Employees at this three-year-young company talk about the amazing growth and expansion in the past couple of years, which makes day-to-day life exciting. The culture is fun (lots of parties and games), socially-conscious (volunteering and eco-friendly), and fast-paced (startup-speed decisions and changes). As expected, health care is 100% covered, and employees also get healthy snacks in the kitchen, free products, a pet-friendly policy, flex hours, free parking, and discounted gym memberships.
Honestly, you can't complain about that.
The Honest Company Employee on Glassdoor
Leadership is always on the lookout for rewarding employees for their hard work -- and there's plenty of that to go around! Summer barbecues, stocked kitchens, free products, and a pet-friendly environment are just the beginning of that which is the Honest Life.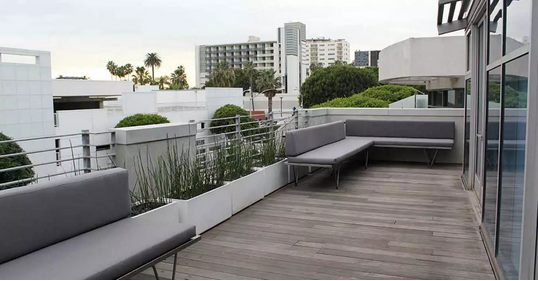 Photo: Tradesy

Sisters, roommates, and close girlfriends will have no trouble understanding the overwhelming appeal of Tradesy. You and your fellow financially-fierce fashionistas can upload a picture, get an estimate, and start selling your items as quick as you can say "reduce, reuse, and recycle!" The company sends you a shipping kit, verifies and rates buyers and sellers, and allows you to "follow" women who have similar taste and sizes.
This magical startup was, of course, created by a woman—Tracey DiNunzio, who started by selling wedding dresses from her bedroom. She calls herself one of the "
mystical unicorns of the tech world
" since the industry is notoriously underrepresented by women. As a Founder and CEO, she is even rarer, and with financial backers like Sir Richard Branson, John Doerr, and Tim Ferris, Tradesy now has wings.
Company culture reflects a nice balance between tech perks and smart management. With 100% approval of the CEO and a rating of 4.7 out of 5 on Glassdoor.com, Tradesy employees gush about lively energy, smart coworkers, autonomy, flex hours, unlimited vacations, and limited emails and meetings (those are usually reversed). Spin classes are available, snacks and lunches are provided, dogs are welcome, and if you're still in the office at sunset, you can catch a
stunning view
off the balcony.
Tradesy Employee on Glassdoor
Fast-growing start-up company, family-like culture, room for growth if you put the time in, catered lunch every day, dog-friendly office a couple blocks from the beach, flexible hours and time off, laid-back/ intelligent coworkers, management focuses on your individual happiness.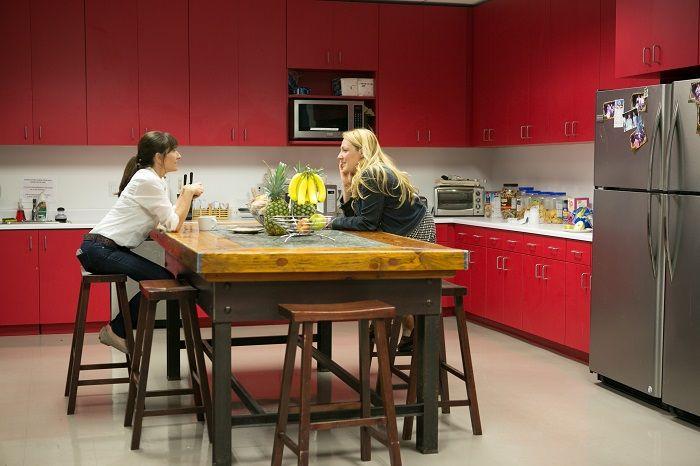 Photo: Glassdoor
Cloud-based software-solutions marketing leader, Velocify, finds itself on multiple "
Best Places to Work
" lists with their CEO, Nick Hedges, being named "Executive of the Year" in 2015 by
LeadsCouncil
. Also named as one of the fastest-growing companies, Velocify employees feel like they can "create and make a difference," which keeps up their enthusiasm, motivation, and work ethic.
Located south of LAX in El Segundo, the headquarters is surrounded by aerospace and engineering giants like Lockheed Martin, Boeing, and Northrop Grumman. Being in a taller office building in this area means great views into the distance and ample parking.
Benefits and perks include a reward structure for top-performing employees, quarterly social events, a fully-stocked kitchen, and free gym membership. The Los Angeles Business Journal believes, "Velocify has an energetic, creative group that genuinely cares about the company and the other members of the staff." Throw in some pizza parties and arcade games and we have a winner here.
Bonus: You'll be everyone's favorite friend by giving them rides to and from the airport.
Velocify Employee on Glassdoor
The company has an employee-focused culture that promotes a "work hard, play hard" environment with great vacation PTO, employee benefits, and everything from a fully stocked kitchen to company-paid gym memberships. People love coming to work, and don't mind putting in the extra hours and energy to keep our software cutting edge, and our company at the top of the list of places to work.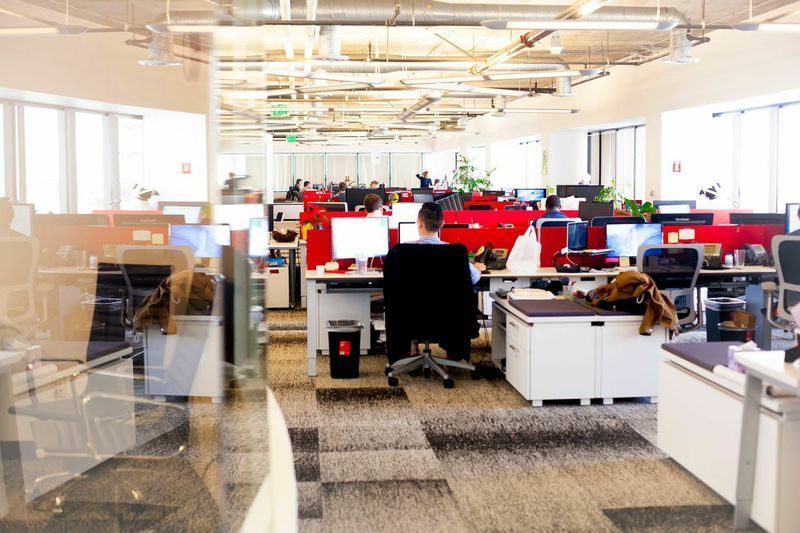 Photo: Glassdoor

Online marketer WPromote, also in El Segundo, has been around since 2001 and was second on Ad Age's
Best Places to Work
in the country last year. With just under 200 employees, the company has kept their numbers reasonable even though they've been listed on
Inc's Fastest Growing Companies
list seven times since their inception.
Judging by their employee reviews on Glassdoor (every single one has a response from the COO) of 100% approval of the CEO and a 4.5 out of 5 rating, the company is hitting it out of the park. Employees feel valued, part of a team/community, and truly supported by management. Personal and professional growth, transparency, and positive, fun coworkers are available in spades.
WPromote's main employee goal is "to make Monday mornings not suck" according to their CEO, Michael Mothner, while the cultural motto is "work hard, play harder," says their HR Director, Joanne Coghill.
Top perks include shuffleboard, foosball, daily lunches, massages, flex spending, flex-hours, yoga, CrossFit classes, team events, volunteer outings, bagel Fridays, "Fine Wine" Fridays, and half-day Fridays. Looking forward to Friday has a whole different meaning at WPromote.
WPromote Employee on Glassdoor
It's the type of place where you don't dread coming to work on Monday. People are serious about their work, yet there is a social balance that offsets the stress of the daily grind. The executive team cultivates a positive team environment that is conducive to success.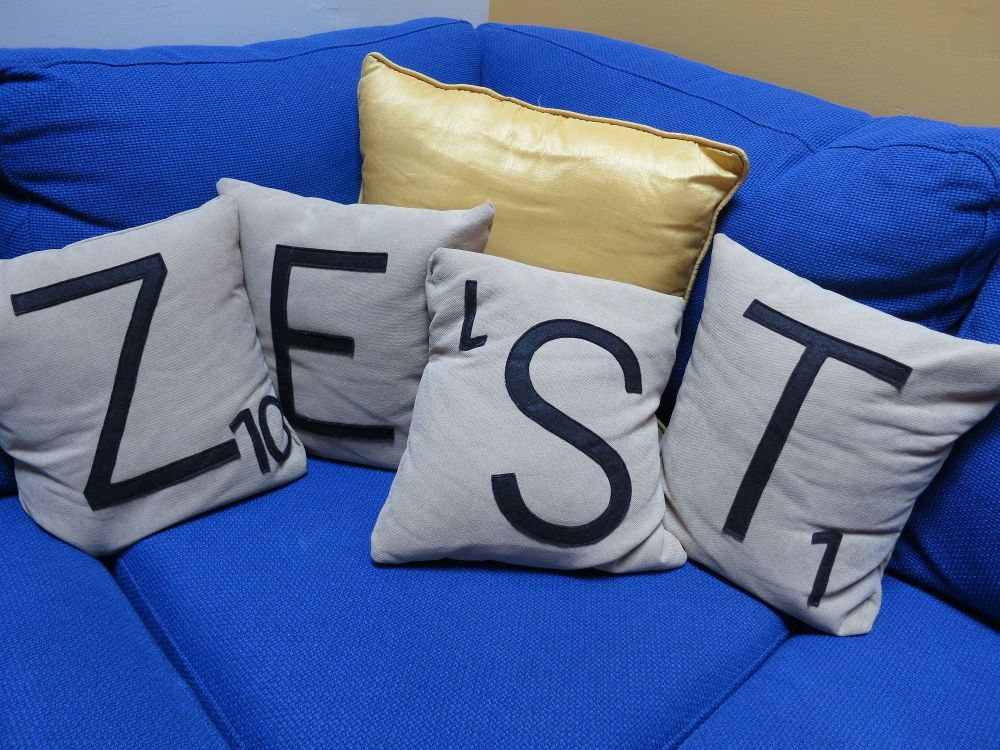 Photo: Glassdoor
A finance company located in the heart of Hollywood may seem a bit out of place, but their mission is not the norm either. ZestFinance uses big data and analysis to offer affordable loans and financial services to those with less than amazing credit. With a mission like that, you just know their company culture is going to be interesting.

One employee mentions on Glassdoor that the work involves "attempting to help people, maneuvering around some really tough regulations (props to legal), and sharing a market with some very shady competitors."
But ZF manages to do that while staying competitive in the tech market for prime employees, which is why they've been ranked number one by Los Angeles Business Journal for "
Best Places to Work
."

Their office is in a prime location, is brightly decorated with lounge-y areas for meeting, communal lunch tables and kitchen, workstations and IT catered to your needs, and a kegerator (of course!).

Workers enjoy full benefits, unlimited PTO, gym memberships, phone coverage, lunches every day from Lucques, video games, ping pong, monthly game nights, flex hours, telecommuting, and a promise of good work-life balance.
To counter the
lack of diversity
in tech and finance, they also offer six-month maternity leave, dry cleaning services, in-office manicures (that can help guys too), and women-centered professional development to attract women of all ages.
ZestFinance Employee on Glassdoor
Ability to work from home or office, choose your own hours, be a part of a new technology that provides loans to the "under-banked". Executives have mastered the art of raising capital, so there's no shortage of funds, no expense spared, for the most part. It's a fun atmosphere, almost like the excitement of certain Silicon Valley start-ups.
Like New York and San Francisco, there was no way to represent all of the great companies offering wonderful perks to women in Los Angeles. LA has a lot to offer and so do these companies that would have made it to the list if the list was longer:
An ode to my favorite Red Hot Chili Peppers song, I have to say I feel a lot friendlier to LA after writing this article. Most of my anti-LA feelings are most likely rooted in my jealousy of the weather, fear of earthquakes, and general aversion to being stuck in traffic every day. Oh, and the Biggie vs. Tupac thing that happened when I was in high school. But, like I said, water under the bridge.

Did I miss any great companies? Let me know what you think by commenting below or in a clever 140-character tweet.