Companies with the Best Perks for Women: Boston, MA
BOSTON, MASSACHUSETTS HAS CORNERED THE MARKET ON AMERICAN HISTORY, COMPETITIVE SPORTS, HIGHER EDUCATION, AND—MOST IMPORTANTLY—CLAM CHOWDER AND LOBSTER ROLLS.
How can one city be good at so many things?
As the largest city in New England and the sixth largest in the US, Boston is an international powerhouse in terms of education and research, medicine, finance, insurance, and business services. America's largest college town has more than 350,000 students in the Greater Boston area feeding the workforce, pushing high-tech industries and winning investments from venture capitalists. Many people forget small startups like Facebook and Dropbox began here, not San Francisco.
Walking through Boston is like going back in time. Literally. You can walk the 2.5-mile Freedom Trail and see sites like where the Declaration of Independence was read, Paul Revere's house, the site of the Boston Massacre, and the exact spot where the Revolutionary War began. If you're tired of walking, you can sit in Boston Common, the oldest park in the country; take a ride on the oldest subway system in the US; eat at the longest running restaurant; or cross the Charles River and visit America's first University in Cambridge.
BOSTON STRONG

As a New Yorker, talking about the wonders of Boston can sometimes be challenging for me. Probably because we're actually too similar—and too close—for comfort. We're both coastal cities with great food, deep history, and "enthusiastic" sports fans. In fact, Boston is only one of six cities (another one being New York) that has won a championship in the four major American sports: football, baseball, basketball, and hockey. They also have a professional soccer team and the world's oldest (of course) and most selective annual marathon (#respect).
Cost of living is among the highest in the country in Boston, yet quality of life doesn't suffer. Perhaps that's due to the distinctive neighborhoods that make up the city, each with their own sense of identity, cultural institutions, and historical relevance.
Or maybe it's because there's a Dunkin' Donuts on every corner (#truth).
The Boston Harbor and the Charles River have historical, recreational, and scenic relevance to the city, and offer killer waterfront views, gorgeous bridges, and fresh seafood. The 23-mile bike path alongside the Charles begins at the Museum of Science and passes the campuses of Harvard University, Boston University, and MIT. Along with great outdoor spaces, new bike lanes added in 2007, and the highest percentage of residents who have healthcare coverage, it's easy to see why Boston is commonly voted one of the fittest cities in the country.
TOP FIVE BOSTON COMPANIES

Boston clearly has a lot to offer. Just try to find a city with more history, culture, and educational opportunities. Here are the top companies in Boston that have amazing benefits for women.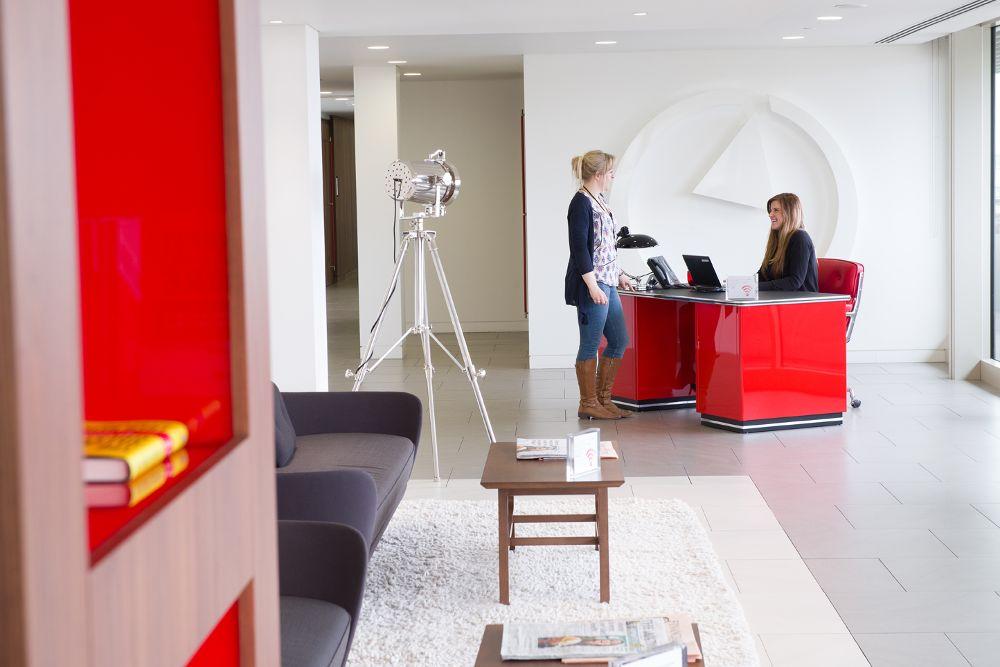 Photo: Glassdoor
This Boston-based management consulting firm is on multiple "Best Places to Work" lists and employees in their worldwide offices rank the company an impressive 4.6 out of 5 on Glassdoor. Their HQ, located in the Back Bay area, is actually ranked higher at a 4.8 out of 5, with a 100% CEO approval rating and a 99% referral score. Interns and long-term employees gush about fast-paced learning, mentoring, unbeatable career growth, and an intelligent, supportive team.
Impressive. What about women?
Working Mother highlights a 47% female work force with 39% being at the manager or executive level. Moms have 12 weeks of paid maternity leave (four weeks for dads and adoptive parents), and can take advantage of Bain's flexible work scheduling, telecommuting options, and backup childcare (hello, work-life balance). The work culture fosters equal advancement opportunities with mentoring programs, a women's leadership council, local women's networks, and biannual women's summits.
Though travel is a must in the consulting business, Bain employees talk about a "sustainable travel schedule" so you can actually enjoy the plentiful office perks, which include on-site massages, manicures, sleep and stress management sessions, and yoga. If you don't want to use the on-site gym, you can use your $300 annual wellness and healthcare reimbursement to pay for your own.
Bonus: Got the travel bug? Global business experience is encouraged, along with social impact initiatives, like the annual Antarctica Expedition that brings awareness to environmental responsibility. Update your resume and pack your bags!
BAIN & COMPANY EMPLOYEE ON GLASSDOOR: You get to work on interesting business strategy problems for senior management across a range of industries. The company also places a lot of emphasis on professional development as well as work/life balance. The people make for a fun and collaborative environment and there are frequent fun events!
Photo: Glassdoor
This small telecommunications company, located in the Boston suburb of Needham, designs virtual phone system solutions for entrepreneurs and companies that need more than a landline. Since their product caters to workers who travel frequently, work remotely, or telecommute, it's no wonder that flexible hours are the norm, along with four weeks of PTO, nine holidays, and summer Fridays (paid half days from Memorial Day to Labor Day).
Grasshopper contains all the cool perks you'd expect from a tech telecommunications company: ping-pong, a pool table, a Playstation/Wii room, allowance, snacks, coffee/espresso, a biannual hackathon, office parties, free Kindles, and ergonomic choices for work stations (standing desk anyone?). Other benefits come in the form of a reimbursed or discounted gym membership, cell phone plan, Kindle books, and daily lunch. The best thing is that you can actually use these benefits, because work-life balance is a top priority.
The reviews on Glassdoor are high (4.8 out of 5), but there are only six of them because the company has less than 50 employees. However, that doesn't stop them from being frank about the company's shortcomings, which indicates a high level of comfort and honesty in the work environment (like, why can't I bring my dog to work?). Want to write your own super-honest review for Grasshopper? They're hiring. Hop to it!
GRASSHOPPER GROUP EMPLOYEE ON GLASSDOOR: Company values are in line with my own and the perks are generous. The idea of a company culture is rather new to me and it's something that I have learned to value greatly.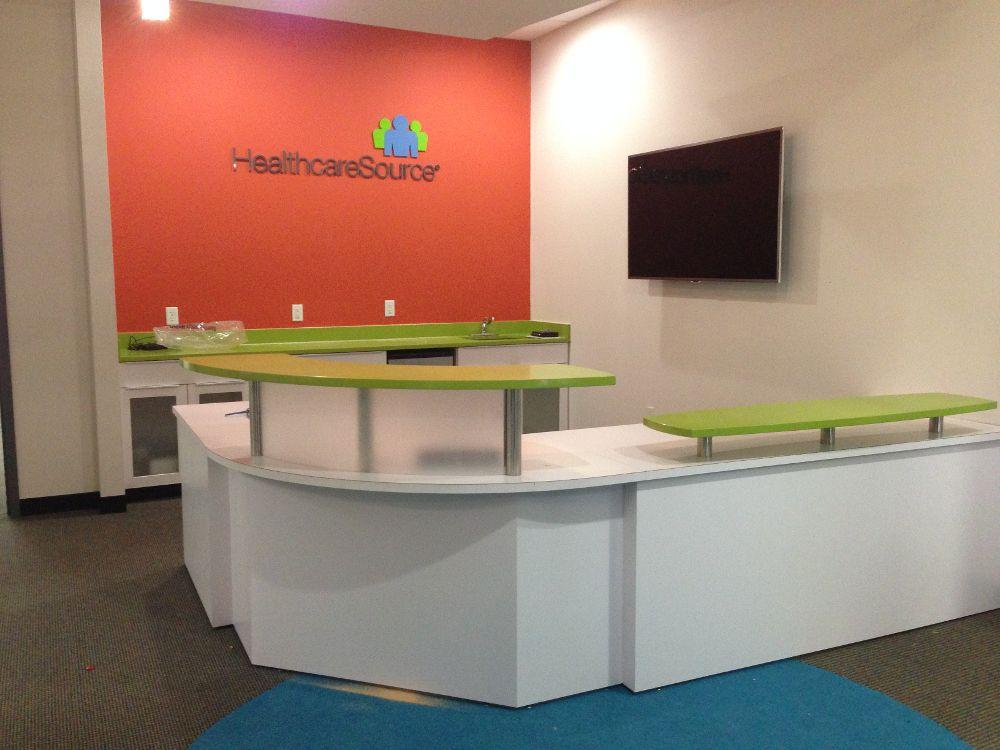 Photo: Glassdoor
One of the fastest-growing private companies, HealthcareSource supports over a third of all healthcare companies with their cloud-based talent management software. That makes this less-than 500 employee company's 4.6 out of 5 rating and 99% CEO approval on Glassdoor rather impressive.
It also made the "Great Place to Work in Healthcare" list two years in a row and is a designated "Gold-Level Fit-Friendly Worksite" from the American Heart Association. Employees love working here and the reviews talk largely about a positive work environment, customer-focused culture, and some positive changes that improved morale and professional development opportunities in the past two years.
An easy commute, the headquarters is right off I-95, 20 minutes outside of the city-proper in Woburn, MA. There's ample parking and free fruit, snacks, soda, and beer in the office. Work benefits are extremely transparent (you can download the packet from their website) and include full health (vision and dental), a flex spending account, 401K match, 3+ weeks PTO, $2,500 tuition reimbursement, pet insurance, nutritional planning (50% off Weight Watchers), and various discounts.
Flexible schedules, work-life balance, and a relaxed atmosphere keeps stress levels low, while fun office events and community volunteer activities help build teamwork and camaraderie. On-site lunchtime yoga, walking groups, charity runs, corporate retreats, and holiday parties are just some of the fun activities that happen here.
Oh, and you get your birthday off. Every year. Happy birthday!
HEALTHCARESOURCE EMPLOYEE ON GLASSDOOR: Their biggest asset is their employees. Highly talented, motivated people always looking for opportunities to improve. Very encouraging executive team who genuinely care about their employees and actually listen to them. Everyone can make a difference here.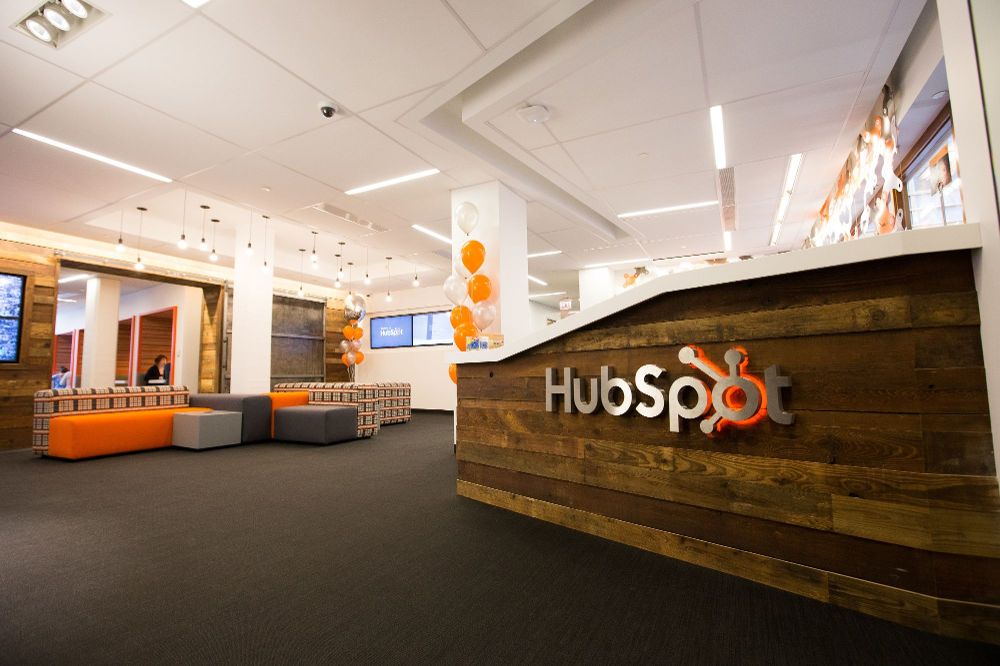 Photo: Glassdoor
Inbound marketing software giant, Hubspot—founded by two guys from the Massachusetts Institute of Technology (MIT) in 2006—is appropriately set in the Lechmere neighborhood of Cambridge, MA. Voted a top employer by Boston Globe, Inc. 5000, and Glassdoor, the biggest differentiating factor at HubSpot is their transparent and open office culture.
What does that mean?
It means no one tracks hours at HubSpot. Not for vacation and not for work. Schedules are flexible, so you can take classes or pick up the kids. They have a 135 slide "Culture Code" deck that acts as an unofficial employee handbook. The CEOs and top execs are accessible, sitting at open desks. There is beer in the fridge (and on tap). In short, upper management trusts employees and, as a result, flash-mob dances ensue (not kidding, that really happened).
The lack of women in tech remains a problem, so HubSpot has two women on their eight-person board of directors and the company heavily recruits (and supports) women for their product and engineering departments. Like Bain, they offer a generous 12-week paid maternity leave and a plethora of female-friendly health and wellness benefits. In fact, all workers can enjoy the nap room with a hammock, an on-site gym, snacks, games (where would tech be without foosball tables?), standing and treadmill workstations, free books, and tuition reimbursement.
Employee reviews are filled with praises about smart leaders, passionate coworkers, endless career growth, autonomy, and challenging work. Pass the kool-aid, I'm sold.
HUBSPOT EMPLOYEE ON GLASSDOOR: The thing I love most is the flexibility in terms of work hours. I can work from home (or remote) when needed and can come and go as I please. This is especially important for parents with young children or if you live outside the city and want to beat traffic. Management cares more about reaching our goals, not how many hours you're in the office.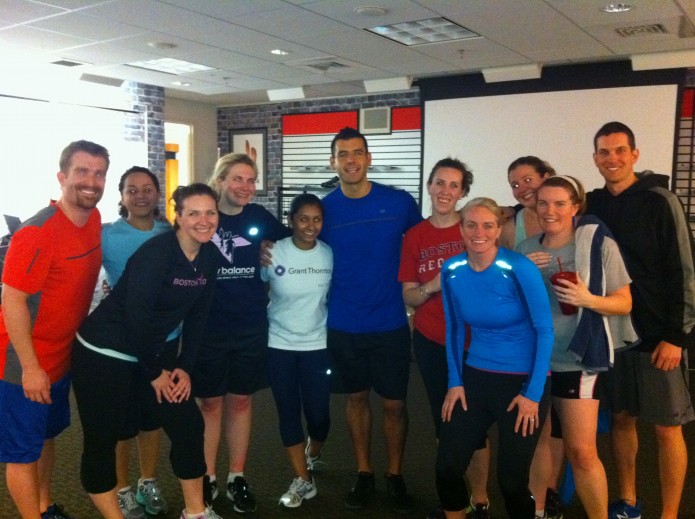 Photo: BJ Gaddour
Quite possibly the oldest company that can make it onto a "Coolest Companies" list, New Balance was founded in 1906 when William J. Riley was inspired to create a balanced and comfortable shoe by observing chickens in his yard (no, for real). Since then, the sneaker company has made some great sneakers and had awesome collaborations with Kate Spade, J. Crew, and Nine West. As you can imagine, the employees get a big discount, or even free shoes sometimes (gasp!), so the dress code at the office can only be described as: the best thing to ever happen to your feet.
Consistently voted Top Place to Work by the Boston Globe, employees like the family-owned, privately-held, community-oriented feel of the company. Glassdoor reviews give HQ a 4 out of 5 and benefits include flexible hours for good work-life balance, roll-over PTO, and a real effort to promote a healthy and active lifestyle. Reimbursements, coaching, pedometers, and sports leagues are all available. Running together before, after, and during work is encouraged, along with visiting the new state-of-the-art fitness facility next door.
The fitness facility is all part of their major four-year, $500 million expansion project of their HQ in Boston's Brighton neighborhood. Working in conjunction with city planning, "New Brighton Landing" will include a new New Balance HQ, a sports complex with a 200-meter hydraulic track and field facility, an NHL-regulation hockey arena, hotel and retail space with parking, and a new stop on the Worcester Commuter Rail Line.
Construction is well on its way and will be done in 2017. 53% of NB is women, so fit ladies, you have two years to make a move into the new HQ complex.
NEW BALANCE EMPLOYEE ON GLASSDOOR: Such a relaxed environment and they truly believe in balancing your work and home life. You rarely stay at work past 4:30 PM. Everyone is so friendly and inviting as well.
---
COMPANIES GALORE

The diversity, geography, and depth of industry in Boston made choosing these five companies difficult, to say the least. Sometimes the decision was made with a few extra good reviews, a higher percentage of women, or some great photos of a company Diwali party (#diversity).
For every Bain, there were at least one or two similar companies (Boston Consulting Group, I'm looking at you) that were equally good employers with amazing perks. Geographically, some companies were almost an hour outside of Boston, so I capped the driving commute to around 30 minutes to focus more on the city itself (and limit the field). The startup and tech industry is so vast and explosive around Boston, cool companies like RunKeeper, FormLabs, and (up-and-coming) Dynometrics will continue to grow and expand, increasing the opportunities for all.
Also, Career Contessa has no shortage of Boston-based Contessas. Check out Donna Garlough from Joss & Main, Jessica Armedariz from Connelly Partners, and Charlotte Wilder from America's Test Kitchen.
I don't know about you, but this New Yorker found some great reasons to love Boston, perks aside, and that is no easy task.
Want to nominate your city or tell me about a great company I missed? Leave a comment below or hit me up on Twitter.