What Is a Bullet Journal + Is It Worth the Hype?
We all tackle a to-do list differently.
When I first entered the workforce my organization was haphazard at best (think post-its in pockets.) As my responsibilities grew, this 'method' wasn't going to fly. I remember standing in a Target and looking at beautifully-patterned planners to help conquer my tasks. I purchased a thick blue agenda and thought my productivity would skyrocket. It didn't.
Why Conventional Planners Didn't Work For Me
I'm not here to knock conventional planners—often, they are thoughtfully laid out and gorgeous. Rather, what led me to leave my planner sitting idle was its lack of customizable elements.
If right now, you were to sift through an assortment of planners, you might run into some unique covers, but that's all. A similar formula—the full year laid out at the front, then each month, followed by either the weeks or days expanded to allow for note-taking and list-making—can be found in almost any planner.
This format became a source of stress for me (kind of the opposite of what you want from a planner.) It left no room to expand a to-do list on a particularly busy day—and it made me feel like a sloth when I had only a few tasks on an otherwise wide open space. For me, it felt like most planners were designed for either work or life, not the marriage of the two.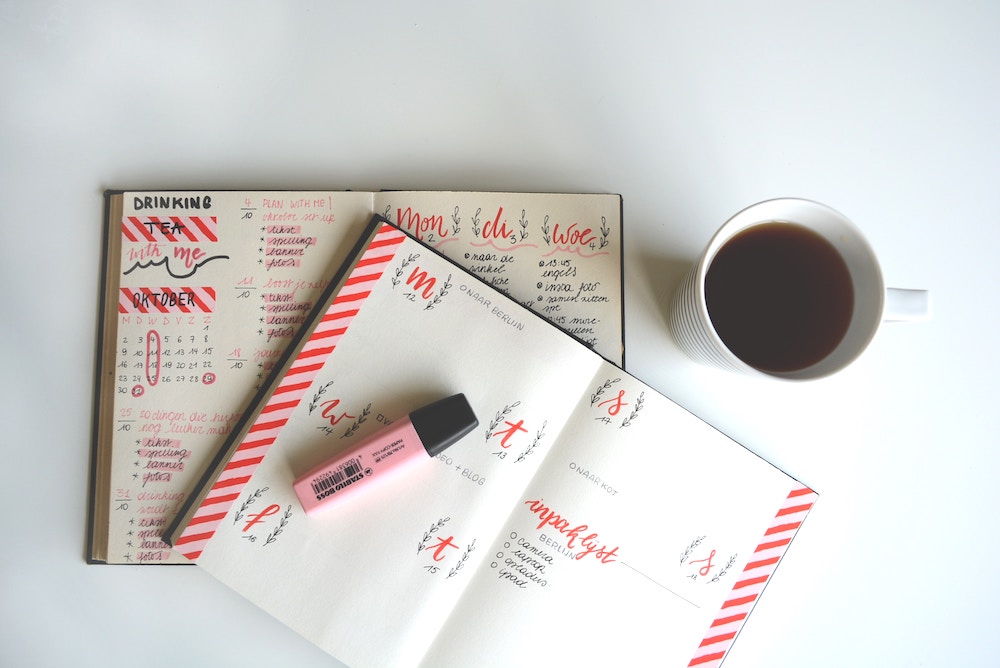 Enter, The Bullet Journal
Developed in 2013, the bullet journal has converted folks from all over the world. It combines a to-do list, planner, and diary all in one! This journaling method allows for complete control and creativity over your tasks.
You start with a completely empty journal, and while this can feel intimidating, it's also so freeing! From here, you can organize and design the journal you need. There are really only four foundational elements that make your journal a 'real' bullet journal:
Index: The second you open your aspiring bullet journal, you should create the index. This is where you organize your entries (known as collections) so you're never stuck furiously flipping through your notebook. I recommend finding a notebook with numbered pages, as it makes tracking SO much easier.
Collections: Any entry created in your journal is a collection. Some common collections for bullet journals are future logs, monthly spreads, daily logs, goal trackers and shopping lists.
Rapid Logging: Traditionally consisting of bullets and signifiers, this is where the bullet journal got its name. They are quick ways of recognizing tasks, events, and goals—and whether or not they have been completed.
Migration: This feature is all about reviewing your tasks and moving anything that hasn't been done. This element has forced me to look back on all the work I've done that week (which has been a nice morale booster) and also, to pay extra attention to anything that slipped through the cracks.
My favorite part of the bullet journal is that you can add or subtract anything, anytime. I've had collections that I thought would revolutionize my schedule that fell by the wayside. I also had off-handed notes that eventually turned into monthly occurrences.
Tips + Tricks To Maximize Your Bullet Journal
If you search for bullet journal on
YouTube
you will be flooded with
so many
examples of organized, thoughtful, and beautiful templates and how-tos. (Feel free to start that video rabbit hole
here
or
here
.) Now I'm not the most artistic and my penmanship leaves something to be desired, so below are the no-flourish tips that work well for me. But again, the beauty of the bullet is that the world is your oyster!
Collections I Love


Brain Dump: Your most absurd thoughts live here. I love this collection because random, fleeting thoughts—that can often go unrecorded—can spur so much creativity. Winners from my own collection include "colors in the bathroom of Netflix's Russian Doll are AWESOME, pin it" to quotes like "I will destroy all worlds too small for me."
Books to Read: This collection is pretty straightforward. Anytime there's a book recommendation (and there are lots of them when you work at Career Contessa,) I jot them down here.
Work Week: My bread and butter. I would be lost without this collection. All of my work tasks for the week are here—and paired with my reminders collection—it's like a time capsule for every week of work. (BONUS: This is a great place to refer back to when you're thinking of asking for a raise or promotion.)
Reminders: Living on the page opposite my work week collection, this is admittedly a bit of a hodgepodge. Anytime I receive feedback or tips from my peers, they're written here.
Monthly Goals: Another self-explanatory one. While my goal-setting has changed over the years—and I'm sure will continue to—right now, it looks like two work goals (with an action item for each) and two personal goals (also with action items.)
Gift Guide: This collection has changed the game! Any time a loved one says blank "looks cute" or they "would one day like to…" I write it down here. That way when a birthday or holiday comes up, I'm armed and ready with a thoughtful gift.

Bullets I Use

Square - I use squares instead of bullets for my to-do list. Full disclosure, this is not because of any research-backed reason, but because it's extra satisfying to color in.
Triangle - Used for any upcoming events.
Capital A - Whenever I receive feedback with an action item attached, I write a capital A inside a big circle, so it (hopefully) catches my eye later on.
Arrows - Any task that gets pushed to another week gets an arrow. This tells me that I need to rewrite the task on my next 'Work Week' page.
Products That Helped Me Make The Switch
There is no right or wrong way to get started with your bullet journal. Use whatever you have handy! If you don't have supplies around, we've rounded up some great products to help get you going.
Notebooks


Leuchtturm 1917 Hard Cover Medium A5 Dotted Notebook - I have been using this specific notebook for the last three years and I treasure the little collection I've started. This library has been a perfect way to look back at old goals, amuse myself with my random doodles, and feel comforted by quotes I wrote down years back that still feel relevant.
Dotted Grid Notebook/Journal - A dotted grid notebook has helped me keep a tidy journal with very minimal effort. I also like that this notebook isn't as rigid as the Leuchtturm, so transport isn't as tricky.

Pens

More Fun Stuff (Tape, Stickers, and Highlighters Galore!)
Books for Some Added Inspiration

If you buy something through our links, Career Contessa may earn an affiliate commission.