Are Networking Events the New MBA?
The right networking events provide In-demand skills, knowledge of trends & community-building.
For years, some have considered an MBA a prerequisite to
starting a company
or becoming a top-level exec in corporate America. However, as costs rise and applications dwindle, the value of an MBA is being reassessed, and
select networking events
are taking its place.
Proponents of MBA programs often argue that the degree is a competitive advantage that makes job seekers stand out. Yet, several of today's most admired business leaders don't weigh MBAs in their hiring decision or consider it a factor in their own success.
Elon Musk has said," I hire people in spite of an MBA, not because of one. If you look at the senior managers of my companies, you'll see very few MBAs there."
Musk's outlook on MBAs may seem extreme, but, nevertheless, individuals who once flocked to MBA programs to gain a competitive edge are starting to doubt whether sacrificing two years of earning potential and paying around $500K (including the opportunity) is worth it.
Millennials are especially wary of accruing additional debt from education costs. In the past ten years, the amount of student debt in the US doubled to
a whopping $1.5 trillion
. Millennials are putting off major life milestones like buying a home, getting married and having a family.
There is no doubt value in furthering one's education, but the MBA is no longer the only—or best—option available. The best networking events (or co-learning programs) are better suited for today's economy, with fewer time commitments and lower-costs. What do these new crop of networking events have in common? Like the MBA, they provide: access to a community of experts and peers, as well as key knowledge and skills to thrive in business.
How The Right Networking Events Replace the MBA
1. Access to a network of peers and business leaders
Entrepreneurs and executives that do find success after MBA programs often attribute it to the powerful business school network, more so than the curriculum, which has been criticized for being outdated. In fact, a
LinkedIn study
reports that 80 percent of professionals see networking as important to career success.
In an article in the
Financial Times
, Joseph Zwillinger, co-founder of Allbirds, attributed the popular shoe brand's success and rapid growth to the connections formed while at the University of Pennsylvania's Wharton School. Two of which include co-founders of Warby Parker, Dave Gilboa and Jeff Raider, who invested in Allbirds early on.
"These relationships we create at business school are deep bonds to explore big ideas," says Zwillinger. "Some of my best friends come from business school and they are all unbelievable resources who invest in each other's success."
As more networking events sprout up, it's possible to gain access to an MBA-level network without crippling yourself with huge student loan debts.
2. Knowledge of industry trends and 'soft skills'
According to the
latest Linkedin study
, communications is the top skills gap in the U.S. As more roles and job responsibilities become automated, soft skills that set humans apart from machines will be the most coveted.
Along with soft skills, today's business leaders are expected to be at the forefront of industry trends—a feat that is hard to do with classes planned months to years before.
Networking events should provide attendees opportunities to learn in real-time from thought leaders and peers. They should put soft skills to the test through group work, pitches, and presentations.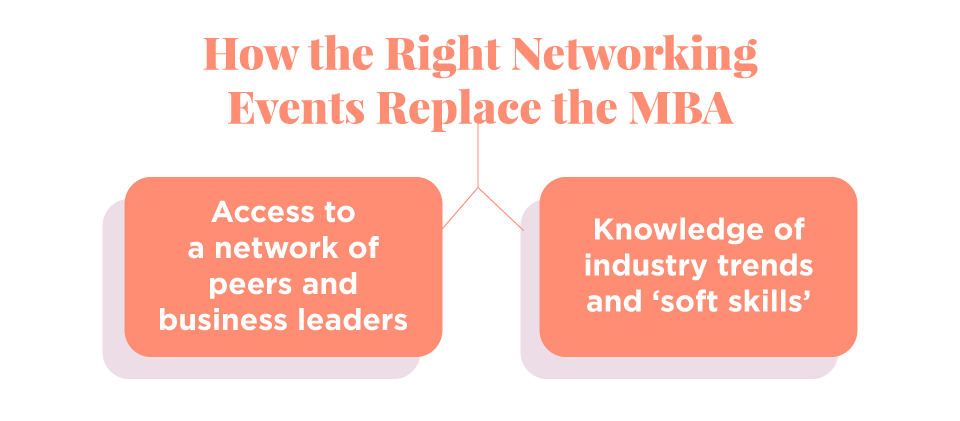 How To Make The Most Of Networking Events
Find networking events that focus on engagement.
You won't build the connections that you need for your career by going to run-of-the-mill networking events. Happy hours may seem fun and get professionals in the same place, but it's a mixed bag. They're not designed to encourage people to get out of their comfort zones and get to know other guests in a memorable or meaningful way.
Instead of forcing conversation with people you've just met, you can bond over activities first. At brunchwork, networking events are part of a larger co-learning program. Guests learn from top leaders during a Q&A, and then are divided into groups where they work on a case study or business pitch together. Each group presents their idea and receives real-time feedback from speakers, which could include presidential candidates, unicorn startup founders, or prolific investors.
Follow up with new connections.
Whether through email or a LinkedIn message, following up after meeting someone is crucial. Make sure that you follow up within 24 hours, while the meeting is still fresh in their minds and include something from your conversation that will help them remember who you are. Try to provide value and give them opportunities to re-engage with you, whether it is inviting them on your podcast, to a workshop, a book club, or another event that they might be interested in.
Consistently attend networking events.
Relationships are stronger based on how long you've known someone and how much they trust you. If you meet someone once or twice at a networking event, the relationship probably won't be that strong. However, if you are part of a community that engages with each other on a consistent basis, those relationships will be much stronger and valuable.
A reported
85 percent of open jobs
are filled through networking and referrals, many before they are ever posted online. Attending networking events consistently will help you build a community. A referral from someone at a company will help you stand out to recruiters more than an MBA degree on your resume.
If you aren't sure whether an MBA is the right path for you, evaluate all your options. Networking events have evolved in the last few years. Many include co-learning and community building as key to their programming, so guests don't come away with just a stack of business cards but a strong network of supporters. With a growing number of viable options, it's easier than ever to gain the necessary skills and network to help you succeed in the career that you want without the huge MBA price tag.