Robyn Sue Fisher, Smitten Ice Cream
While working the grueling schedule that went along with her consulting job, Robyn Sue Fisher, 33, compromised by indulging in late night ice cream. As fate would have it, though, the consistent treats turned out to be more than just a sugar rush; Robyn was subconsciously developing instincts for a soon-to-launch business all her own.
Robyn's newfound goal of innovating the ice cream scene eventually led her to Stanford Business School, where she teamed up with an engineer to learn the science behind ice cream, including freezing temperatures, textures and crystals. This research hatched her passion for made-to-order ice cream—a hunger that would consume the next two years of her life, not to mention her life savings. In the end, that energy led to the invention ofBrrrTM, the first single serve ice cream machine to run on liquid nitrogen.
Getting her start by literally pulling Brrr around the streets of San Francisco, Robyn's artisan ice cream captivated foodies who were immediately smitten with Smitten Ice Cream. Join Career Contessa as we learn how perseverance proves to be the name of the game, and how a simple dessert got a delicious new twist.
Photos: Courtesy of Smitten Ice Cream
Her Starting Point
Where did your start your career?
My first job was working for a management consulting firm named Monitor Group. I went through the normal career process and had no idea what on earth I wanted to do—especially with a psychology degree. I did what everyone else was doing with consulting and worked in Boston, New York and Paris over the course of four years.
When did you discover your passion for ice cream, and how did your past work experience impact your passion for ice cream?
In my late working nights, of which there were many, I was treating myself to ice cream and that's how I started developing ideas. I have loved ice cream since I was a little kid, and I started recognizing how common ice cream was with its broad appeal. It's an ordinary indulgence with very few nuances and innovations in the space. Next, I went to business school because I knew I didn't want to do consulting forever, but I still had no idea what to pursue.
While at Stanford, I was intrigued with their design school and ended up talking to some engineers. A woman engineer was interested in business and I was interested in design engineering so we decided to team up and study ice cream. We started looking into the science behind it, such as how you can make better ice cream and the different ways of making ice cream. We learned several things, including the fact that the freezing temperature has a really big consequence on the actual texture of the ice cream. The colder you freeze it, the smaller the ice crystals can be, and with smaller ice crystals you can actually make a much smoother texture. However, if you put that ice cream back into a freezer, the ice cream will start growing again. The idea was how do you make small enough batches so the ice crystals never entirely grow, and that hatched my passion for creating made-to-order ice cream.
Her Big Break
How did you come up with the Brrr machine idea?
I came up with the idea for made-to-order ice cream in business school, but I realized no technology existed to make that a reality. In addition, it's really hard to create because ice cream is extremely cold and, when it's not, it'll stick to everything. I spent the next two years working with a retired NASA engineer to prototype the Brrr machine. I literally worked in a basement shop and slept on my friend's floor for a few years before we created Brrr. It was a long road.
To finance Brrr, I gave the engineer equity and used my life savings to pay for materials and patents. Originally, it was self-funded and then I started raising small amounts of financing. In 2010, I ran out of money. After 24/7 dedication to Brrr and made-to-order ice cream, I had to pause and take a consulting position for six months to build up my bank account. After my six months, I was offered a full-time position with a product design consulting company, which really piqued my interest. At that point, I knew I had to either accept the job offer or take Brrr out and allow the consumers to decide whether made-to-order ice cream would work.
That sparked my idea to take Brrr to the streets of San Francisco on a Radio Flyer wagon. I just started pulling Brrr around the streets and engaging with the community. What seemed like a last resort ended up being the absolute best thing I've ever done for the company. I gained huge community and media support that resulted in a loyal following. Because I was able to prove that made-to-order ice cream was in demand, I was able to raise money for a physical store. I sold ice cream on the street for about nine months before opening the first Smitten Ice Cream shop in the Hayes Valley neighborhood of San Francisco.
Did you have a plan in place when you quit your job and decided to pursue your business full-time?
No, I had no idea. What actually spurred me to pursue Smitten was the deadline of the full-time consulting offer. I couldn't accept the offer until I knew that this dream of mine wasn't going to work. I was trying to live life without any regret and that thinking helped me jump and take the risk. I spent more than two years working on Brrr and, although I could have been proven silly in a heartbeat, it was so important for me to follow through.
Can you explain the transition of selling your ice cream on the street to opening up your first shop?
My company is somewhat nuanced because we have intellectual property. We have three patents on the machines and it's hard to value that. To learn more about how I should structure the physical store, I consulted with people on how they structuredtheir restaurants and how they financed them. I ended up raising money just for that shop, but agreed that investors who invested over a certain amount, which was a threshold amount in the shop, would have first dibs on investing in the intellectual property company later on. Basically, if you get in now then you could be involved in the big thing later. I got some really cool investors on board, and opened the first Smitten shop in April of 2011.
How did you go about finding investors?
It was a combination of efforts. I hosted some tasting events where I presented my business plan and fed people ice cream. I reached out to my contacts, my friend's contacts and some business school contacts. I worked hard at making and maintaining relationships while also developing mentors. It's important to not just reach out to them because you need money, but rather develop relationships that are based on knowledge, interest and sincere mentorship.
Although the investors were much more interested in the intellectual property piece, I was able to get funding for the store because I cultivated deep relationships with people who believed in the overall vision I had for Smitten—not just the piece they thought was worth the most.
How did you learn the entrepreneurial skills required when you opened your first store?
I was pretty much clueless so I brought on good people to help. I had a chef, Robyn Lyn Lenzi, who has been onboard since the beginning, making the flavors. For finance and press, I had an advisor named Sarah McCrea who had previous experience as Director of Marketing for Jamba Juice. Sarah knew how to apply marketing to a retail food company and she helped mentor me in that.
We also brought on a few consultants to help with the financial modeling—one of them is now our CFO! My strategy basically involved looking for cool people who would agree to work for equity, were experts in their field and people with whom we could get along and have fun. In the end, a lot of it was still dependent upon being resourceful and asking questions, but the talent and passion for what we were building was always there.
Her Perspective
What qualities do you look for in potential Smitten Ice Cream team members?
It depends on the job, but we are always looking for someone with dedication who also has a whimsical, fun side. For the corporate team, we spend a lot of time in close quarters and I've started to find people who are just very good in areas where I am a bit lacking. For company culture, we try to do adventure days and actually spend fun time together because otherwise we'd just turn into a boring company. It's definitely an all-in kind of mentality.
How did you attract your board of advisory members? What advice would you give to budding entrepreneurs looking for advisory members?
I have been super duper lucky to have such amazing advisors. When I met with someone who had experience in a relevant area, I made extra efforts to get to know them and to show them I looked up to them. These people have become mentors and friends.
My advice would be to find mentors in all of the key areas of your business (one who has exceptional financing experience, one who is super good at brand and marketing, one who has been a CEO and is great at people management, etc.) and get to know them as people, as well as advice givers.
If we had the chance to peek at your schedule, what would an average day look like?
My days are totally spastic. I'm definitely not an early riser. The cool thing about an ice cream company is that we don't open until noon, so I can be a slow-to-rise and late-to-work person. Today's agenda includes:
9:00 a.m.: Meet with my CFO.
11:00 a.m.: Meet with a designer creating signage to help build our menu board. Next, meet with our sheet metal vendor on the engineering team to figure out if we can manufacture ice cream machines with this new vendor.
12:30 p.m.: Meet with the mechanical engineers for a couple hours prioritizing parts and figuring out our timeline and testing strategy for our machine.
2:30 p.m.: Call with our real estate broker to figure out our plans for looking at a couple different shops that we're negotiating.
3:30 p.m.: Call with our chef to set up meetings for today with two partners and discuss the menu.
4:30 p.m. to 8:30 p.m.: Catch up on emails, calls, anything the store needs, etc. My husband and I don't eat dinner until around 8:30 p.m. Work after dinner is illegal in my household.
What is your favorite part about working for yourself and what's the most challenging?
My favorite is the team because it's amazing to build a team and culture that can take ownership and pride in the company. The most challenging part is the people, too, because if I'm a bad leader one day, I affect everyone.
It's important that I pause when I get to the point where I'm doing too much and feel like I'm not doing a lot of things well. I pause and remind myself that it's alright if something doesn't get done today because it's more important that I spend time with my team and make sure they feel good about what they're doing. I love it, but it definitely requires a balancing act.
In what ways do you hope to see Smitten Ice Cream evolve?
The plan is to grow our company in a very careful and smart manner so we don't ever ruin it. The quality of how the stores are run and the quality of the product is important to our company's success and to me. We're finding a couple more really special locations for the next year and growing to four or five stores, and if all goes well, we'll keep going and keep growing like that, but obviously making sure we're doing it in the right way. We're hoping to make as many people Smitten as possible.
With the increase of artisan ice cream shops, do you feel like competition is stiffer?
I have a lot of respect for the other local ice cream shops that are using high quality ingredients and I think it's a mutual respect. I'm also grateful for the openness for give-and-take advice that our community offers. Although technically competition, they are allies, too, because they help spread the appreciation for higher quality products.
If you could pin your success down to one thing or one moment, what would that be?
I have two—when I realized that the shop was successful and the first time an investor got on board. It took me a while to realize that all of this was real.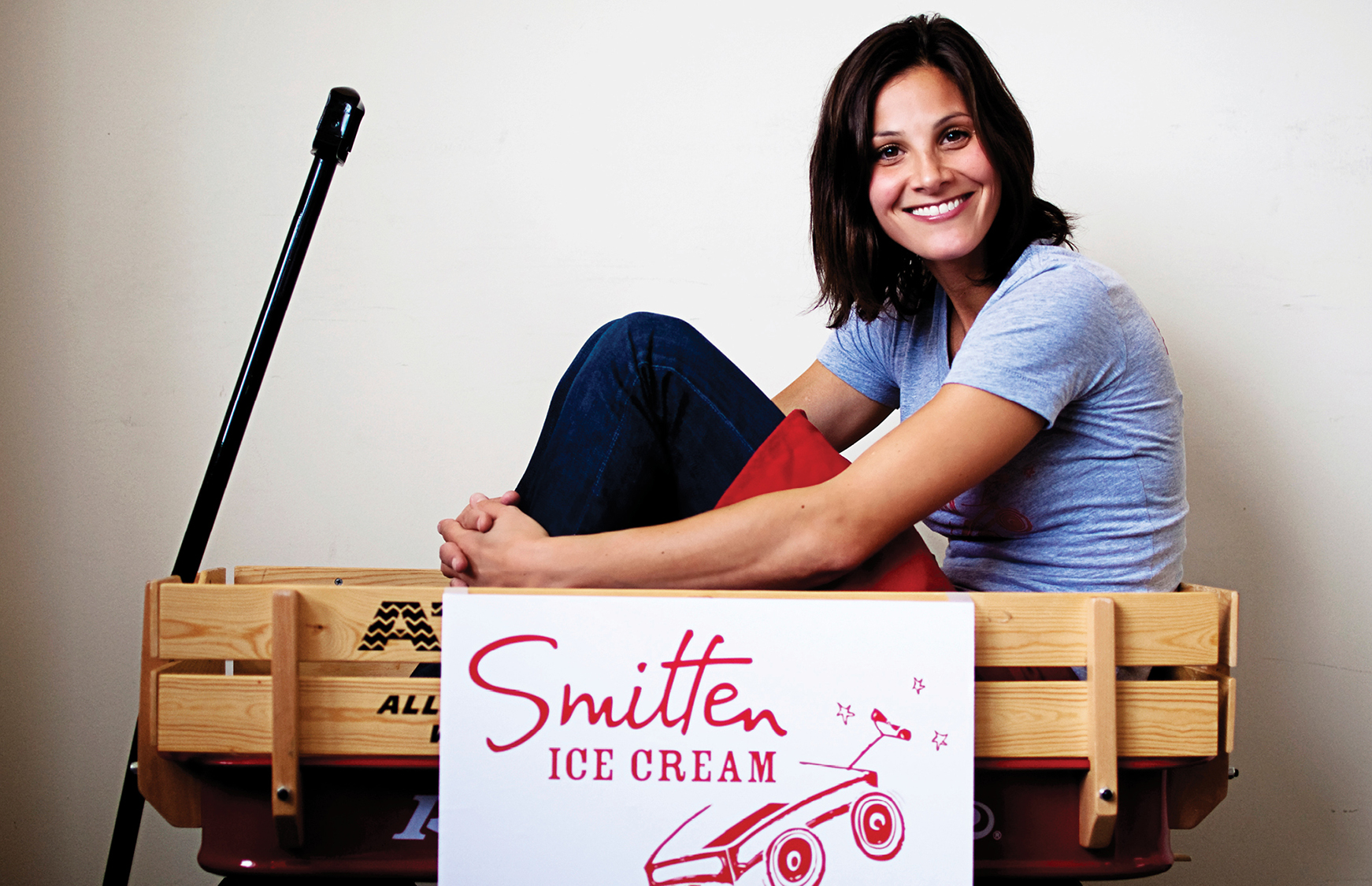 ---