Rakhi Voria, Microsoft
Here's the thing about Rakhi Voria: she's whip-smart, innovative, and politically charged. She doesn't much like the word "no." She's tenacious and driven, yet knows how essential it is to make time for time outs. Basically? She's an unstoppable force. And as career women, we're incredibly fortunate to have her on our side.
In her role at Microsoft, Rakhi spends her days advancing the way we approach finances, global technology, and business development. It's a big job, and it's one she was determined to land—despite the fact that her initial resume didn't necessarily fit the job description. Like we said, "no" isn't in her vocabulary.
As she's grown with Microsoft, steadily moving upwards, she's also stayed true to her roots and some powerful family values.
"My mom was, and continues to be, an agent of change in the community—never letting hardships set her back."
Following in her mother's footsteps, Rakhi has never lost sight of her role in the world at large—or the ways she can improve the lives of women within it. Whether she's working 12-hour days but still making time for what she holds dear, helping to organize Microsoft's various women's groups, or just checking email over a bowl of Fruit Loops, she's got a way with words and plenty to say. Read on to learn some valuable lessons from a women who writes her own.
Her Starting Point
You have an impressive academic background, including degrees from Colorado College and Oxford University. How did your studies help get you where you are today?
For as long as I can remember, my family's motto has been "education is the key to success." With education at the forefront of our values, my mom raised me to believe that if I exhibited unwavering focus, demonstrated intellectual curiosity, and committed myself to academia, success would follow—and she was right.
I was fortunate to have been awarded the El Pomar Scholarship and the Rotary Ambassadorial Scholarship to attend Colorado College and Oxford University, respectively. Those scholarships made it possible for me to have two varying academic experiences, both of which ultimately gave me a strong foundation to work at a multinational corporation today.

I embraced the interdisciplinary, liberal arts nature of Colorado College and majored in International Political Economics, where I gained a broad spectrum of knowledge that has served me well as a businesswoman. My economics courses conditioned me to possess good analytical and problem-solving skills. [And] both minoring in Journalism and serving as editor of my university newspaper sharpened my reading, writing, research, and communication skills.
My Masters in Comparative Social Policy at Oxford was equally interdisciplinary. I studied policy issues and developments across a range of different countries. My time at Oxford exposed me to varying cultures and gave me a better understanding of why complex issues occur at a global level, which have helped me contribute better to Microsoft's diverse work environment.
Why did you choose Oxford for your masters? How did your experience studying in an international setting affect your life and career goals?
My scholarship provided a unique opportunity to pursue higher education internationally. I was attracted to Oxford's reputation as one of the top-ranking universities in the world. In addition, I loved that the student body was large (over 20,000 students) and that students came from about 140 different countries, a stark contrast from the 2,000 student population at Colorado College.
I regularly spent time with peers exchanging our cultures, ideas, and beliefs, even if it was through small ways like organizing a Secret Santa at my college to share an American tradition or by teaching an Indian classical dance lesson to share one piece of my native culture.
Studying at Oxford also opened the door to my next step in life: working at Microsoft. Through my studies, I realized the world was becoming borderless and business was globalizing. I saw the challenges that people faced all over the world around access to education, healthcare, welfare, and economic security and realized that I wanted to work for a company that had the ability to do something about it.
Microsoft's mission says it all: "To empower every person and every organization on the planet to achieve more." Technology has the power to change the world, and I wanted to be part of that change.
You had a number of internships early in your career. How do you think those experiences contributed to your success?
I held internships across a variety of different industries every summer from middle school [on], both informal and formal. [But] the best "internship" I ever had was being my mother's daughter. Now if only I could write that on my resume…

My mom was and continues to be an agent of change in the community—never letting hardships set her back. Although she raised me and my two older sisters alone, even working three jobs at one time, she still found time to serve on various political, cultural, and economic boards and commissions, strengthening her business acumen and network. Today, she's the CEO of the National US India Chamber of Commerce and an Advisor to the Obama Administration on the National Advisory Council on Minority Business Enterprises.
Growing up I would often accompany her to meetings, where I would watch her navigate through political situations and see firsthand how to persuade, negotiate, and connect with people at all levels. While I would often complain about having to attend these events, in hindsight, they remain the best experiential training I've ever received. It's a good reminder to seize nontraditional opportunities to observe, learn, and grow.

In the formal sense, my first "real job" was working as a congressional candidate intern at the age of 13. I then interned at Janus Capital Group, a publicly traded international asset management company, Starcom Mediavest Group, one of the world's largest brand communication and consumer contact organizations, WhiteWave Foods, a consumer packaged goods company, and ABC News as a Democratic National Convention Journalist.
The skills I gained through these roles were invaluable. At a young age, I was learning how to market myself for positions I didn't qualify for on paper, negotiate my salary, and present in front of executives. I highly encourage the younger generation to seek out internships early on in order to develop tangible business skills that will help when they enter the workforce.
Did you always know that you wanted to pursue a career in business?
My family always jokes about how they knew I would end up in business even before I did because I was already exercising business skills at a young age. They love telling stories about how I would strategically set up my lemonade stand in front of construction workers on a hot day to optimize my profits, or how I would negotiate the amount of money I expected to complete a given chore, or how I would delegate tasks to my friends when I organized an event. So while I didn't know what exactly I would do or where I would end up, there were always indications of my interest in business, leadership, and management.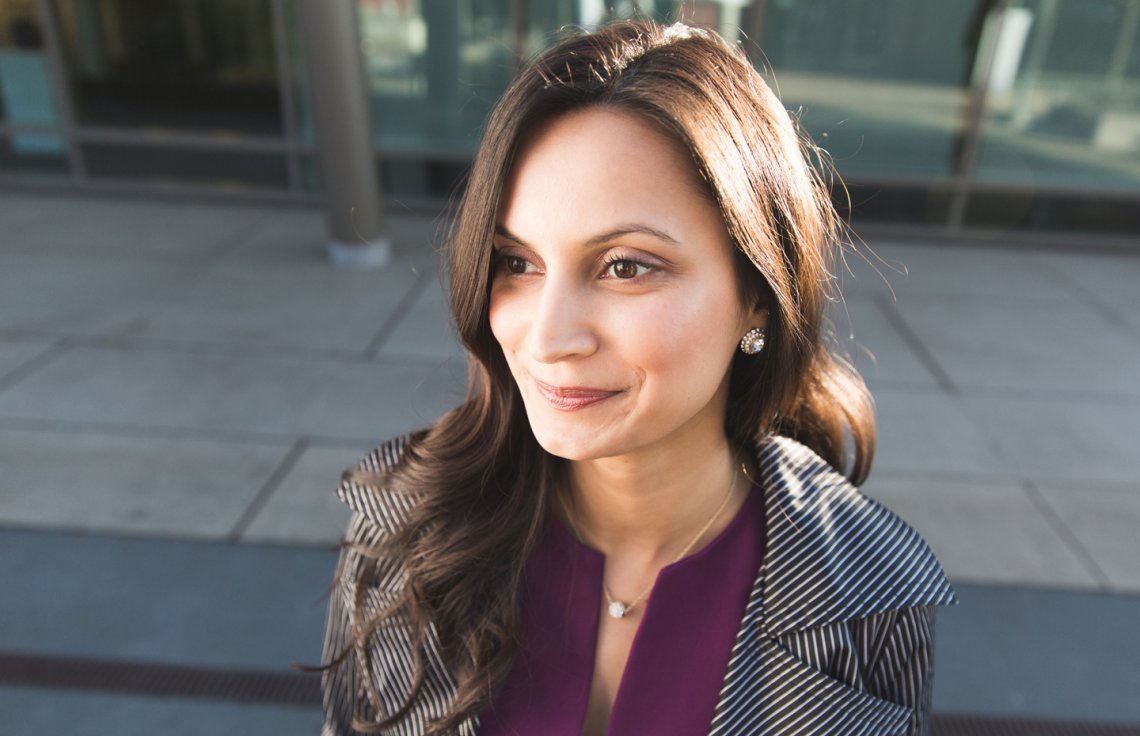 Her Big Break
Working for Microsoft is huge. Can you tell us a bit about how you landed your first job there? How did you end up in the role you have now?
I attended a Microsoft recruiting event at Oxford and was impressed with its vision, breadth, and impact across the globe. I interviewed for the MACH Program (the Microsoft Academy of College Hires), which is an accelerated career development program designed to recruit top-performing graduates and provide them with additional training and support. I landed my first role at Microsoft after interviewing with the Director of Licensing, Ray Conner, who offered me position on his team as a Licensing Sales Specialist covering New York Metro.

After two years there, I interviewed for the North America Business Development Manager position on the Microsoft Financing team under Helena Kjellander Valentin. I knew finance would be an important skill [to gain] regardless of where I ended up afterward, and I was attracted by the broad scope of the role. A year later, I was promoted to be the Americas Business Development Manager, taking on Brazil in addition to the US and Canada.

A common theme in my career is that I applied for roles that I didn't necessarily qualify for on paper. Many people have heard about the Hewlett-Packard study from a few years ago, that showed women tend to apply for jobs only when they believe they meet 100% of the qualifications listed for the job, versus men who apply even when they only think they meet 60% of the job requirements. I think we as women need to push ourselves to go for roles even if we don't hit every checkbox.
[When I applied for the Microsoft positions] I didn't know the ins and outs of the jobs, but people saw potential in me based on my previous experiences and the skills that I had developed. It's all about having confidence in yourself, being open to feedback, finding mentors, and relentlessly learning the business.
Your title is the Microsoft Financing Americas Business Development Manager. What are the key objectives and responsibilities of your role?
Microsoft Financing makes it easier for customers to buy Microsoft products and services via payment solutions. As the Microsoft Financing Americas Business Development Manager, my job is to serve as the key driver of payment solutions integration into the sales motions of Microsoft with a goal of driving incremental revenue in the US, Canada, and Brazil. I work with sales, marketing, risk, operations, and other stakeholders to understand strategic priorities and then develop payment solution offers, promotions, and campaigns and own the go-to-market strategy.
If we could take a peek at your day-to-day schedule, what would it look like?
It depends on whether I'm in the office or traveling for work. When I travel, I'm attending meetings with our bank partners, presenting at conferences, or participating in internal strategy sessions. When I'm in Seattle, I typically wake up and check my email for urgent issues. Then, I hop on the Microsoft shuttle that takes me to main campus and use the commute to prep for meetings and to catch up on industry reading. When I get to the office, I start my day by responding to emails while enjoying a bowl of Fruit Loops or Cocoa Krispies (no joke—I'm still a kid at heart.)

The rest of my day tends to consist of a typical mix of in-person meetings and conference calls. These can range from strategy sessions around future initiatives to check-ins on current projects to deal reviews to discussions on process improvements to diversity events. Between all of this, I make time for mini-breaks and fun, whether that's having lunch with a mentor or mentee, walking to the campus ice cream shop for a meeting rather than holding it in the typical conference room, or attending a talk on campus (most recently, Salman Rushdie.)

After I send out follow-ups and complete action items from the day on the shuttle home, I use the rest of the ride to unwind by catching up on reading (depending on the day, it's either a novel, the Wall Street Journal, or trashy celebrity gossip.) When I get home, I almost always have something planned like a dance class, a wine and cheese night with my girlfriends, a young professionals' happy hour, dinner with my sister, etc. Gotta stay balanced and have fun!
Tell us about your work with women's groups at Microsoft. How do you juggle working for Microsoft, serving on the Microsoft Women's Board, and being Co-President of SMSG Women?
In a recent article for Asian Avenue Magazine, I cited one of the best pieces of career advice I have: identify your personal goals and your professional goals, blend that list, and prioritize.
In other words, your passions can and should span across your personal and professional lives. You shouldn't have to "juggle" between the two, but instead find a company that allows you to exercise your curiosities and interests. As Microsoft CEO Satya Nadella says, "We spend far too much time at work for it to not have deep meaning."

I wanted to work at a company that was changing the world, whose values deeply aligned with my own, and that didn't force me to leave my interests at home. One of my passions is advancing women in business. In fact, I even wrote my undergraduate thesis on using microfinancing to empower women and my graduate dissertation on female employment policies in China and India.
At Microsoft, I've had the pleasure of serving on the Microsoft Women's Board and also leading a 2,000 person women's group called SMSG Women (Sales, Marketing & Services Group.) SMSG Women is designed to help women grow their professional skills and expand career options through access to resources, tools, and coaching. Leading this group has allowed me to exercise my passion for supporting, advancing, and retaining female talent in the workplace while also building partnerships with similar groups at other companies.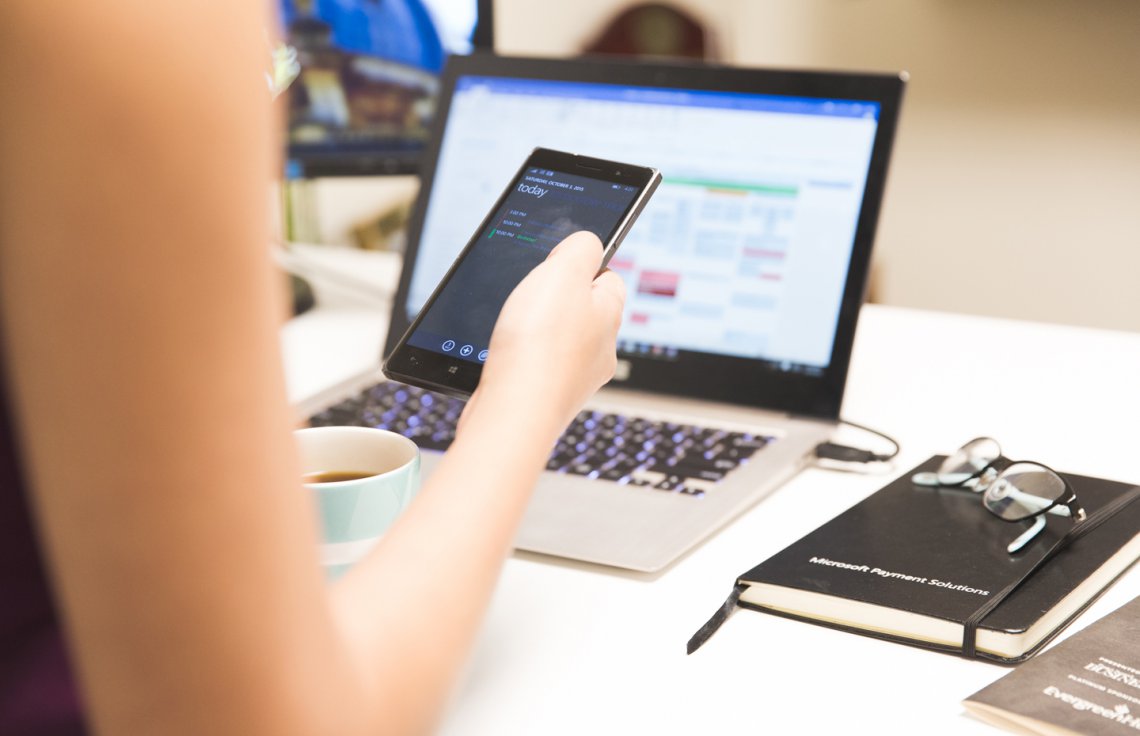 Her Perspective
You are passionate about women's career success. What would you like to see change for women in the workplace?
I think the greatest opportunity and the biggest challenge for women is ourselves. As I mentioned earlier, sometimes we as women are our own barrier to success when we hold ourselves back from opportunities and/or downplay our contributions. I don't subscribe to the notion that we need to downplay our unique qualities, but rather think we should use them to our advantage. Why not capitalize on our strengths as being good listeners, trustworthy, and honest? Those are some of the best leadership attributes in my opinion.

In terms of what I'd like to see change for women in the workplace, I'd like to see more women in middle and upper management. According to the Grant Thornton International Business Report, the percentage of women in upper management has been stagnant for almost a decade at 24%. When it comes to the number of women in management in general, the US ranks 37 out of 45 countries. Susan Colantuono, CEO of Leading Women, believes that this may be because career advice for women is often centered around personal branding, networking, confidence, and self-efficacy as opposed to tools to increase business strategy and financial acumen.
As much as I love leading SMSG Women, I look forward to the day when women's groups don't have to exist anymore because we're no longer the minority.
Describe your leadership style. How has it evolved as your career has grown? Any advice for women looking to make their way into their own leadership roles?
Honestly, when it comes to leadership, I try not to over-engineer it. It's just about believing in yourself and being yourself. It's about being positive, consultative, direct, honest, and inclusive. My mom always tells me, "Bring others with you, otherwise it'll be very lonely at the top."

My biggest piece of advice is to throw out the idea of a career ladder and instead focus on gaining a set of skills and experiences that will set you up for the long run. The traditional notion of a linear career path and "climbing the ladder" no longer exists. Because there's no universal path to success, focus on broadening your skillsets and experiences, whether that's through stretch projects, travel, or cross-group collaboration.
Map out your short and long-term aspirations. For me, I'm focused on learning, excelling, and becoming a thought leader in my current position. My long-term aspiration is to hold an executive-level position managing a business. With this North Star in mind, every time I take on a new project or role, I ask myself, "Will this sharpen my competencies around creating, developing, and managing a team?"

Secondly, give more than you receive. Thank those who have invested in your growth and find ways to pay it forward. Most of us are where we are today thanks to support from others. While it is okay to be focused on personal growth, make sure to place equal importance on team success and developing others. There are a number of ways to do this—mentorship, time, financial contributions. I love the phrase "lift while you climb." It's a good reminder that collaboration is key and while we may be individually strong, we are collectively powerful.

Well, first of all, I never thought that I would make my debut in Business Insider over something like this, but the whole thing was fun and I'm honored nonetheless!
In terms of how I "make time for it all," at the forefront of my values are joy, fun, and happiness. Even when I work a 12-hour day, I still make time for fun in the evenings and place equal importance on my social relationships as I do my career. Sometimes my family worries that I'm always "on the go," but I think people get energy in different ways. For me, it's through engagement, variety, and experiences. Oh, and my Taylor Swift album.
And finally, what do you wake up looking forward to? What's next for your career?
I wake up looking forward to seeing if the sun is coming out in Seattle. And hey, if not, I'll be taking my Vitamin D pill.
In all seriousness, I look forward to gaining more breadth and responsibility as I progress in my career, paying it forward, and bringing others along the way.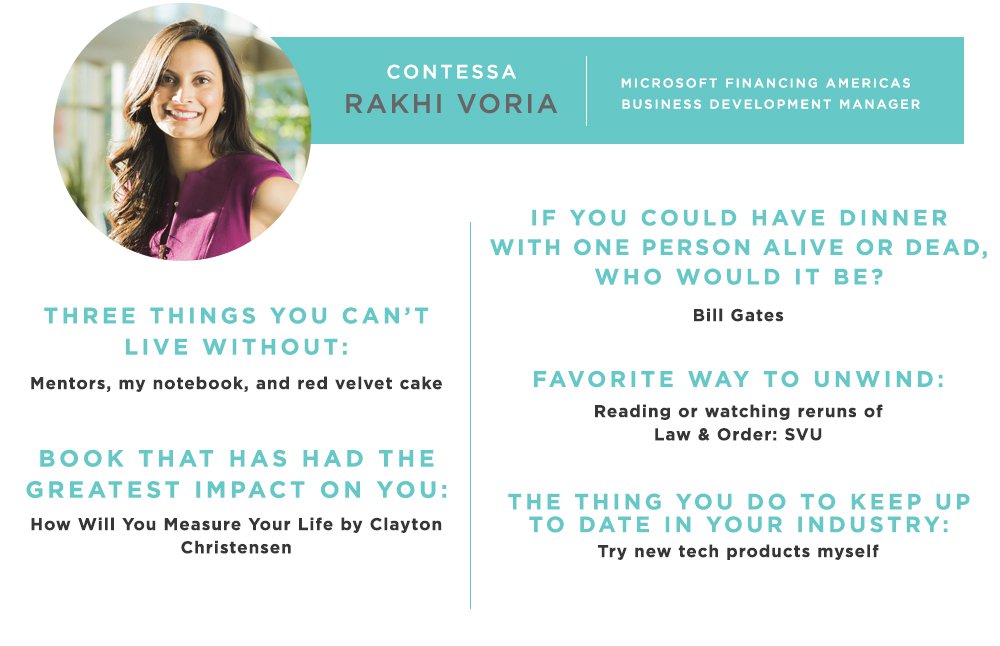 ---