Mandi Damman, General Motors
Passion and loyalty are two traits that have taken Mandi Damman, 29, very far in her career—from co-op student all the way to Engineering Business Manager at General Motors! Throughout her years at the company, Mandi has been through several departments and positions, making her a veritable expert in all things GM.
Mandi's departmental experience—ranging from Noise & Vibration, to Ride & Handling—has taught her what goes into making a great car, of course, but it also has taught her that it's important to hit the brakes once in a while and live in the moment. Her roles within GM have made her into the leader that she is today by giving her different perspectives on what it means to be a team player.
Although Mandi admits to being unsure of her passion in those early days, her many years at the same company have made it clear that it lies within the GM infrastructure. To Mandi, passion means beginning each day with a clear motive to make something great. Seeing a Chevrolet Impala on the road and knowing that her hard work went into making it, or hearing rave reviews from a customer—those are the moments that Mandi lives for, and what makes her proud to say that she works at GM.
Her Starting Point
Many people find the transition between college and "real life" a bit daunting. Can you tell us about your journey between the two? What was your first job post-college?
I was fortunate to have had the opportunity to co-op at GM during undergrad, so the transition to "eternal work term" (as we called it at Kettering) was smooth. My full-time offer came the fall before I graduated, so I also had plenty of time to prepare. The good news—it was in the group I had worked in as a thesis student. The bad news—it was in the group I had worked in as a thesis student. Knowing the people, facilities and work certainly helped, however it was difficult to establish myself as a full-time employee and sever my reputation as the co-op.
I remained in the position for nearly two years testing vehicles and solving vibration issues on multiple programs and, although I thoroughly enjoyed it, I didn't grow as much as I have in the positions I've held since then. I came in (fresh off the graduation stage) ready to take on the world and feeling like I had already done that job, which I now realize was not the case.
If I could do it again, I'd seek out additional growth opportunities, outside of the day-to-day work, and find ways to build my credentials. I've since realized that each and every experience is beneficial and it pays to hit the brakes and fully immerse yourself in the job you're doing now.
Can you tell us about the most beneficial class you ever took? Are there any you wish you had taken? Any you wish you hadn't?
I'm partial to the four courses I took while studying abroad in Europe—Fluids, Heat Transfer, Machine Design and Germany within Europe—since the entire experience was so positive. Not only was I learning the subject matter, but also the German culture. Our four days of class and travel each week didn't hurt either!
My least favorite class was Organic Chemistry and I now wish that I had taken a Finance or Accounting course. It's an entirely different language and, although I'm learning it as I go in my current role as a Business Manager, a course definitely would have helped me through the initial shock of budget management and interacting with our finance team on a daily basis.
What do you love most about working at General Motors? What is the company culture like?
I love the people at GM. Every day I get the opportunity to work with a diverse group of extremely talented people who bring a variety of experiences and innovative ideas to our business. I've made great friends and found wonderful mentors here and teamwork is definitely a prevailing theme. Even in the difficult times, I'm proud to say I work at General Motors and I get chills listening to our current leadership address the recent challenges and describe how we're going to come out a better company.
The culture is evolving and becoming increasingly customer-focused, especially in Vehicle Performance, where every decision we make and every dollar we spend is aimed toward exceeding customers' expectations. It also is one of my favorite things to see a vehicle like the Chevrolet Impala on the road and to know that I was a part of developing it. It's truly gratifying to hear from a happy customer in a car I worked on and to read the press rave about it online.
You began your career with General Motors. How has your loyalty affected your growth than if you would have switched companies?
I had seven unique co-op assignments and am in my sixth full-time job, which would be difficult to do by switching companies. Staying with GM and moving between organizations—ranging from Noise & Vibration to Chassis to a Launch Team and then Ride & Handling—has provided me with a wide variety of experiences and has allowed me to gain perspectives of multiple departments. This is helpful when making decisions and has given me a large network of experts to seek input from when I don't know the answer.
Her Big Break
How do you stay organized? What tools/resources do you utilize (ie. iPhone, apps, etc.)? What skills are essential to do your job well?
My calendar is, without a doubt, my greatest resource. I use it for meetings, deadlines, workouts and even commute time. It seems silly every time I send a meeting notice or appointment to myself, but it really does keep me on time and keeps me thinking about what I need to get done. Although some may call it a flaw, it keeps my tasks prioritized and prevents me from forgetting to do things.
When I'm traveling a lot, I use the TripIt app. Last fall I spent six weeks in the field traveling to different Regional Offices and Dealerships each day as part of a program that helps bring engineers, dealers and customers together so we can ultimately build better vehicles. During that six-week period, TripIt was essential and I've been recommending it to people ever since.
This job requires me to be organized, detail-oriented and focused. Building relationships and working with others also is crucial and it has been fun to work with GM employees outside of Engineering (Finance, IT, Communications, etc.).
Could you let us in on any stumbles you might have made in your high-profile position? How did you get through them?
After about three years and two jobs as a Test Engineer at the Proving Grounds (where I spent my days in the lab and on the test roads eliminating unwanted vibrations and noise from a variety of GM vehicles), I sought out an opportunity to move to our Technical Center as a Chassis Design Release Engineer. For the first few months, I was completely overwhelmed! I was the new kid in an impressive organization at one of our largest engineering sites. My level of responsibility had increased substantially and I was struggling to contribute as quickly as I wanted.
When I eventually came up to speed, I was so passionate about the parts I was designing and problems I was solving that I took things personally and struggled to contain my emotions. I reached the point of crying in my boss's office and, although he handled it well, I was humiliated and realized I needed to get it together ASAP!
I'm stronger than that and took the unfortunate opportunity to take a step back and focus on the progress that had been made. I sought help from my experienced colleagues on navigating the systems and asked for advice on how to deal with the cultural differences and challenges that came with working on a global team. Lastly, I acknowledged that I hadn't been sleeping enough, which I know (for me) is a recipe for disaster!
If we had the chance to peek at your schedule, what would an average day look like?
It really depends on the day, however every day begins with coffee! My current role is largely focused on the business side of vehicle performance and is based on a 4,000-acre test facility with over 130 miles of roads, so most mornings I drive to the Proving Grounds (where my desk is and where GM has been doing safety, performance and durability testing for 90 years). While there I'll respond to emails from the global team that came in overnight and get going on my to-do list.
Part of my role as the Business Manager is to support our Executive Director and run our Global and North America Staff Meetings. To mix things up at least once a week, I work from our Technical Center—where our R&D and Design campus is—and meet face-to-face with my colleagues who sit there. Even working for a global organization, I think it's important to make face time a priority.
Aside from my monthly finance activities, my days vary a lot and I never really know how my time will be spent, which certainly keeps things interesting! I enjoy the variety and flexibility that I have. If it's nice out and the lake is calling me, I'll leave at a decent time, spend some time out on the water (I enjoy doing stand-up paddle board!) and login from home later at night for a few more hours of work.
What is the most challenging part of your job? How do you keep yourself from getting burnt out?
Keeping up—although it is getting better the longer I'm in this job. To keep from getting burnt out, I take one of our vehicles, like the 2014 Cadillac XTS Vsport or Buick Regal GS out on the test tracks at the Proving Grounds—these two are near and dear to my heart because I worked on their steering systems. I also like to grab coffee with coworkers at the Tech Center. It sounds backwards, but getting involved (yes, more work) helps keep me on task and looking forward to each day.
Currently my extracurricular activities include; being on the Leadership Committee for A World in Motion, one of GM's big STEM programs, participating in the Chevy Running Club and volunteering for a community cleanup project with the United Way in Detroit. After I leave the office I like to hit the gym or go for a paddle, which really helps me clear my head and keep things in perspective. I also like to have things to look forward to, like mountain biking with my husband, dinner with family or a weekend road trip to visit friends.
Her Perspective
Translating passion into a career is tough. What advice would you give to women trying to figure this out?
It is tough and something I've questioned more than once. My mom (an ICU Nurse) and sister (a Pediatric Nurse Practitioner) are passionate about helping people and save lives on a daily basis. Talk about passion! I on the other hand…I knew I wasn't cut out for the medical field, but also wasn't always a car girl and admittedly didn't grow up dreaming of being an engineer. What I did know (thanks, mom!) is that once you commit to something you do it and hard work pays off. I'm not necessarily passionate about finance spreadsheets or workload models, which are part of my daily responsibilities, but passion means more than that. It's about taking on each day with a desire to do great things. For me it's about the people, the vehicles and the incredible Milford Proving Grounds. I'm undoubtedly passionate about this company and am beyond excited about my future in this industry. So my advice to women: jump right in. Each challenge you overcome and opportunity that arises will increase your appetite and keep you hungry for more.
How do you keep yourself balanced throughout the day? Are there any routines that get you jazzed for the day?
Finding balance is difficult and it's important to first understand what you really want. For two years, I put work/life balance on my list of goals and it was the one goal I never met. Why? Because I didn't choose to change the amount of time I spent working. I was actually enjoying it and perfectly happy with my busy life.
I've also found that it's best to keep working when I'm on a roll and not force it when I'm not feeling it. A few months ago, I was in at 6:30 a.m. for our Global Staff Meeting and left at 11:00 p.m. with our second shift technicians. Other days, I can't do simple math without opening Excel. I relate it to running or working out where you really have to listen to your body for the optimal results.
Figuring out what career to pursue can be hard. What advice would you give to women working through their own professional learning curve?
Seek out professionals in the fields you are considering and meet with them to understand what their day is like, what aspects they enjoy and what (if anything) makes them consider changing careers. It's all about what gets you out of bed in the morning and leaves you feeling satisfied at night.
I prefer a mix of independence and teamwork and need routine, but appreciate a variety of tasks. Therefore, a job with little human interaction wouldn't work. Make sure it fits your personality, and not just your current interests as those may change.
I also highly recommend an internship or job shadowing. Kettering's co-op program was what made me decide to go there because at 18, I had no idea what I wanted to do for the rest of my life. Within three months, I was working at GM amongst accomplished engineers and knew that the investment would be worth it.
And finally, what do you wake up looking forward to? What's next for your career?
I wake up eager to learn, ready to take on new challenges and anxious to help my leaders and peers. I look forward to the future of General Motors and my contributions to our success. Our people, products and facilities are top notch and I can't wait to see what the future has in store.
In my next role, I'd like to manage people and apply what I've learned from the great leaders I work with today. I'm also interested in an international opportunity and would like to bring my experiences to another region, understand their culture and comprehend the similarities and differences in the automotive industry.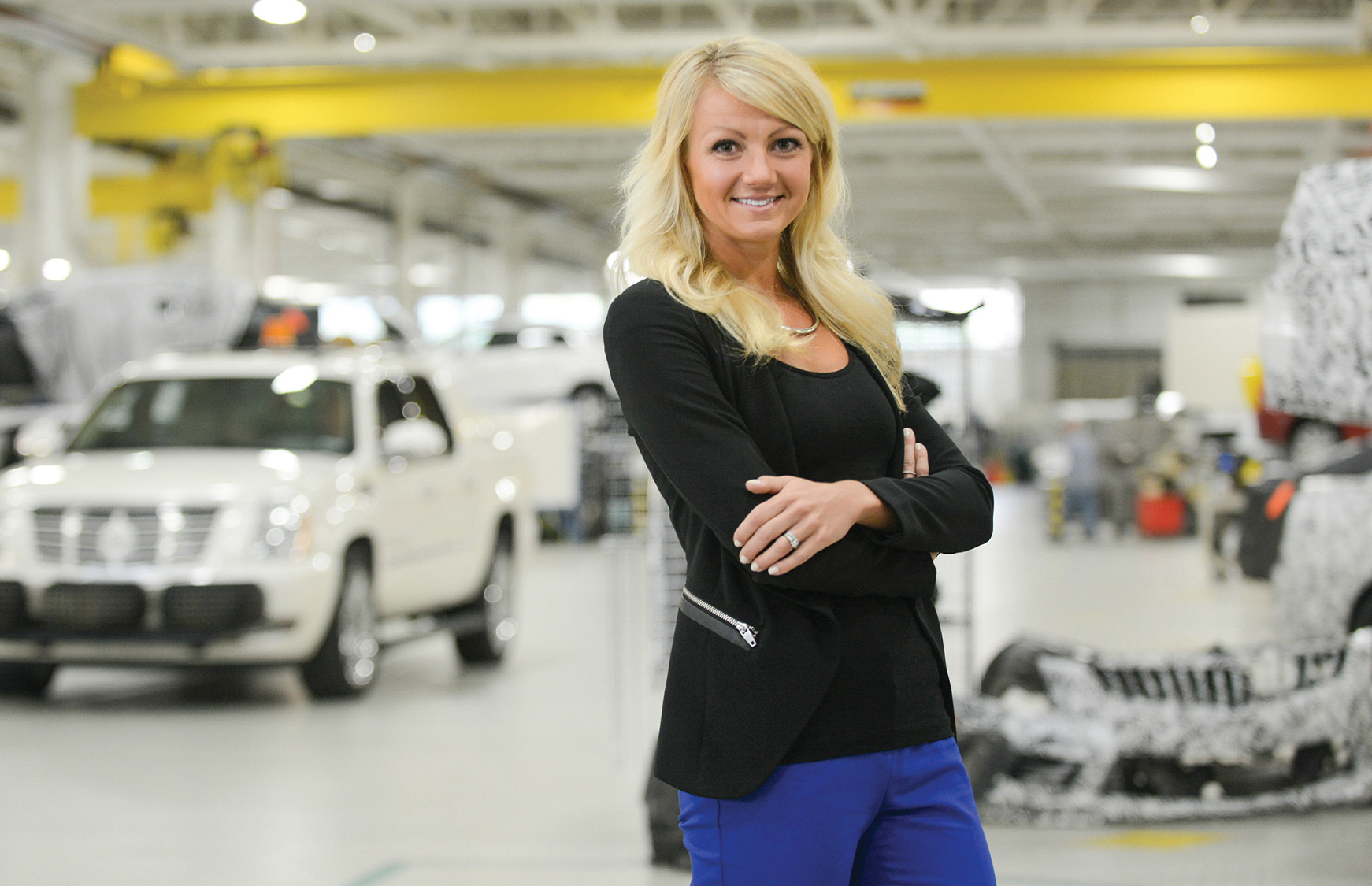 ---