Leslie Engle Young, Pencils of Promise
Leslie Engle Young's story starts with a leap of faith. She'd always had a passion for education, but found that teaching wasn't her calling. A one-way ticket to Laos and an encounter with a then unknown, fledgling education nonprofit Pencils of Promise altered her career path forever. The cause and "grit" of the people involved pulled Leslie to stay and she's been working with PoP ever since.
After working in Laos, today she is the Director of Impact for PoP in New York City. She oversees the Impact team, traveling to Ghana, Guatemala or Laos every six weeks to make sure PoP is operating at maximum efficiency to make the greatest impact possible. Every day is different for Leslie: one week she's in New York, while the next she's traveling the world to visit a school site (and eating delicious food!).
While every day is a new adventure, one thing is consistent- dedication. She and her colleagues are strongly motivated by the cause they're fighting for, which keeps them working hard towards their goals. According to Leslie, for anyone interested in nonprofit careers, caring deeply about the cause is essential. If your work stems from a deep-seated passion and a desire to help, then "work is never work, it is finding a way to create the change in the world you want to see happen."
Leslie's career is a testament to the value of taking the leap! Each adventure she's embarked upon has contributed to her current position today- read on to see where she got the courage to take those leaps of faith!
Her Starting Point
You studied in Boston and San Francisco. How did your education lead you to the career you have today? What skills and lessons did you pick up during your formative years that you still apply to your everyday life?
There's no clear, direct path from studying English and Creative Writing to what I get to do today. I was fortunate to have professors, peers, and literature around me that encouraged experiential learning and continually questioning the status quo. These two things led me to travel, explore and think about how the world can be someday.
You took a leap of faith and bought a one-way ticket to Laos. How did you make this decision? Did it feel scary at the time or was it completely natural and organic?
That ticket to Laos was a leap of adventure. I had traveled through southeast Asia a couple of years prior and found myself thinking about Laos daily, wondering what was actually stopping me from going back.
Tell us about how you got started with Pencils of Promise. What was it about the company that sparked your interest?
Pencils of Promise was brand new when I started so it was an open-ended opportunity and adventure. I was attracted to the grit of the people involved at that point and was eager to be a part of something that was bigger than me. Then I met Lanoy and I was committed for life. Lanoy is a dynamic, vibrant, boss of a woman who gives her entire heart to the people in her country. I knew I had to be involved with anything she was going to do.
Have you always had an interest in education and nonprofits or was it something that developed over the years? What made you decide to pursue a career in this area?
I've always had a very keen interest in education. My parents were both teachers in rural Oregon so I grew up spending weekends out at the school with my dad- a little three-room school where he was the 3rd, 4th, 5th grade teacher and principal. Later I tried my hand at teaching and while I felt capable of doing it, I didn't find real joy in it. I found relief that the preschoolers made it through the day intact, and that is not what makes a teacher a teacher.
My passion for education, however, didn't fade at all. If anything, it increased with the desire to do anything I could to partner with those teachers who are real teachers—the ones who are committed day in and day out and find joy in their students' learning. At the end of the day, I unabashedly believe if children across the world have access to quality education, the world will be an exponentially better place.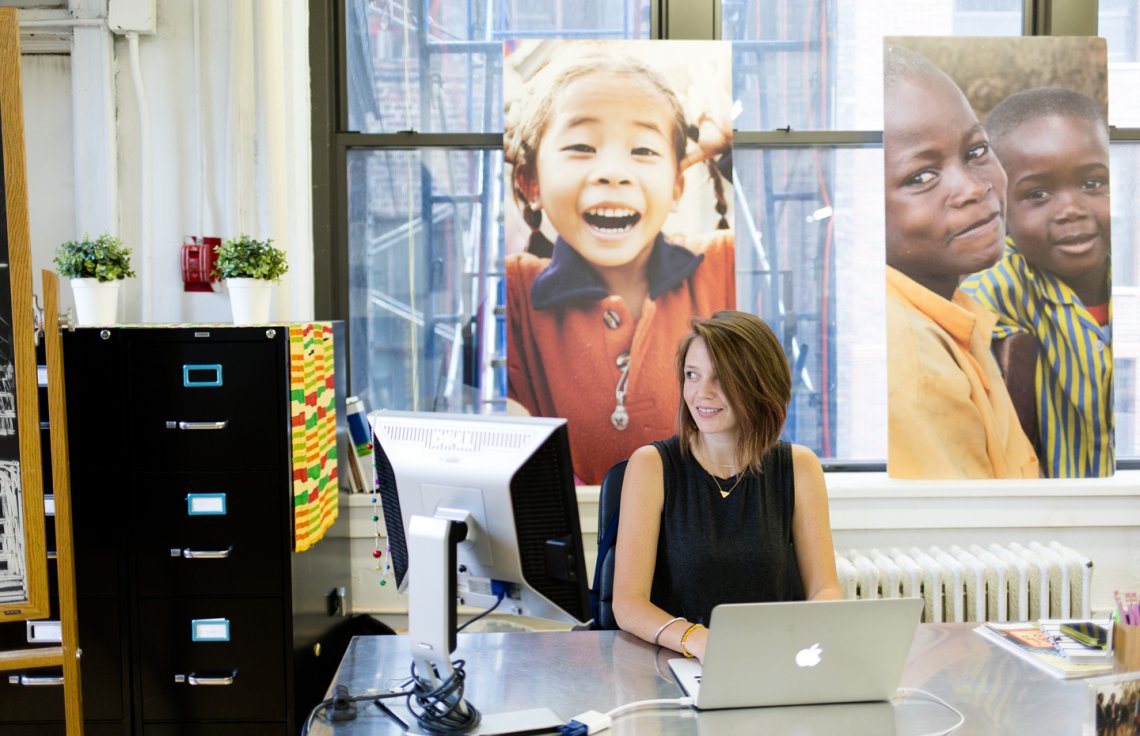 Her Big Break
Your professional title at Pencils of Promise is Director of Impact and your personal title is Daak Fai. Could you give us some insight as to what these titles mean?
At Pencils of Promise we have four departments- Admin, Marketing, Development and Impact. In my role I oversee the Impact department and work daily with the team to determine our strategic growth and analyze our outcomes to ensure we are operating at the highest level of efficacy. My Lao name, Daak Fai (Cotton Flower) is what I was named by Lanoy's sister on my first day in Laos. And now it is what all of my Lao friends and family call me, including my husband.
What's an average day like for you at Pencils of Promise? What are your daily tasks and responsibilities?
My days vary a lot and most of them are in New York. Every six weeks or so I travel to Ghana, Guatemala or Laos in which case the days look very different, and are filled with amazing food and road trips to schools. I spend my time working with others on the Impact Team on our programs, our strategy and the way we measure our work.
You worked as the Country Director in Laos for almost four years. What was this experience like? What are some of the major differences between working in Asia and the US?
The experience of working in Laos was life changing. There is no such thing as separation between professional and personal lives there, meaning that every person you work with deeply and authentically becomes a member of your family. Everyone speaks openly about struggles and triumphs at home and everyone pitches in to help one another out. Weekends are spent with colleagues visiting new babies or going to weddings or playing bocce ball.
You're based in New York now- how was this transition moving back to the United States? How did you make the jump into the role you have now?
The transition back was tough! We went from living in a small jungle town to New York City. I don't know of any two places that have less in common than they do. Aside from my husband, who made the move with me, the job at Pencils of Promise was my constant variable. There were people in the New York office that I had worked with remotely for three years already, and a big part of my duties required interaction with my team members in Laos, so that really allowed for the transition to feel more natural.
Her Perspective
If you had to boil it down to a simple answer, what would you say is the most important thing about educating children from developing countries? Why do you do what you do?
I do this work because I believe that education equals opportunity; that out of education, there is choice.
What has been the most challenging career obstacle you've faced so far? Rewarding? What is your advice for young professionals seeking careers in the nonprofit field?
The challenges in the beginning often felt insurmountable. There was a lot of stuff happening under the surface with local government priorities, cultural norms, etc. The hardest part in all of it was focusing on what we want to do. There is a lot of need in the world for good work, but we can't do all of it all the time. In my opinion, some of the best nonprofits in the world have the narrowest focus.
An important part of strategy is knowing when to say "no." To anyone heading into this field, I would tell them to find a cause you love. Find a cause that you can get behind 100% so that your work is never work, it is finding a way to create the change in the world you want to see happen.
Your favorite quote is "Some people feel the rain. Others just get wet." What is it about this quote that resonates with you?
Experience life- every little part of it.
And finally, what do you wake up looking forward to? What's next for your career?
I wake up looking forward to (after a cup of coffee and a run) the people I work with. The dedication and passion to a shared cause is unlike any other work environment. When every single person around you is working joyfully and tirelessly, the motivation is never ending.
---