Jaime Petkanics, The Prepary
Nowadays, it takes a lot more than just a stellar resume to make it in the cutthroat world of a modern-day job search. With competition from countless other qualified applicants and thorough judgment from recruiters, job hunting might as well be an Olympic sport! In order to have a competitive edge over other applicants, it takes hard work, dedication and a bit of teamwork, too. That's where today's featured Contessa, Jaime Petkanics, comes in. As founder of The Prepary, Jaime coaches people through their personal job hunt. Simply put, her job is to help clients land one.
Jaime, who studied psychology at New York University, has always taken an interest in how people think and what motivates them. This curiosity allowed her to thrive as a recruiter and talent manager at companies like Tory Burch and J.P. Morgan. For seven years, Jaime spent her days behind a desk reading resumes, interviewing applicants and making tough hiring decisions. It was within this timeframe that Jaime was able to hone in on what today's hiring managers are looking for in the ideal applicant.
When friends and family members began asking her to help them apply for jobs, the would-be career consultant recognized a demand for career guidance with an insider's perspective. Armed with invaluable insight and a new website, Jaime launched her business and began writing and consulting, pulling from the expertise that had become second nature to her. The Prepary helps lessen the stress and uncertainty that comes from the job search—but not the time and effort. Jaime makes sure that her clients are passionate and willing to work hard in order to stand out in a stack of resumes. Are you searching for a new job, but aren't sure where to start? Read the full story below.
EDITOR'S NOTE: Jaime is now a Career Contessa Mentor! Click here to book personalized career advice with her.
Her Starting Point
How did your degree in psychology and business from New York University prepare you for the career you have today? What skills and lessons did you pick up during college that you still apply to your everyday life?
I was always interested in learning more about people—the way they think, and what motivates them—so psychology seemed like a natural fit. That being said, one big takeaway from my college experience is that you can be smart, motivated and a good student, and still have no clue what you want to do with your life or how to go about pursuing it. I had such an incredible education, but still found myself very unclear about how to translate that into the professional world.
What did you learn about the recruiting process while you were at J.P. Morgan? What was the most valuable lesson you learned there?
At J.P. Morgan, I saw firsthand just how competitive the recruiting process could be. Not only that, but getting hired isn't just about the school you go to or your GPA. Companies are looking for the whole package—a mix of great achievements with strong interpersonal, problem solving and organizational skills. You need the technical skills and the soft skills.
What was it about the recruiting and career industry that first sparked your interest? Why did you decide to pursue a career in this particular area?
I really enjoy working with people and guiding them through important decisions. Given that we spend most of our waking hours at our jobs, deciding where to work is a pretty major one. I like that recruiting is about relationship-building, educating (on the company and/or job), but also assessing. To be a strong recruiter you need to understand what your company and the hiring manager really wants, and then find the perfect person to meet their needs. It's not just about reading a resume on a piece of paper—it's about getting to know people and knowing when something is a good "fit." Finding a company/candidate fit is a lot like matchmaking actually.
How did you land your role as manager of talent effectiveness at Tory Burch? What did you learn about the industry from this job?
When I found my job at Tory Burch, I wasn't actively job searching. Tory Burch has always been one of my favorite brands and during an online shopping session, I happened to click over to their careers page and saw the perfect job for me. I applied, emailed to follow up and then got a call the next week to come in and meet the team. I learned so much about the fashion and retail industry while at Tory. Though I had interned and worked in related roles during college, this was the best education for me on understanding the many different departments that make a brand run and, more importantly, how they work together.
How did you come up with the idea for the Prepary? What first steps did you take in establishing your business?
I spent seven years recruiting for really competitive companies and, during that time, friends and family would come to me whenever they were job searching or needed career advice. Things I shared that seemed second nature to me (because that's what I did every day) ended up being so valuable to them. I thought of all the people out there who didn't have a "recruiter friend" to share this type of advice in a way that was personal and reliable. Then I thought to myself, "There may be a business here."
As far as establishing my business, the first thing I did was launch Prepary.com and I just started writing. I wrote about all the questions I had gotten in the past, like "How should I answer the 'greatest weakness' question?" or "Should my resume really be on one page?" People started to read my advice and email me with their own questions.
Once I gained some traction writing the site, I launched the consulting arm of my business. There were plenty of people out there who loved the site, but wanted advice for their own unique job searches, and this allowed me to work with them directly.
Her Big Break
What do you do to make sure that your business stands out from the crowd? What does The Prepary offer to clients that other career services may not?
The fact that I've sat on the other side of the table—been the one screening resumes, conducting interviews and making hiring decisions—is a big differentiator to my clients. I know my stuff, tell it like it is and give advice that stems from experience. I know what it's like out there, and I know first hand what it takes to stand out and get results.
What's an average day like for you? Take us step-by-step through the process of helping a client.
I work with clients in a few different ways, depending on where they feel they can benefit from my support. Many people need help putting their best foot forward through a strong resume and cover letter, and also leveraging their network once they apply (that package is called The Starter Kit and it's a great way to kick off or get a needed boost in your job search).
Once my clients start landing interviews, we start to focus on interview prep. We'll cover what questions to prepare for, how to properly research a company, what questions to ask the interviewer and other day-of logistics. Then we'll do a mock interview so they can practice and see if there are any areas to improve (that's the Interview Prep package). I love watching my clients become more confident interviewees as we work together!
Of course, people also have unique needs and situations, so I put together a fair amount of custom packages as well. All of my consulting work is focused on giving my clients a competitive advantage in any part of the process. Each day is different, and it's a lot of fun!
What is your strategy for staying organized and well prepared to balance your clients effectively?
I use quite a few digital tools that are lifesaving! Evernote notebooks for keeping notes on each of my clients and their progress, Google Drive to share and edit documents, Wunderlist to track my to-do list, Freshbooks for invoicing, Calendly for scheduling—the list goes on. Being a team of one means keeping track of a lot of details, but luckily there are so many tools to help me stay organized and also use my time efficiently.
How do you go about securing clients? What do you like your clients to know before they jump into a working relationship with you?
My clients find me in many different ways. I lead workshops and go to lots of networking events, so it's always fun to meet future clients that way. My advice is also featured on a few other publications (including Career Contessa!), so people learn about my services that way as well. I'm also proud to have happy clients out there, who are always willing to tell a friend in need that I helped them reach their goals.
The career industry is constantly changing and evolving as the job landscape grows and develops. How do you stay on top of the game and ensure that your clients are receiving the best and most up-to-date career advice possible?
Having just left the recruiting and human resources world last July, I feel very up-to-speed on the current realities of the hiring process. I see what job seekers are up against, and know how to give them strategies to work through those challenges. I'm also lucky to have a large network of people who recruit and work for amazing companies. It's great to be able to bounce ideas off of people who hire in totally different industries.
Her Perspective
Why do you think it's so important that those looking to begin a new career or secure their dream job look into career services like The Prepary? What does The Prepary offer to jobseekers that they can't do on their own?
The Prepary's mission is to enable people to become better candidates in a stress-free way. When you're a better candidate, you're a lot more likely to land the job you actually want and that's so important. If you could make an investment that ends up affecting your happiness for 10+ hours every day, wouldn't you do it?
What is the #1 piece of career advice you would give to someone who's looking for a job? What do you wish more people knew about the job search in general?
Anything worthwhile takes effort and finding an amazing job is no exception. First and foremost, you must be qualified for the jobs you're applying for, but once you've checked the box on that, effort and passion are huge differentiators. This applies to every step of the search. A thoughtful, customized cover letter takes more time than a generic one, but it wins every time. If you seem like you went above and beyond preparing for an interview, the people on the other side of the table will assume that's how you'll get ready for every big meeting or client pitch. Candidates have the control to tip the scales in their favor a lot more than they think.
Could you give us a brief overview of the workbook you're currently working on? What message do you hope to get across to your readers?
When I work with clients I give them a bunch of helpful tools, templates and guides to get them from A to Z. This includes anything from job trackers to interview prep worksheets. I thought it would be so great to compile those things together and to be able to share them with many more people who are looking for jobs. I'll be releasing it this graduation season and can't wait to hear from people who benefit from it!
What do you love most about owning your own business? What would you say is the most challenging part?
I love the sense of complete ownership that comes with running my business. If I want to make something happen, it's in my control to do so! The lack of stability can be a bit scary at times, but it's worth it.
And finally, what do you wake up looking forward to? What's next for your career?
I look forward to pretty much every aspect of my day, and it's so nice to be able to say that! Whether it's writing an article, leading a workshop, thinking about Prepary products (like my workbook) or helping a client reach their goals—it's truly all good.
EDITOR'S NOTE: Jaime is now a Career Contessa Mentor! Click here to book personalized career advice with her.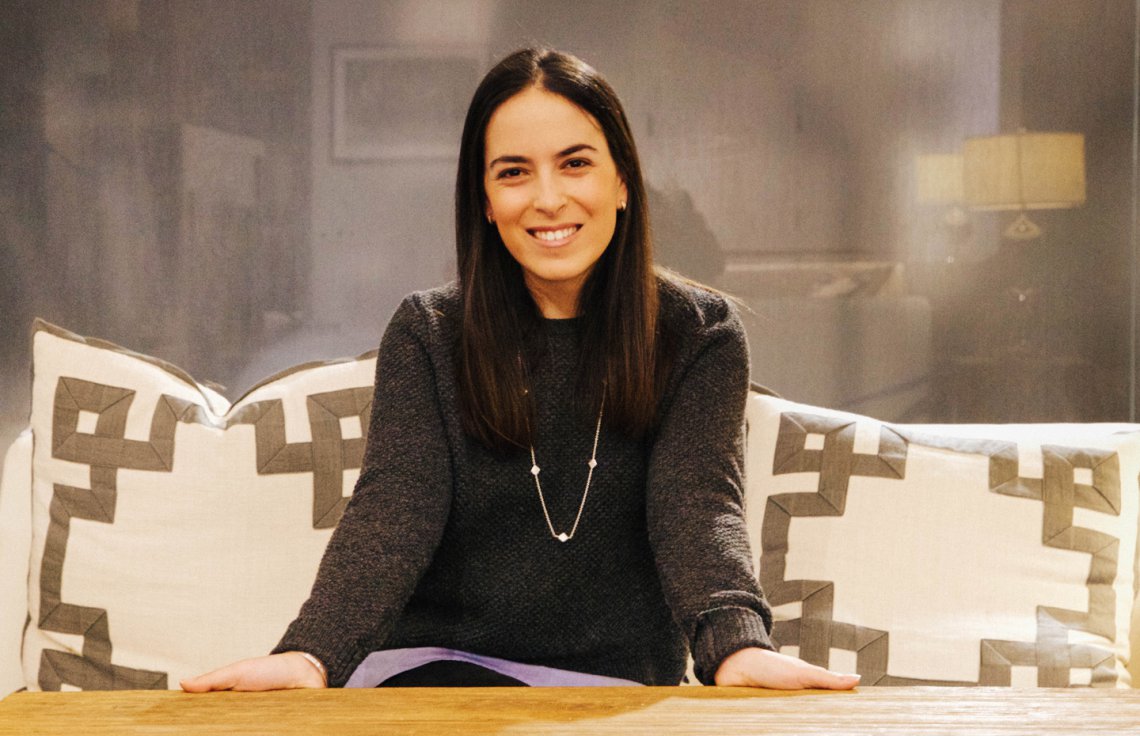 This is an authentically sponsored spotlight with The Prepary. Thank you for supporting the sponsors that allow us to create bigger, better content for you and the rest of our beloved CC readers.
---