Dr. Alicia Barba, Barba Dermatology
Summer is almost here and so is the pressure to protect and preserve our skin. Who better to take advice from than our latest Contessa—Dr. Alicia Barba, MD. Founder of Barba Dermatology and Barba Skin Care Clinic in Miami, Florida, Dr. Barba, 43, understands the necessity of skin care maintenance and stands by a team-based approach towards wellness for all of her patients.
Fresh out of residency and Harvard medical school, Dr. Barba sensed that her career aspirations centered on the dream of running her own private practice. And she made it happen! After penny-pinching and living simply, Dr. Barba opened Barba Dermatology and, four years later, followed up with Barba Skin Care Clinic. With the help of her husband as well as her sister, Stella, Dr. Barba perfected the art of dermatological care by combining procedures and professional expertise with the skill set of an aesthetician.
Our advice? Look to Dr. Barba for inspiration on how to perfect the balance of work and life! She has effectively mastered the art of leaving work woes at the office and personal pressures at home. Throughout her career, Dr. Barba has managed to maintain and balance both personal and professional relationships in a way that has resulted in one booming business. So what's in store for her next career endeavor?
Her Starting Point
Many people find the transition between college/Medical School and "real life" a bit daunting. Can you tell us a little bit about your journey between the two? What was your first job out of school?
I knew straight out of dermatology residency that I wanted to have my own private practice. I was lucky to get a job straight out of residency that helped me not only pay the bills but allowed me to save money to start my own practice. And save I did. Almost all of it. I lived simply and three years out of residency I opened up my practice and paid cash for all of it with zero debt for start-up costs.
Some physicians are reluctant to hire young doctors who want to start their own practice, however, I was lucky to find jobs where I was able to learn the business of running a medical practice—an important skill that is lacking in medical training.
When did your passion for dermatology and cosmetic skin treatment first begin, and what first steps did you take in order to establish yourself as a pro?
I come from a family of six Latin women and beauty routines were a big part of our life, as was having good skin. Visits to the dermatologist were routine for us. I remember visiting the dermatologist, looking around the office and noticing all the creams and lotions available to treat the skin. Intuitively I could sense that all of those creams/lotions when applied to the skin had the power to transform it, even though I didn't know the mechanism of the ingredients. I was hooked at an early age and somehow even perceived the field as being glamorous. Although our childhood dermatologist was male, I knew that as a woman I could be successful doing the same thing. I sensed that patients would take a female dermatologist seriously and decided on becoming a dermatologist in college, which is unusual. Most people choose their specialty the 2nd or 3rd year of medical school.
The first steps that I took to establish myself as a pro were studying hard and making sure to get into a top notch dermatology program that would provide me the best medical and cosmetic dermatology skills. Patience and a belief in delayed gratification also helped. I had no problem in paying my dues and have enjoyed every step of the way.
What do you feel is unique about your perspective on skincare, and has that perspective changed at all since you started?
I believe in a team-based approach to skin care that encompasses the procedures and expertise of the dermatologist with the skills of the aesthetician, a trained professional who can spend one full hour treating patients with active OTC ingredients. Today's skincare has the power to transform and I find that aestheticians when properly trained are powerful educators, personal trainers and skin therapists. I find that my patients get the best results when I treat the skin with fillers, Botox and lasers and my aestheticians whip the skin into shape by doing peels, clinical facials, microdermabrasion and recommending and rotating clinical skincare regimens. In my practice, my aestheticians are miracle workers with acne patients for ¼ the cost of what I would have to charge for similar procedures. My aestheticians also are trained to educate on Botox and fillers so that they can have a private conversation with patients that is independent of a dermatology office visit. People love and trust their aesthetician and value their advice.
This perspective was definitely developed by working with my sister Stella Barba. I could see the transformation in my patients' skin when they would see her regularly for different treatments. Her skincare and permanent hair removal business grew within my practice so much that she was booked back-to-back, much like a doctor, with a 2-4 week waiting period. I realized that we were on to something. I could tell that patients liked the team-based approach between a derm and an aesthetician that went beyond us just being sisters and both being excellent at our jobs. I do think that clients like the professionalism and the safety associated with dermatology supervised clinical treatments and medical skincare. After about eight years of working together, we teamed up with my husband to open Barba Skin Clinic a few steps away from Barba Dermatology. It is a skin clinic that services the beauty needs of our clientele in a space all their own, staffed with four full-time aestheticians
Although many people have heard the job title Dermatologist, only a few know exactly what the position entails. Could you give us a brief overview?
Yes, sometimes I feel that people get confused between a cosmetologist and a dermatologist. A dermatologist is the medical specialist of the hair, skin and nails. A dermatologist has a medical degree and an additional 4-5 years of medical training specifically in dermatology. We are trained to diagnose and treat a wide spectrum of medical, surgical and cosmetic dermatology conditions such as skin infections, skin cancers, allergies and various wrinkle treatments. For example, today I saw patients with acne, warts, a genital growth, a male with skin cancer, a child with ringworm and a cancer patient referred by her oncologist for an evaluation of a rash from her chemotherapy medicine. I saw several patients for cosmetic procedures, including a starlet's mom for Botox, and a woman from Saudi Arabia for fillers. My specialty is varied and allows me to see men, women and children of all ages and for different concerns.
Today it is the hardest subspecialty to get into! Also, almost 50% of the residents in dermatology today are women! I think it is because female patients seek out other women, therefore they help drive our success (they bring in their kids and partners). Also, the specialty allows us to be home at a decent hour with minimal call so that we can take care of family obligations and tend to other interests.
Her Big Break
Two years ago, you and your sister Stella opened Barba Skin Clinic, an extension of your dermatology practice entirely dedicated to skin wellness. Can you tell us about your motivation to make this move?
Our business was growing exponentially (strictly word of mouth and without advertisements) and Stella was getting very busy. I could see the positive results from her treatments, many of which were done combining clinical treatments with a home skincare routine layering ingredients that did not require prescriptions.
As a dermatologist I used to think that the most meaningful skincare required a prescription or more aggressive treatments, however I learned that this was not true. There are transformative over-the-counter ingredients that can change the skin when used in right combinations together. I also learned that quality skincare and treatments can be delivered by aestheticians when guided by the dermatologist and that patients value this team-based approach. For example, my aestheticians point out lesions to patients that may require a dermatologist visit to rule out cancer (a total skin exam should be done every year), educate clients about the latest beauty/wrinkle treatment and help us treat acne patients.
As a consumer, I have always loved beauty treatments and wanted to offer a destination that combined top-notch clinical skincare that is results-driven and supervised by a derm. Due to lack of time to start up a second business, I toyed with the idea of franchising a business model that was having some success in California, but my husband advised me against it and I am happy I took his advice. Instead, I hired him to help me get Barba Skin Clinic off the ground.
How do you and Stella split up the responsibilities? Are you both involved in every aspect, or have you divided and conquered?
Stella is much more involved with Barba Skin Clinic and I call that area her "castle." She tends to run a tight ship and I am comfortable with having her run the show at the skin clinic, whereas I manage the daily activities of the dermatology practice with my husband and staff. We are used to not seeing much of the other since we both are always so busy with clients that our paths rarely cross.
If we had the chance to peek at your schedule, what would an average day look like?
I am lucky to be able to control my schedule. I am not a morning person, so I start my day at 9:30 or 10:00 a.m. In the morning I like to work out and spend time with my 4-year-old daughter. We have breakfast together and I read the paper with my cup of coffee to catch up with the world since we do not have television at home. When I get to work, I often have a patient waiting for me (I live 4.5 minutes away!) and it is back-to-back with patients until the end of the day.
It can get very hectic since I am in the service industry, running my own practice and really want to make sure that my patients not only get top-notch medical care but have a good experience. I think this is the hardest part of what I do—Making patients feel that we value their time and are grateful that they have chosen our practice for their dermatology care.
In addition to genuinely loving my specialty, I enjoy the patients that I take care of and they know it. I like getting their advice in the middle of procedure—vacation spots, interior design tips, fashion tips, best schools for my daughter, gossip, beauty tips, best jeweler, etc. You name it. My husband gets mad that I have little energy to go out during the weekend. Who needs to socialize on weekends when I have been socializing with Miami's best all week long?
After work, my husband and I come home to have dinner with our daughter. We try not to talk about work in the evening. I like to completely turn it off when I get home.
Are there trends in skin care? If so, how have they evolved since you first broke into the industry? Where do you see skincare headed in the next few years?
Skincare has gotten quite technical and serious companies, including pharmaceutical companies, are paying attention to it. Allergan (the makers of Botox) recently acquired a skincare company started by a dermatologist.
Cosmetic procedures that provide results with little downtime done in doctor's office will continue to drive my field and I am constantly researching to make sure we are at the forefront.
Her Perspective
We imagine that drawing the line between your professional roles at the clinic and your relationship as sisters is tough. Do you ever disagree at work? If so, how do you arrive at a compromise?
This can sometimes be challenging since we both care passionately about our work and the business. We do, however, have different styles. I tend to not be too reactive and have come to the realization that the "world is not going to end" when there is an issue at work and that everything has a solution. My husband is a great buffer between us.
Translating passion into a career can be hard. What advice would you give to women trying to figure this out?
The best thing in the world is to actually have a passion that can become a career! Geez, what is better than that? I think there are many people who do not like their jobs. I love mine and look forward to it almost every day. If you really want to turn your passion into a career I would say, go for it but plan accordingly. My strategy was to seek out successful women and men that I admired and did as much research as I could, trying to emulate their business strategy and incorporate their advice the best that I could. This is why this site is so important. I eat up advice from similar-minded people.
What, if anything, do you wish you had known before you entered this occupation?
The control that the insurance industry has over medical dermatology and our practice of it is very humbling. Insurance companies do not care about the quality of training that a physician has when choosing one to be on an "insurance network." I feel that they simply care about getting doctors that will take the less amount of money/payment for services rendered. Insurance companies actually cap the number of dermatologists in big cities.
I also wish I would have known that insurance companies do not pay all dermatologists the same. I feel that this is ruining the specialty and is a driving force for us to turn to cosmetic procedures in order to survive financially.
And finally, what do you wake up looking forward to? What's next for your career?
I look forward to having a beautiful uneventful day. I love and look forward to an everyday predictable routine (that some people call mundane or monotonous). I live for it! The everyday routine where there is no drama: where everyone in my family, including my staff, is healthy and happy, where the phone doesn't ring with bad news of any kind and my patients are well and free of side effects from treatments. I realize that I am very lucky to do what I do, and am grateful for the opportunity to work in the best specialty with my sister and my husband. Working with my husband allows us to be on the same schedule and we dictate when we want time off.
We are always brainstorming how to grow the business and provide better care. This is the fun part of being a business owner—planning and executing ideas. My husband and I both enjoy it. We do however keep our young daughter in mind and would like to structure our business obligations so that we can maximize our time with her. This is what is next for my career: spending more time with my husband and daughter away from work. After 13 years of practice growing a business, I feel that I have earned it.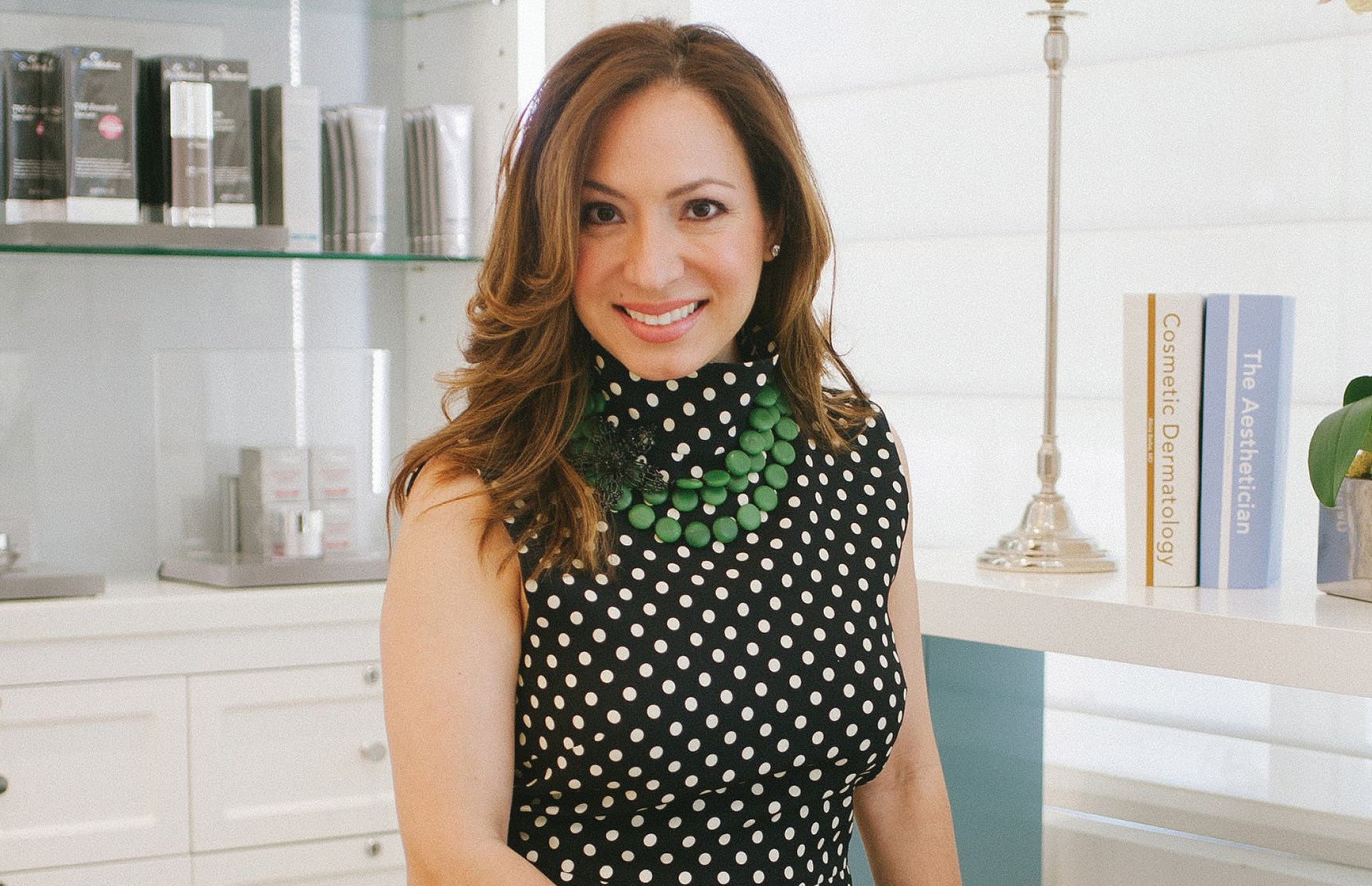 ---