Sweatworking: Work Out And Network
The latest fitness trend, combining working out and networking, is fast becoming the go-to activity for career connections.
Not so very long ago, networking events only took place in stuffy hotel conference rooms. Attendees milled about in nametag-adorned business casual outfits, making awkward small talk with other professionals and occasionally glancing at their watches as they willed the "party" to be over.
Though not all networking events fit this bill, they still hold a reputation for being awkward, stuffy, and really, just a waste of time.
And this comes at a time when people have less time than ever to spare! Young women especially are taking on more and more responsibilities—we have jobs, side hustles, families, and our own health to think of!
Fortunately, there's a growing new trend that combines two of these competing priorities; an opportunity for relationship-building and career growth inside the gym.
Welcome to the world of "sweatworking", where people network while working out! Men have been meeting on the golf course to talk business for years. Now, more women are sweating it out in the studio, while simultaneously getting sh*t done!
(Killing two birds with one stone? Yes, please! This is a business trend I can get behind.)
But I have to admit that when I first heard of this buzzed-about new trend, I wondered: are peoplereally replacing professional meetings with a workout class?According to my research, the answer is a resounding "YES!" I spoke with a few women working in health and fitness who told me that they see it in action every day.

Melissa Schoffer Farber, Director of Legal Affairs at SoulCycle, says that in her world, sweatworking is just part of the program. But beyond her fitness family, she's also observed a sweatworking spike within other companies.
"It's so much more the modern way of entertaining clients or having business meetings," she says. "People are definitely meeting over exercise because they're trying to find time in their day to get their workout in. It's a great way to bring those worlds together."
Nairi Petrosian, owner and instructor at Revolutions Cycling Studio, agrees, adding that she thinks sweatworking might be the new happy hour: "Instead of having drinks, I see many people coming to the studio with their co-workers to sweat out the stress. In order to work out with someone you definitely have to let your guard down and open up."
Why sweatwork when you can network?
By working out with a colleague, you are letting your guard down and breaking barriers that often make work relationships feel constrained and less collaborative. Sweatworking brings you to the same level, and allows you to relate and connect in a refreshing, new way.
"To me, [sweatworking] lends itself more naturally to networking—you're all having this experience together. It's not about name tags and conversations, it's about the ride," says Melissa. "And you can talk about the ride afterward—it's a natural lead-in. The icebreakers at networking events can be more challenging, but when you've taken a class—it's like we're all in this together."
Private yoga instructor and health blogger, Danielle Cuccio, adds that, within exercise environments, people are more honest and willing to connect, so you're more apt to make great connections, even if you show up to class alone.
"Complimenting, smiling, and continuing the conversation with someone beyond 'thank you' can start any kind of conversation," she says.
Together, you're releasing endorphins and clearing your mind, which also ensures your post-workout conversations will be more productive and enlightened.
SO, WHAT'S THE SKINNY?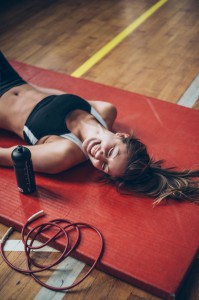 In its most common form, sweatworking involves inviting someone to a workout class and allowing time for work-related conversation before or after. It can also refer to making connections in an organized exercise setting, like a yoga class.
Although it may be easiest to arrange a sweatworking session with coworkers, many people are using it as a new way to connect with clients or business partners, too.
Melissa said that, in her experience, it's helpful to invite colleagues or acquaintances that you are comfortable with, people that you know are a fan of exercise, or those who are open-minded to non-traditional meeting structures.
Celebrity fitness trainer, Elise Joan, adds that when extending an invitation to sweatwork, there are three important steps to follow:
First, choose an activity that is accessible.
"Not everyone can run a 10k or wrap their leg behind their head, so stick with activities like 'open level' yoga classes or spin classes where people can take a break, without falling behind," Elise says.
Next, she suggests helping your guest prepare and letting them know that you just want to have fun!
"Let the person know to bring their sweats and their sense of humor as you have something more liberating and less conventional in mind for the meet-up," she says. "Prepare the person to have a good time, and eliminate any 'competitive' element. You are there to connect, to laugh and to get fit."
Melissa also emphasizes that preparation is key: "I set them up for success—tell them everything they need to know: Get here 15 minutes early, we'll set you up with shoes, I usually wear a tank, etc. Just make them feel as comfortable as possible."
Finally, Elise recommends cluing them in to the benefits of your unconventional meeting.
"Let them know they'll be getting a rush of adrenaline and endorphins, which helps with brainstorming, focus and clarity (as well as their waist line)!"
MAKE CONNECTIONS
Not every 7pm cycling class starts out as sweatworking, but the opportunities for connection are always there! If you're interested in meeting people and expanding your network, it's always important to be friendly and willing to engage in unexpected conversations with classmates.
Nairi believes that relationships made while working out are more genuine than those forged at traditional networking events, and can lead to greater future success.
"People who commit to classes at a studio tend to be driven, goal-oriented, and successful," she says. In other words, you might find exactly the sort of connection you're looking for during your workout. And it's beneficial to network and develop friendships within these environments.
Elise Joan agrees, saying she regularly witnesses customers making beneficial professional connections during her classes: "I've seen a make-up artist connect with a new celebrity client. I've watched students train together for marathons and I've even seen them help one another with job searches and interviews. A real community develops in these classrooms!"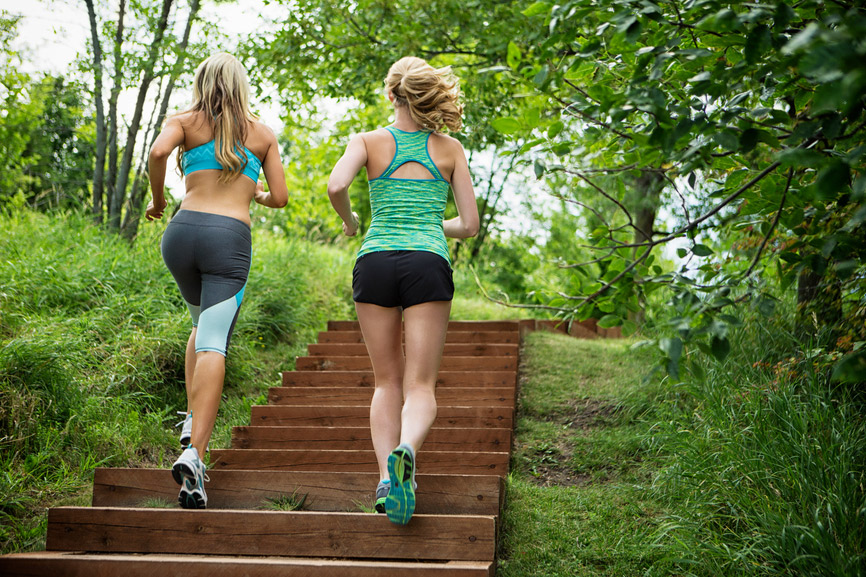 In order to get the most of your sweatworking experience—whether you're inviting a colleague, a client, or simply looking to make new connections while working out— attitude is key!
Danielle urges people to realize: "When you are working out together, you are working on yourself—physically and emotionally—but also on your work, on your relationships. We are in this together. We are all trying to be the best we can be for ourselves."
So, if you want to be an effective "sweatworker?" Keep an open mind and be willing to let your guard down!
Although a sweatworking session might require a bit more time and energy than a traditional meeting would, the benefits are clearly far greater and quite a bit more fun.