My Side Hustle Didn't Work—And I'm Psyched.
ONCE IN A WHILE, A GREAT IDEA HITS YOU. BUT WHAT HAPPENS WHEN YOU RUN WITH IT, ONLY TO REALIZE "OK, THIS DEFINITELY ISN'T A GOOD FIT FOR ME?"
Throughout our careers and personal lives, we're constantly challenged to explore our evolving passions and interests. Whether it's investing in a new skill or starting a business, as young professionals we are constantly seeking ways to reach our dreams (whatever they may be).
Since graduating from college, I've accepted the reality that sometimes our careers can be a lot of trial and error. As we experiment with new side hustles or land new jobs, we can be led down paths that align perfectly with our dreams, or we can be led somewhere that doesn't make us fulfilled. What's important to remember, however, that this process is a completely normal part of life—and it's OK if we don't get it right the first time around.
- - -
Last summer, I was presented with the idea to launch a resume writing and personal branding service through my blog. During a creative brainstorming session in mid-July, my sister and I were sitting in our living room and she asked, "Olivia, since you're so good at helping people write their resumes, why don't you start monetizing your skill? You could help so many people!" At that very moment, I felt like a lightbulb went off! After months of trying to pin-point the perfect side hustle, I thought this could be it. In my heart I knew I'd love helping people improve their careers and I envisioned myself being very successful at it.
Within a week of having this conversation with my sister, I put together a business plan, created a landing page on my blog, opened up an Etsy shop to sell this service, submitted a few Craigslist ads and did some self-promotion. After a few days of launching, the clients started coming in. People were submitting payments via PayPal, filling out my client questionnaires and I was quickly getting to work. It was great—in fact, it was awesome! I was helping people re-energize their job searches while making money at the same time. I truly felt like I was making a difference in the lives of others through my new side hustle.
It wasn't until about a month into this endeavor my gut was telling me this service wasn't a good fit. Even though the PayPal app on my phone was constantly buzzing with notifications of new payments, I couldn't keep up with the number of clients that kept coming in and their deadlines. I also wasn't prepared for how challenging the work would be, the endless number of phone calls and constant emails, and the fact that each project was extending beyond the scope of what I was willing to offer. I soon realized that the HR industry definitely wasn't a good fit for me, regardless of the fact that I was good at writing a resume or cover letter.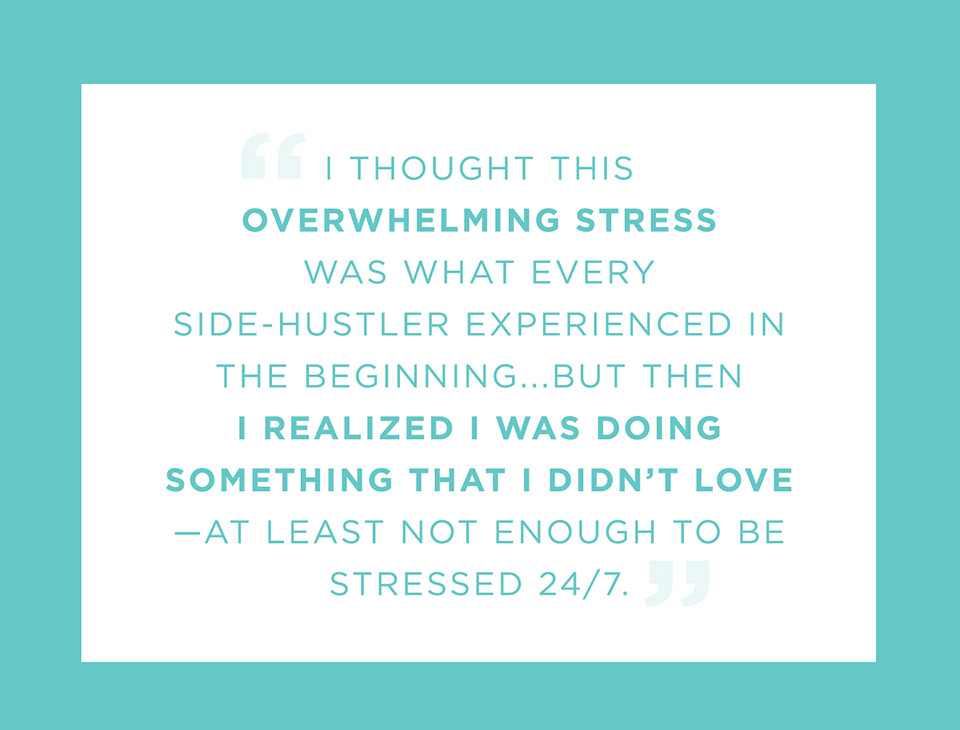 Although this side hustle was starting to cause me a lot of stress and tears, I was determined to push through because in the first month alone I had generated about $1,200 in sales. I thought this overwhelming stress was what every side-hustler experienced in the beginning. You know, the whole "entrepreneurs are the only people willing to put in 80 hours a week to do what they love." But then I realized I was doing something that I didn't love—at least not enough to be stressed 24/7.
After three successful months of running "The Career Workshop" I decided to listen to my gut and closed up shop. I wrapped up my final client projects, took down my landing page and deleted my Etsy store. I also tried my best to not feel like a failure after giving up on this side hustle, but I knew it was the only answer to maintaining my sanity and managing stress.
Looking back on this experience, I realized that it taught me some very powerful lessons that I will carry throughout my career and into my next side hustle (or future business). Hopefully you'll find them helpful, too.
LESSON #1: YOU ARE 100% IN CONTROL
If there's one thing I learned from this experience, it's that if you're feeling absolutely dissatisfied or miserable while pursuing something, don't keep doing it! Nothing in this world is worth stress and anxiety if it doesn't make you feel happy in the end. While it's important to persevere through tough jobs, clients or deadlines, it's also important to know when it's OK to quit.
Before pursuing a side hustle, ask yourself if it'll help you reach your "big picture" goal and figure out if it aligns with your desired lifestyle. I knew immediately my side hustle wasn't a good fit when I realized I didn't want to be known as a career coach. In fact, it was never a goal of mine to become a career coach or HR professional. My true dream is to own a public relations firm for lifestyle businesses and brands, and "The Career Workshop" was far removed from that passion. Once I accepted this truth, I knew it was time to move onto something that better aligned with my goals.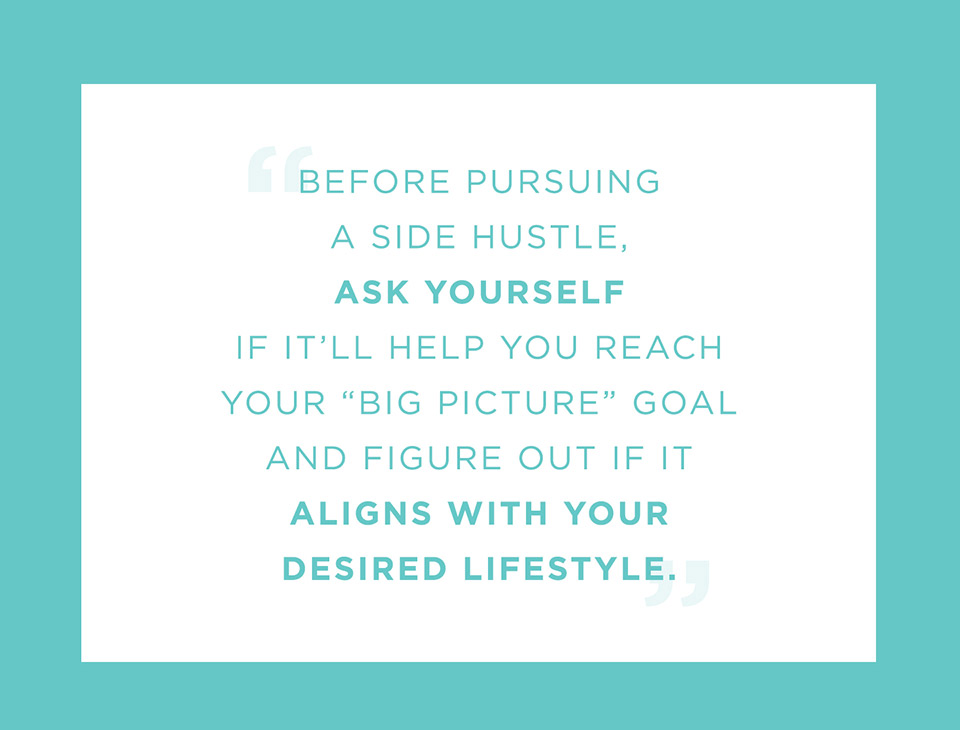 LESSON #2: MONEY SHOULD NEVER BE YOUR FIRST PRIORITY
This is where I went wrong. I solely launched this side hustle to supplement my "day job" income. Sure, while the goal of every business is to make money—it shouldn't be your top priority. You should start a gig because you love the mission behind it first. It's really true that once you do what you love, the money will follow. You can't follow the money and expect you'll one day wake up and love what you do. And I'll be the first one to tell you that.
On the other hand, if your side hustle is for survival purposes—then that's a different picture. Some of us have to take on second jobs as baristas or freelance writers to make ends meet. However, if you have the ability to design a side hustle you love, remember to choose carefully and that you're ready to commit to the challenges and rewards it offers along the way.
LESSON #3: DON'T LOOK AT QUITTING A SIDE HUSTLE AS A FAILURE, SEE IT AS AN OPPORTUNITY

I'm definitely not a person who can easily quit a job or give up on a project before its deadline. In fact, I'll continue working tirelessly until the job is done—even if it causes stress or anxiety. However, I've learned that even the most successful people have quit projects that don't align with their goals and values, and it's OK to throw in the towel if it means you can reach more success doing something else you love.
By quitting this service, it opened up the opportunity for me to pursue projects that I'm truly passionate about. I'm now side hustling as a freelance PR professional and writer, and I'm loving every second of my work because it aligns more closely with my career goals and I'm having fun. Plus, I absolutely love the clients I'm working with, which makes every deadline, email and phone call worth it!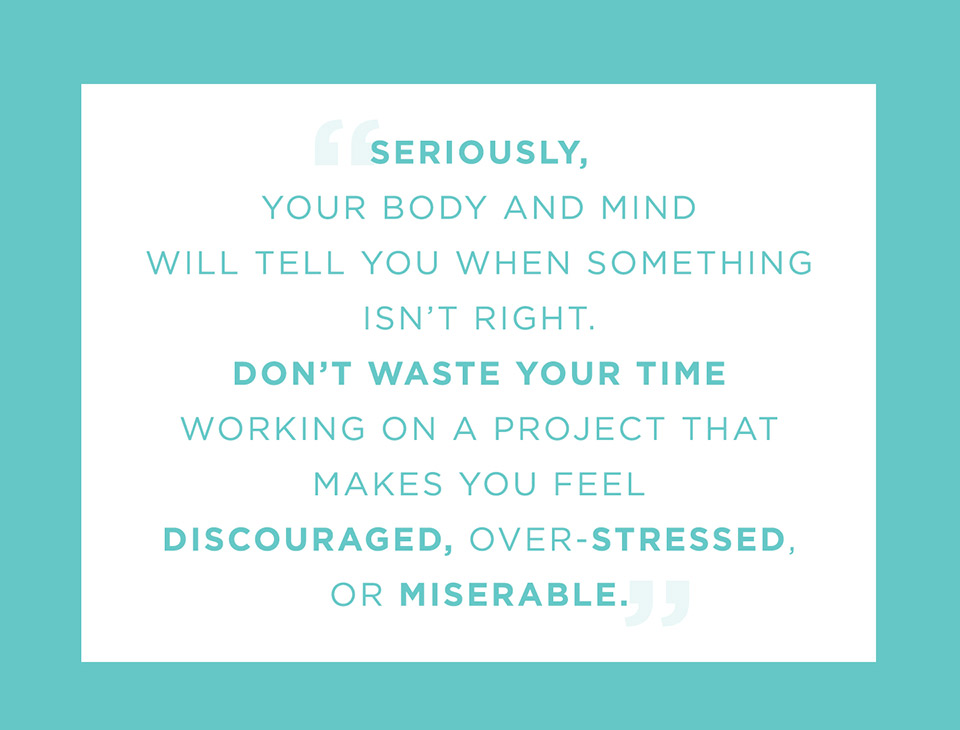 - - -
Every now and then, friends and family ask me how "The Career Workshop" is going, and I have to explain to them I no longer offer that service. And while there's a part of me that feels like a quitter every time I have to explain why, I know in my heart it was the right thing to do. I had to quit so I could pursue other projects that brought me more happiness and aligned with my passions.
The most empowering thing I learned from this experience was that when you listen to your heart, you'll discover what makes the most sense for your career. Seriously, your body and mind will tell you when something isn't right. Don't waste your time working on a project that makes you feel discouraged, over-stressed, or miserable. Life is far too short to pursue a career that doesn't bring you happiness and fulfillment.
The best advice I can give you is that the moment you realize that a side hustle isn't what you thought it would be or it's not the right fit, wrap it up and move onto something else. See, that's the beauty of a side hustle. You're your own boss. You're in charge. If you don't like something, change it. And if you have to quit a side hustle, don't be hard on yourself. It's a learning experience and if you continue to pick yourself back up, you'll get closer to what lights your fire and makes you feel inspired.