How to Pick an Actually Useful Planner (No Stickers or Glitter Necessary)
If you've spent any time on YouTube or Instagram in the last few years, you have probably picked up on a pretty unexpected obsession…I mean "trend."
Planners. People have gone agenda crazy, and they're not only meticulously documenting their appointments, to-do lists, and social life, they're also getting pretty creative in the process.
While I've been known to stop scrolling and stare mesmerized at a glittery, washi taped, stickered, masterpiece of a planner, I haven't taken my love of planners that far.
Admittedly though, I'm
almost
one of those people. I bought my planner for 2017 when there were still a few months left of 2016 after carefully considering my options. And this year I am planning on committing to my planner like never before.
Ok, I realize how melodramatic I sound. But pre-planning every to-do is necessary when balancing
my full-time gig
with Career Contessa, freelance work, and social obligations. Alright, not that many social obligations, but you get the gist.
After many years of planner usage (and countless hours lost in the online planner fanatic rabbit hole), I know what works for me and am going to make this year my most organized one to date.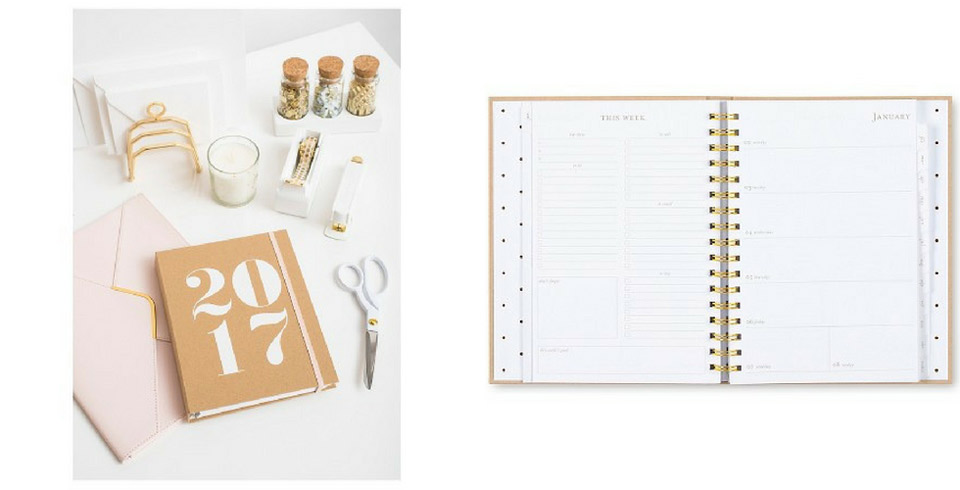 One of the author's personal favorites: Sugar Paper for Target planner available here.
Start With The Perfect Planner
For the Type A
When I was in college I used to use an old school
Franklin Covey planner
that had a line dedicated to every hour of every day. This way I could visually see how much time I was spending at work, school, even commuting. My meticulous (and bulky) planner made keeping up with my hectic student life very doable.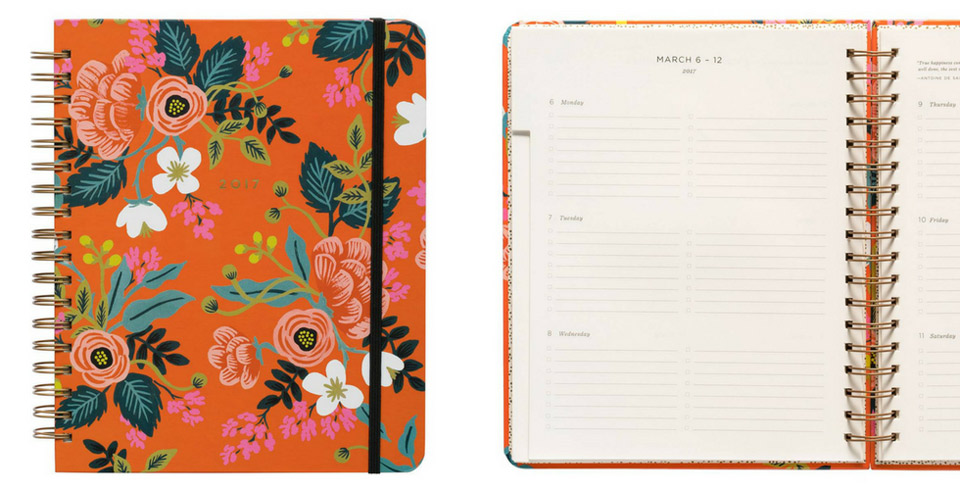 For those of you who like a little POP in your planner, try Rifle Paper Co.'s version.
For the Goal Setter
Now that I have entered the workforce, my day to day routine is pretty packed but standardized. But I would never make any meeting on time if I didn't have my handy Google calendar alerting me. So a planner that squeezes a whole week onto one page works just fine. I am a big fan of the cute and practical
Sugar Paper for Target planners
(P.S. we interviewed
their cofounder
).
Not only are they all cute, but they have a variety of schedule arrangements to meet your needs. I chose
this one
because it focused on monthly goal setting which will help me think more about the big picture this year. And since I don't need too much space to write down the occasional doctor appointment or dinner with a friend, it's nice that they dedicate half the week to be organized by to-do lists like emails, calls, and purchases. Did I mention it's only $15?
Thanks to the agenda trend, there are plenty of really stylish options available that will make you want to reach for your planner every day.
Rifle Paper Co.
always has plenty of bright options that will be easy to find in your black hole of a purse. And any true planner aficionado has lusted after the
ban.do
agendas, partly because sassy stickers are included (sigh), but also because of the fun quotes sprinkled throughout. And you know at Career Contessa
we love a good quote.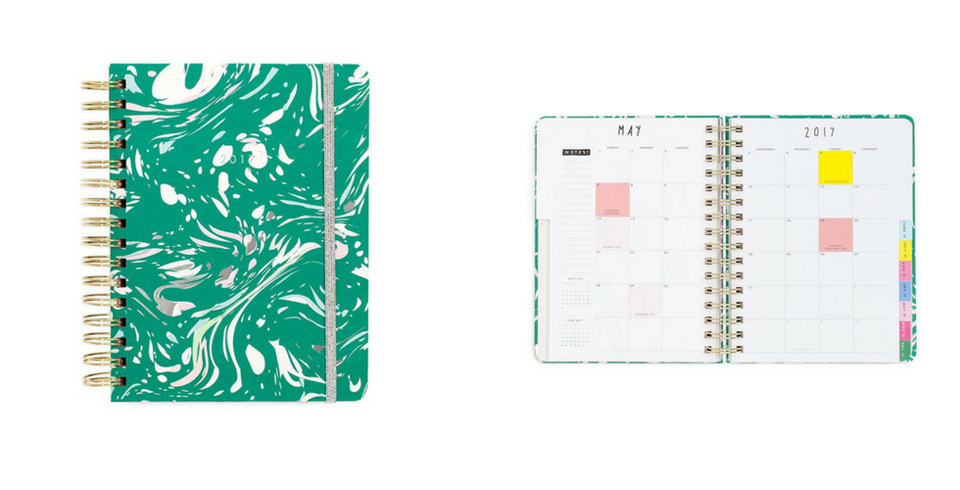 In the sticker and glitter camp, ban.do's agenda reigns supreme.
For the Free Spirit
If the idea of having a planner sounds too uptight for you, then it's amazing you read this far. But as your reward I have found the perfect planner for the non-planner. Each page in the
Mon Journal Diary
is blank aside from faint grid lines and can be used as a planner, a diary, a sketchbook, used to make lists, plot plans, or really anything you want. And you add in your own dates so there is no requirement you start using it January 1st. It's also perfect for people who love to
bullet journal
, but that is another article for another day.
In general, this style planner is perfect for the, oh I don't know, graphic designer or editor at a startup that delivers really amazing career content to women. Both our editorial director Kit and senior designer Sarah use blank journals, where they mark the dates, to balance their never-ending to-do lists. And I have to say, I have never seen either of them let anything slip through the cracks. Kit favors
Poketo's moment planner
. Sarah's all about
this insanely giant Moleskin agenda
.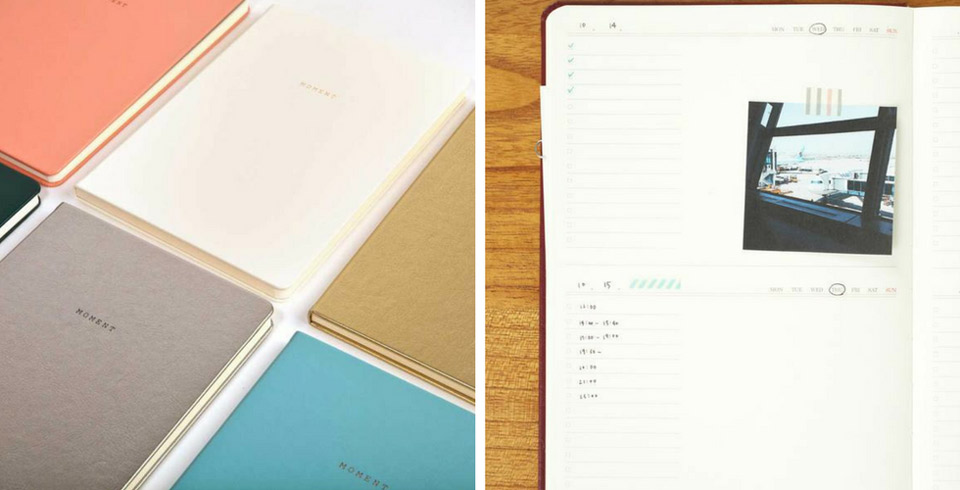 Our editorial director has this Poketo planner. In green (in case you want to copy her).
Don't Forget to Accessorize
As cute as it is, decorating the inside of my planner just isn't for me. I am sure it is a fun, creative outlet for many, but I like my planner to be clean inside so I can quickly see what I actually need to do, not get distracted by a neon-colored donut sticker. I do—fine, I admit it—like to use
certain
stickers, but only for one very important purpose: remembering when I need to change my contacts. For the sake of not losing an eye to infection, I am going to order
these eyeglass stickers
this year so I can easily see (get it?) which days I need to switch out my contacts. You can use stickers to clearly mark anything important, like tracking your cycle or remembering to pay bills. Etsy basically has an endless amount of adorable and practical stickers for your planner, but be warned you may spend much more time and money than you intended.
Color-coded pens
can also be really helpful when differentiating between work, personal appointments, and social obligations.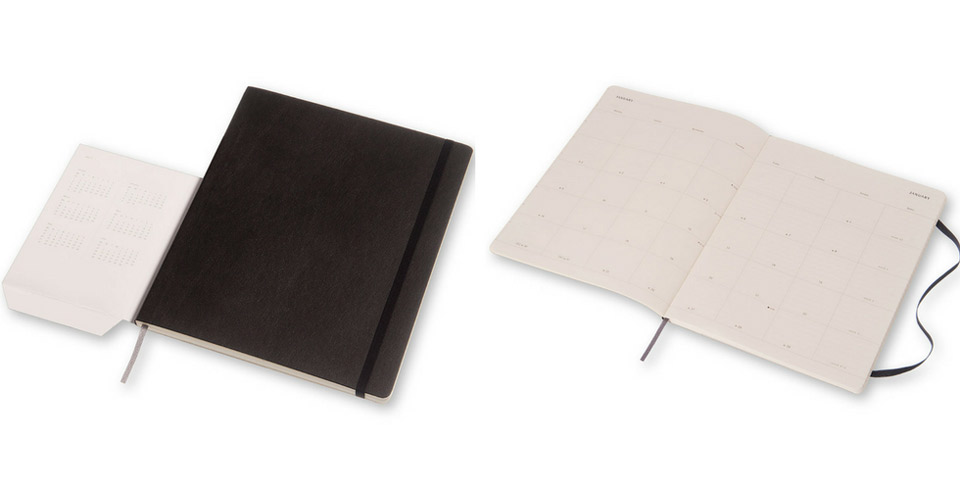 Never mess with a classic. Moleskin.
Think Outside the Literal Box
Planners don't have to be only for appointments and remembering birthdays. You can use them to plan or track pretty much anything. If your New Year's resolution list was full of health improvements use your planner to track what you are eating, how much water you are drinking, how often you exercise and how many hours of sleep you get a night. If your skin is breaking out like crazy, track what foods you have been eating a lot of and how stressed you are and the nasty culprit behind your breakouts might become crystal clear. Want to save money for a dream vacation? Use your planner to see how much you spend every day and plan your savings goals and monthly benchmarks.
P.S. For more agenda inspo check out our
Pinterest board dedicated to all things planner.