Page Turner: Homemakers, By Brit Morin
BRIT MORIN'S NEW BOOK, HOMEMAKERS, IS A FUN, COLORFUL GUIDE, COMBINING DIGITAL AND ANALOG RESOURCES TO CREATE A BETTER DOMESTIC EXPERIENCE.
Brit Morin founded the DIY-focused lifestyle website, Brit + Co, in 2011, after leaving Google and joining a "makerspace" called TechShop—where she made everything from polymer plates to terrariums—in San Francisco. In a 2012 interview with the Los Angeles Times, Brit said she created the site because: "We have jobs to work and families to run. We need to find savvy shortcuts to get things done easier with a beautiful result."
And, in just three short years, she's succeeded in finding and sharing those shortcuts with an audience of millions.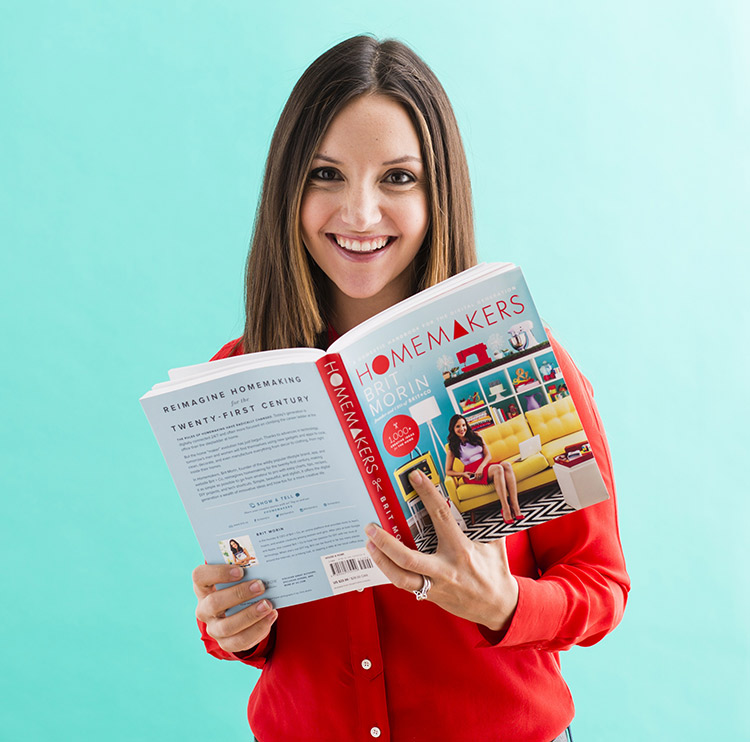 Homemakers: A Domestic Handbook for the Digital Generation, Brit's first book, is a seamless extension of the brand she's built online: it's a colorful compilation of her best domestic tips and tricks—featuring everything from how to hard-boil an egg to folding fitted sheets to organizing your closet. And, like her site, Brit says the book aims to balance the digital with the analog, helping adults like you and me experience creative living through both.
Sub-titled "A Domestic Handbook for the Digital Generation", the book relies heavily on the fact that our generation (millennials) is very digitally-savvy, but unsure of how to approach basic domestic tasks like setting a formal place setting for a dinner party.
As someone who's very keen on technology, but not entirely domestic (just ask my husband) myself, I was intrigued by the juxtaposition. Could I use the gadgets I loved to be a more creative, more effective, more domestic human? Could Brit really convince me of my role as the "maker" in homemaking?
It seems I'm not the only one who is apprehensive. According to Brit: "Countless women I've interviewed have confided that they don't know how to use their oven, put up wallpaper, or fold their sheets the proper way."
She goes on to say that: "…we're digitally inclined but somewhat domestically incompetent."
(Hey, at least I know how to use my oven!)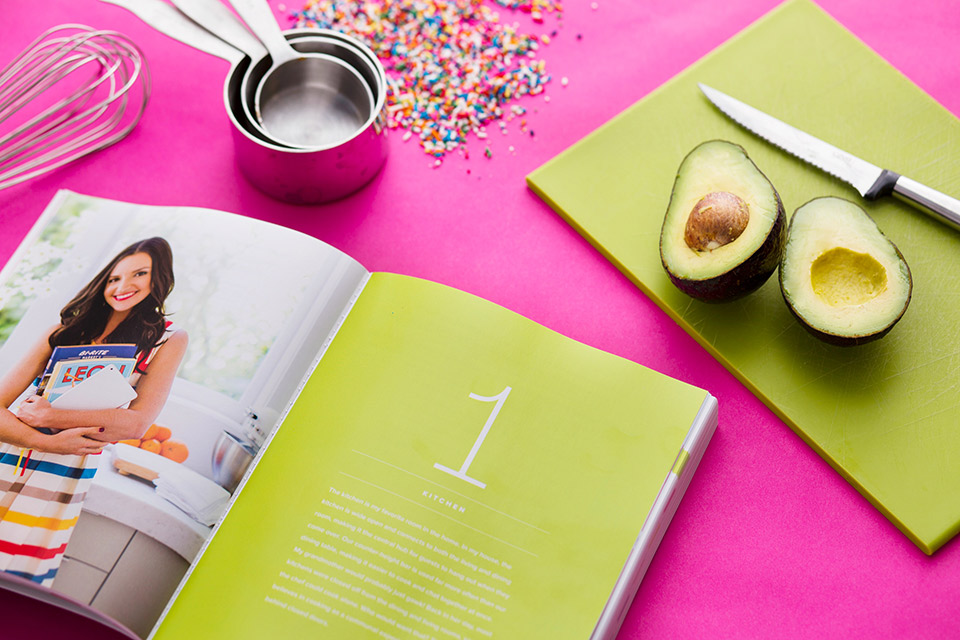 Homemakers has a clever set up. The Introduction is titled "The Entryway" and each chapter is dedicated to a different room in your home: starting with the kitchen; moving through rooms like the living room, the bedroom, and even the gym; and ending on the back porch.
Brit addresses the traditional "homemaker" term and perception early on in the book, saying that the idea that only women can be domestic homemakers—whose sole focus is to take care of their husbands, children, and appearance—makes her want to "go throw up now". Though her target reader is pretty clearly other women, she makes it clear that she advocates for a new definition of the term—one that applies to both men and women.
Some of the tips are seemingly basic (a fact Brit readily admits by calling them "Basic Things to Know"), even to a homemaking novice like me. She leads readers through simple tasks like scrambling eggs and properly using mascara.
However, many of the tips throughout the book include interesting hacks, too! For instance, instead of using a large knife, Brit says you can use dental floss to cut a cake (really!)—apparently, it's plenty strong enough and it creates a perfectly smooth cut.
Noted.
Here are a few of my other favorite tips:
Group folded bedsheets together for storage by tucking them into a pillow sham

Use multi-purpose mayonnaise as a beauty tool—it can substitute for a hair conditioner, cooling face mask, and a cuticle softener

Hang curtains at ceiling height (rather than window) to expand the visual size of the window and the room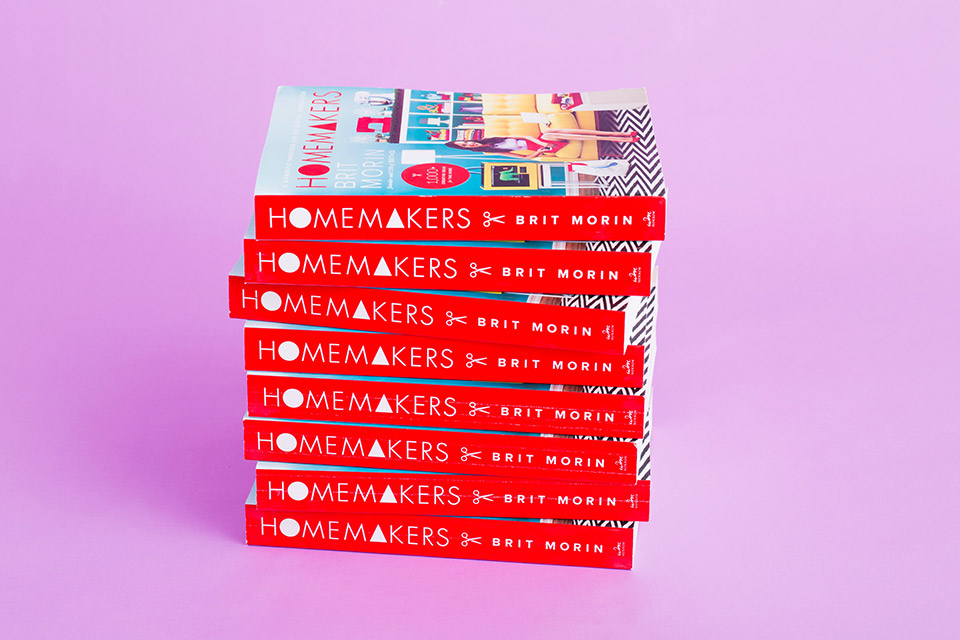 Along with these—and many other clever and useful!—tips, every chapter features:
DIY projects: The gadget-charging nightstand is my favorite!

Relevant apps, gadgets, and services: A bracelet that reminds me when to apply SPF? Yes, please.

Insight into the future of each room: Think heat-reactive mattresses and 3D clothing printers, plus, wrinkle-fighting wipes and sunscreen pills—um, can I get those right now, please?
The hacks are my favorite though. The book features everything from smarter ways to pack a suitcase (using a shower cap as a shoe bag = MIND BLOWN) to how to tell if your egg is hard-boiled without cracking it.
Brit also includes "Tips from the Co"—or insights from her readers—in every chapter. The "Back Porch" chapter features even more from the "Co"-mmunity—it's filled with fun projects from Brit + Co readers. And each chapter also includes a blank page for you to take notes of your own!
Fans of her site—and even those new to the Brit + Co brand—will appreciate the many DIY projects, technology recommendations, and the general aesthetic of the book (it's bright, colorful, and fun, just like the site!).
It's the perfect handbook for everyone who hopes to live creatively at home!
Pick up Homemakers: A Domestic Handbook for the Digital Generation tomorrow—and share your favorite "Homemakers" tips with us in the comments below!
Photos: Brit Morin