Page Turner: #GIRLBOSS By Sophia Amoruso
IN HER "ANTI-MEMOIR", #GIRLBOSS, NASTY GAL FOUNDER, SOPHIA AMORUSO SHARES HER BEST BUSINESS TIPS AND AN EVEN MORE COMPELLING STORY OF HER RISE TO THE TOP.
With a splash of pink and punchy title, Nasty Gal former CEO (and current executive chairwoman), Sophia Amoruso's #GIRLBOSS is the latest business book to throw its hat into the ring.
Here's the breakdown: Amid a period of serial unemployment in her twenties, Amoruso realized she had a knack for finding eclectic vintage gems. Eschewing traditional jobs, Amoruso created an eBay shop called Nasty Gal Vintage (named after funk singer, Betty Davis) where she peddled her thrift store finds. Seven years later, she's built Nasty Gal into a $100 million plus fashion retailer with over 350 employees.
Her story is lauded as a fairy tale by the fashion industry. Rags to riches, an overnight success.
#GIRLBOSS kills that rose-hued perception on the first page.
Flanked by fellow female powerhouses including Leandra Medine of Man Repeller and Christene Barberich of Refinery29, Amoruso weaves Nasty Gal's history into a larger narrative around one single concept: being a #GIRLBOSS.
So what exactly is a #GIRLBOSS?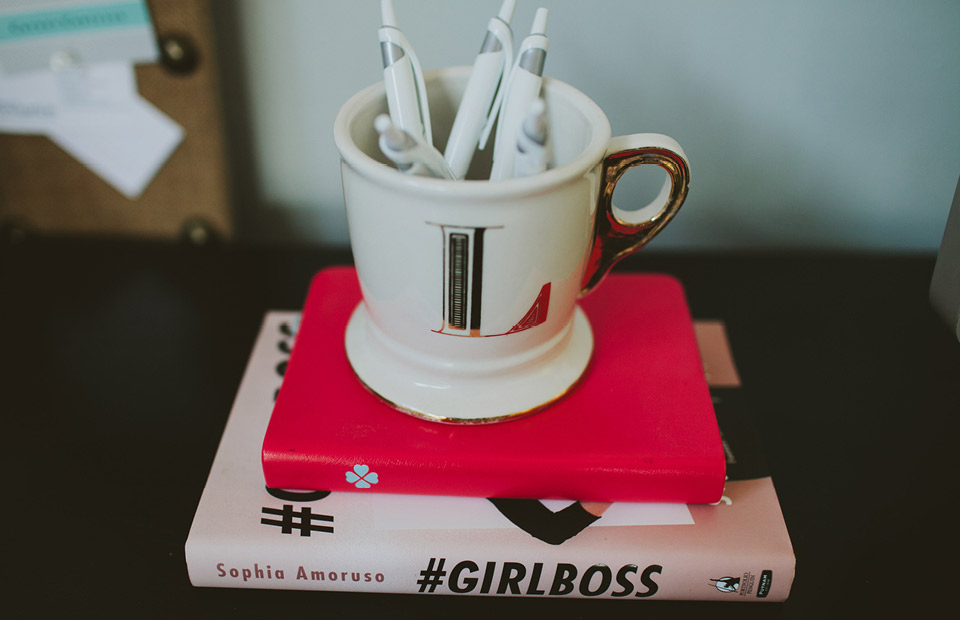 "Someone who is in charge of their own life," Amoruso says. "She gets what she wants because she works for it…You ask questions. You take your life seriously, but you don't take yourself too seriously. You're going to take over the world, and change it in the process. You're a badass."
#GIRLBOSS is the anti-memoir. It's the "get off your butt and go do something" book. Once you get past the cheesiness of the all caps hashtag, you get it. #GIRLBOSS. It's the story of Amoruso and Nasty Gal, of course, but it's bigger than that. It isn't a feminist manifesto or personal essay, it's an anthem calling for girls—women—to create the careers and the lives they want.
Amoruso covers a wide range of topics from personal finance ("Money looks better in the bank than on your feet") to the value of shitty jobs ("Trust me, there ain't no shame in the game and I can make one hell of a tuna sandwich").
Amoruso's story is unique and the path she took isn't for everyone: Diving for dumpster bagels, dropping out of college, getting fired and quitting jobs consistently isn't exactly a recipe for success. But there are two important distinctions to her stratospheric rise: she found her niche, and she worked her butt off in it.
If you're looking for someone to model your life after, a la Oprah, Amoruso probably isn't your girl. She doesn't want to be a role model. "I don't want you to look up, #GIRLBOSS, because all that looking up can keep you down. The energy you'll expend focusing on someones else's life is better spent working on your own. Just be your own idol."
Her refreshingly down-to-earth approach and hilarious stories are engaging, especially in a genre dominated by Ivy league CEOs. She makes you stop and listen. She's part boss, part kickass friend. She's a dropout and former dumpster diver, but also a Prada-heeled executive. Her story alone makes #GIRLBOSS worth a look.
But this is not the business book for everyone. Amoruso tends to gloss over the true work of running your own enterprise and the quirky quotes can come off as cheesy and shallow. It's easy to dismiss it as millennial fluff based on the hashtag title alone. But it's an engaging read and the lessons are genuinely helpful if you pay attention to them.
We've talked about unconventional ways to create the career you want before, and Amoruso is the epitome of taking the less traveled path. As a matter of fact, she tomahawked her own way.
Give the book a read, but know that you can be a #GIRLBOSS starting today.