6 Totally Free Ways to Make the Most of Your Work Trip Downtime (+ An Atlanta City Guide!)
When you're traveling for work with a limited per diem, chances are you don't really want to spend much of your own money while exploring the city.
Still, one of the benefits of having a position that allows you to travel for work is that you get to spend time in places you wouldn't normally visit on your own. Here are some ways to make the most of your work trip downtime for next to nothing—actually, most are free—because you can't work from the hotel the whole time you're there. You've got to eat for one thing. Read on to explore our best tips to explore any city for free
plus
some of the best places to visit in Atlanta, care of our friends at
In Honor of Design
.
In this article:
Tip 1: Embrace Spontaneity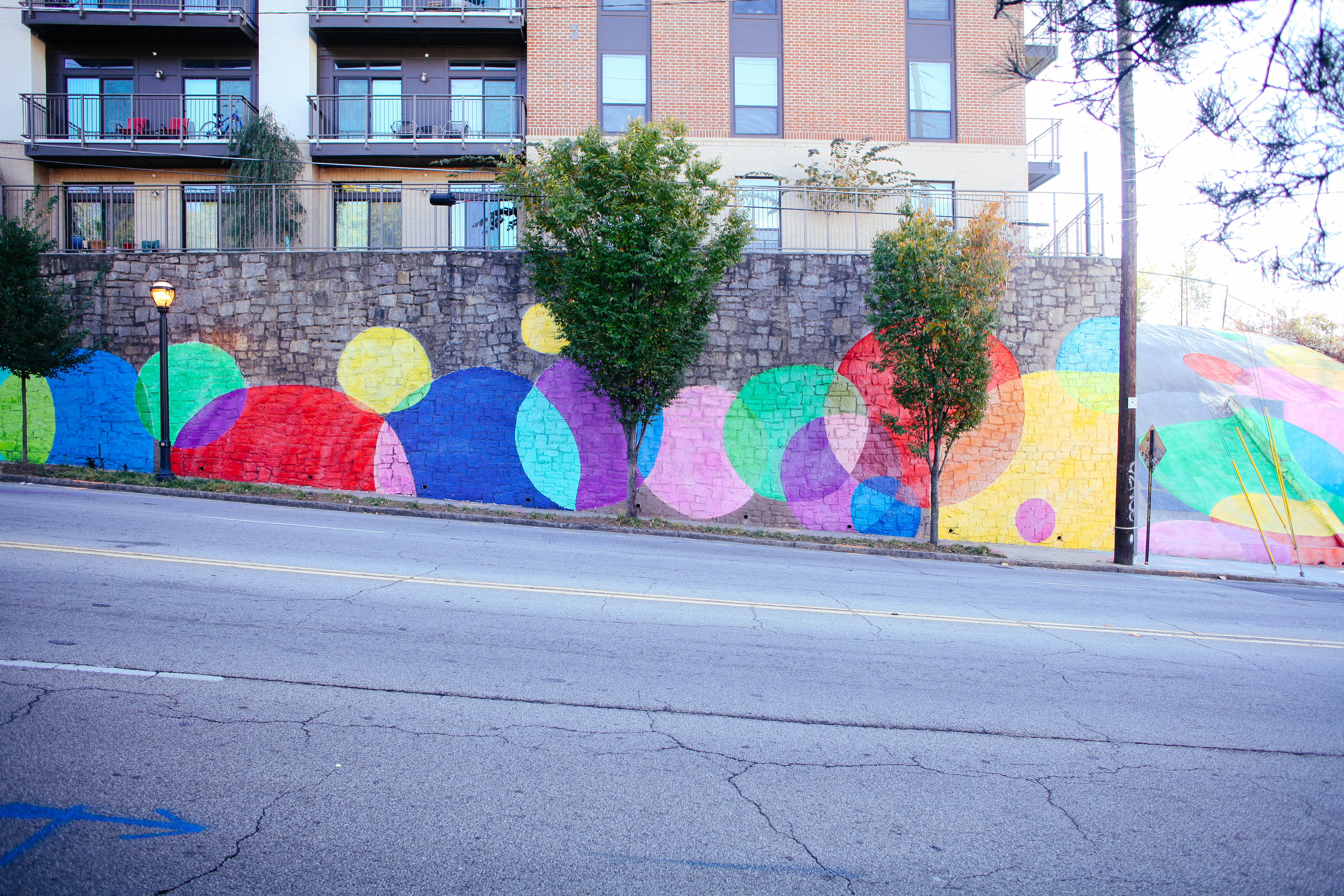 Taking your rental car to a popular city neighborhood means you can get out and explore on foot and discover things like Atlanta's Beltline, which features local artists' murals and street art.
When you're unfamiliar with a city, whether that's San Francisco, Chicago, Boston, or Atlanta (more on that in a minute), narrowing down the list of places to visit can feel like an insurmountable burden. We suggest you take a step back from the brochures and internet guides and think smaller scale.

Most cities have a particular neighborhood they're known for. Whether that's the new cool kid/hipster area (think: Oak Cliff in Dallas, Highland Park in L.A., Greenpoint in Brooklyn...) or a historic zone full of famous monuments and mansions, if you plan your day around a smaller, centralized area, you can wander aimlessly and still get a fulfilling travel experience. Park your rental car in the area and head off on foot—you'll get a much better view of the city and escape the tourist trappings that come with following standard travel guides.
Tip 2: Extend Your Trip by One Weekend Day
If your trip schedule includes a Friday or Monday meeting, why not ask your office to extend your itinerary by one extra day? It doesn't make much difference to them if you fly out on a Sunday morning or fly back on a Saturday rather than a Monday or Friday—in fact, it might actually mean a less expensive flight. And although that means you might have to pay for an extra hotel night out of pocket, you'll get a full day to do some exploring without work emails flowing in. It's a rare opportunity. We suggest you embrace it.
And here's a fun fact: if you're traveling regularly for work, enrolling in National's
Emerald Club
makes the whole rental process easier for you and your boss, but it also comes with a cool perk:
National's One, Two, Free Campaign
.
For every two days your office pays for your travel car (or for a certain number of points), you get a free day-long rental. Use it whenever you want to explore a city like Atlanta. Your leisure time just got so much more navigable.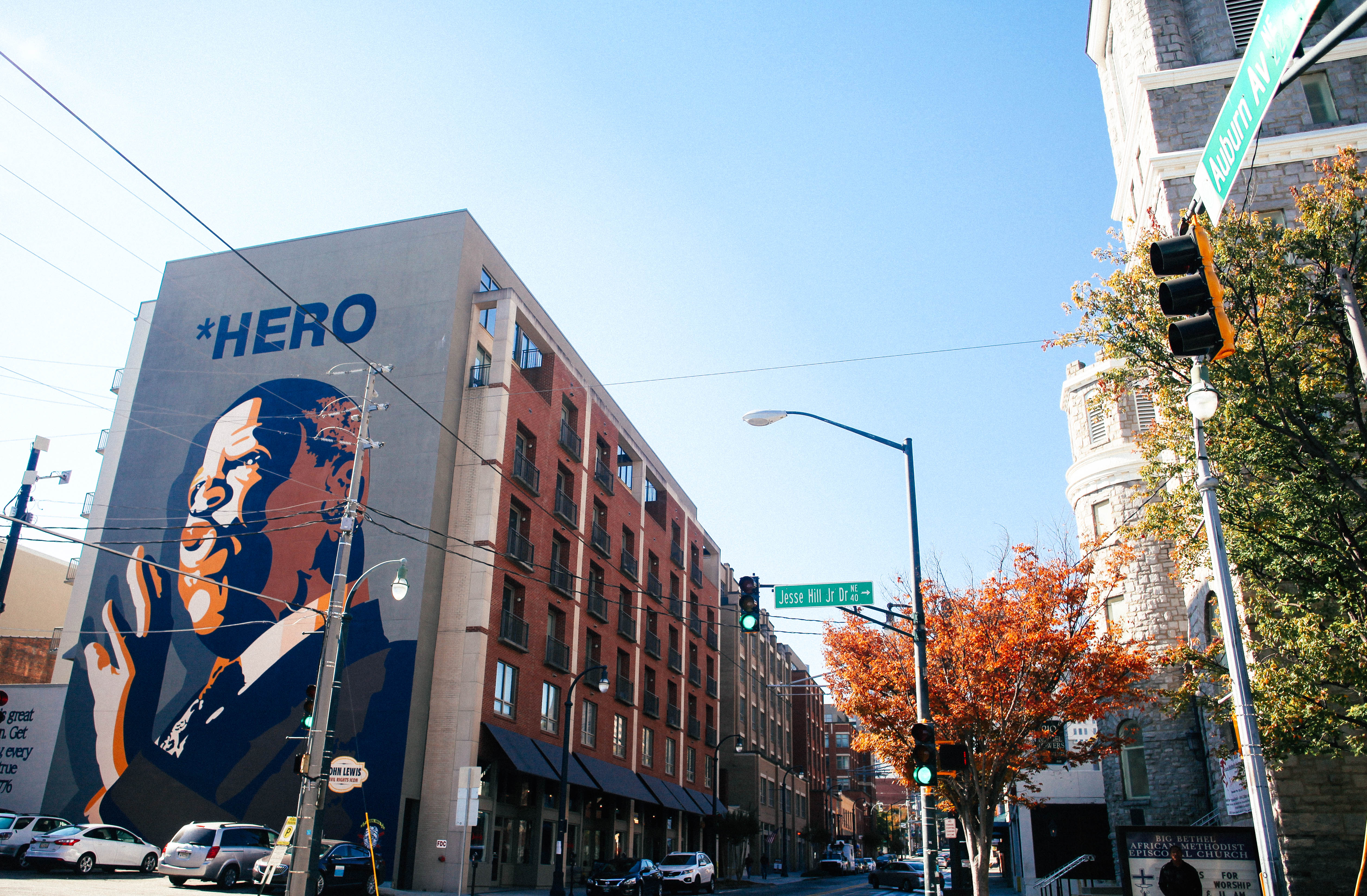 If you've spent your week in hotel conference rooms, take advantage of your free day to get outside and wander. A self-guided tour of Living Walls, Atlanta's mecca of wall murals is a perfect way to get some fresh air (and perspective).
Tip 3: When You're Working, Kill Two Birds (As They Say) By Visiting Public Spaces with Wifi
Many libraries and historical sites now offer complimentary wifi to patrons. In fact, in certain cities, public parks and gardens have even gotten in on the action. Look up some common tourist spots that interest you, then check their websites or call to see if you can do some work from a bench or lobby. Or, if you're one of the lucky few with unlimited data on your smartphone (hopefully provided by work), you can turn on your hotspot and work anywhere.

So head to see the latest Modern Art exhibit and check your email from the museum cafe after. We won't judge you if you splurge on a pastry.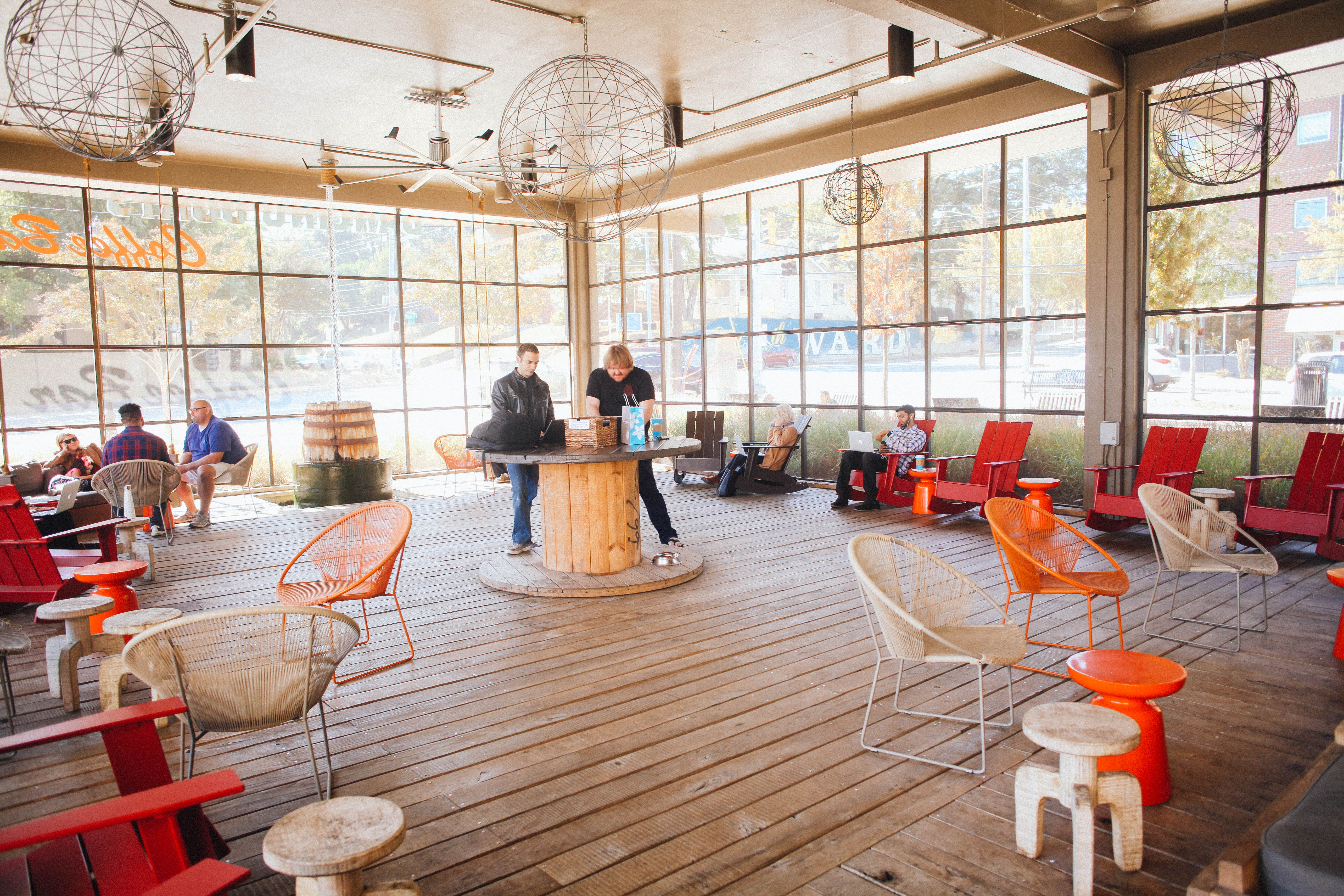 Coffee shops are a great, cheap way to do some people watching and see what a city has to offer. Consider the great vibe in Dancing Goats in Atlanta. I mean, right?
Tip 4: Head for Green Space
In every city, there's an interesting park, garden, or nearby hiking trail. It's easy to get caught up in the urban destinations full of souvenirs and overpriced restaurants, but a long walk through some green space is a great way to decompress after your work week filled with airport security checkpoints and client meetings. Get some air. You've earned it.
Tip 5: Research Museum and Landmark Free Days
Most cities have a free national history museum or offer complimentary tours of historic monuments, but even spaces that typically charge admission tend to offer various deals. You just have to find them. Sometimes, that's a free after 5pm policy at the local art museum (perfect if you've got to work all day) or free admission once a month for certain bank or credit card customers. If you've got a student ID, you're especially golden. Spend some time reading the small print on each of the websites' visiting hours pages and plan accordingly.

If all else fails, many museums offer special evening or weekend events that don't require paying for admission. Sometimes that's a Jazz night. Sometimes it's a creative workshop or lecture. Check their calendars online.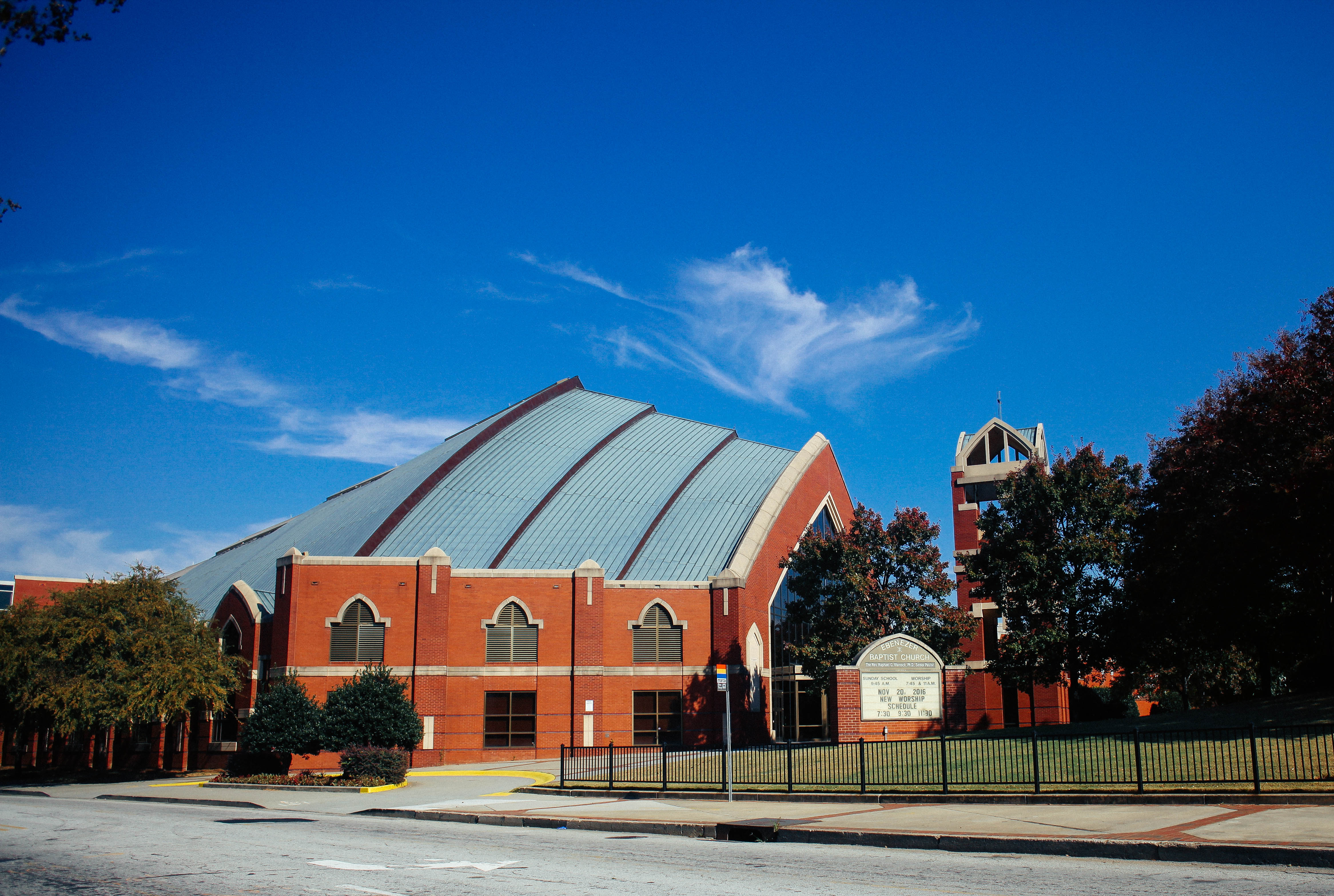 Every city has a unique history. In Atlanta, you can take a free tour of Martin Luther King's birth home.
And #6: A free day, the free way guide to Atlanta
Last year, we put together guides on how to spend 24 hours in both
Portland
and
New Orleans
. This year, we asked Anna Liesemeyer, the woman behind
In Honor of Design
, to make a list of some of the best (and cheap) places to explore in Atlanta. Here's what Anna recommends:
This National Historic Site is tucked on the east side of Atlanta in an unassuming neighborhood, where you can get a free tour of Martin Luther King Jr.'s birth home. Open from 10am-2pm daily. The site also houses the King Center, Historic Ebenezer Baptist Church, and Visitor Center, which are all part of the MLK Jr. National Historic Site.
Take a stroll down the popular Atlanta Beltline where you can enjoy great views of the city as well as a taste of local artists work via the wall murals and paintings you will spot along the way. Visit the site for a complete list of trails.
A spacious indoor and outdoor coffee spot, where you can relax, unwind, hook up to free wi-fi, and enjoy a fun and fresh atmosphere in their glass house lounge.

Location: 650 N. Ave NE, Atlanta, GA 30308
The home of the current governor's home on 18 acres in Northeast Atlanta. This southern property offers free tours of the impressive home. Open Tuesdays - Thursdays.
Take a self-guided tour through the Living Walls which is a series of giant wall murals painted by both local and national artists. Visit the site for a
map of locations
.
This 21-acre park located in downtown Atlanta was built for the 1996 Summer Olympics and is central to other well-known Atlanta sites such as World of Coke and The Georgia Aquarium. Free for all who visit.
This post was sponsored by National Car Rental's Emerald Club, whose One, Two Free Campaign offers registered members the flexibility to choose when and where to redeem their earned free rental days. Thank you for supporting the brands that help support Career Contessa.