These Are The Best Departments for Women
There's plenty of info out there about the best companies to work for, but have you ever wondered about departments within them? And what about for women specifically?
Even if you're lucky enough to work at one of the best companies for women, what are the best jobs and places to work within that company? After all, culture and the quality of work and life can really depend on your manager and specific department. In fact, nearly a third of the women in the
Fairygodboss
community (an employee review and job site for women) say their department culture and management impact their day-to-day happiness.
Top 10 departments where women report the highest level of job satisfaction
Consulting
Business
Education
Editorial, Services (tied)
Human Resources
Creative
Strategy
Tax + Accounting
Engineering
Legal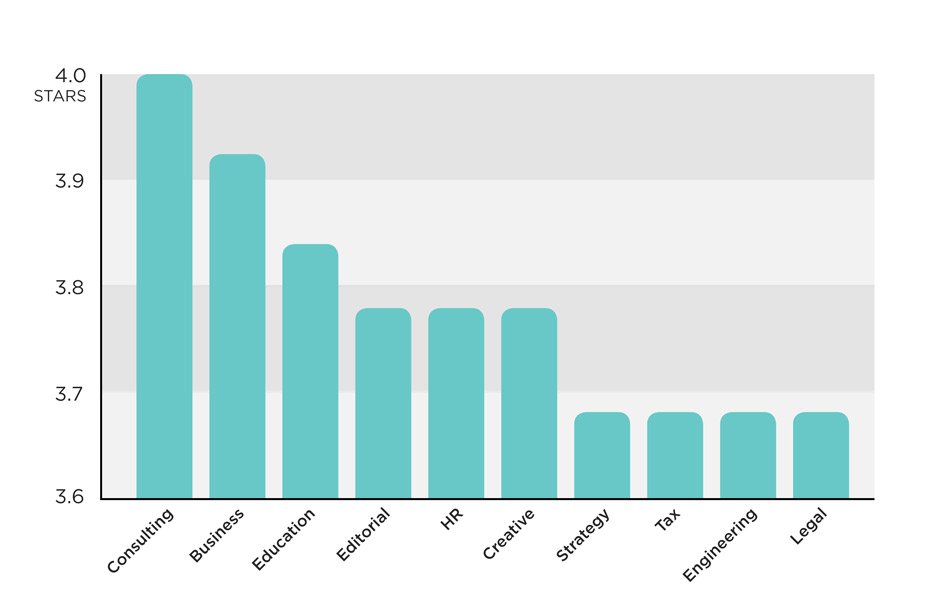 Based on Fairygodboss' 5-star rating system.
HOW YOU CAN APPLY THIS TO YOUR OWN WORK
Consulting is the leading department (by far and away), and while it is quite a specific job to service clients with advice and through special projects, there are many reasons why women in consulting seem happy with their work.

One mid-level woman who works at BCG, a leading management consultancy explains the work is "a good launching pad for your career" and many women talk about being compensated well and getting great benefits and work experience.

Compensation and benefits seem to be two of the most important reasons that the consulting industry ranks highly. Similar comments about pay and perks are made by women working in Business, Tax, and Legal.

For other women, however, it appears that work-life balance is just as important. Those working in education and editorial departments, for example, commonly remark on their flexibility or work-life balance.

Encouragingly, what doesn't seem to matter when it comes to job satisfaction is whether the department is a traditionally male-dominated one. Plenty of women say they are happy working in certain traditionally male-dominated departments such as tax or engineering. Even consulting and business departments are not historically filled with women.
HOW TO FIND YOUR IDEAL DEPARTMENT
So what do you want to do if you're trying to get a job in one of these departments?

First, step back and appreciate the wide range of departments where women can find themselves with high levels of job satisfaction at work.

Then, assess your interests, education, and skill set to understand where you should head in order to play to your strengths. There are many paths to happiness at work, and if you have no interest in becoming a consultant, there is no need to try to force a square peg into a round hole! If you are interested in following in the footsteps of women who work in certain departments, do some research on the best way to get some experience or a job in that department, or try to get an internship in that area if you're still in school.

Having this information about thousands of other women's job satisfaction can help you plan the next steps in your career with more confidence that you're headed down a sustainable—and happy—long-term path.

Does your department seem particularly well-suited for you? Why?