Companies With The Best Perks For Women: San Francisco
San Francisco. The land of high-tech companies, progressive politics, amazing locavore eats, and real estate prices that could make a New Yorker gasp out loud.
Turning my attention here to look for companies with awesome female perks is not an accident. When people think of a place that is more low key than NYC without being too slow, San Francisco steps up to the plate as being a large, walkable city with good public transportation and more importantly, a strong possibility for a life outside of work. Speaking of which, there's no winter (no snow! no shoveling!) so you can get rid of your supplements, go outside and get some real Vitamin D.

If you live in SF, have visited or understand its basic geography, you know that it's a beautiful city with views of the water (see: sunsets, seals, dolphins, eerie fog) on three sides. Being a peninsula limits its expansion possibilities, but just south is the world-renowned tech mecca, Silicon Valley. This blog article will not get into that world since we are focusing on the city proper, but you know who's down there; if you're lucky enough to work at the corporate headquarters for Facebook, Google, Intel, EA, Oracle or Apple (the list goes on), then you don't need this feature to tell you what amazing perks they offer.
GIRL POWER
While researching companies in both this entry and the
previous NYC edition
, I found that the "best companies to work for" are not necessarily the "best places for women" to work. This is often due to the male-dominated nature of industries like engineering, finance and technology. Many companies and educational institutions are trying to change that by supporting female coders, engineers, scientists and so on, but as a society, we just haven't caught up yet (see:
Gender Inequality
#equalpay). The stats don't lie: women make up only 18% of computer science majors.
Now, just because some companies don't have a lot of women, doesn't mean they aren't great companies—but it might mean you have to break new ground, find a niche and create some HR policies that work for your fellow woman. And if you succeed, it'll help your fellow man down the line as well, because a world with equal treatment and healthy work environments benefits us all.
TOP FIVE SF COMPANIES
You will see many of these companies touted online with mainly positive reviews and awards. Hopefully others will take note and start upping their own perks game. The top five companies for women in San Francisco are: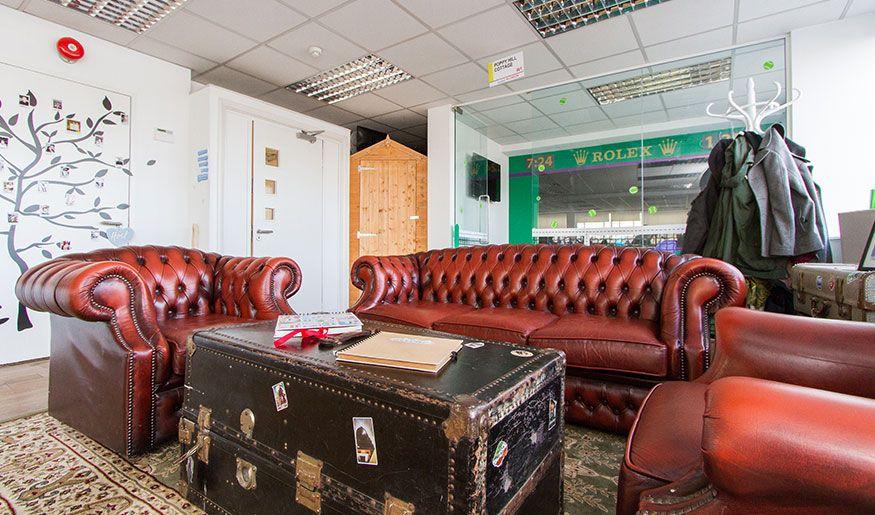 The London-themed Airbnb conference room (Photo: Glassdoor)
Nothing may speak louder to the young Millennial woman than an opportunity to travel for free on vacation. The popular and now controversial (see:
NYC fight with Airbnb
) home-sharing website gives employees $2,000 worth of Airbnb credit a year to travel anywhere in the world. While working onsite, expect three round, organic, locally-sourced meals with carts of gluten-free snacks daily, your adorable dog sitting at your side, weekly yoga classes, company happy hours and a group of young, fun and passionate colleagues. Airbnb wants you to like the workspace because they expect you to work there. A lot. As a booming ex-startup, the team is young and energetic. They work long hours (and there isn't a lot of telecommuting), but employees talk about having a real opportunity to make an impact and see the results of their work. While women only make up 13.2% of engineers at Airbnb, their "
An Evening for Women in Engineering
" event attempts to bolster those numbers in a tech-community-wide effort to attract more female engineers.
Working from "
the office
"—a gorgeous 72,000-square-foot, high-concept, wide open work facility—is a perk in its own right. From the five-story open atrium with a green living wall and wooden beams as you enter, to the "war room" based on
Dr. Strangelove
, your work will definitely be inspired by and reflect this space. Ergonomic chairs and workstations are ubiquitous, along with "mini cultural destinations" scattered around the third floor, in which your team can schedule meetings in a space resembling the location of your project. So, if you're working on Bali, then you can work in the Bali-themed office area. And hey, if you like it—you can always book a vacation there using your travel credit.
Airbnb Employee on Glassdoor
"Airbnb takes great care of its employees—more so than any company I've seen to date including Google. The perks and work environment are carefully thought out for what people really want instead of creating a laundry list of things to try to impress people."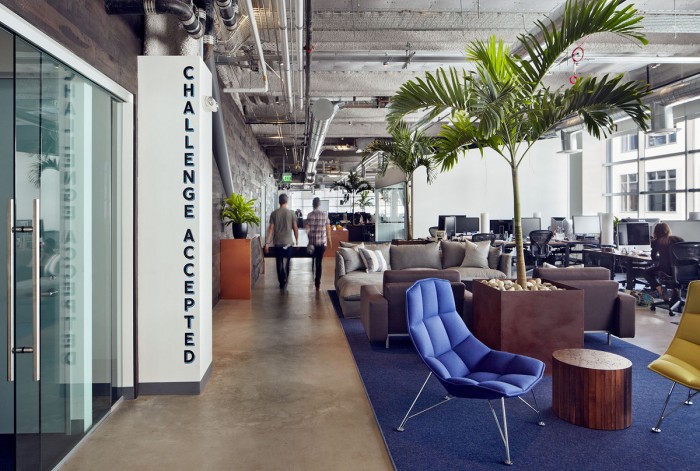 Photo: Dropbox
Ten months ago, Dropbox wouldn't have made it onto this list. In fact, it would have made the "Worst Companies for Women" list easily. What changed? Not its benefits (which are fantastic), but more importantly, the culture and attitude of the company. After being called out on terrible (and sexist) interview questions (What would you do during the zombie apocalypse?) and conference rooms labeled "The Breakup Room" and "Bromance Chamber," Dropbox took a look at the numbers and came up with some real solutions to its diversity problems. They have changed all parts of their hiring, compensation and recruiting process to double the number of women in engineering (from 6% to over 12%), triple the number working in design and increase the number in management to 32.7%. Total diversity from minorities—especially from the Black and Hispanic community—are still lacking, but college tours and mentoring programs will hopefully boost those numbers in time.

Now that Dropbox is a friendlier place for women and minorities to work, we can talk perks. Perhaps the best benefit from this cloud storage company is the ability to set your own Dropbox storage quota. Or maybe it's the famed "Tuck Shop," a cafe that serves breakfast, lunch and dinner plus drinks/snacks, and rivals many local foodie eateries (no easy feat in SF). The fresh-squeezed juice and granola station doesn't hurt either. Work all that great food off on Razor scooters that help you move quickly through the gorgeous office space to the onsite gym with fitness classes and laundry service. Take a morning yoga class to clear your mind, play some games (virtual or otherwise), record a track in the music studio or schedule a subsidized massage. Ladies—apply now!
Dropbox Employee on Glassdoor
"The demographic profile of the company is also diversifying (e.g., gender, age, non-technical background), which is great, but there is still some catch-up we need to do to meet those diverse needs (e.g., functional nursing rooms for young mothers). Fortunately, diversity is a top priority for the company and Dropboxers themselves are encouraged to find solutions for the gaps they notice (instead of just grumbling about them)."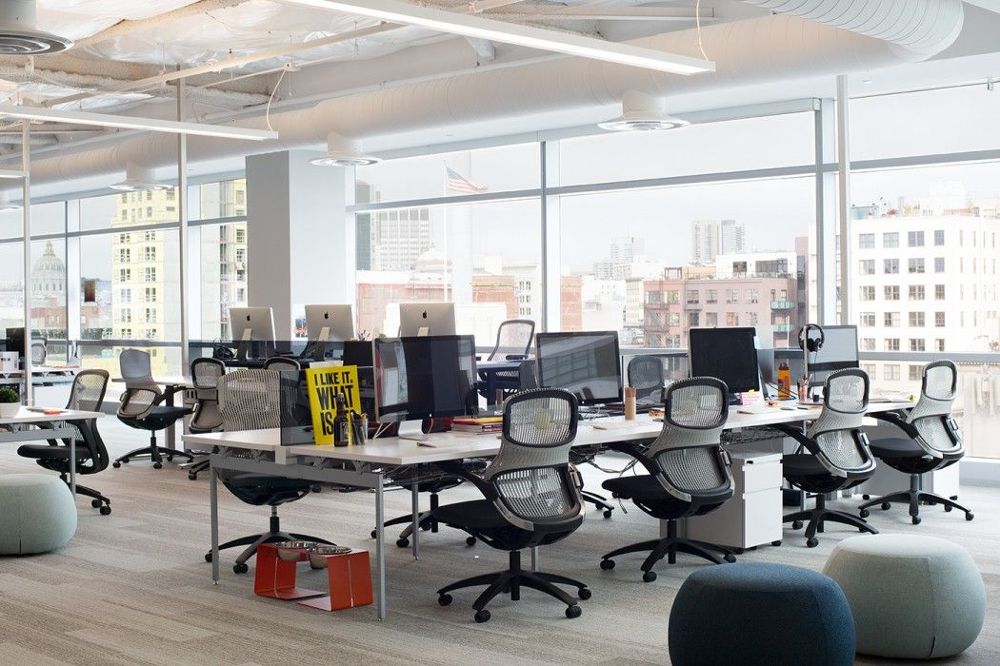 Photo: Glassdoor

This online ticketing startup turned real company has been sneaking into more and more locations, events and yes, even into my iPhone with their mobile app. This is not due to luck and perks alone. Co-founder Julia Hartz says that they have had to focus more on performance these last couple of years to keep the company on track, but they never want to lose the culture that made Eventbrite a happy place to work. How are they doing? In 2013, their attrition rate was 5% compared to 14% in comparable companies in the Bay area, including Silicon Valley. They have an unprecedented 100% approval rating for the CEO, Kevin Hartz (married to Julia) and a 4.7 out of 5 satisfaction rating on Glassdoor. [Cue
Happy
]
What are these perks that keep everyone so happy? How about nap rooms, zero enclosed offices (even for the CEO), group outings to the trampoline park, catered food, neverending snacks, commute and fitness stipends, unlimited vacation, offsite events and quarterly hackathons. Pets are fur-ever welcome and there's a zen room where you go to
not
work (it's a rule: look it up). New moms also can rejoice—according to one employee, there's a mom room with "hospital-grade pumps that they give you personal parts for. There's a fridge, a cushy armchair and basically everything you need to be a breastfeeding and working mom." Does this fact make anyone else want to work at Eventbrite and have a baby just to use this room? #amirite
Eventbrite Employee on Glassdoor
"In my first 30 minutes as an employee, I felt more welcome than anywhere else I have ever worked. The benefits are amazing and having the ability to work from home has been a life saver for me. I also love that there is open communication from the top as well as across teams."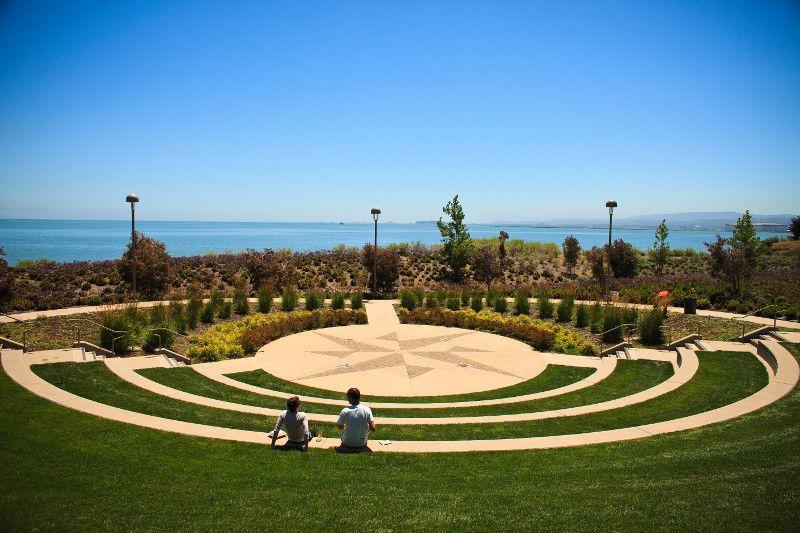 Photo: Glassdoor
had never heard of Genentech before making this list, but from what I can tell, they're kind of a big deal (Tamiflu and Boniva anyone?). Leaders in the biotechnology industry for over 35 years, they consistently make it to top employer lists in the Bay Area and nationwide for good reason. First and foremost, they are working to find treatments for a plethora of diseases and illnesses in their labs around the world. Genentech currently has 35 medicines, 25 antibody conjugates and over 10,000 patents. Just to hit home that the work they do affects millions of people fighting debilitating conditions, patient speakers come in to share their heroic stories [runs for tissues] with the employees periodically.

So, after being completely fulfilled by the life-changing work being done on an everyday basis, employees also get some first-class perks. Lifestyle-friendly Genentech offers child and doggie day care, drop-off laundry service, seasonal produce stands, made-to-order sushi, free cappuccinos, weekly socials and not one, but two 24-hour libraries to expand your mind. CareerLab at the headquarters in San Francisco has career counseling, skills workshops, mentoring sessions and workshops. Six-week sabbaticals every six years to prevent burnout along with $10,000 worth of tuition reimbursement keeps your mind active and free from stressful financial burdens. What's even more amazing? A full 51% of employees at this high-tech company are women. Maybe I can sneak onto one of the GEN buses conveniently located around SF that brings employees to work for free.
Genentech Employee on Glassdoor
"Everyone I worked with was very down-to-earth. Has a great, family-friendly culture. For an organization of this size, many try hard to make you feel that your individual contribution still makes a difference (even if it doesn't really). SSF is kind of out of the way for many, but it's a beautiful campus and easy access via GEN buses, and the work environment is very flexible."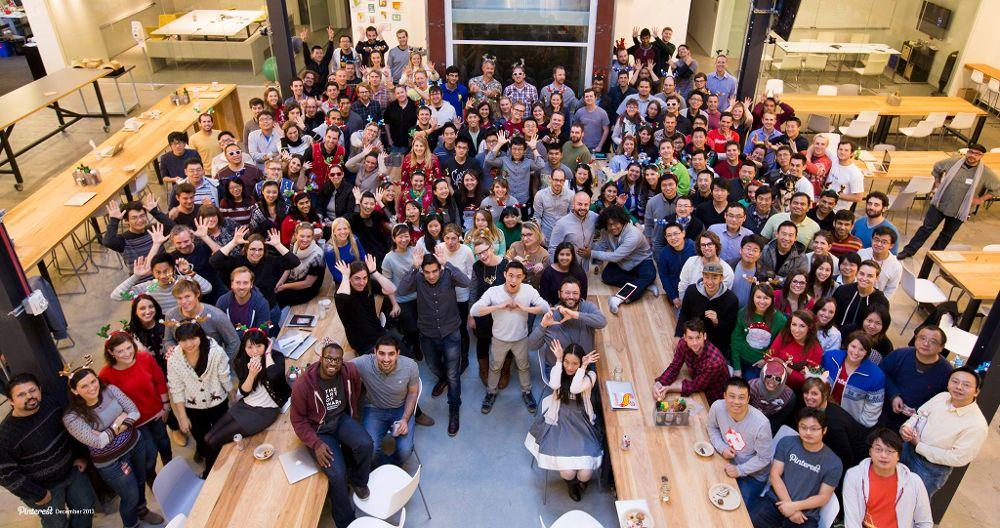 Photo: Glassdoor
In the land of social media tech giants like Twitter, who was voted the
top tech company to work for by Glassdoor
and gets major props (and tax breaks) for gentrifying the seedy
Tenderloin
in SF by setting up home base there, it's hard for the fourth-largest social media network to get noticed—unless you're talking women in the workplace. Pinterest employees like to describe their office as "
a melting pot
," which may seem like an exaggeration when you look at the numbers. Pinterest has 18% female engineers (standard for the industry) and 92% of employees are white or Asian. Tracy Chou, an engineer and tech lead (and
Pinterest's unofficial spokeswoman
) speaks often in blogs and forums about feeling empowered at her job and highlights significant strides, like recruiting a 29% female engineering intern class last year and 32% this year. Women are making a bigger impact at Pinterest, which is a good thing since it's a social media network primarily used by women.
Now that we've established that the entire tech industry is grossly unbalanced, let's talk about perks of working at Pinterest. Smaller than Twitter and Facebook, Pinterest has less than 500 employees and still has that startup feel where you can build something, ship it and feel accomplished, but without the crazy hours. Many feel like
they don't have to make family/personal life trade offs for their careers
, which is punctuated by the flexible schedules, unlimited PTO, fun office activities (make-a-thons, hack-a-thons, parties, off-site trips), great prepared or catered food and a dearth of office politics (hallelujah!). Need a new [Insert Apple Product]? No problem, go to the store and pick one up. Race you to the iPads!
Pinterest Employee on Glassdoor
The perks are fantastic—I ended up eating breakfast, lunch and dinner at the office fairly often, since the food is either catered every day or prepared onsite. There are also frequent team "off-sites," where people take a day off with their team to go do something, like go-cart racing, rock climbing etc.
HONORABLE MENTION
Kimpton Hotels & Restaurants:
Highlighted in
my NYC edition
of best perks for women, they are known for being the best hotel chain for work-life balance. They have nine properties in San Francisco as well as their main headquarters. The employee-first culture of Kimpton comes from the top and that type of consistency and ethic is to be admired.
REFLECTIONS
This article brought up a lot of questions. We all have those girlfriends who were good at math and science and pursued engineering, finance, and computer fields, but what personal struggles have they encountered in their field as women? Is working with 88 to 95% men at work hurtful to work satisfaction and career advancement? While most women have to fight some kind of stereotype and gender inequality at work, the tech industry in San Francisco seems to have its work cut out. Talking to all the ladies in school—it might not be a bad idea to switch your major to computer science. That being said, if you do work in San Francisco and you don't have catered meals, drinks, massages, furry friends, a direct line of sight to your CEO, free transportation, and brand new office equipment, I would look for another job. Stat.

Do you work in San Francisco and have some stories to tell? Are you a female engineer with some perspective? Tell us your own experiences in the comments.