Small City Spotlight: Bend, Oregon
THIS SMALL TOWN IS HOME TO OUTDOOR LIVING, A STARTUP CULTURE, AND BIG CAREER OPPORTUNITY.
When you think of a small town in Oregon, a few things probably pop into mind: Portlandia, the woods, craft beers, and maybe the Oregon Trail (minus the dysentery). Yes, Bend, Oregon has some of those things, but it also has so much more!
Bend has the sixth largest craft brewery in the United States, miles of bicycle routes (on the roads and in the woods), a startup culture with the largest Angel conference in the region, and a ridiculously high ratio of eateries to people.
Bendites are focused on developing local businesses and practicing sustainable living. That may make it seem "Portland-like," but it has more to do with Bend's natural location through the mountain range and its recent economic development from a very tech-heavy region.
Small City, Big Outdoors

A small city of less than 90,000 residents, Bend is right in the middle of Oregon, sitting along the grand Deschutes River, just east of the famous Cascade Mountain Range—which stretches from Northern California to British Columbia, and contains famous peaks like Mount Rainier, Mount St. Helens, and Mount Hood. Being on the less-traveled side of this range means a) it's mountain-passage distance from the main West Coast interstate (I-5), b) it's the real-deal when it comes to small-town life, and c) outdoor pursuits are part of everyday life.
Scientists, engineers, and entrepreneurs move here from bigger cities like Portland, Seattle, and San Francisco to experience a different lifestyle. In other words, there are no traffic jams on the way to work and the great outdoors is in your backyard. Which is great, because your dog loves running around back there (Bend is SUPER dog-friendly).
Your backyard also brings tourists to town, which means there are some world-class resorts like Mount Bachelor and Sunriver, a large variety of local eateries, year-round festivals, tasting rooms (Pinot Noir!), and a steady injection of travelers from all over the country (sign me up!).
There are, of course, the downsides of living a fairly remote life out here. Diversity is not Bend's strong suit. Winter is forever and, guess what—if that one road that goes through the mountain is shut down, you're stuck.
However, most people in Bend know the deal, love the serenity, and embrace the weather with some good boots and an all wheel-drive vehicle.
Top 3 Companies in Bend

Not surprisingly, employee reviews are few and far between for this small city, but Bend had a few surprises when it came to top employers with the best perks for women.
Check it out:

Agere Pharmaceuticals: The founders of this medical manufacturer grew up in Bend and started out at Bend Research (now a subsidiary of Capsugel, Inc). They started Agere in 2007, grew to a 53-person workforce, and were just acquired in March of this year by Durham-based, worldwide pharma company, Patheon.
As you can imagine, the facility in Bend is like an extended family, and employees talk about a great work environment, progressive ideas, educational work lunches, and professional integrity within the company.
Company BBQs, after-work social gatherings, ball games, and outdoor activities are bountiful. Medical benefits and healthy living are big in Bend, so if Patheon drops the ball, there will be plenty of other companies ready to pick it up.
* * *
Deschutes Brewery: This craft brewery (the sixth largest, which I mentioned earlier) is on Outside Magazine's best companies list for having more than just free beer.
The brewers love outdoor sports like cyclocross, skiing, mountain biking, and more, and encourage all 442 employees to be active by participating in company basketball games, soccer matches, and an annual 5K that ends with the Bend Brew Fest.
Great benefits include comprehensive healthcare, stock options, continuing education, and innovation venture programs. If you want to go for a quick bike ride or river paddle during lunch, no one will blink an eye—in fact, they might just join you.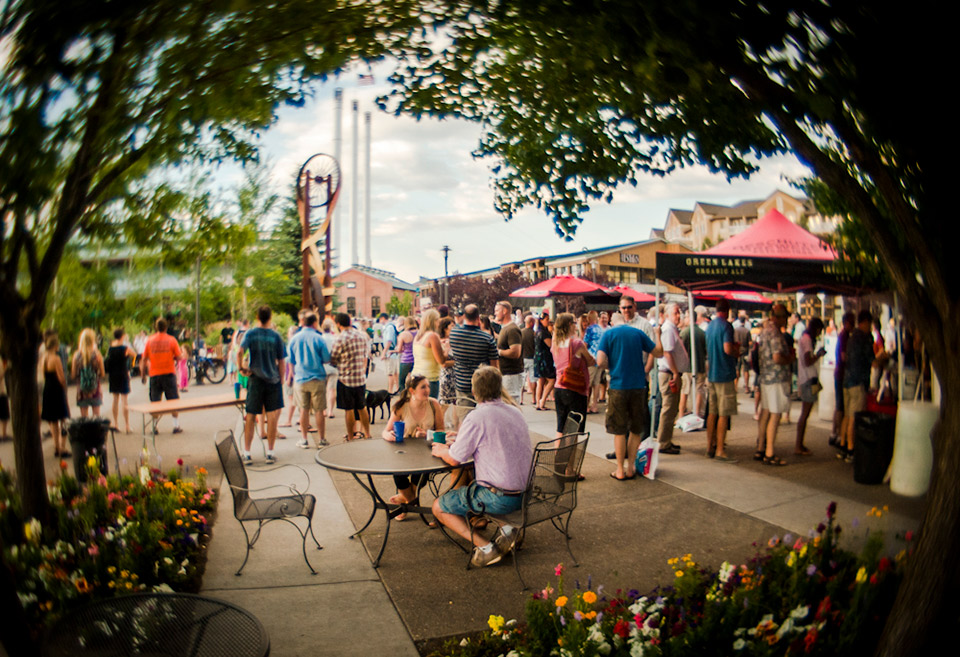 * * *
G5: Founder and CEO, Dan Hobin, is a co-founder of the Bend Venture Conference, so you know this tech company is invested in Bend.
One of the fastest-growing businesses in the city, G5 is serious about working hard and playing hard. There is a staff-led "Fun Committee" to enforce the playing part, which is easy with yoga, darts, a pool table, drinks, and games in the office—and charity races and time off for prime powder days outside.
Inter-office games get competitive, dogs are encouraged, community-support agriculture (CSA) fruits and veggies are delivered weekly, plus G5 offers summer Fridays and bonuses for hitting goals. Where do I sign up?
Bend Benefits

This former mill town has become a popular outdoor adventure destination with fun resorts, restaurants, and events, while growing local businesses and maintaining its small town size and feel.
Many websites and entrepreneurs have been saying Bend is the "next big thing" for about a decade now. Considering the growing economy and startup culture, amazing work-life balance and great outdoor life, I think Bend might already be the "big thing".
What do you think of Bend? Have any thoughts or recommendations? Let me know in the comments or message me on Twitter!
Photo: Agere Pharmaceuticals & Bend Brewfest