How to Increase Your LinkedIn Profile Views by 300%
The thing about LinkedIn is, you can't afford not to make the most of it.
LinkedIn is one of the most powerful networking—and job searching—tools today. With more than 500 million registered users, 87 percent of recruiters report that they rely on LinkedIn to source and hire candidates. All that is to say, you can't ignore this professional network if you want to make strides in your career.

I've seen firsthand the power of LinkedIn from multiple angles—I've used it in my own job search, combed it daily as a recruiter, and now as a business owner, I use it for "social selling" of the Career Contessa brand. Each and every time, I've experienced dramatic results.

Because of those experiences early on, I became obsessed with learning the ins and outs of the platform. The investment I made in learning how to make the most of LinkedIn, including engaging with all their different products, really has been life-changing. And since I'm in the business of helping all women build their best careers, I want to share some easy yet super effective ways you use LinkedIn to get a leg up, regardless of your professional goals.
Why LinkedIn Matters
LinkedIn is no longer some stuffy career website you use as a last resort in your job search. It's the largest professional network with millions of job postings and over
9 million registered companies
rely on LinkedIn to source talent. LinkedIn also offers online learning and access to network with its users with a variety of
other great products
.
By far one of the best investments you can make in your career is to create an optimized profile so you stand out to recruiters, potential sale leads, and networking opportunities. Why? Because those opportunities really are out there waiting for you, but the powers that be can't find you if your profile doesn't work with LinkedIn's algorithm. Here are some other good reasons to make sure your LinkedIn profile is optimized:
87% of recruiters find LinkedIn most effective when vetting candidates during the hiring process
85% of jobs are filled via networking—and LinkedIn is the largest professional network
79% of recruiters and hiring managers have hired a candidate they found on LinkedIn
How LinkedIn Can Put You in Front of Your Future Boss
One of the huge benefits of LinkedIn is that it encourages people to come to you. It makes it easier to sell your product (by "product" that could be you as a new employee) when the person looking for your expertise, can contact you directly.

For that to happen though, you've got to make sure your profile takes advantage of all that LinkedIn has to offer. One word: optimize. Here's what my profile views looked like before I started optimizing my profile: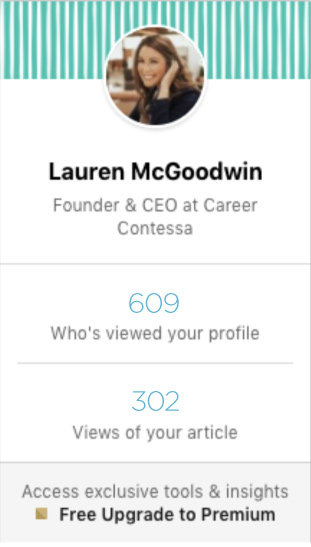 And here's how many profile views I got after I optimized: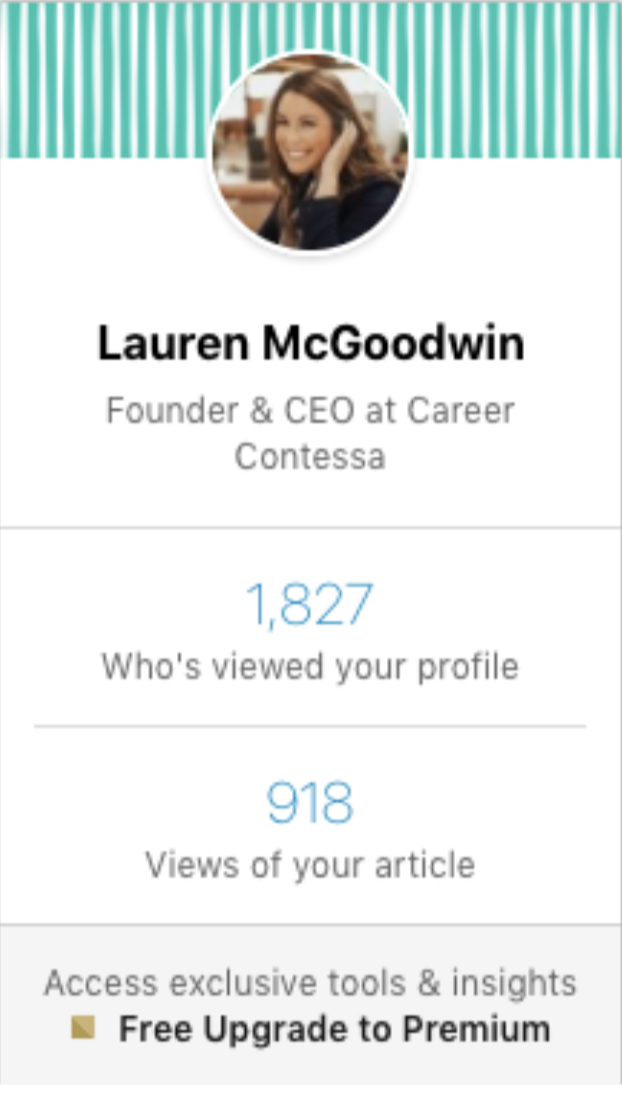 That's a 300% increase in profile views—meaning 300% more chances for opportunities to land in my inbox.
WHY LINKEDIN IS HARD
If you've ever started thinking about updating your LinkedIn profile and then wondered, "Where do I even start?" you're not alone. While LinkedIn has done a great job at making it easy to find professionals to network with, they have NOT made it easy to make edits to your profile—or to understand which parts of the profile matter the most. Because I was a recruiter and had access to personalized LinkedIn training (plus a lot of trial and error), I can save you time with the LinkedIn game.
How Recruiters Use LinkedIn (+ How You Can Make the Most of It)
OK, so you get the idea that a lot of recruiters and hiring managers are turning to LinkedIn, but why is that?
The talent pool has been getting more and more competitive for employers, so they're turning to large networks like LinkedIn to source candidates who meet their criteria for the job responsibilities and the company culture. It means more sophisticated searching and less digging—and for recruiters, that's a win-win. The product they use is called
LinkedIn Recruiter
, and it lets recruiters put in specific search criteria, which LinkedIn then uses to present profiles that match—and it organizes by the profiles that are most likely to respond. The recruiter can even ask LinkedIn to suggest profiles to uncover additional talent.
If your profile is not optimized for LinkedIn Recruiter's search tool, then you're probably going to remain unseen. Here's a quick outline of the search criteria a recruiter can use:
Location
Job
Title
Company
Industry Keywords
This means that simply adding your name to a LinkedIn profile isn't going to cut it.
How to Increase Your LinkedIn Profile Views
For all the great features that LinkedIn offers, you might be wondering, why is it so hard to understand? Actually using those features is still a bit of a mystery, since LinkedIn doesn't offer the best how-to instructions. If you've ever struggled to figure out exactly how to use LinkedIn, you're not alone, and I can help you.

Regardless of your LinkedIn goals, here are five things you MUST start doing if you want to appear in LinkedIn search results more often. Oh, and the best part about these tips? They all take 10-minutes or less.
1. Include a Professional Photo
According to reports, LinkedIn profiles that include a photo are
11 times
more likely to grab the attention of other users—including recruiters. Pick a high-res professional image that reflects you in "work mode." In other words, no happy hour shots or photos from your best friend's wedding with her cropped out.
You don't need to schedule a professional photo shoot for this either. Ask a friend to take a photo with you standing in front of a wall in a well-lit room (or outdoors in natural light) and use these
headshot tips
. Your LinkedIn profile crops your photo to be a circle, so closer is better.
2. Include a Creative Summary
Most people skip the summary section of their LinkedIn profile because they don't want to take the time to write about themselves. That's foolish —for two reasons. Beyond the basic fact that recruiters (and other folks you want to network with) will read your bio, it's also a section that the LinkedIn algorithm searches through for keywords.

When recruiters are searching for candidates they will include keywords to help them narrow down the search results. You want to be found by the recruiters, right? That's why you want to make sure to have a summary that describes you and your skills, since skills are often included in the recruiter's search criteria. Follow this simple formula:
Who are you?
What do you do/what's your background?
What's an accomplishment from your background?
What are you looking forward to most?
Here are
5 creative LinkedIn summaries
you can view for inspiration. And feel free to include any humble brags at the end of your summary—like press you've been mentioned in, events you've spoken at, non-profits you've volunteered with, etc.
3. Fill Out the Skills Section
This is another section of the LinkedIn profile that can help bump you up in a recruiter's search. They might be looking for someone with a particular skill, but if you don't bother filling out this section, they'll bypass you. LinkedIn allows you to add up to 50 skills, so why wouldn't you take advantage of this free tool? Just start typing in the skills you have, and LinkedIn with auto-populate a list of skills that match. Aim to include 15-20 skills that include soft, general, and technical skills on your profile so you're covering all your bases.
4. Include All of Your Experience
Unlike your resume, your LinkedIn profile can include all of your current and past work experience (there isn't a page limit). You should include bullet points and accomplishments for each role as well. There is no limit on how long this section can be—and now you don't have to worry about leaving some information off your resume since I recommend you always keep your resume to one page. Just add your LinkedIn profile to your resume's contact information!

Another reason why I encourage you to add all your experience is because reading a long LinkedIn profile is still easier for a recruiter to scan versus a long resume. And don't be shy about including bullet points for each role that highlights how great you are—you're just missing out on more great opportunities potentially landing in your inbox if you don't.

Last pro tip? If you add all your work experience and include bullet points, you'll have a running list of your accomplishments that you can use in an interview—scroll your LinkedIn while you're preparing for the meeting to remind yourself of talking points before walking in.
5. Log In to LinkedIn Weekly
The more active you are on LinkedIn, the more LinkedIn rewards you. You'll appear in the search results more often for recruiters, you'll see notifications from your connections, and you'll be the first to know about new jobs at companies you're following. By logging on once a week for 10 minutes, you can conquer some online networking without leaving your office chair.
One of my favorite activities is to comment on articles shared in the news feed or use the LinkedIn notifications to remind me to send a quick "check-in" email to folks in my network. These notifications include birthdays, work anniversaries, and any job updates.
Remember that ten minutes is really all you need to make dramatic changes and optimize your LinkedIn profile. Given the endless opportunities that could come out of those efforts, I'd say the return on investment is well worth it.
If you're looking for even more LinkedIn tips, strategies, and step-by-step guidance, consider enrolling in our e-course,
The LinkedIn Lab
. Already 100+ people have enrolled and successfully created fully optimized profiles that landed them new jobs—without them ever filling out an online job application.
On average, job searches take six to nine months, but you can make that faster for yourself with an optimized LinkedIn profile that grabs a recruiter's attention once you appear in their search results.