The 10-Step Guide to Defining a Unique Personal Brand
Welcome to Build Your Brand Month, a 4-part series sponsored by Squarespace. We're covering every aspect of personal branding from how to create a unique online presence to how to deliver the perfect in-person elevator pitch. Check back every Thursday in September for a new angle (or just bookmark this page—because #hacks).
Real talk: there's nothing harder than defining what makes you unique. But knowing your "why" and, more importantly, being able to sell it to the people you meet is exactly what will set you apart.
You know that saying "good things come to those who wait"? It may apply in certain contexts but it definitely does not when it comes to your career. To get top dollar for your talents, you'll need to sell them—and yourself—every chance you get. You need to show what makes you the best at whatever it is you do. In other words, you need to create a personal brand.

Or rather, you need to redefine it. You already have an online presence where you demonstrate who you are. From those Instagram stories you posted of last weekend's ice cream outing to (hopefully) your LinkedIn profile, your brand is out there. "Personal branding" really just means repackaging the online presence you already have so that it better reflects your personality, professional goals, and the value you offer to employers.

With hundreds of similar applicants applying to the same roles, your personal brand transforms you from just another resume into an actual human being. And that's key. After all, companies don't hire skill sets—they hire real people with real personalities.

Here are the ten steps to create your unique personal brand—the one you're going to show the world. Trust us, you're going to own it.
what is your unique brand?
Step 1: Think of Yourself and Your Skills As a Brand
When you think of, say, Facebook, you don't just think about their product. You think of their entire brand—their aesthetic, their leaders, their reputation within the tech industry, and possibly some of the controversies, too. You can't separate your opinion of those intangibles from your opinion of the company.

The same goes with personal branding. Like a brand, you bring a unique set of values, skills, and personality to your work. All of that creates a distinct impression in the minds of your coworkers, interviewers, everyone you meet—one that goes way beyond your resume bullet points or even your hard skills. Every time you post a status on social media or a project on LinkedIn, you're adding to that impression, building a more complex version of yourself for people to find and explore.

So start thinking of yourself as a brand and you'll be better prepared to sell yourself like one. (Yes, we did just compare you to Facebook.)
Step 2: Don't Be Afraid To Be Authentic
Creating a unique brand should be simple, right? Even if the five million other social media managers out there have similar work experiences, none of them are you—they don't have your dry humor, your Snapchat addiction, etc.

But anyone who's compared themselves to another glamorous, carefully curated Instagram account knows better. When you're "selling" your best professional self to potentially important people, it's tempting to mold yourself into the cookie-cutter image you think your industry's looking for.

But there are two problems with that. First, people can sniff out false advertising pretty quickly. Second and much more importantly, it prevents your brand from actually being personal. If your brand doesn't reflect your authentic values, personality, and voice, your online presence will look and feel exactly the same as every other social media manager conforming to industry norms. Which certainly won't separate from the five million other social media managers with a 3.9 college GPA.

So take a step back from what other people are doing (millennial pink feeds, overuse of the word "storyteller," whatever it might be) and focus on what makes you authentically you. And that brings us to Step 3.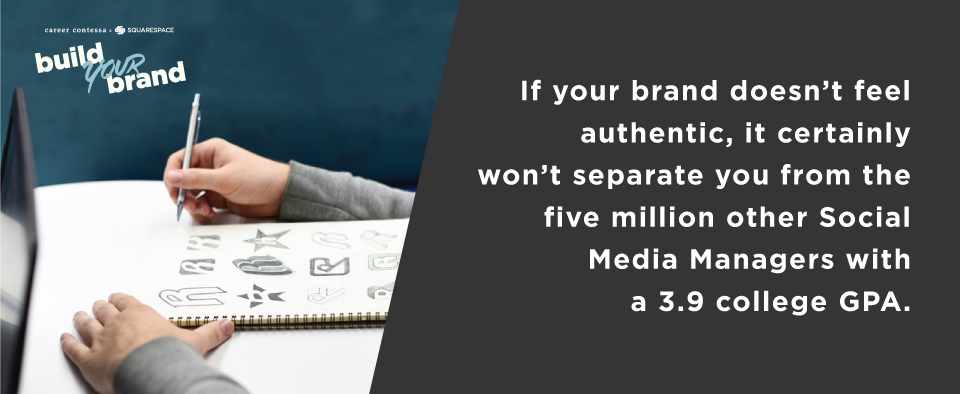 Step 3: Identify Your Core Values and Passions
Time for some self-reflection. Before you retweet a single thought leader or start mailing out resumes, you need to know exactly what you're selling. Consider your full package—both your hard skills and the personal values, passions, and dreams that distinguish you from the other resumes floating around out there. Most of us have a hard time thinking about ourselves, so start with some basic questions:
What qualities do you value most in your work? What do you expect of others? Perseverance? Creativity? Innovation?
What are your biggest passions, professionally and personally?
What kind of impact do you want to create in your work? Social impact? Creative fulfillment? Business results?
What are your biggest strengths? What themes keep popping up in your performance reviews? (Yes, "self-starter" counts.)
By the way, if you find yourself stuck on these here's a great trick: ask those who know you best—your mom, your friends, your closest colleagues. You might be surprised at what you find.
Step 4: Write Your Brand Story
So now you have a bunch of notes and ideas, but obviously, you can't just splash some adjectives onto LinkedIn and call it a personal brand. You need to use the qualities you've isolated to tell a cohesive story, one that quickly shows employers who you are, what you've done and learned, and where you want to go.

So once you've identified those core values, passions, and strengths, use them to write your own story. Keep it short and simple—just a few sentences for a LinkedIn summary. Ask yourself:
How have your values, passions, and personal qualities shaped you into the professional you are today?
How do you put those qualities into practice everyday?
How will you use them to create value in the future?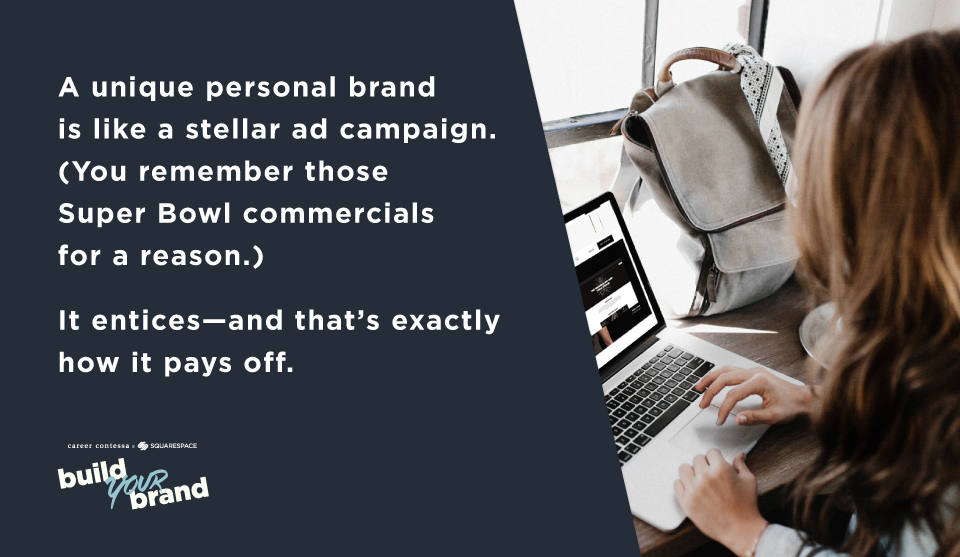 what's your plan?
Step 5: Plot Your Destination
Now that you have the framework of your personal brand, it's time to get down to strategy. From planning your social presence to printing new business cards, personal branding takes serious time and effort. Maximize your ROI by matching your strategy to your career goals.
Do you want to find a job in a new industry?
Everything you communicate
should emphasize how your expertise applies to that industry. Want to attract new clients? You should focus your energy on clearly explaining what you offer and how they can hire you.
All goals require specific strategies. Whatever your endgame is, ensure that your branding puts you in a position to reach it.
Step 6: Figure Out What Your Buyers Want to See
Hopefully, you've been using
informational interviews
to learn the hard skills you need to break into—or grow in—your desired field. But you should also pay attention to how your industry treats personal branding. Depending on your industry, you'll post different content, emphasize different social media pages, even use different typeface and fonts on your portfolio site and business cards.
For "creatives," that probably means a professional portfolio of your clips, thoughtful social media commentary on your specialty, a curated "tone," and fabulous visual and graphic elements. If you work in a more corporate industry, you might not need to put your entire professional life online. But that doesn't mean you should ignore opportunities to show off your work and experience—anyone can benefit from a more
dynamic and 3D online presence
. If you're not sure how much of yourself to share publicly, take a look at other people in your industry, especially the ones you admire. Do they have a Twitter? LinkedIn?
Squarespace
site? Use their example as a jumping off point.
Step 7: Identify Your Value Proposition
You know what you're selling. You know what your "buyers" want. Now you need to close the sale.

How? Besides telling your followers who and what you are, your personal brand needs to convince them that you're the single best person to give them what they need. Whether you provide industry insight, valuable services, or you're trying to build a blogging empire, you need to promise value for your followers.

A unique personal brand is like a stellar ad campaign. (You remember those Super Bowl commercials for a reason.) It's what entices that recruiter or clutch contact to think about you long-term—and that's exactly how it pays off.

Especially if you're just starting your career, you might not feel "most qualified" to do anything. But everyone's got something special to offer. Just think about the times that you've succeeded at work—from raising revenue to making your manager's life easier—and how your unique values, skills, and strengths made that possible.

That's your value proposition—the promise that your personal brand needs to make to the world.
how can you get started?
Step 8: Nail Down The Details
Now comes the fun part: designing your personal brand from the bottom up.
First, decide what typeface and color scheme best reflects your brand while remaining appropriate for your industry (i.e., no Comic Sans ever). Apply those visual elements to every single online property you open, from your portfolio and social pages to your business cards. Our favorite trick? Start with
building your portfolio site.
Squarespace's template designs
are beautiful, and once you pick one you can use it to guide the visuals you use elsewhere.
After you style your brand, give it substance. What tone do you want to take—snarky, serious, something in between?
Once you find your "voice," decide what to say, where to say it, and who should hear it. What pages will you use most heavily? What content will you post and what tone will it take? What audiences are you targeting and why? Also, gather your best work samples, upload them as PDFs, and create an online portfolio.
Step 9: Write Your Brand Guide
Congratulations, you've planned out all the pieces of your personal brand. Because it reflects the basic essence of who you are, they should stay consistent—from your content, your tone, to your visual elements. Your online properties need to possess your personal look, feel, and tone—down to the same handles and logos. Basically, whenever someone interacts with a part of your brand, they should know it's yours before they look for your name.
But...unlike a company, you're a dynamic, changing person who doesn't feel "on brand" 24/7. So to keep yourself consistent, write yourself a brand guide—a one- or two-page rulebook that standardizes your tone, fonts, logo, colors, and style.
Basically, every company
uses one—check them out for some inspiration.
Step 10: Pull It All Together
It's game time. Maybe you're trying to maximize your followers and become a thought leader, trying to upgrade your online game before starting to look for a new job, or just feel like your online presence needs a little refresh. Regardless of your goals, you'll want an
organized, user-friendly personal site
that showcases your brand and your work in the best light possible. Consider it your home base—one where you can show your personality thanks to how flexible site templates are. Show off past projects, add a press page if you've been interviewed or your work's been written up, outline the sorts of freelance work you do on a "Hire Me" page. That's the beauty of it. You can choose what to include (and what to leave out) to frame your work in a way that helps show visitors not only what makes you unique but also what you can do for them. Consider it a cover letter with a little extra color, a little extra information, and—most importantly—a little extra
you
.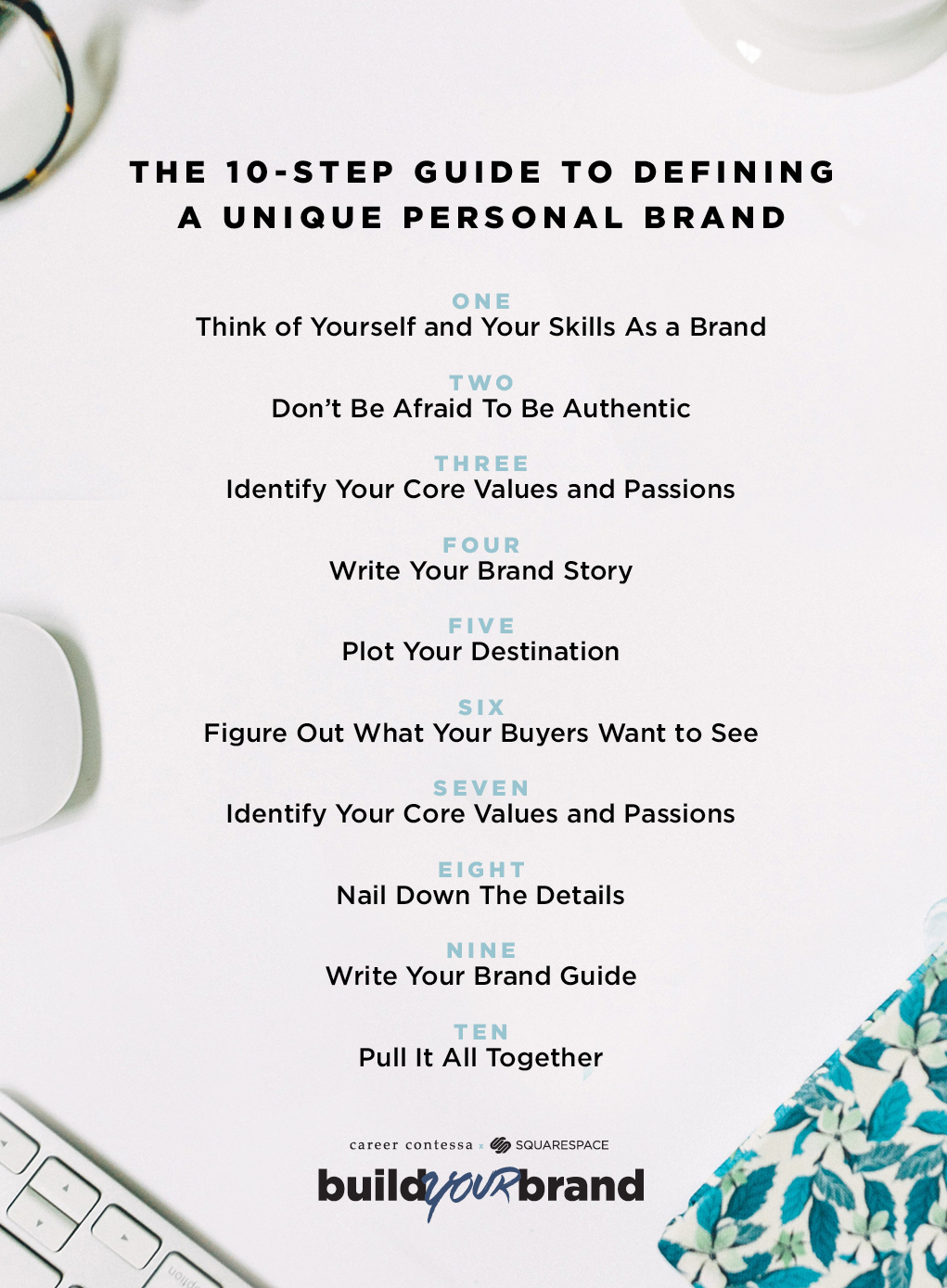 This post was sponsored by Squarespace. Don't forget to use our special code CONTESSA to get 10% off your Squarespace site.