meet
Whitney Curtis
Senior Editor, Social Media, The Home Depot
After studying and majoring in French at Furman University, Whitney Curtis, 27, ended up at a loss for putting her degree to good use. Her first job out of college as a development assistant at Atlanta International School was lucrative, but didn't fill Whitney with the creative inspiration that she craved. Her solution? Create her own lifestyle blog, which she aptly named The Curtis Casa. Whitney instantly fell in love with all things World Wide Web, and in January of 2013 she decided to quit her job in order to dive into blogging full-time.
For Whitney, the temporary fear and uncertainty of leaving the non-profit world was completely worth it. She immediately hit the ground running, freelancing, blogging, networking and taking photos every spare moment she had. It didn't take long though, for Whitney to get the itch for bigger projects. Her journey ultimately led to one fateful email and, later, a face to face meeting with the Senior Editor for The Home Depot's blog, The Apron. It was that moment that triggered the domino effect. Whitney was invited to be a contributor to The Home Depot blog, and eventually was able to snag her current position as the brand new Senior Editor of The Apron.
Whitney's advice for other would-be bloggers? Be bold, be confident and don't be afraid to email strangers. After all, a single note changed it all for this charismatic creative! Whitney's story encourages us to be bold, take that leap and to always chase after our dreams, no matter how intimidating.
Copy: Kage Sanderson
Photos: Sawyer Baird
her starting point
Your educational background is in French. What were your plans following graduation? Have you diverged from those initial goals?
Yes! Let's start at the very beginning. I have a bachelor's degree in French. It was no secret when I was finishing up my studies that I wasn't sure what I wanted to do and I wasn't sure how I was going to use my degree in French. I majored in French because I loved it, not because it was practical. I love studying language and culture, so it was a natural fit. But put to use in the real world? That's another story!
I had a really neat internship experience at an international center (they help transplants get settled in the U.S.) so I knew I wanted to have an international element to my career. When I decided to move to Atlanta, Georgia after graduation, I Googled the words "Atlanta" and "international" and that led me to my first job out of college as Development Assistant at Atlanta International School. It was a great first job and I loved my time in the educational, non-profit world first at Atlanta International School and later at The Westminister Schools.
It was in 2010 that I started my blog, and I quickly fell in love with the World Wide Web. I devoted more and more time to figuring out the world of blogs and content creation. In an effort to move away from that career in non-profit educational fundraising, I quit my job in January of 2013. It was simultaneously terrifying and exhilarating. I focused on what I wanted to pursue: blogging. I freelanced, blogged, networked, DIY-ed and photographed. That all led to my current job as Senior Editor of The Home Depot's Apron Blog. Turns out, quitting a job I hated was totally worth the temporary fear and uncertainty. I highly recommend it.
You just celebrated the 4-year anniversary of your blog,The Curtis Casa—congrats! What made you start the blog? How did you learn the ins and outs of creating one?
Oh boy, I can't believe it's been 4 years! I started my blog because I had just moved to a new city, away from family and friends and wanted a way to keep in touch that was easier than emailing. I fell fast and hard for the blog world.
I think the reason I love blogging so much is easy: I get to document our life and I get to create pretty images. Deep down, I am a journaler. I have stacks and stacks of journals from my college days. When I graduated and joined the real world, journaling fell out of my day to day activities. (I had to go to work, ya know!) Blogging was an easy way for me to pick up an old habit in a new format—a really pretty one.
I learned the ins and outs of blogging by reading. I read tons and tons of blogs. I pour over successful blogs—I read every link, I remember small details, I investigate everything. I will go back over archives just to find a miniscule fact. I'm a ruthless reader. We actually have a funny joke in my family about my propensity to find things on the web. In high school, my IM screenname (remember those days?) was "websnake22." I picked this name for two reasons: First, my initials were "WEB" and snakes were my favorite animal. Second, I really, really wanted to be a hacker. Like, really. I loved the Internet and wanted to write html code and spy on people. It's weird, I know! When I told my husband this fact (years into our marriage), he could not get over it. Now, all our friends call me "The Websnake." Ha!
In addition to your blog, you also are the Senior Editor for The Home Depot's blog, The Apron. How did you land that position, and could you tell us a little bit about your role?
My role as Senior Editor at The Home Depot is an exciting one! As I began to learn more and more about the blog world, I wanted to get involved in some larger projects. My relationship with The Home Depot started when I saw Caroline Inge's home tour on The Everygirl. Caroline was Senior Editor for The Apron Blog at the time. When I saw the link, I was at a friends' house standing at her kitchen counter. I clicked on the link simply because it was an Atlanta tour.
At this point you also should know that I have a habit of emailing complete strangers. 100% complete strangers. So I emailed Caroline and asked her to have lunch to discuss blogging, blogging for a corporation and how she got started. Caroline and I hit it off and she invited me to become a contributor to The Home Depot blog. I wrote gardening how-to posts for the blog over the course of a year, and when a position opened up on the Home Depot blog team, they called me. I'm so grateful Caroline said yes to that first lunch meeting. I owe my entire career to that happenstance—a link and a lunch.
her big break
When you work on creating content for both The Curtis Casa and The Apron, do you typically have ideas in mind in advance or do you create a schedule on the fly?
Oh dear! My brain is usually spinning all day long with content ideas! We do a bit of both on The Apron blog—we have overarching themes and goals that we set for the year and for each season, but we also throw in lots of DIY ideas and quick photoshoots when we come up with a great concept. Our team has a really fun time brainstorming and throwing ideas around!
For my blog, I just brainstorm and keep little lists everywhere. I should probably organize those, actually. I have lists in my email drafts, in blog post drafts, lists on napkins and lists in notebooks. After lots of "what was that thing I was thinking about earlier" moments, I've learned that if I don't write them down, those ideas will be gone by the time I get home for dinner.
It's also really fun to develop blog content with my husband and my family. Everybody gets in on the fun, especially when we're all together. My husband is a great engineer of DIYs—he helps think through the stuff I like to rush through, like measuring and doing math and such. My mom is the best idea lady around. I can call her up on my way home from work and tell her I'm brainstorming something and she will spit out 5 ideas on the spot. And then she'll call me a dozen times over the next 3 days with 10 more ideas. She's the best there is. And my sister is my #1 consultant. She's great at having a simple "Let's not make a hasty decision"response. Plus, she's saved the day (or photoshoot) with her styling skills on more than one occasion! And my wonderful step-dad is the greatest cheerleader and encourager of them all. He's always up for an errand and is always there to lend an encouraging word when a project goes awry.
How have you been able to translate your skills with personal blogging over to your new role in professional blogging with The Home Depot? Do you approach the two respective sites differently, or the same? In what ways?
The switch from personal blogging to professional blogging has been a really interesting transition. As expected, in some ways it's easy and in other ways it's really challenging. I definitely approach the two blogs differently. Our team at The Home Depot creates a lot of content for a lot of social channels. Our goal is to share actionable material—we hope our DIYs are inspirational and our How-To's are knitty-gritty. My blog, The Curtis Casa, is definitely more personal and lifestyle oriented—I share the things that inspire me, projects from around our house and a few of my own DIY projects. It's just me on The Curtis Casa so I have the freedom to talk about whatever I want.
How did you go about finding sponsors and securing partnerships for either blog?
My absolute favorite way to connect with sponsors and to create partnerships is in person. Remember, I do love to send emails to strangers (and I do it often!) but nothing can replace a good, old-fashioned conversation. It's easy for the sponsor to talk about goals and images and clicks in an email, but for a lasting partnership, just like any relationship, you've got to have that spark.
If we had the chance to peek at your schedule, what would an average day look like?
My role at The Home Depot is full-time, so I'm in the office every day—except for "DIY Days" when we're out shooting and working on DIY projects. Day to day, I get ready in the mornings and always say good morning to my blog with coffee in hand. I check in on the day's post and make sure all of my social media is ready. I hit the road for the office and spend the day at The Home Depot HQ corresponding with our bloggers and guest contributors, developing our influencer strategy, editing photos, writing copy and curating our Pinterest boards. When I get home, I cook dinner and hang out with my husband, our dog, Birch, and our cat, Iris. I spend a few hours in the evenings working on content for The Curtis Casa, I do more content development, photo editing, emailing, copywriting and general web surfing. Oh, and Pinterest, too. The best part is that I really love and thoroughly enjoy each of these tasks, so it never feels like work. And I do close my computer and spend quality time with my husband, of course!
her perspective
What advice would you give to people hoping to make a business out of their blogs? What skills are essential and do you think having an industry niche is an advantage?
My favorite piece of advice is always: Fake it 'til you make it. Be confident in yourself and in your journey. Network. Word hard. Ask for advice. Email strangers. But don't tell your Mom I told you to email strangers.
Many people start a blog only to feel burnt out a couple of years later. What is the most challenging part of your job, and how do you keep yourself from burning out?
It's funny, but I actually have no idea how I'm not burnt out yet! For The Curtis Casa, I love blogging for myself. I don't do it for traffic or comments or accolades—if I did, I would have quit a long time ago! And on a larger scale, for The Home Depot, I love blogging as a communication tool. I find the communication between corporation and customer really fascinating. I suppose I haven't burnt out because I've made a career out of something I really love (and do for fun!) day in and day out.
Staying fresh and unique in the blog world is a challenge. How do you stay creative and where do you look for inspiration?
Staying fresh and unique in the blog world is definitely a challenge. It's fast-paced and trends always come and go, but that's part of the fun, I think. Over the past few years, I've discovered that I am most creative when I'm confident, when my workspace is fresh and clean and when my mind is calm. If I try to bust out a project in a less-than-ideal environment, it's not going to be my best work. But, I will say I fly by the seat of my pants like a pro, so that helps too. And I find inspiration everywhere—in nature, in a color combination, in a conversation with friends and when my husband and I get excited about a DIY project we can do together. The more time I spend in this creative field, the more I cherish those moments of pure inspiration!
You just recently moved! How do you think the new house will affect the content of your blog?
Oh yes, the new house is taking over the blog! It has been a few months of boring "moving in" tasks—buying hangers and figuring out how to store spices, if you know what I mean. But now we're finally into the fun stuff—bed skirts, rugs, furniture and pillows!
And finally, what do you wake up looking forward to? What's next for your career?
Well, I wake up looking forward to coffee. After that, I look forward to a kiss from my husband. After that, I look forward to finding inspiration and sharing it—in my favorite medium: the blog, of course.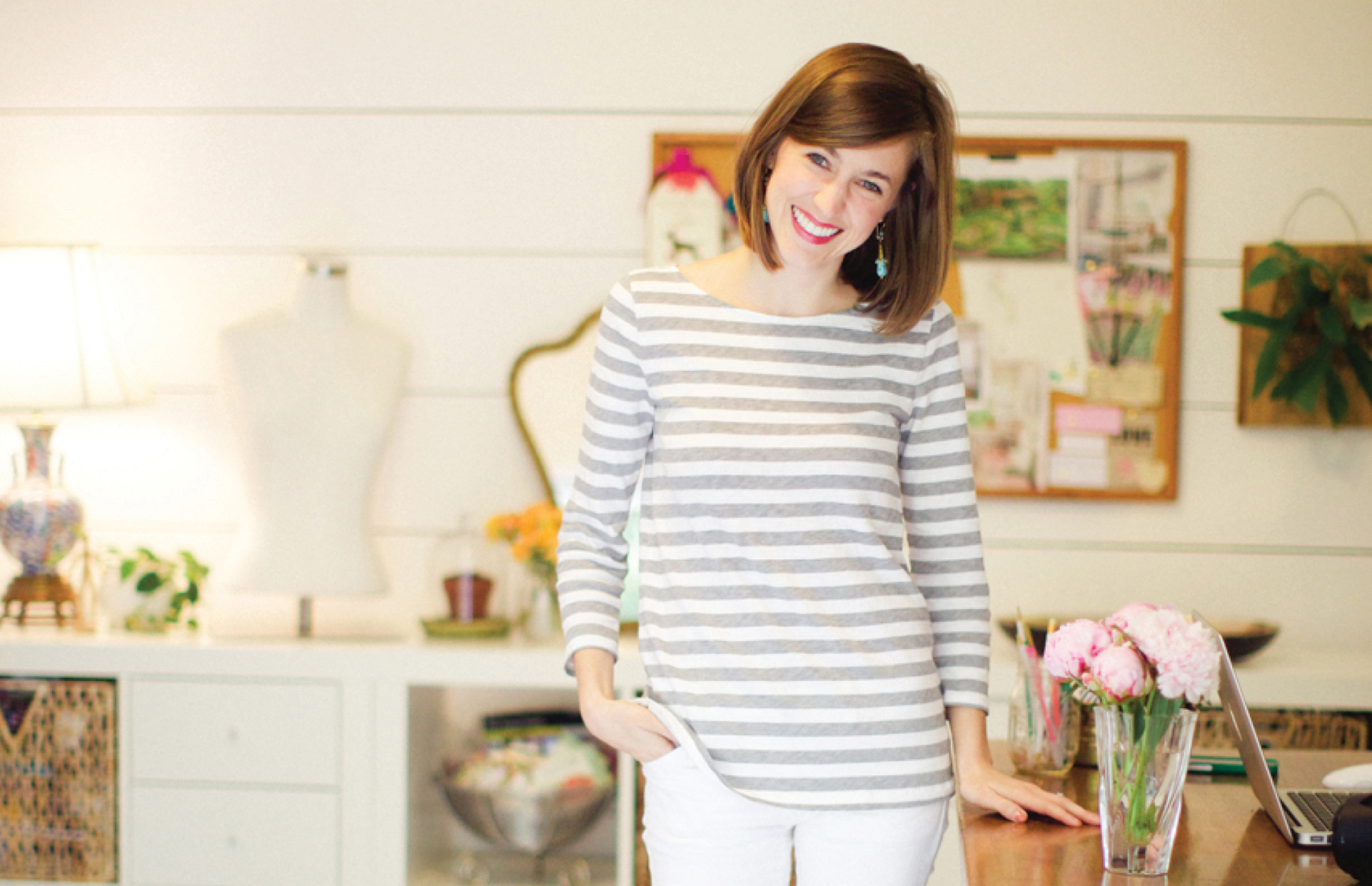 current city
Atlanta, GA
her education
BA French, Furman University
most important skills
Connections, Creativity
Published July 03, 2014