meet
Heba Kanso
Digital Reporter, CBSNews.com
Growing up in America with parents from Lebanon, Heba Kanso, 27, learned the importance of keeping up with foreign news early on. She had always been interested in storytelling and the world around her, but it all came together at the age of 13 when a family friend told Heba about her job as a reporter. It didn't take long for her to realize that she wanted to be part of that world.
Heba's path became even clearer when she landed a summer internship at CBS News in New York City, and then a job as a freelance Broadcast Associate at the same foreign desk where she interned. Fast-forward five years to the present, and Heba is living the dream working as a digital reporter at CBSNews.com.
Using her intuition and incredible organization skills, Heba manages to juggle one high-pressure, high-stress job—delivering the truth to the people. Heba's tried and true strategy for these moments? Center herself, take a deep breath and remember why she needs to tell the story she's telling. When it comes down to it, she says, the most important thing is to never compromise the things and the people that inspire her, because staying inspired is ultimately the thing that keeps her going.
Copy: Mackenzie Patterson
Photos: Bethany Michaela Jones
her starting point
Many people find the transition between college and "real life" a bit daunting. Can you tell us about your journey between the two? What was your first job post-college?
It is really difficult just thinking about the transition between college and "real life." There is so much pressure on you when you are a senior to have some kind of idea where you will be going. Everyone asks, "So what's next? What do you want to do after graduation?" I was one of the few people who knew, no matter what it took, that I was going to work toward becoming a reporter and, eventually, a foreign correspondent.
I got the opportunity of a lifetime when I was accepted as a CBS News intern in New York my senior year of college. There was a lot to think about, mainly financially. Some would say I was nuts to take a summer internship in one of the most expensive cities in the world. In this case, my dream and my future were on the line, so practicality went out the window and I had to do this. I thought of it as a serious investment. I made ends meet, and boy was it worth it. The last week of my internship I was offered a freelance Broadcast Associate job on the foreign desk where I interned. I knew in my soul that this was the right next step for me. I went back to Portland, Oregon, packed my bags and officially moved to New York within a few weeks.
And here I am, five years later, as a Digital Reporter for CBSNews.com.
Being a reporter is a very dynamic career. What about it sparked your interest? When did you feel like this was the right path for you?
Both my parents are from Lebanon, so I grew up watching foreign and American news in my home. I always wanted to know what was going on in the world, especially in the Middle East. I got to know more about the duties of a reporter when a close family friend's daughter, who was a reporter in Reno, told me all about her job. Somewhere around the age of 13, it clicked. I wanted to be a storyteller. I wanted my name associated with someone you can trust, someone who finds the stories that need to be told and, one day, to tell those stories from around the world.
How has your college degree prepared you for your current endeavors? Do you recommend that people interested in reporting embark on a streamlined path or explore a little more?
I received a BA in Electronic Media (Broadcast Journalism). I also minored in Communications and Comparative Literature. The University of Oregon has an amazing Broadcast Journalism program that prepares you for real-life TV. We had an actual live show every Friday. I had to learn how to pitch, shoot, write and edit my own stories. It was learning the essentials of being all TV news jobs in one, which is known in the industry as a "backpack journalist" or a "one-man band." Those skills helped me get to where I am now. While I was on the foreign desk, I was able to film my own pieces for CBSNews.com on the side because I already knew those skills from college.
I think the most important thing to do while you are in college is intern! You get to really see what it's like to work in the place you imagined yourself in. I interned at two local news stations in Portland during my college summers. I developed contacts and shadowed reporters, photographers and editors. I also got to pitch and write some of my own stories. If you want to become a reporter, (print, web, radio or TV) it doesn't matter what you're majoring in—go out and get an internship in the field you are interested in and start working hard and making connections.
Can you tell us about the most beneficial college class you ever took? Are there any you wish you had taken? Any you wish you hadn't?
I loved the capstone class in my major where we produced a live show every week. I also really liked my comparative literature classes, because they gave me a chance to be an interpretive thinker and creative writer. If I had had more time, I wish that I had taken more political science and history classes. It is always good to have a well-rounded educational background and to take classes that actually interest you.
Working in news is like having daily geographical, political, historical and cultural lessons. It is always good to have studied some of that in college, but regardless you will end up being a researcher and essentially knowledgeable across a variety of fields. As a journalist you find out that you know at the very minimum, a little about a whole lot. And often you are forced to know a lot about a little.
her big break
How do you stay organized? What tools/resources do you utilize (ie. iPhone, apps, etc.)? What skills are essential to do your job well?
Well, I think this is a good opportunity to bring up my "cool points." I have a paper planner that I use everyday. I have always had one in high school, college and even now in the digital age. Something about highlighting, making lists and crossing things off makes me happy. I write down my meetings, story shoots, interviews and social plans (always make time for a social life). I would be pretty lost without it.
I'm also a big believer in Post-its…colored Post-its are heavenly. In the digital field I use my iPhone for news apps, including CBS News, Vice, Now This News, Pulse and many, many others. Social media is essential in my job for promoting my work and knowing what is going on in real-time. I always have Twitter, Facebook and Google+ open.
Skills that live outside of the digital realm include digging deeper for stories. A real marker of a good reporter is having strong intuition, and finding where the heart of a story really lives and breathes. Don't be scared to fight for your story.
Before working as a Digital Reporter, you worked on the foreign Desk as an Associate Producer. What was that like? How does it differ from your current position?
The term "night owl" was pretty literal when it came to my job as an Associate Producer on the foreign desk. I worked overnights for three out of the four years on the desk. I slept during the day and started work at midnight. It made for an interesting lifestyle and one that gave me a first hand glimpse into a lot of major news as it broke. While everyone was fast asleep in New York, I had the chance to work closely with our London Bureau and our teams in Tokyo, Beijing and around the world.
I remember one particular morning when news of Qaddafi's death broke. There was a lot of international news that morning, but when rumors of Qaddafi's death started to circulate, it took a real team effort and, again, intuition to dig through the information and really hone in on how we were going to tell this news to the rest of the world.
The main difference between what I'm doing now and what I did on the desk is just how fast-paced the desk was. I would be on several different phone lines, coordinating between different bureaus, producers and reporters. The objective was to get the story out, not only as fast as possible, but also with integrity and accuracy. As a digital reporter now, I'm actually getting to really tell the story and am able to saturate myself into the heart lines of it. I'm getting to see and tell the details through my own lens—essentially I have time to put that special personal touch to it all.
If we had the chance to peek at your schedule, what would an average day look like?
I can't start my day without breakfast. Oatmeal is my friend. Especially when I know that I have a long day of shooting, You better believe I have a couple of KIND bars handy, too.
It's hard to say that there is a real black-and-white average day in any newsroom. The nature of my work really lends itself to an environment where no one day really looks the same.
If I had to create a sum of all parts, it would look a little something like this: on days where I'm going on a shoot or interviewing someone in the CBSNews.com studio, I do some prep by researching the person, preparing questions, writing a script, working with editors on how to best tell the story, editing the footage and going through all of the different shots to be able to place all the story pieces together—essentially solving a puzzle. Having your name attached to your work is not only a great honor, but also a responsibility. I always want my stories to be relatable, honest and to strike a human chord.
What are your strategies for remaining calm and focused in what can be a high-pressure position?
I think that the nature of any job is to be a strong problem solver. Problem solving in my field lives in the light of a person that can simultaneously manage to not only gather the information in an oftentimes hectic environment, but also be able to be a master juggler. At any one point in time, you are expected to be juggling your story, a story your editor has assigned and maybe even a couple of stories for a CBSNews.com series. Sure, it can get overwhelming, but you have to keep your head above water and have a real sense of center to keep things moving and in perspective.
When it feels like a whirlwind, you sometimes just have to take a step back and remind yourself why you're here and why this is important. What I'm doing is so much bigger than me. I'm sharing stories that might remain untold and experiences that are so personal and oftentimes heartbreaking. My strategy is to center myself. I close my eyes, I think about the story I'm telling and why I'm telling it. Deep breathes. And you're ready to keep going.
her perspective
What are some of your strategies for achieving work/life balance?
Being a storyteller requires that you feel inspired. It's important that I never compromise the things and people that inspire me, because ultimately they keep me going. I have to be out in the world to tell the stories, right?
Translating passion into a career is tough. What advice would you give to women trying to figure this out?
Never put your head down. Literally, keep your shoulders back and head up. No one likes to feel defeated, and sometimes you will. Always want more. No one will ever know what you want if you don't verbalize it. Be humble, but express your aspirations to people. It's crucial, and you never know who might have a good suggestion, recommendation or job offer for you. Trust your instincts. Don't always think the most traveled career path is the only one to achieve your dreams. Take the side roads if they feel right.
Have you noticed any trends in news casting? Where do you think the future of reporting is headed? Have you seen changes in the industry since you started?
Social media has made news faster and more accessible. We also have come to really think of social media as a resource and a lens into footage/information we may otherwise never see. As far as where we're headed, you're expected to have a real handle on several skill sets that, at one point, didn't all live under the same umbrella. A reporter these days knows how to shoot, write and edit his or her own stories.
And finally, what do you wake up looking forward to? What's next for your career?
I want to tell the stories that matter. The stories that make us think and awaken us, and maybe, if I'm lucky enough, make us change the way we connect to each other. Right now I'm based in New York City, but I have a keen eye on what it may be like to wake up and tell those stories from other cities like London, Johannesburg or maybe even my parents' native Beirut. I'm a dreamer at heart.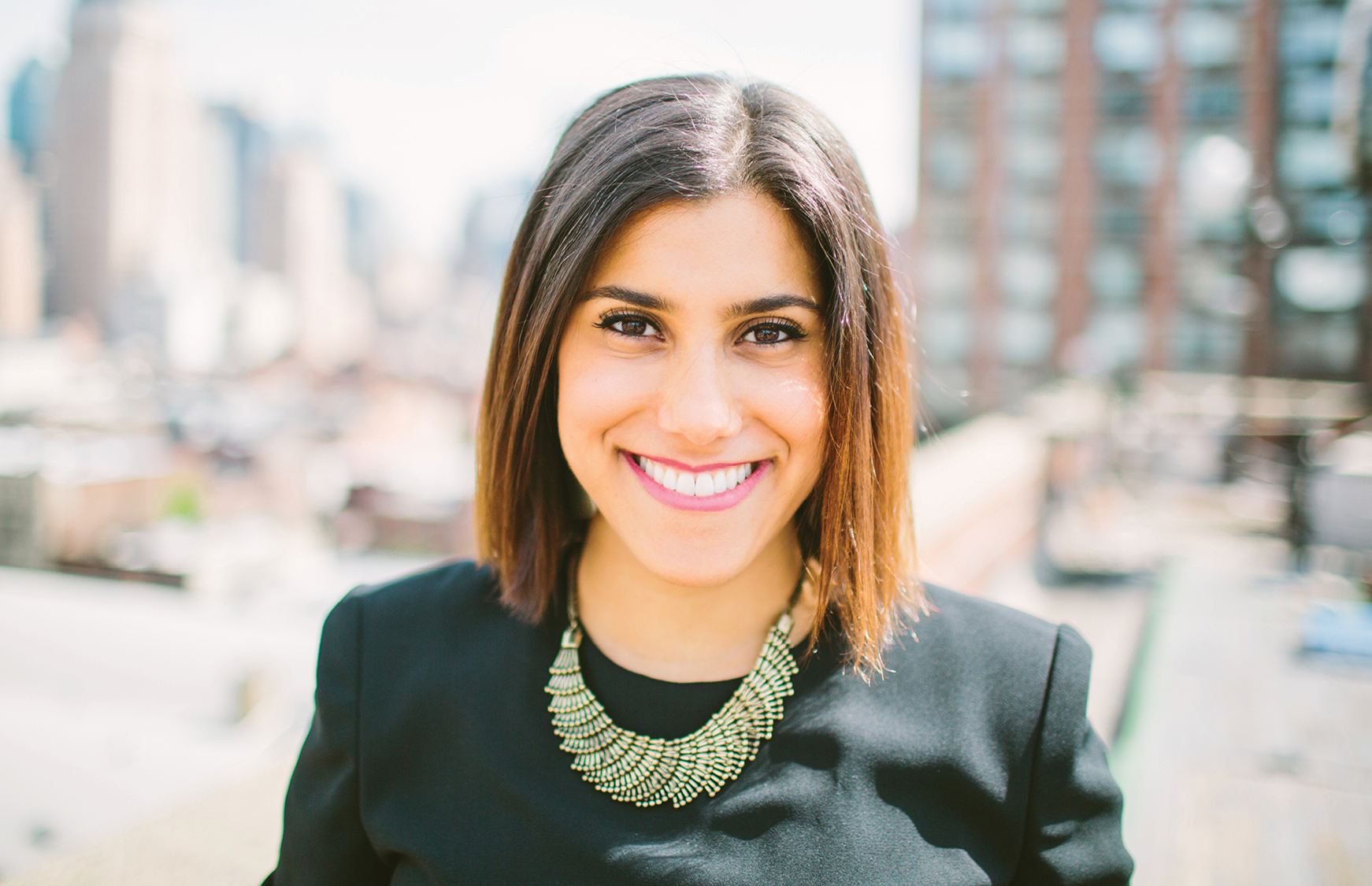 current city
New York, NY
her education
BA Broadcast Journalism, University of Oregon
most important skills
Writing, Interviewing, Strong Storytelling
Published August 07, 2014