SOMEONE OLDER AND WISER HAS PROBABLY TOLD YOU BEFORE THAT YOU SHOULD NEVER WORK FOR FREE. WHILE THAT SOUNDS SIMPLE, MAKING BOLD CAREER CHOICES ISN'T. THERE ARE, AS ALWAYS, EXCEPTIONS OT THE RULE.

Taking on side projects and freelance work is a great way to network and try new things when you're beginning your career. But what happens when you find an opportunity that's unpaid? Maybe someone has asked you for a favor or you've found an opportunity that could help you gain a new skillset.
If you're unsure about whether or not an unpaid position is for you, here's what you should consider before making your choice.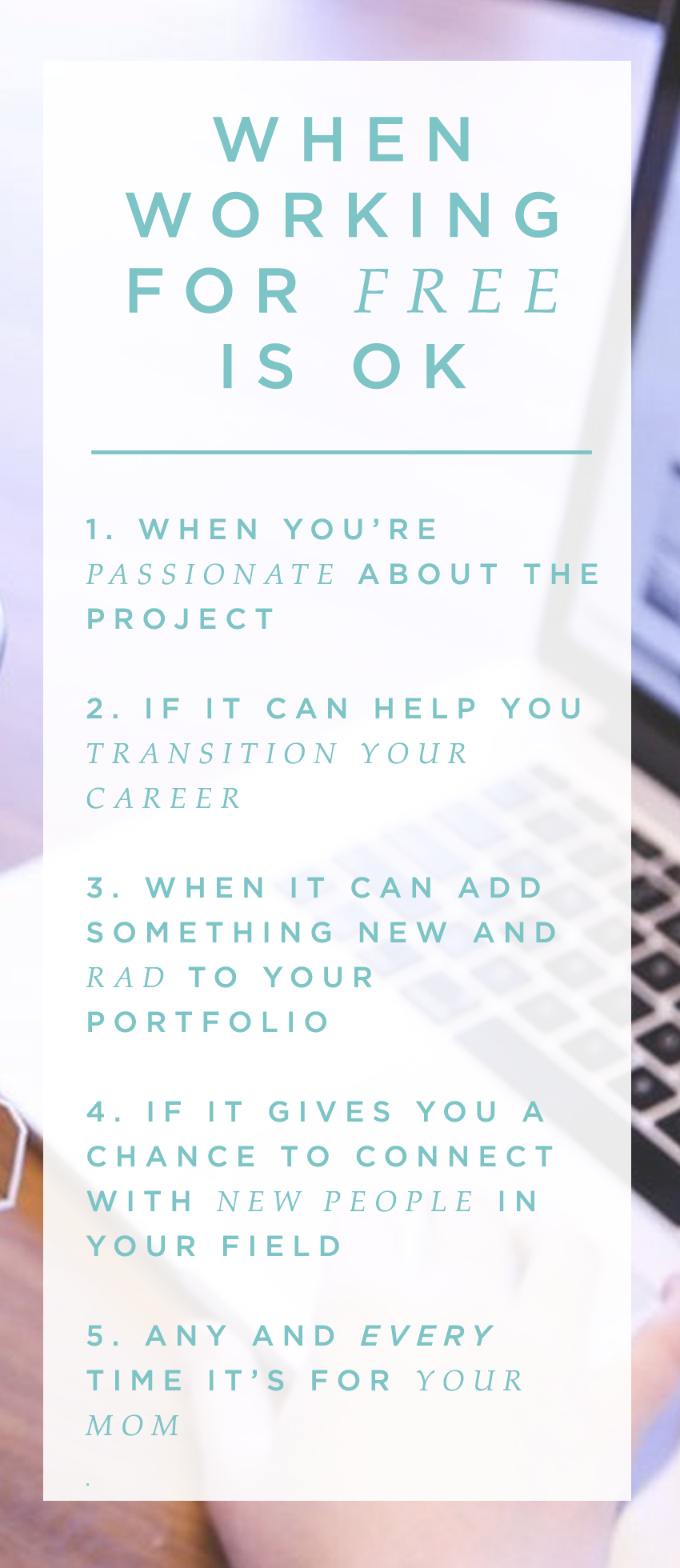 WHEN TO SAY YES
You've heard about this great new site that's looking for contributors or someone is asking you to volunteer your time helping promote their monthly improv show. The work is unpaid, but you're really excited about it. That's a good sign. Before going for it, though, here's how you know if the project is right for you:
You're passionate about the project, industry, organization, or cause. If the project really speaks to you and you think it could enrich your career or (even better) your life, you should probably go for it.
It can help you transition your career. Let's say you're looking to move from your corporate desk job into the non-profit sector. Taking a position on a nonprofit's board could definitely help you make that jump. Your new side project could turn into a full-time job through the connections you make during your volunteer tenure.
It can add to your portfolio or skill set in a new way. Taking on a small copy writing project could help to expand your skills and add something new to your repertoire even if it's unpaid. Just make sure you're prioritizing appropriately. If the project takes up so much time that you can't focus on your other responsibilities (whether that's your day job tasks or just job hunting), it might not be worth it.
It could help you meet new people in your desired industry. I started writing for Career Contessa because I love the site's mission and wanted to start writing more for publications that focused on women's interests. Adding this work to my portfolio allowed me the opportunity to join the committee of a local women's networking group as a communications team lead. Taking on side projects can always help to connect you to new opportunities and new people.
It's for your mom. Or anyone you really love. If a close family member asks for your help designing a brochure or writing a newsletter, especially if it's one of your parents, just do it. Working for friends for free, though, is more of a gray zone. If she's going to be your maid-of-honor someday or you know she'll help you with something in return, go for it. If you're not sure, suggesting a "friends discount" for your work is a good middle road.
WHEN TO SAY NO
Turning down or turning away from a potential opportunity always feels hard, especially if you're the type of person who tends to have a pretty full plate of responsibilities and you feel like you could really get something out of the project. If the work in question doesn't align with one of our "When to Say Yes" pointers above, ask yourself these questions:
Does the project align with my core values? You'll need to ask yourself if the project, company, or organization sits right with you. If you're vegan, you probably shouldn't agree to write copy for your friend's new e-commerce site that sells vintage fur coats. But if it's her new sustainable vegan leather shoe line? Fair game.
Can I commit enough time to the project to make it great? If you simply don't have the time to give the project your best effort and attention, don't take it on. You don't want to get a reputation for being unreliable simply because you unintentionally bit off more than you could chew.
Do I have the skill set? Someone may come to you asking for a favor for a cool new project of theirs, but you might not have enough experience to do it justice. Rather than put yourself (and them) in a stressful or, worse, insurmountable situation, pass along some recommendations of people you know who could do the work.
Can I afford it? Really ask yourself this, and find the answers in hard, cold numbers. If the project requires giving up time you could spend on paid gigs, make sure it won't cause more stress than you can handle. Great opportunities should cause your rent check to bounce.
SO, YOU'VE ALREADY COMMITTED, BUT ARE THINKING OF STEPPING BACK
If the project seemed like it was great at the time, but you're starting to regret taking it on, you'll need to figure out why that is.
Is your actual job, health, or relationship suffering as a result of all the extra unpaid work you've taken on? Do you feel frustrated or taken advantage of? Are you not getting enough exposure for all the work?
If you don't enjoy the work you're doing, you may want to step back. Oftentimes, when you take on unpaid work, people offer to "pay" you in exposure or bylines, and although exposure has never paid anyone's bills, it can help you transition careers or network in your area. If you're not getting that out of your project, it's time to cut your losses and move on to work that you'll be recognized for.
We'll address "breaking up" in a future Career Contessa article soon, but to put it simply: be as honest as possible as early as possible. If you're backing out of a project, it's always good to offer some recommendations for others who could do the work in your stead. And thank them for the opportunity because, why not?
* * *
What did we miss? Any other reasons you should (or shouldn't) work for free?