The 10-Step Method to Turn a Long Weekend into a Full-Blown, Work-Free Vacation

The modern era means that two-week vacations are, sadly, less common than they should be. But that doesn't mean that you can't make the most of a short trip.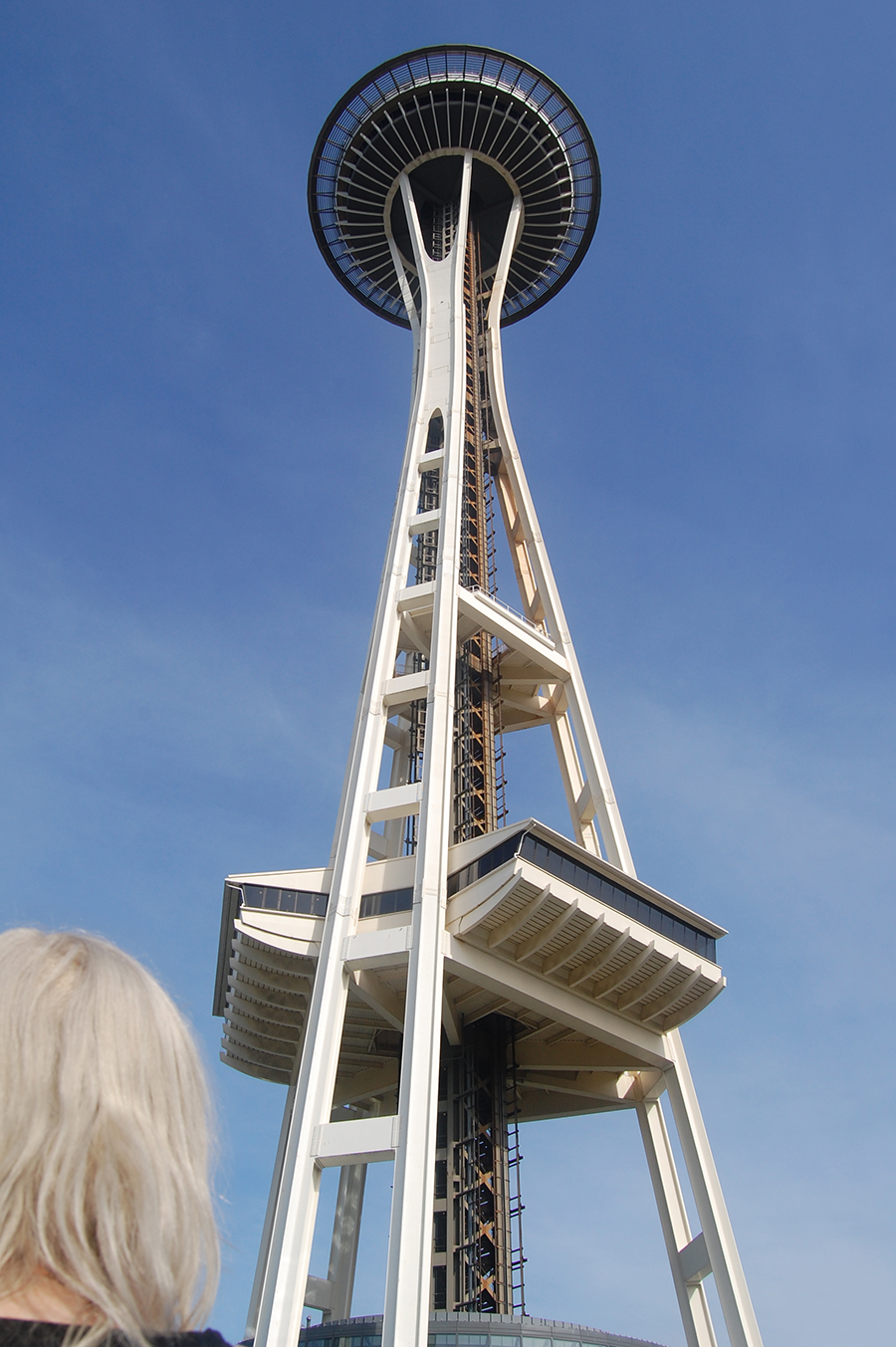 Yes, we hit Seattle's tourist spots.
Last month, I celebrated surviving my first year at Career Contessa, complete with surprise 9AM mimosas (thanks, Lauren) and a general feeling of excitement about how much we're growing. So when
Delta
invited me to take a flight anywhere in the United States to try their new
Free In-Flight Entertainment
, and I realized that, oh, I hadn't actually taken a vacation since starting, I decided to plan a real break—no work, period.
You've probably read somewhere that most Americans don't take all of their allotted time off. It's getting worse.
Recent research
shows that there's a rise in people (most of them millennials like us) who consider themselves "work martyrs" and—this is the worst part—they actually
want
to be seen that way. That's a big problem considering we also know that taking time off makes you more productive, more creative, even just generally better at your job. As
Fast Company
points out: "Travel can be akin to taking a course in a new subject, providing an opportunity to flex the mind and create new opportunities for new learning, new ideas, and stimulating new neuron connections."
Neuron connections. That's what I wanted. The thing was: I didn't have much time. Four days to be specific, thanks to some Monday meetings waiting for me when I got back. But with two free tickets to Seattle officially in my inbox, I was determined to actually, totally, completely shut off work.
So could I turn a four-day trip into a legitimate vacation that allowed me to recharge and revitalize?
Actually, yes. Here's how I did it:
STEP 1: I THOUGHT SMALL
When you're taking a long-ish weekend rather than a "real" vacation, it's better to think small scale. Initially, I'd thought about going to New York or New Orleans (when Delta says "free tickets to anywhere in the U.S.", the struggle is real)—but ultimately, I realized those were very long flights for a comparatively short trip. Seattle wasn't far from home but was just far enough. It was a city my new-ish boyfriend and I had never visited. Romantic. Plus, the city itself is centralized and walkable—all components that made us decide to head Northwest.
STEP 2: I FOLLOWED OUR OWN ADVICE
#freedom
Given that this free flight dropped into my lap like "Woah," I had about five days to figure out how to successfully shut off despite a packed work calendar. Fortunately, one of our writers recently covered
automating while you're on vacation,
and I absolutely followed her advice by:
Carefully planning my to-dos leading up to Wednesday afternoon. No way was I going to be able to get everything done before going. Instead, I focused on just making sure that anything pressing between Wednesday and Monday morning was on track. Despite my Type A tendencies, I let everything else go.
Writing an out-of-office debrief. My coworkers probably thought I was nuts, but I sent them all an email before leaving the office that updated them on where we stood on all our upcoming projects and on the editorial calendar. In it, I specifically called out to anyone who needed to help out while I was gone (e.g. "Meghan: Can you check social for those articles?")
Composing a very nice, but very do-not-disturb email auto-reply. In my message, I didn't say I had little access to email or that I'd get back ASAP. I just said I'd be in touch next week. (But don't forget to provide an "in case of emergency" contact.)
STEP 3: I PLANNED THE HELL OUT OF OUR ITINERARY
This is not to be confused with "I booked every minute of our time." I've been on those trips, and I hate them. But I did make sure I had a laundry list of things to do in Seattle before we got there. I researched a couple of the
chic bars
and renowned restaurants we'd want to hit up (and made an advance reservation at a popular
dinner spot
) and wrote down shops we might want to check out.
The goal here was to avoid spending too much time on my phone while we were actually there—after all, any screentime was a temptation to look at work email and not at Puget Sound. Completely defeats the point.
In the end, having that long list of places in my bag meant that we just sort of naturally found them. We'd leave a cafe and stroll a few blocks, and I'd go: "Hey, there's
that bookstore
I wanted to see!" Granted Seattle's more of a walking city than, say, L.A., but a little advance research definitely helped us explore things organically.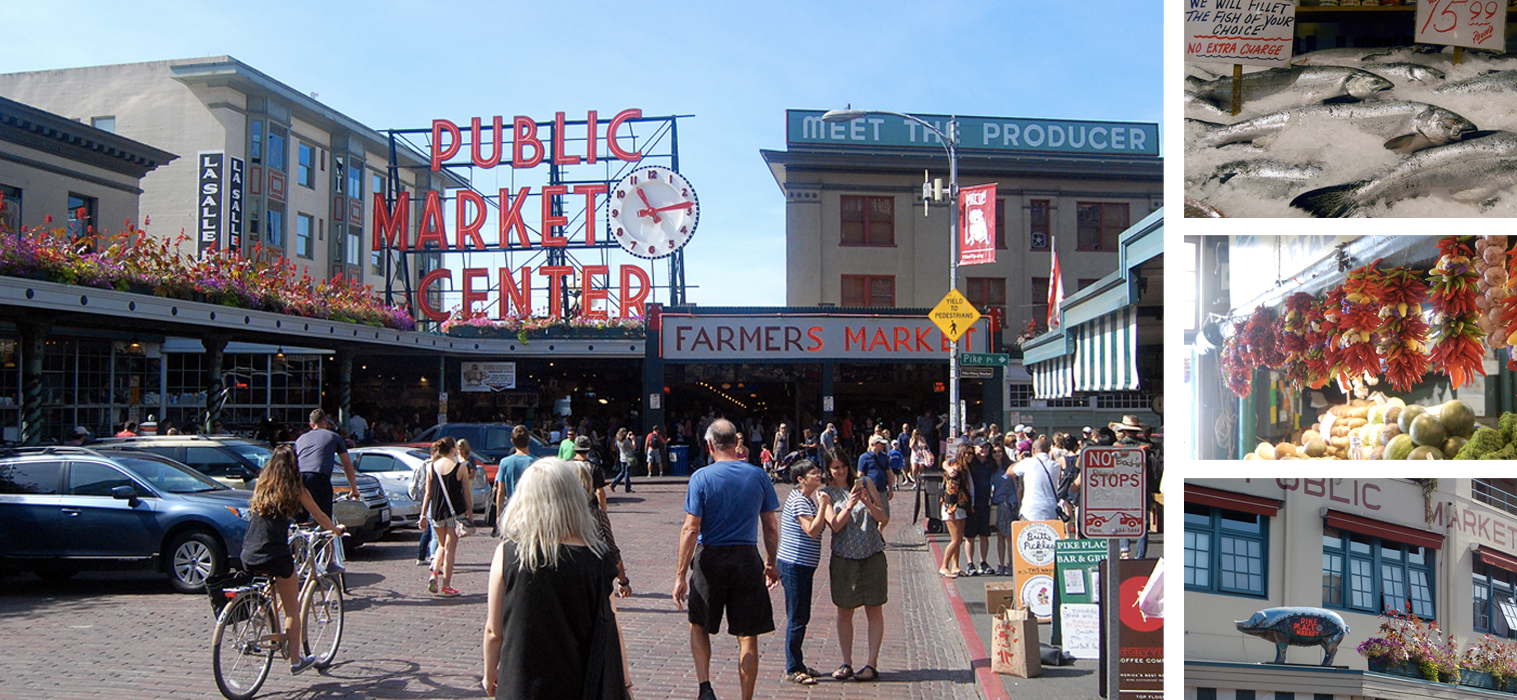 The thing about Pike Place is...it's insane. Like cavernous, labyrinthine insane. And crowded. So crowded. And it was perfect.
STEP 4: I TURNED OFF AS SOON AS I GOT ON THE PLANE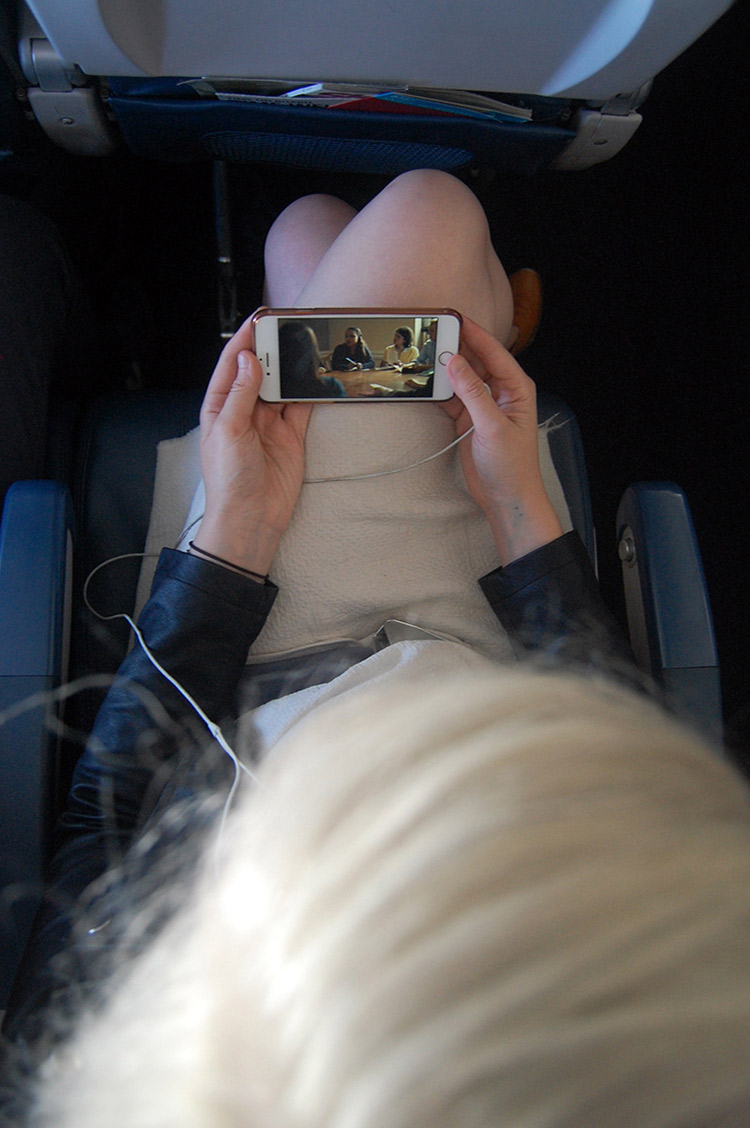 Delta's new Free In-Flight Entertainment app at work—letting me watch Mistress America from the friendly skies. BTW: Greta Gerwig is my spirit animal. Do not talk to me while I'm watching her do her thing.
As our alarm sounded before our flight out (ahem, 5:15AM), I allowed myself one last chance to check my email and confirm my out-of-office was on. Checking once was enough to remind me that things would be fine without me. Then, I closed out of work stuff. Really.
Once on the plane, rather than checking email or editing some articles (which is my typical travel M.O.), I decided to give the whole Delta In-Flight Entertainment thing a try. I was dubious—typically I'm a book reader on flights—but after a rushed few days at work, my brain was fried. Flipping through the audio options, I found an album by The Smiths (who knew they'd have that?), the ideal soundtrack for scrolling in search of a not-lame TV or movie option.
Before flying, I'd downloaded the GoGo Entertainment app, which allows you to watch something in-flight via your iPad or iPhone, and that's where I struck filmic gold. I was psyched to find the
latest Noah Baumbach
on there. Obscure? Yes. Lame? Decidedly not. Meanwhile, new-ish boyfriend caught
Hail Caesar
on his seat screen. Somewhere in there, I accidentally fell asleep. Naps are the best part about a vacation in my opinion.
STEP 5: we DIDN'T FORCE THE PACE
Once we'd made it to
our hotel
, we kicked back. Just for a bit. I'd intentionally booked our Big Dinner Date reservation for 9PM, meaning we had zero things to worry about for hours.
So we took it easy. We hung out the window to see the view. We wandered through the historic hotel's winding hallways. You know. Vacation relaxation.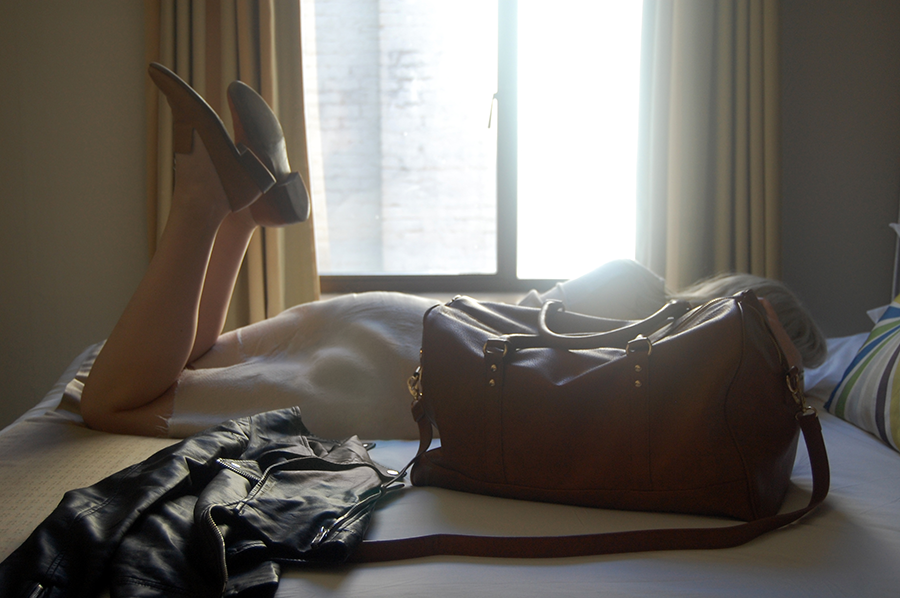 We "kicked back."
When we were good and ready, we headed out. Breakfast in the airport had totally sucked, complete with coffee that tasted like it'd been brewed three times, burned twice, then left sitting since yesterday. We figured that just because it was 2PM didn't mean we couldn't have a do-over. We decided to try breakfast again by heading straight to the city's beloved
Biscuit Bitch
. Grits, cheese, eggs piled atop a flaky buttermilk baked good? Now
that's
a good start to time off.
After that, we just wandered through the city. Pike Place was a given, of course, but once our feet got tired, we let ourselves meander back to the hotel and relax before dinner. There may have been a stop for a cocktail somewhere in there. Vacation is doing whatever you want at whatever pace you're comfortable with.
STEP 6: I STOPPED COUNTING
In her book,
The Creative Habit
, choreographer Twyla Tharp describes the ritual she follows before embarking on a big creative endeavor: "When I commit to a project, I don't expand my contact with the world; I try to cut it off...I list the biggest distractions in my life and make a pact with myself to do without them for a week."
For Tharp, that means skipping numbers. "For one week, I tell myself to 'stop counting.'...The goal is to give the left side of the brain—the hemisphere that does the counting—a rest and let the more intuitive right hemisphere come to fore."
Granted, a four-day vacation isn't exactly a creative project, but fully turning off
did
mean letting go of habits, work, and routines and just loosening up in general.
So try this on your next trip: no scales, no 10k training apps, no calorie counters, no alarms. Dare you. All those articles about maintaining your diet and routines on vacation are fine and good, but honestly? That's not really what a vacation is about.
I'm not saying you should binge until you puke or eat things you're deathly allergic to, but allow yourself zero judgment about what you eat and do. In my case, that meant knocking back my weight in
oysters
and drinking a lot of overpriced artisanal cocktails. By letting go of routines, I opened myself up to a different kind of experience—one that felt wholly separate from my usual day-to-day.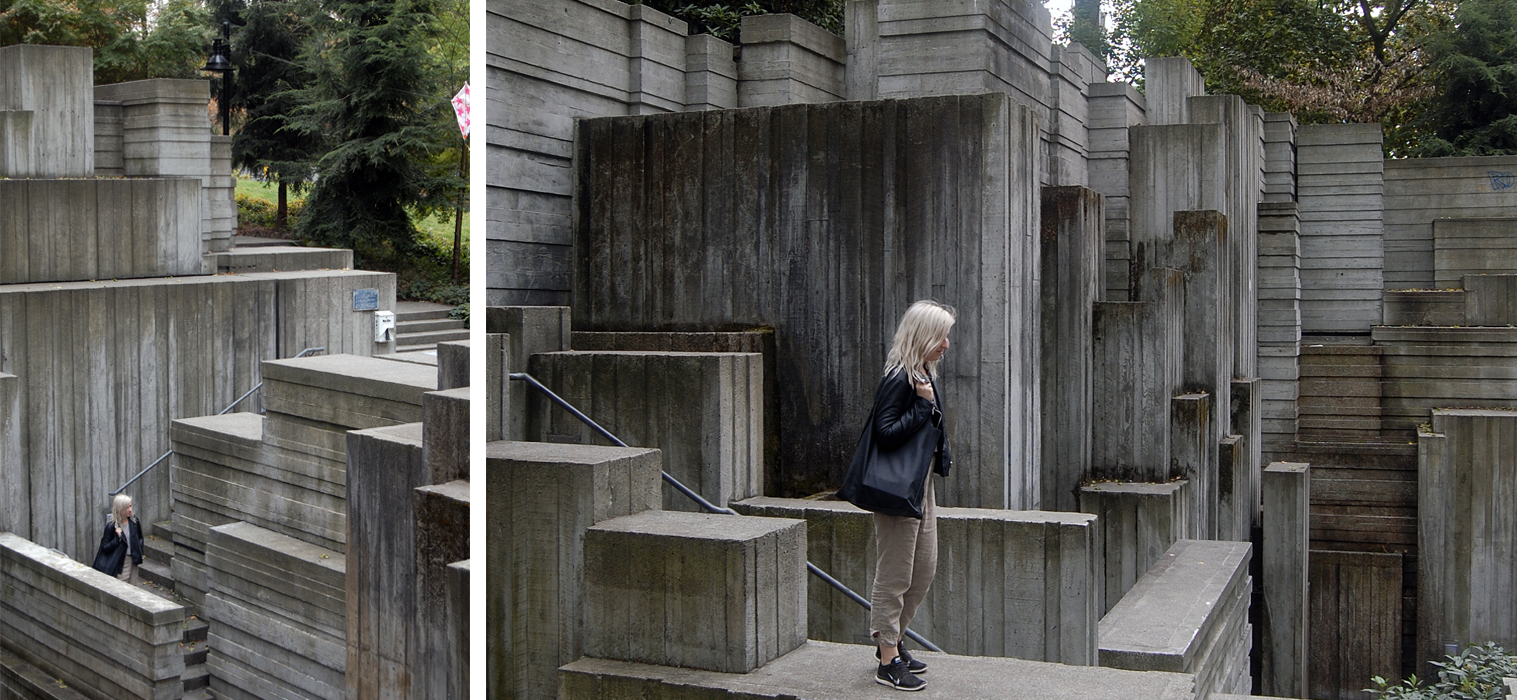 Freeway Park, a random spot we found while walking.
STEP 7: WE WANDERED—A LOT
Around 30 miles in four days to be exact. Doing everything on foot made it feel like we fit a whole lot more into our trip. We really saw the city. Even the experience of traveling between places was part of the vacation, and that made it feel that much longer.
STEP 8: I GOT OFF INSTAGRAM
Well,
mostly
. This was one of the bigger problems I had. We were doing amazing things, and I wanted to post photos of them all. Cue the moment I realized I was turning into the person I hate. While at a renowned local donut shop, new-ish boyfriend cleared his throat—"OK, enough photos. Time to
eat
the food." He was so, so right. I was on photo seven of
my pink sprinkled cake donut
, literally holding it out at arm's length over the sidewalk, which had quickly attracted some grimy-looking pigeons. Here's what I wasn't doing: actually experiencing our trip.
Turns out, that donut was totally stale. For the rest of the weekend, I limited my social media time as much as I'd limited other online stuff. Well,
almost
as much.
STEP 9: WE PLANNED A VACATION WITHIN A VACATION
Some of my
dearest friends
moved to Tacoma, WA last year so on Saturday, we caught a bus and spent the evening with them. They showed us around the city, took us to the forest
and
beach, then to dinner and drinks at their favorite spots. Planning a day trip away from Seattle was probably the best thing we did. It felt like we'd tricked fate and somehow extended our trip.
STEP 10: WE stayed on VACATION unTIL THE FLIGHT LANDED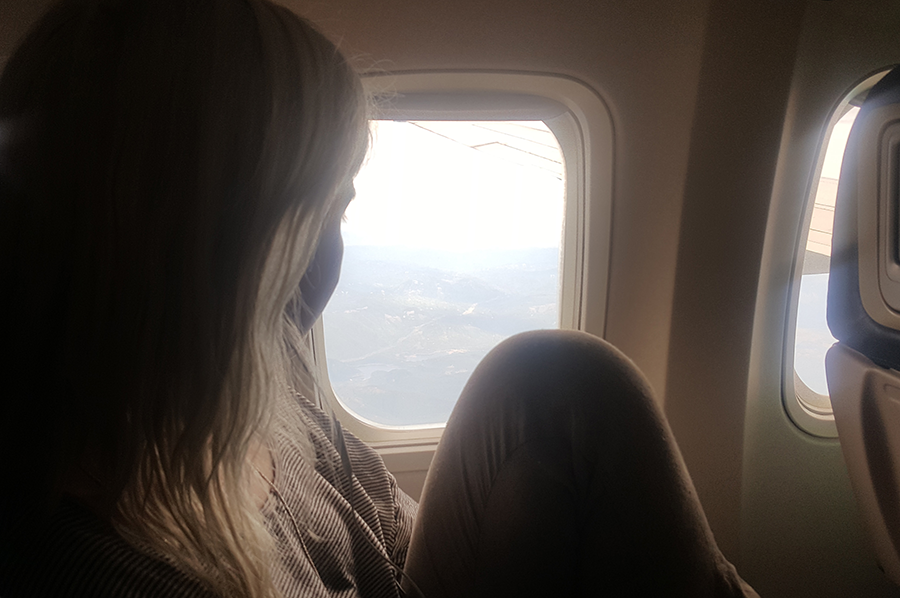 Bye, Seattle.
As we boarded our flight home, we agreed that the vacation wasn't over until we were back in Los Angeles. That gave us approximately 2.5 hours more of time off, and we used it. Imagine our utter delight when we found out our flight had complimentary drinks—yes, we did go for a couple gin and tonics. One more shot at Delta's Free In-Flight Entertainment meant watching an episode of Portlandia, which seemed a fitting farewell to the Northwest. Then, we finished our flight looking through photos of our trip. We were simultaneously recharged and a bit exhausted. We were more than satisfied.
Thank you for supporting the brands that help us run Career Contessa.