How To Use Your Personal Site to Up Your Networking Game
WEEK 4

/

PUTTING YOUR DIGITAL PRESENCE TO WORK
To use a cliché and a pun: it's a whole new ballgame when you've got a personal website to pitch their way.
You've spent the last month with us focusing on ways to
carefully craft your online presence
. You've cleaned up your social media accounts, created a cover page, crafted your personal pitch. We'll bet your site looks good. Now's when the magic happens: you're going to actually use it to land a job.
STEP 1: UPDATE YOUR SOCIAL MEDIA ACCOUNTS TO INCLUDE YOUR URL
You have a personal website so put that sh*t literally everywhere—add it to your Instagram profile, to your LinkedIn, to your Twitter. Don't forget to add it to your email signature either. Any place people see your name, they should see your URL as well.
STEP 2: ORDER SOME PERSONAL BUSINESS CARDS
If you don't have personal cards…
you should
. Use a service like
MOO
to create a simple, well-designed card with your name, email address, and URL. If you're design-oriented (or just a chronic over-achiever), maybe throw in a personal logo too. Squarespace offers
a logo maker
.
Once you have your business cards, you can hand them out at networking events to start referring traffic to your site.
Pro Tip: As a rule of thumb here at Career Contessa, we like to skip including a phone number on our cards since typically that number is your personal mobile. Instead, if we need to give it to someone, we'll simply write it onto our card in pen before handing it over—or, you know, just exchange numbers via iPhone.
STEP 3: PREPARE YOUR NETWORKING FORM EMAILS
If you're actively job seeking, now's the time to start
reaching out to your network
via LinkedIn and email. Make sure that each of your emails includes a direct link to your URL (think: "You can see all my information and work experience right here [link]"). We've actually created some special networking email templates to help you do it right. Download them here:
STEP 4: GET SNEAKY WITH TRACKING VISITORS
Sending out emails to potential employers? You can track who actually clicks through to your website by setting up a
bit.ly
for your URL and embedding that in your email instead of your normal URL. It's a trick marketers use all the time. You can set up a separate bit.ly for each company you apply to and see whether people click through (and how many times). It's just nice to know what's what, you know? While it's a bit time consuming to do for every job, if there are one or two jobs that are your dreams, it doesn't hurt.
STEP 5: SET UP YOUR NETWORKING TRACKER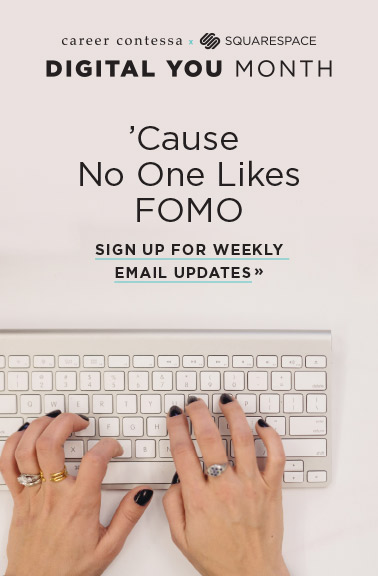 Don't forget to use a
networking tracker
after reaching out to people in your desired field. You'll want to set reminders to follow up with them as well.
STEP 6: CHECK YOUR STATS
In the same way that you can see how many people have visited your LinkedIn in the last two weeks, you can use
Squarespace's analytics function
to track how many people have visited your site, from where, and some other interesting elements. It won't tell you exactly who is interested in you, but it's a great way to see some of the results of your efforts. There's something nice about seeing that people are really seeing your hard work.
So What's Next?
The end of
Digital You Month
(formerly known as September) is almost upon us, which is a pretty big bummer. But we like to go out with a bang, so...check back next Thursday to get access to a special downloadable e-guide with checklists, bonus resources, the works. We promise it'll be fun.
* * *