Companies With The Best Perks For Women: New York City
LET'S TALK ABOUT PERKS.
We have all heard of the massive game rooms, daily beer pong tournaments and built-in kegerators associated with job perks at tech or large agency-style companies. However, most of the employees at these companies have two qualities: young and male. While these benefits may also seem ideal to some women, there are definitely more female-friendly perks that can help you do more than reach that next level in Halo or have a happy hour without leaving the comfort of your desk.
In a new series of articles, Career Contessa takes a look at the best perks for women in various cities across the nation. Every city is a different animal and the benefits reflect the style and needs of its natives (e.g.: rock climbing retreats in Boulder, CO or surf-at-lunch privileges in San Diego, CA). Companies like Google have well-known perks and multiple offices, so they might make the list more than once or be excluded because there are other more compelling (or lesser known) perks to report. This series also coincidentally parallels my own job search, which is extremely open to relocation for reasons that will be explained shortly.
NEW YORK STATE OF MIND
Working in New York City is equally wonderful and stressful. Quality of life and work-life balance are vague concepts here. People often work past 5:00 p.m. and start well before 9:00 a.m., and checking and answering emails before and after work is standard practice. Most employees never use all of their vacation time, opting instead to stick around and keep up with an ever-increasing workload. At the end of my last job, I had five weeks of vacation and could not use more than three every year. As much as NYC has to offer, burnout can lead you to look elsewhere. Especially if "elsewhere" has free yoga classes and a juice bar.
That's why an employer in NYC looking to find—and more importantly, retain—the best talent will be offering more than just your standard health and 401K benefits. Having fun company activities, a diverse network of co-workers and time-saving conveniences are key, and are sometimes just the tip of the perks iceberg these days. However, NYC is undoubtedly the poster child of the "work hard, play hard" mentality, so expect vigorous, challenging work to accompany these super cool benefits.
TOP FIVE NYC COMPANIES
Here are five companies in various industries with top-tier benefits for women: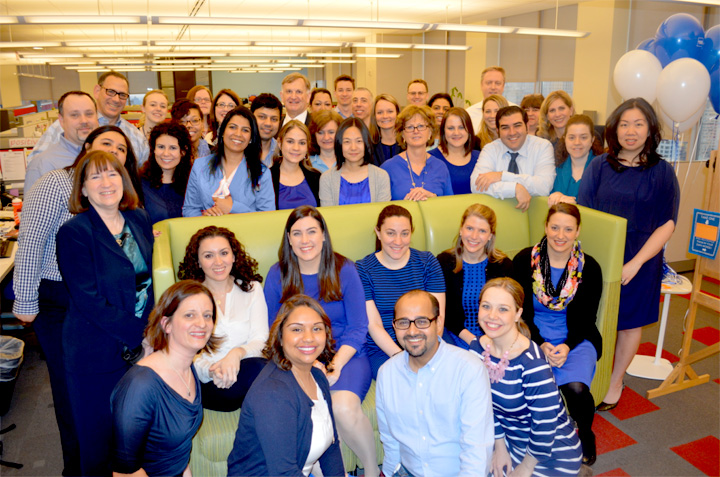 Photo: American Express
As a humanities major, my understanding of the financial world is limited to some well-known stocks, mutual funds and of course, the points I accrue on my credit cards. The latter is what I associate with AMEX mainly, but what they also are known for is being a great employer with some impressive benefits and a very real emphasis on employing and promoting women. A whopping 63% of their employees are women and most employees switch roles every 18 to 24 months, which leads to advancement, learning new skills and diversifying work experience.
Benefits are aplenty at AMEX and include having flexible work schedules, the ability to buy extra vacation time, an on-site gym and cafe, and corporate access at sporting, music and charity events. Perhaps the biggest benefit is the AMEX brand—there are few companies with that type of street cred.
AMEX EMPLOYEE ON GLASSDOOR: Very professional, development driven, amazing work life balance and EXCELLENT benefits. It is a very ethical company that leaves you with a feeling of trust. I believe they really do care about their employees and offer many programs to assist in many aspects of life. I was proud to say I worked there.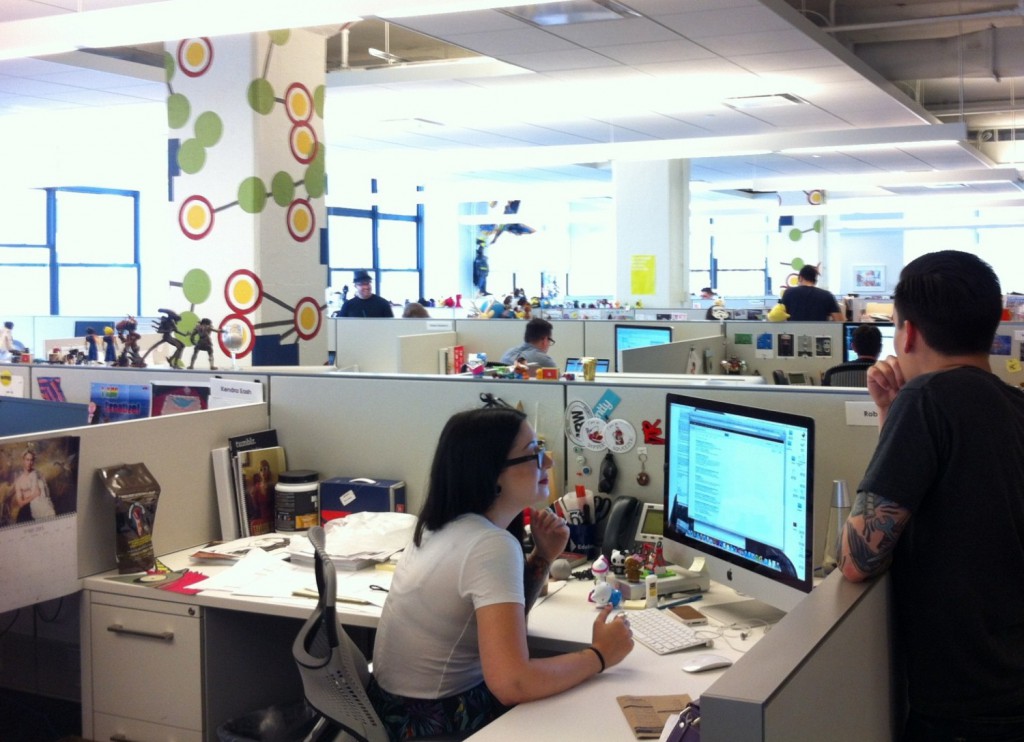 Photo: Edelman
Balancing work and life might seem unattainable at a PR agency, but what employees lack in time off, Edelman makes up for in other ways. Flex work schedules along with telecommuting is fully supported and makes sense for public relations professionals who are on the clock whenever there's an opportunity for the client. Meal vouchers, fitness classes and snacks are readily available along with health and wellness incentives. They offer child adoption compensation ($3,000 for PT/$5,000 for FT employees), family leave and even $100 towards pet adoption. If you're looking for a life-enriching experience, like volunteer work or reconnecting with your ancestry, Edelman might chip in $1,000 and an extra week of vacation time to help you achieve your dreams. At the ten year mark, you're also offered a six-week sabbatical.
All employees can benefit from mentoring partnerships throughout the company, but Edelman's Global Women's Executive Network (GWEN) hopes to specifically bring more women to the senior levels of the company through guided mentorship, recruiting and networking. There are 800 members worldwide and the group stays connected through emails, blog, social media and local events.
EDELMAN EMPLOYEE ON GLASSDOOR: The office space is incredible, making employees proud to enter each and every day. Employees are bright, hard working and dedicated to achieving the impossible for clients day in and day out. Edelman understands (and encourages!) the importance of a well-balanced work-life lifestyle, which in this industry can often be forgotten. The entrepreneurial spirit employees are encouraged to take on is something that truly sets Edelman apart.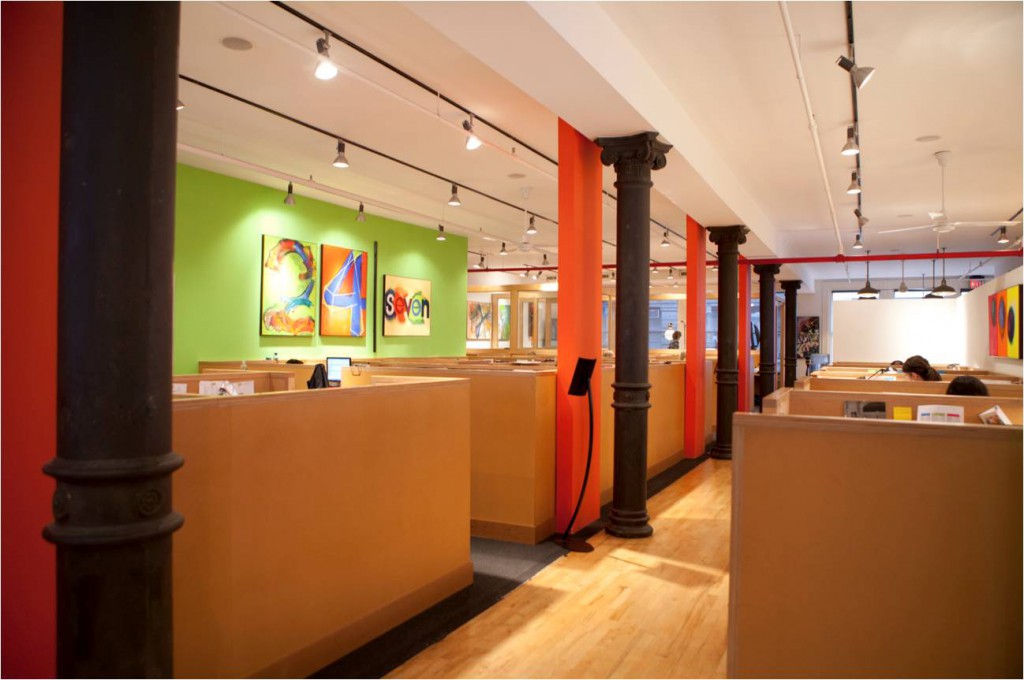 Photo: Glassdoor
As a staffing firm, the employees all know what benefits are out there and what other companies offer. 24 Seven managed to get a 4.5 out of 5 star rating on Glassdoor, which is no easy feat. Ranked on Crain's best places to work and top women-owned businesses, 24 Seven places significant emphasis on maintaining family life, work-life balance and a positive work environment. Along with flexible work schedules and an understanding group of colleagues, on Fridays and school holidays, employees are welcome to bring their children (and pets) to work.
The SOHO office is as fun for kids as for adults. The kitchen is fully stocked with healthy snacks and beverages, a masseuse comes in once a week, there are ice cream Thursdays in the summer, and the company hosts a copious number of internal parties, celebrations and catered lunch meetings. Standard benefits apply, but the employees comment on the amazing work environment, emphasis on entrepreneurship and a 97% approval rating for the CEO. I haven't seen an approval rating that high since…never?
24 SEVEN EMPLOYEE ON GLASSDOOR: As an employee, I have always felt valued. I feel as if the company truly cares about my well being both at work and at home. It has been a really wonderful experience on a personal level. I also enjoy working for a privately held, woman-owned organization. The company is progressive and forward-thinking and we have seen tremendous growth over the last several years with more to come.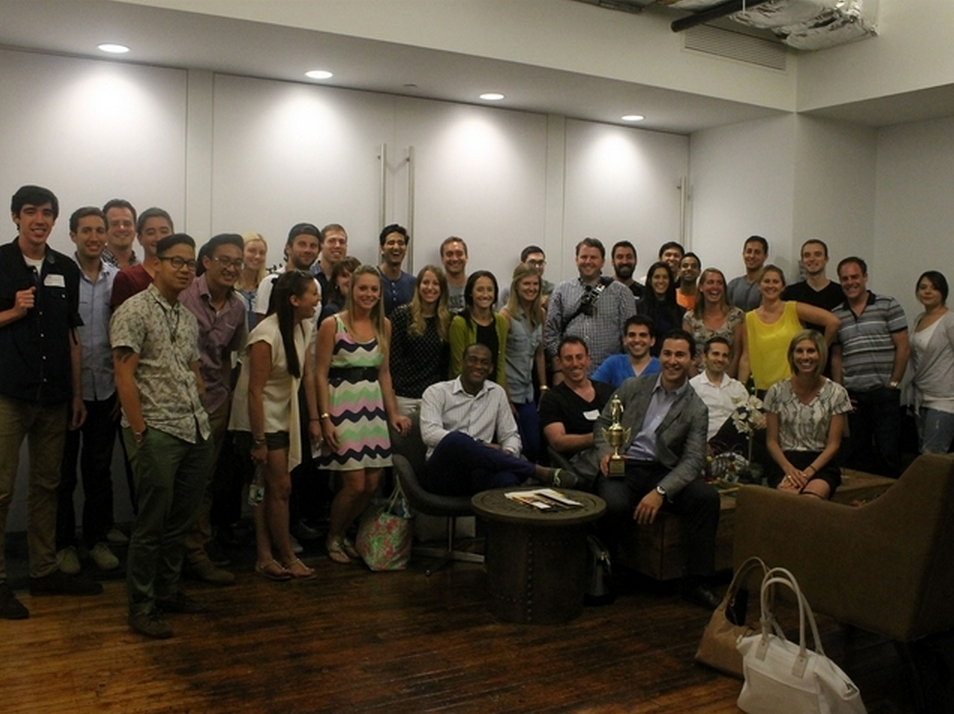 Photo: Crain's New York
Number one on Crain's list of best places to work and deemed the best tech company to work for by Mashable, this search engine marketing company has a lot to offer its employees. Healthy lunch and snacks come standard Monday through Friday to keep you on your A-game, but if you do feel sick, there are unlimited paid sick and vacation days. When's the last time your boss came by and said "hey, you haven't taken a day off in a while, why don't you take a long weekend?" Apparently, that happens at Elite SEM. Additionally, if your babysitter bails or the polar vortex comes for a visit, you have the option to work from home.
Profit sharing, equity, professional training and tuition assistance is available for every employee, along with gifts and bonuses to employees for their achievements. A book club and Fun Week (a week-long recreational retreat) every year helps team building and rounds out a generally great work experience. Have you ever used the words "transparency," "no drama" and "fun work environment" to describe a workplace? No? Me neither.
ELITE SEM EMPLOYEE ON GLASSDOOR: "Your personal life and happiness are a huge priority to management. This is the first company I've ever worked for that proactively sought to make sure my focus was on my family when it needed to be. There are frequent reminders that the unlimited vacation policy is in place for a reason."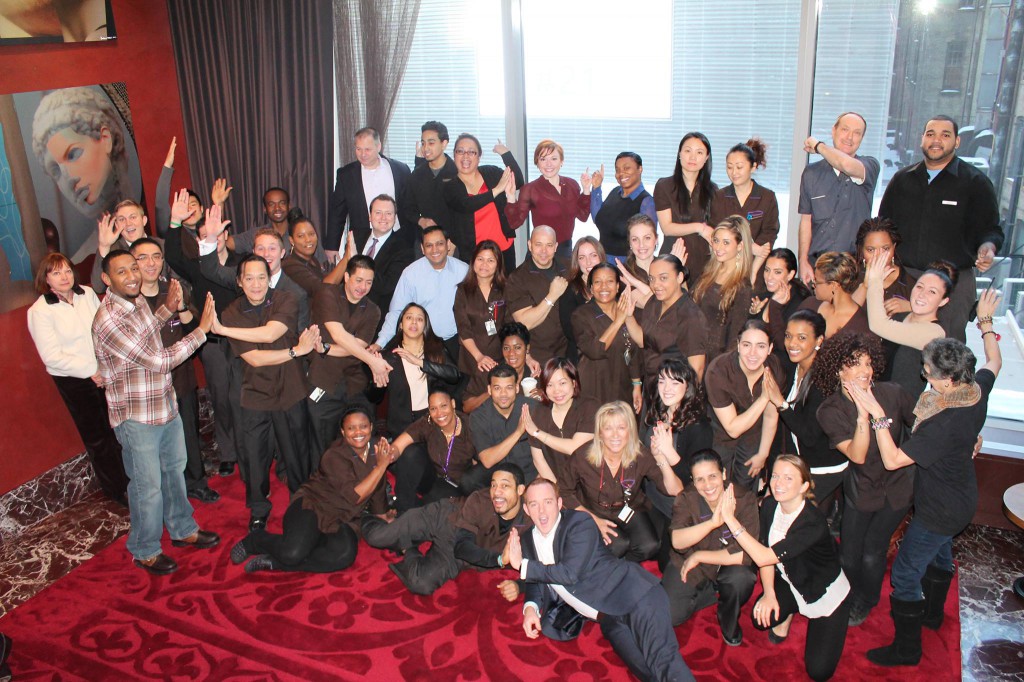 Photo: Kimpton Hotels & Restaurants
KIMPTON HOTELS AND RESTAURANTS
The hotel and restaurant industry is a difficult business to be in—period. Having work-life balancewhen your prime busy hours are the same as other people's off-hours is just one of those challenges (translation: never see daylight). To come out ahead of that, Kimpton is all about the culture of hospitality and developing community and interoffice relations. NYC has four Kimpton hotels: The Muse, Ink48, Eventi and 70 Park. Once a year, every Kimpton hotel has the "Housekeeping Olympics," which includes fun events like blindfolded bed-making (that explains some of my check-ins) and toilet papering the General Manager (who wouldn't want to do that?). Diversity and teamwork is at the core of their philosophy, so the staff participates in LGBT functions/groups/events, minority mentoring programs and active group activities like Tough Mudders and charity runs.
Professionally, management favors investing from within for promotions, vigorous staff training, recognizing and celebrating employee achievements and fun team building activities. Top perks include daily free meal vouchers, insurance for employees who work over 30 hours (not 40), pet care (all Kimpton hotels are pet-friendly), parental leave, paid sabbaticals (for GMs and chefs) and of course, big discounts on hotel stays.
KIMPTON EMPLOYEE ON GLASSDOOR: "Work-life balance has never been something that I have experienced working in the hospitality industry….until now. Kimpton treats its employees right from the line level staff on up…not the other way around."
IN CONCLUSION
It was extremely difficult to narrow down this list. There are many smaller startups (Crowdtap, Greatist) and huge mega companies (Google, Twitter) that offer amazing work benefits, but they might not have exceptional benefits for women in particular. That being said, everyone is different and there are many companies out there. Did I miss anything? Do you work at one of these places and want to chime in? Leave some comments to help a sister out.
Stay tuned for our next review of best employee perks for women, when we visit San Francisco (i.e. New York West). #kiddingnotkidding