5 Weird Topics For Your Office Holiday Party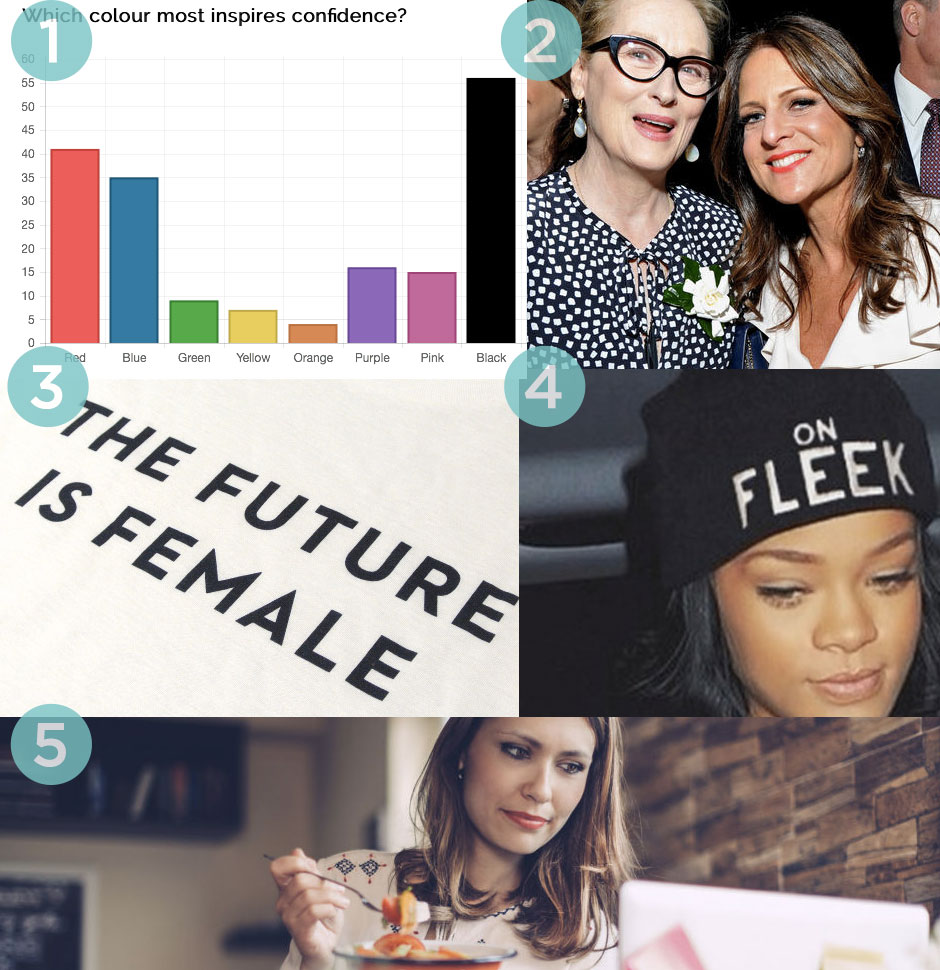 1. BLACK IS THE NEW BLACK
Fact: We judge people based on appearances. Time and time again. At least once in awhile you can use people's judgment to your advantage. The latest research shows that wearing black makes you appear more confident and more intelligent. You can quote this to your mom the next time she tries to convince you to wear more color. (via Complex)
2. HOLLYWOOD'S DARLINGS JUST GOT DARING
Sometimes Hollywood isn't just about the drama. In fact, next fall 44 of the most empowered women in the film industry will put professional rivalries aside to solve one of the most pressing issues they face daily: the fact that women are dramatically underrepresented in front of and behind the camera. (via The Los Angeles Times)
3. KEEPING THE FUTURE FEMALE

If you've surfed fashion blogs in the last month, you probably recognize the slogan "The Future is Female." Virtually overnight, every empowered woman in Los Angeles or New York seemed have it emblazoned on a tshirt or sweatshirt.
Well, the story's pretty cool: the shirts are produced by Otherwild, a queer woman-owned boutique in Los Angeles, come from an almost forgotten slogan from the 1970s. Otherwild donates 25% of the proceeds from the shirts to Planned Parenthood. You can read the slogan's back story here.
But the story's not without struggle: it would seem model, Cara Delevigne, has made a pretty big feminist faux pas: looks like she's ripped off the slogan for sweatshirts she's selling under her own brand. Yes, it's that shameful. (via Refinery29)
4. NOT SO ON FLEEK
Are you tired of reading "on fleek" in every listicle on the Internet. Us too. Here's another great reason to retire it: the woman who coined the actual term in a Vine video that went viral has never seen a dime from its commercialization. (via New York Magazine)
5. MINDLESS SNACKING? BLAME YOUR OFFICE
This week at the CC office, we had a super intellectual conversation about how we think we stuff our faces more with snacks at work than when we're working from home. Then we Googled it. Pat us on the back—it really is a thing. (via Elle)
* * *
What have you been reading this week?