Companies With The Best Perks For Women: Austin, Texas
WANT TO LIVE IN A CITY THAT APPRECIATES LIVE MUSIC, GOOD FOOD, HEALTHY LIVING, AND A BUSTLING SOCIAL SCENE? HOW ABOUT LOW TAXES, PROGRESSIVE POLITICS, AND BOOMING ECONOMIC GROWTH? LOOK NO FURTHER, LADIES—IT'S AUSTIN, TEXAS.
As the capital of Texas, Austin offers a lot of personality and is ranked No. 1 for millennials due to its fast-growing economy, low cost of living and—for lack of a better term—its "cool factor." The "Live Music Capital of the World" packs a punch during the music festival of the year, South by Southwest (SXSW), and otherwise offers a wealth of art, culture, food (Tex-Mex, anyone?), diversity, and outdoor pursuits year-round (no shoveling snow!). Not a sprawling metropolis like Houston or Dallas, Austin's small city feel might be both a refreshing relief to the big city girl, and at the same time, not as daunting to the country gal.
The Colorado River runs through Austin, providing beautiful bat-filled bridges; scenic views from Mount Bonnell; and the prized Barton Creek Greenbelt: eight miles packed with biking and hiking trails, natural swimming pools, kayaking, caves and limestone rock climbing walls. Even though Austin is in Texas Hill Country (read: not flat, no tornadoes), there are no actual boundaries for the city, so urban sprawl is a very real thing—especially considering that Austin has the highest population growth rate, second fastest-growing economy, and—maybe most surprising—one of the lowest gender pay gaps in the United States.
SILICON HILLS
You might also be surprised to learn that Google, Facebook, Apple, Rackspace, Qualcomm, DropBox, and IBM (see: companies that are "kind of a big deal") have offices here, giving Austin the nickname "Silicon Hills."
The University of Texas (UT) at Austin not only houses nationally-recognized basketball and football teams (Go Longhorns!), but also provides a constant injection of smart, hip, technologically-inclined graduates that drive the city's ingenuity and tech boom. A huge advocate of student startups (Longhorn Startup Demo Day), there's a symbiotic relationship between the school and the Austin tech community, which is indicative in the companies that have blossomed here.
TOP FIVE AUSTIN COMPANIES
Like New York and San Francisco, living in the city of Austin can definitely be viewed as a "perk" in and of itself. That being said, here are the top five companies with the (other) best perks for women in Austin, Texas:
Michael Dell created his computer company as a student at UT Austin, so it's only fitting that the headquarters are in the suburb up north called Round Rock.
Roughly 16,000 people work locally for Dell. How do they do it without causing the worst traffic jams in town? By encouraging their employees to work from home. Working Mother put Dell on their 100 Best Companies list because of their flexible work schedules, ability to work remotely, alongside other options like telecommuting, reduced hours, and compressed weeks—all of which are the norm, not the exception. They are well on their way to having 50% of employees on flex time worldwide by 2020, which makes their employees gush about the work-life balance at this tech company.
(Yes, you read that right.)
Also not common in tech? Women! Women comprised 23% of management and executives and 34% of new hires at Dell in 2013. Dell has had two Entrepreneurs-in-Residence and they have both been women who have inspired change and upward mobility for women around the globe. Dell Women's Entrepreneur Network (DWEN) and commitment to using diverse suppliers sets a culture of inclusion, support, and understanding.
Sure, they have the fancy high-tech perks, five weeks paid maternity leave, backup childcare, fitness centers, and amazing benefits, but it's really the equality and empowerment that sets Dell apart from the rest.
DELL EMPLOYEE ON GLASSDOOR: "Work/life balance and overall flexibility is great, opportunities for vertical and horizontal career shifts are plentiful, a culture that embraces diversity, going private has invigorated the CEO and that enthusiasm has trickled down to team members."
Photo: Wikipedia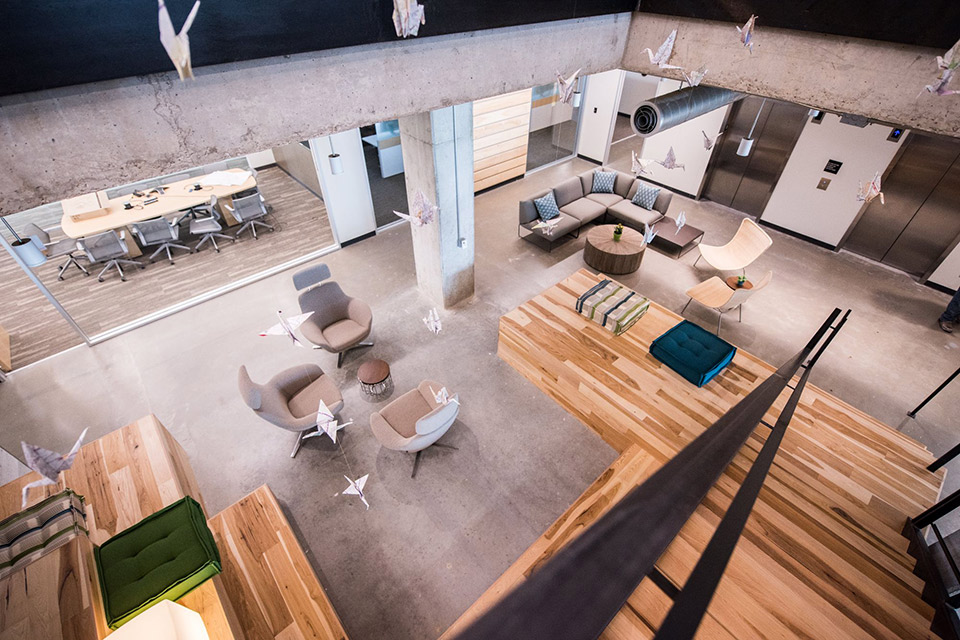 Before AirBnB, there was HomeAway and VRBO (Vacation Rentals By Owner), two companies revolutionizing the family vacation, the girls' weekend, the man-scape (wait, is that something else?), and any other excuse to get a bunch of people together in a vacation home. HomeAway employs over 1,500 people worldwide, with just under 1,000 based in Austin, its headquarters since 2005.
HomeAway began as a startup with a great heap of venture capital, that acquired multiple rental sites including VRBO in 2006, grew leaps and bounds into a multi-billion dollar company and went public in 2011, benefiting long-time employees with a cut of the startup pie.
HomeAway is ranked third in the "Top Ten Travel Companies to Work For" by Forbes, using Glassdoor.com reviews of the company and CEO, Brian Sharples. With a 4.4 out of 5 rating and a CEO approval of 96%, there's very little criticism and a lot of pluses. HomeAway employees get one "bear stay" at a HomeAway property every year, which is easy to use since you get four weeks of paid time off (PTO).
There are other conveniences too, like health fairs, bike lockers, free-breakfast forums, a "Nanutucket"-themed game room—oh yes, and the office is 86,000 square feet of beautiful, well-designed, Gold-level LEED certified eco-friendly work space sitting on top of a West Elm (first dibs on sales!).
Women are also well-supported; two female employees currently hold the CFO and CPO position and the Women Coders in Austin group conveniently meets at HomeAway Offices.
Want to know even more about working for HomeAway? Read this Career Contessa exclusive with HomeAway software engineer, Julie Jarzemsky.
HOMEAWAY EMPLOYEE ON GLASSDOOR: "Everyone at HomeAway can be a contributor; it's an environment where fresh ideas and hard-work are valued. As a manager, my work-life balance is very manageable. I feel very motivated to come to work every day, and the pay-back is flexibility, great benefits, and a feeling of inclusion."
Photo: Glassdoor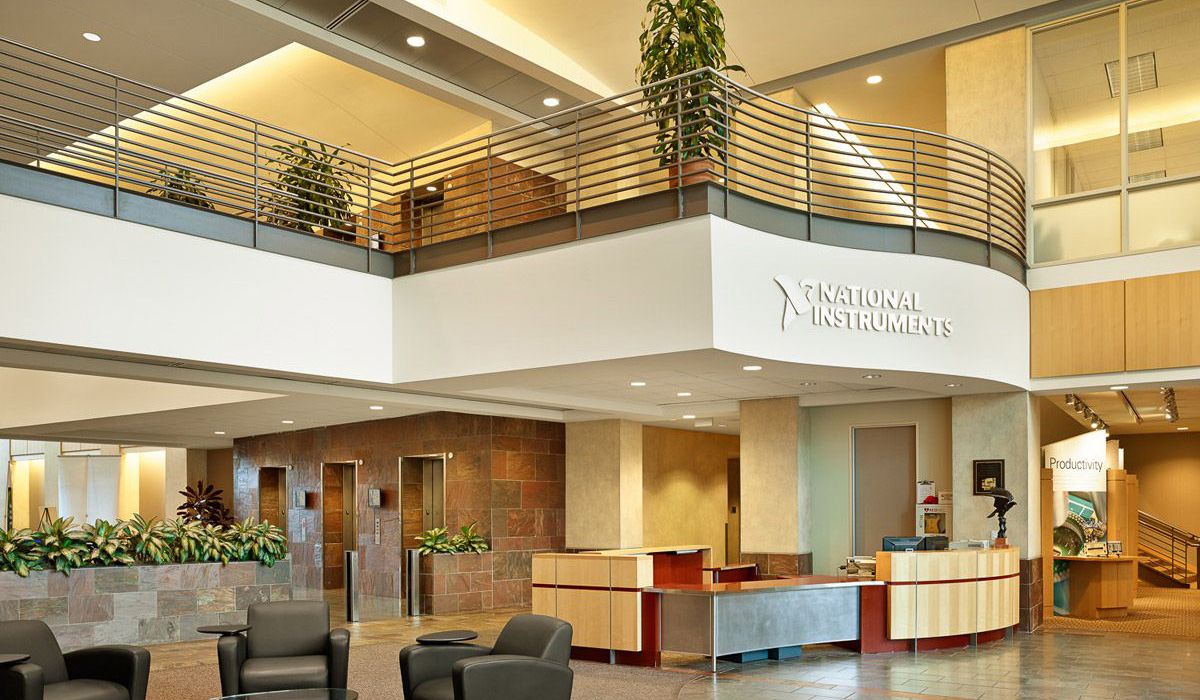 The Fortune list of Top 100 Companies to Work For and Glassdoor's list of 25 Companies with Work-Life Balance is where you will find the ever-expanding electronics and manufacturing company, National Instruments. From automated test equipment (hardware) to virtual instrumentation software, the company is at the forefront of testing products, collecting data, instrument control, and machine vision. If any of that makes sense to you, then you're probably a better engineer than I am (I was a liberal arts major, so that's almost everyone). Speaking of engineering, 25% of employees are women and 25% are minorities—which isn't perfectly equal, but is leaps and bounds above most tech company statistics.
Otherwise, NI strives hard to ingrain work equality, collaboration, and balance in the company culture. Employees talk about having job security, flexible work schedules, and smart, creative coworkers. The CEO and top management drop in on meetings often to make sure they stay connected with employees at every level.
And other nice perks include an on-site clinic, a gym that offers 16 classes a week, volleyball courts, stock plans, performance bonuses, lots of PTO, professional counseling, and adoption assistance. Maybe not as sexy as some tech startups, but having a comfortable work environment goes a long way— as does having an office bigger than your CEO because your work requires it (#equality).
NATIONAL INSTRUMENTS EMPLOYEE ON GLASSDOOR: "A good place to work with a lot of smart, nice people and an overall good atmosphere. There is a lot of room to grow in any direction you want, and the ability to work on many projects. A stable job, and good work life balance. Company culture is great."
Photo: White Construction Company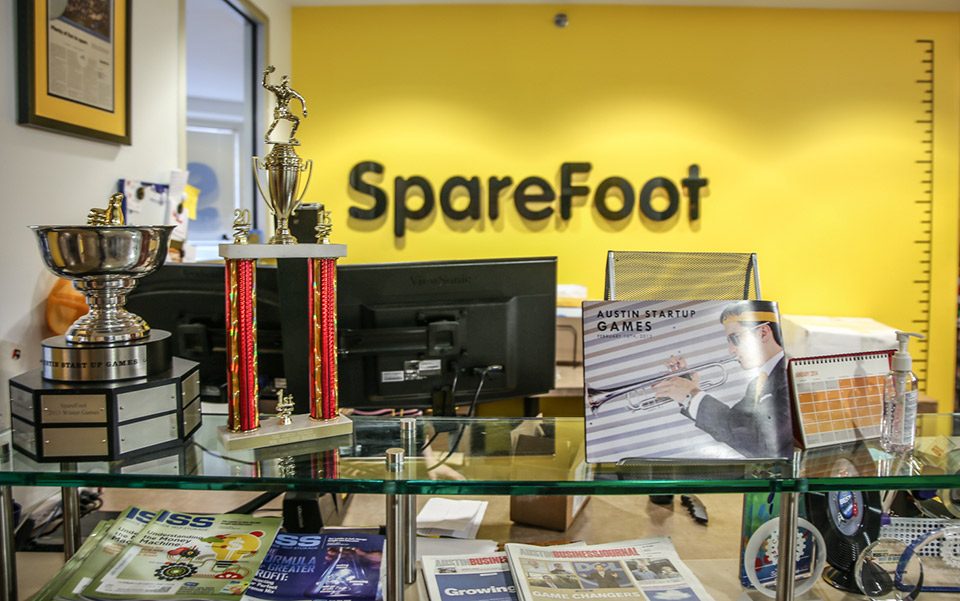 SpareFoot is a small- to medium-sized company with under 500 employees that helps consumers find and reserve self-storage units online. If you think that screams "startup", you're right—founded in 2008 in a garage while the co-founders attended the University of California, Los Angeles (UCLA), the company started by renting out storage in private homes, then moved to facilitating rentals with storage companies. In 2009, the company was accepted by Capital Factory (an incubator and investor program for startups) in Austin and gained traction with various other investors. Now, they have an awesome office space blocks away from the social epicenter of Austin (Sixth Street) and are winning "best of" titles left and right.
The company has a perfect rating on Glassdoor – 5 out of 5 and 100% approval for CEO, Chuck Gordon. Maybe it's because he won the blindfolded CEO labyrinth competition at 2013's Austin Startup Games, clinching the Gold Medal for the company.Or it could be all the benefits of a San Francisco startup in low-key Austin, Texas: free health insurance, free lunches, open-tab happy hours, unlimited PTO, stand up desks, shuffleboard, foosball, beer pong (oh, this is how they won the StartUp games—practice!), and of course, open office space that is green, designer, and industrial-chic with rooms named after champagne and sushi (a winning combination).
Lastly, SpareFoot supports women coders and offers networking events for women across the city.
Best part? They're hiring!
SPAREFOOT EMPLOYEE ON GLASSDOOR: "SpareFoot allows you to build a career that you have control over, your boss trusts you to do your work (we hire the right people, so managers don't have to micromanage their team) and you have direct access to the CEO. Don't even get me started on the perks…HH every other Friday, parties all the time, free lunch by our amazing chef everyday, stock options and free healthcare!"
Photo: Techzette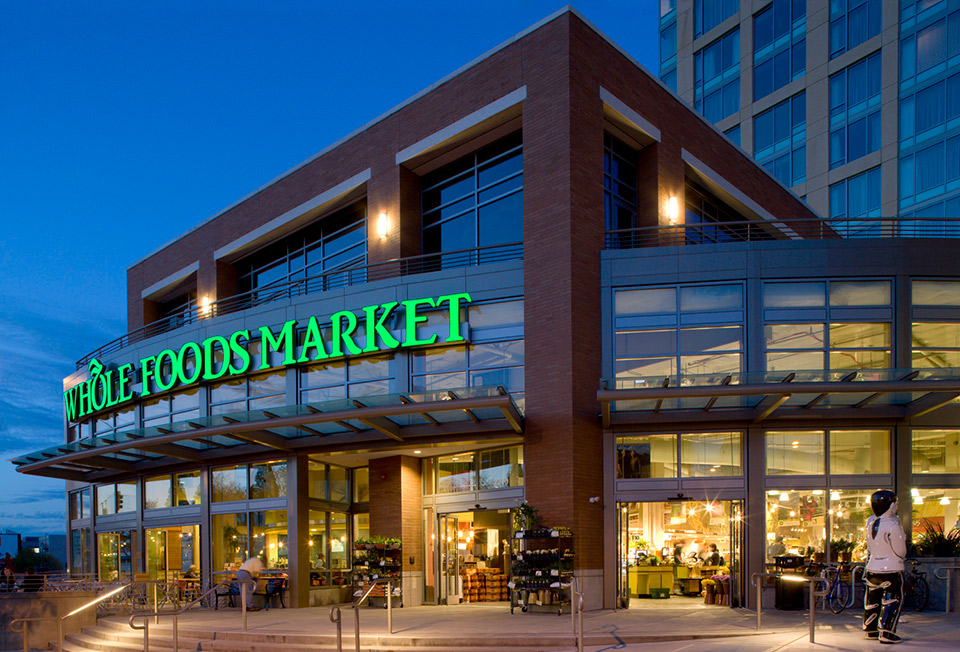 Way back in 1978, Whole Foods was just a small health food market with a restaurant on the second floor. John Mackey (CEO) and his co-founders have since built it up into the largest natural and organic supermarket chain in the country (and maybe the world). Pushing the standards on food quality, health, and animal welfare, the supermarket also pushes its standards as an employer, making Fortune's 100 Best Companies list for 17 years in a row.
The 80,000-square-foot flagship store in downtown Austin is right below the corporate headquarters and the entire building renovation boasted a 42% reduction of resources using recycled or salvaged materials, as well as practicing sustainable building techniques and reusing, reducing, and recycling on site.
Whether you work in the headquarters or in one of their many stores, employees talk about the great work environment, relaxed dress code, flexible hours, work-life balance, and my personal favorite—the 20-30% employee discount (Whole Paycheck is a real thing).
Nationwide, Whole Foods employs 44% minorities and 43% women and offers health insurance to part-time workers, higher than minimum wage pay, and a six-week (unpaid) sabbatical for every 6,000 hours of service. Transparency is a big deal here, too—a panel votes on new hires, employees vote on insurance options, there are field trips to meet suppliers, and you have the ability to see everyone's salary. The CEO saved everyone a trip to HR in 2007 and told everyone his salary—it's $1.
WHOLE FOODS EMPLOYEE ON GLASSDOOR: "A company that promotes innovative ideas and listens to what everyone has to say. Flexible work schedule: hours are 9-5 and you can telecommute from home one day per week. Discount at the stores. Free yoga classes on-site. Free snacks/meals in the kitchen/break rooms. Honest and transparent: you can go up to the 6th floor and ask to see anyone's salary in the entire company."
Photo: Whole Foods
HONORABLE MENTION
University of Texas at Austin: UT Austin, with over 50,000 undergraduate and graduate students, and over 24,000 staff and faculty members, has a major influence on the city's development, politics, and diversity. Whether you're working in faculty, administration, or research, the school's aforementioned reputation speaks for itself.
REFLECTIONS
The more you read about Austin, the more you understand its unique appeal. Not high-intensity like NYC or uber-activist like San Francisco, there's a laid-back, West Coast feel, some southern hospitality, a lot of "weird" culture, proud hipsters, and fiercely loyal residents.
How loyal?
The original Whole Foods Market in Austin was destroyed in a flood a year after it launched. There was no insurance, so the town, employees, customers, and investors all pitched in and rebuilt it in 28 days. That supportive atmosphere and belief in finding solutions that are sustainable and worthwhile seems to reach into every aspect of life for this community—especially for women.
They are making big strides in Austin and while it may yet be a "small" movement, it's easy to see where their momentum could take us one day, just by following the lead of any of the companies above.
There are a lot of great companies and perks in Austin. Do you know of any I missed? Leave a comment below or hit me up on Twitter!