Companies With the Best Perks for Women: Portland, OR
When you've got great food, great people, great trees, and great job perks, you've found home.
There are a lot of stereotypes about the way life is lived in Portland, Oregon, mostly thanks to snarky episodes ofPortlandia and washed out photoshoots in Kinfolk magazine. High-end coffee shops. Fixed gear bicycles. Twee musicians with banjos, tambourines, and ukuleles.
But the city's also home to some major opportunities, particularly for the driven career girl who's growing tired of the daily grind (and overpriced food and rent) of bigger cities like New York or San Francisco. Turns out, Portland hosts some of the fastest growing private businesses in the U.S. (think: Intel) plus some of the most innovative small businesses and start-ups. That combination means its residents enjoy a unique balance of work and life, local and global, grassroots and urban.
In fact, it's Portland's dogged dedication to its own stereotype as a cozy, creative nexus that makes it a great place to both achieve professional growth and make a home. For every burgeoning technology company, there's a resident with a "Keep Portland Weird" bumper sticker on her Volvo. And for every work week spent in a state-of-the-art office space, there's a weekend to explore the high-end coffee shops, Powell's books, and the blossoming food community. If you're ready to join an established community of hard-working innovators who also happen to be microbrewery enthusiasts, look no further.
AN ACTUAL LIVING WAGE
Given that Portland is a locus for Etsy businesses, food carts, and independent record stores, it makes sense that, in fact, a bookstore clerk or food cart entrepreneur can afford to live here comfortably. Most of us are familiar with Oregon's lack of sales tax (a major plus), but the city also offers reasonable rents, affordable transit, and access to organic produce at costs that won't eat up your savings. According to CNN Money, housing in Portland will run you about 22% less than living in Los Angeles, 45% less than Brooklyn, and a whopping 47% less than San Francisco. Groceries too run anywhere from 11-12% less than bigger cities.
One other perk: affordable nights out. Enjoying a highly complicated and high-proof creation with your girlfriends at one of the City of Rose's many artisanal bars like Clyde Commons and Imperial will only set you back $5-$6 during happy hour. Think of that the next time you're staring into your $15 Manhattan at Bar Stella.
THE CITY OF STUMPS AND ROSES
Portland earned its nickname, Stumptown, for good reason: it's a city tucked between trees. If you're an outdoorsy type, the surrounding landscape offers all sorts of benefits. In fact, you don't even need to leave the city to hike—Portland's 5200 acre Forest Park offers 80 miles of hiking trails. If skiing or snowboarding is more your style, Mt. Hood is only an hour away. And of course this is the bicycle city. Regardless of how you stretch your legs, there's no question that escaping the office for a romp outside is easier done than said.
TOP COMPANIES IN PORTLAND: THE BIGGIES
Now for where to spend your work hours. Regardless of what industry you're in, Portland seems to have you covered. We've divided our list in two to make room for big business and small. Here are the top five companies with national reputations and the perks and benefits to match: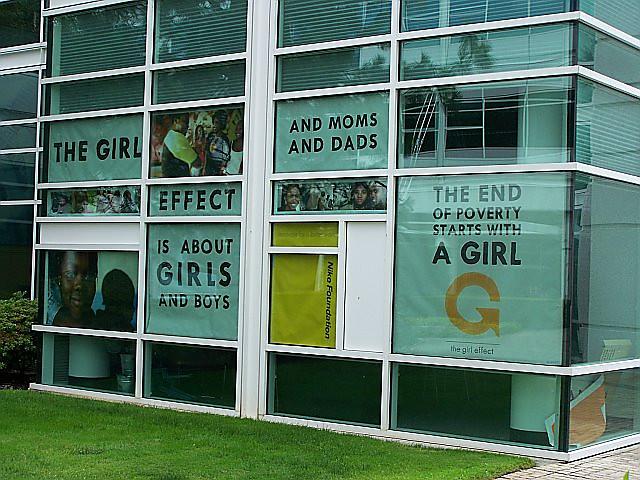 NIKE
Unsurprisingly, Nike's got top nods. To be fair, technically Nike is based out of Beaverton, OR (which isn't far), but some of its creative offices are in Portland proper. With a 97% CEO approval rating, great benefits including tuition assistance and paid sabbaticals, and that brand discount for all your athletic needs, it's easy to see why employees love it.
Nike's received numerous accolades for its work, including landing #7 on Fast Company's Most Innovative Companies list in 2014. And as the company's begun marketing its products increasingly toward women, it hasn't neglected company culture on that front either: women employees hover around 49-50% globally, and women in management positions climbed in FY13 from 40 to 41%. To encourage diversity, the company's also implemented a Women of Nike network as well as pilot programs like Bias to Breakthrough, which encourages employees to explore and break free of unconscious biases in the workplace.
A membership-based outdoor retailer, The Clymb is one of the top growing companies in Portland. Because of its focus on health and fitness, employees enjoy numerous wellness perks from company ski days at Mt. Hood to a break room stocked with fresh fruit. There are also opportunities to work from home, flexible hours, and the offices are dog-friendly. Did we mention it's also a green company? Nearly paperless and with incentives for employees who bike or take public transit, this is a well-balanced, global-thinking brand. Quintessential Portland.
This software company gathers data to provide customer profiles to leading brands. With a team-oriented approach, communication and feedback is highly encouraged. There are also foosball breaks and bike parking racks.
It's always a pleasure to include a nonprofit on our list, and the Nature Conservancy checks all our 'perks for women' boxes. This is a career you can believe in, which in and of itself makes it a worthwhile experience, but the benefits aren't bad either: a standard 35-hour work week, same sex spouse and domestic partnership health coverage, and a dedication to workplace diversity (as a woman employee, you'll have the opportunity to join the Women in Nature resource group).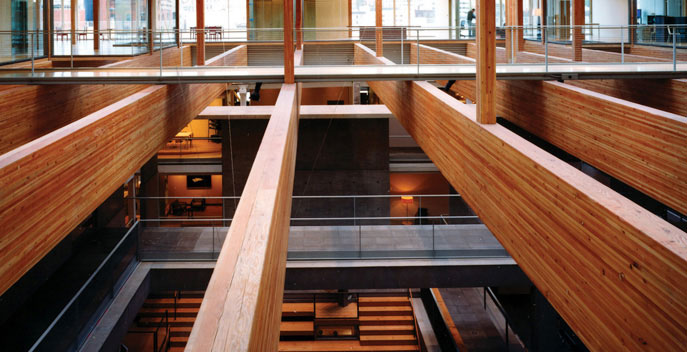 WIEDEN + KENNEDY
This advertising agency, with offices spreading from Portland to New York to Sao Paolo, enjoys global success but keeps its focus on the people who make the company a creative and commercial success. You'll find great benefits and an emphasis on establishing a healthy, collaborative company culture. Plus, Weidan + Kennedy know how to give back—as partners in the Portland-based P.I.E. (i.e. Portland Incubator Experiment), they're funding tech startups in the community.
A leader in mobile reach through push notifications for companies like Airbnb, Adidas, and NBC News, they're also a leader in innovating the work environment. Consider this: unlimited vacation ("Seriously. Take the time you need to recharge."), on-site massage and fitness classes, and an emphasis on professional growth with funding for resources likes conferences, classes, and books.
TOP COMPANIES IN PORTLAND: THE LITTLES THAT COULD
Portland's property values are on the rise, and Living Room Realty isn't above getting a piece of the realty pie—but never at the cost of sacrificing its core values. Founded by Janelle Isaacson, a 3rd generation Portland native, the company specializes in urban neighborhoods and historic properties—this is not a flip-it-to-win-it company. Living Room gives back to numerous Portland-based organizations and nonprofits (including the amazing Rock'n'Roll Camp for Girls). They're also committed to diversity so you'll find a lot of #girlboss agents on the team to keep you company.
An email marketing start-up (think: competitor of CampaignMonitor or MailChimp) based out of Nashville, TN, Emma has a large satellite office in Lower Burnside with "gorgeous natural light." The company's growing rapidly and received constant accolades for being a great place to work—it has a coveted 4-star rating on Glassdoor. It's also incredibly employee-centric with all the perks you find at most innovative start-ups and then some. Think: collaborative, open office spaces, a month sabbatical for every employee after 5 years of work, 401k matching, and "a pretty badass holiday party." Sounds like fun.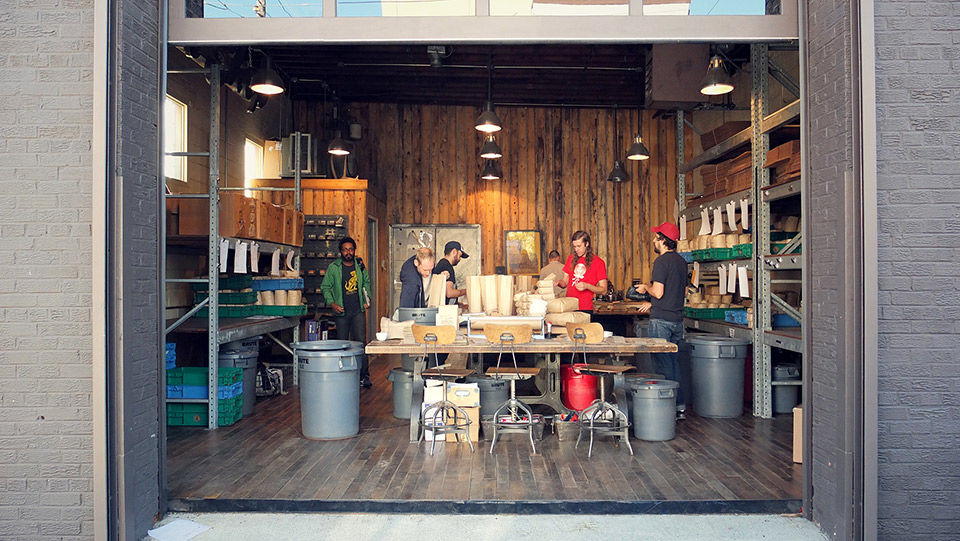 STUMPTOWN
Those of you who are big into coffee culture may object to this company landing on our "Littles That Could" list, given how much it's expanded and the news that it recently sold to Peet's Coffee and Tea. But the company ethos is still firmly grounded in its small business origins so we're going with it.
With a focus on long-term loyalty, you'll find copious opportunities for growth, great benefits, and of course, access to the best coffee. Company leadership recognizes the importance of every individual when it comes to company innovation. Says founder, Duane Sorenson, "If it weren't for the employees at Stumptown, there would be a Stumptown. We understand...that if something is going to be special, we've got to go outside the lines and outside the box."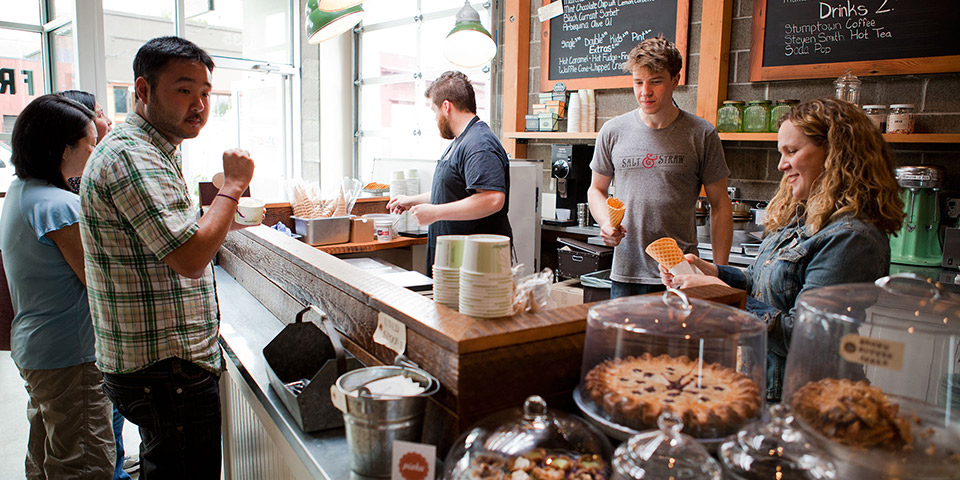 SALT & STRAW
Given that the Career Contessa team has schlepped across town to Salt & Straw's LA location on multiple occasions for a "creative brainstorm," we may be a bit biased when it comes to this nomination. Except, here's the thing: the company really is that great. It's one of the few on our list actually founded by a woman, Kim Malek, and it's dedicated to hiring a strong team of individuals who love people and great food. The company also prioritizes community involvement and working with other local businesses. If you're employed behind the counter, there are also the obvious ice cream perks. Just save some of that salted, malted, chocolate chip cookie dough for us, please.
If you've ever considered creating an online portfolio, chances are you're familiar with Squarespace. In addition to cornering the market on ready-made, gorgeous websites, Squarespace also offers one of the most balanced company cultures we've encountered. The main offices are in New York, but Squarespace runs its Customer Operations out of Portland. You'll find great benefits and a workplace committed to mantras like "empower individuals" and "good work takes time."
AND SO...

All in all, Portland's got quite a laundry list of professional opportunities for women (OK, OK and men) without sacrificing the quintessential quirkiness we know so well. Considering a move? Plan an exploratory visit, and follow our 24-hour guide to the city to discover everything from the best breakfast spot to the perfect nightcap.

This is part of our City Guides series. Where should we go next?